End Users Reached:
1 Billion+
Sessions Generated per month:
250.000+
Preferred by Companies Globally:
1000+
Notifications Sent per Month:
3 Million+ 
The Most Profitable Marketing Channel
Higher Conversion Rate
x2
Return on Investment
>10x
The Complete Marketing Platform to Retain your Users
Capture
Integrate in 10 mins & build a new subscriber base with Web Push Notifications
Target
Segment each user according to their behavior on your website to granular detail
Engage
Send personalised notifications with the most advanced marketing automation
Optimize
Analyze performance with campaign manager & optimize with A/B Testing
Use Cases
Click and discover different examples from some of our most effective campaigns
Add to Cart

✓

→ Complete Purchase

✘
Remind users to finish purchasing items they have added to their cart [X hours] after user abandons the cart.
"Jane, there are only a few more pairs of red high heels left in your size. Complete your order!"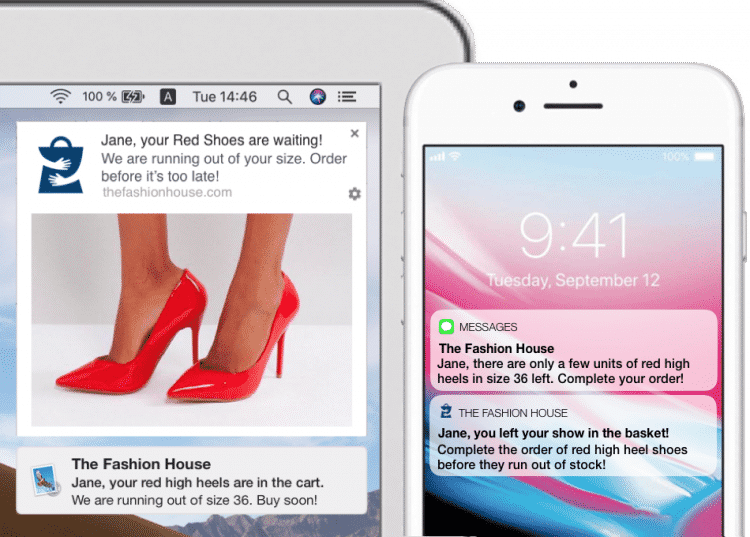 Flight Searched  

✓

→ Flight Booked 

✘
Remind users about the items they have searched for but not bought. 
James, still want a flight to Barcelona? Flights you checked are selling out. Book one now!
User signed up 

✓

→  

✘
Use push notifications as a means of lead nurturing and interaction with the user. 
As an example of a sequence: 
Day 1: "Mike, welcome aboard! We welcome you to your new cloud service! Click to get started"
Day 3: "Hi Mike, did you know about this feature?We've got a feature where you can easily upload your files! Click to learn more"
Day 8: Hi Mike! Time to upgrade your package! The new 50GB package is available, click to upgrade and upload as much as you want!
 Time since last visit >1 week

✓

 
Get users back on your website through the use of periodically sent Web Push Notification
"Anna, there are a "100" new "FLATS" in "AMSTERDAM" right now! Check them out!" 
User signed up 

✓

 
Get leads back through the use of Web Push Notifications
"Haven't heard from you in a while! Boost your sales, today with 10% off"
The Pricing to Start Bringing your Customers back
Try our plans for free for 14 days!
Let us do the integration for free via Google Tag Manager
20% discount on annual payments!
Basic
$49/mo
For 5K Subscribers
Manual Campaigns ✓
∞ Web Push Notifications ✓
Native Opt-in ✓
Scheduling ✓
Tag-Based Segmentation ✓
Custom Branding ✓
Sign Up for Free
Best Seller
Automate
$99/mo
Per 100K Visits/Month
5 Triggered Campaigns ✓
∞ Web Push Notifications ✓
Email (Pay per use) ✓
SMS (Pay per use) ✓
∞ Webhooks ✓
Hyper-Personalisation ✓
Behavioural Segmentation ✓
A/B Testing ✓
Get a Free Trial
Enterprise
Custom Based on Your Needs

∞ Triggered Campaigns ✓
∞ Hyper-Personalisation ✓
A/B & Multivariate Testing ✓
∞ Behavioural Segmentation ✓
Behavioural Analytics Data ✓
∞ Conversion Tracking ✓
∞ Data History ✓
AI-Powered Optimisation ✓

Contact Sales
Are these plans above your budget? — Don't worry! We have a freemium version where you can enjoy the web push notifications, with Frizbit branding. Sign Up for the Free Version Now!
What our clients are saying
Find out why our clients are choosing us
As the largest flower delivery network in the world, we are very happy working with Frizbit. Their marketing automation platform allows us to convert our visitors into subscribers and then retarget them via highly personalised web push notifications after they leave. As a result, we can recover lost orders and increase our revenue with a high ROI.

Cécile VivaresE-Commerce Director @ Interflora Iberia
We became able to provide personalised engagement experiences to our users in a channel that we never thought of.
After the first month of trying their behavioural automation campaigns on push notification channel, we got impressive results in RoI, CPC and Conversion metrics. We are looking forward to using other channels and features of Frizbit.

Javier FalcoCo-Founder & COO, Micuento.com
Frizbit's team has adapted to our needs in a very proactive way, offering us great flexibility and speed of response. I would highlight their ability to make everything seem simple and their way of helping us to pivot agilely by proposing improvements when the actions carried out did not generate the expected results.

Alexandra MartínezDigital Marketing Manager @ Natura
Cart abandonment email campaigns achieved a CR higher than 4%, while we continue with excellent results in web push notification campaigns. It was a great complement to our marketing strategy. Congratulations to the entire team for the achievement!"

Kevin ManleyEcommerce & Digital Marketing Manager @ Bidcom
Learn more Through our Articles 
Get a Free Personalised Demo Session!
Leave your details and one of our account managers will get in touch