Here at Frizbit we are always looking for ways to innovate, make our platform better and fulfill our clients need with top-notch technology. That's why we keep improving as we grow, so we can offer the best possible service and user experience.
We would like to share with you the latest
1. Launch of Campaign Analytics

Frizbit launched its campaign analytics so you can see all the performance metrics of each campaign. Based on the channel (email, sms or push notification) of the campaign, the relevant metrics vary.
2. Multi-product Cart Abandonment Emails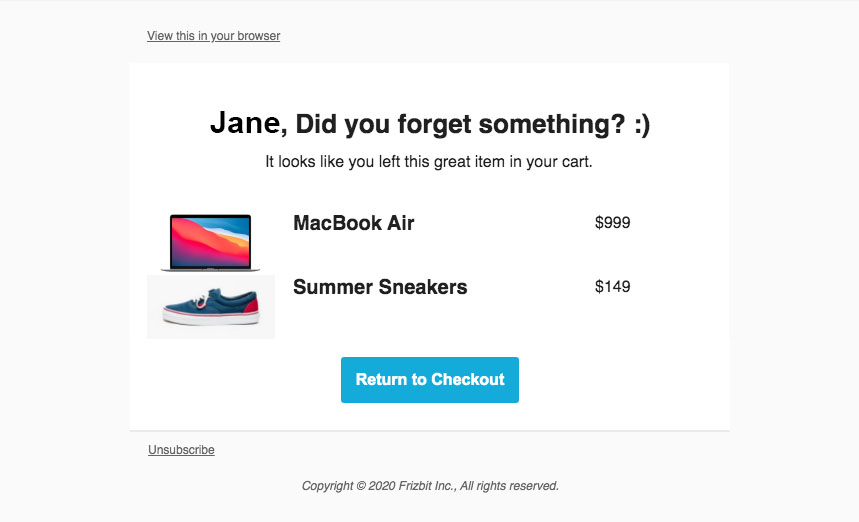 Frizbit now supports the use of dynamic parameters of multiple product in the same message. It's very useful for cart abandonment emails or recommended products.
3. Flexibility of Trigger and Exception Events
Now you can select the same trigger and exception events for the same campaign. This allows marketers to decide if they would prefer to trigger based on the first event, or the last event. For example, you can retarget users either the first category or the last one.
4. API for Sending Messages
Frizbit now published its API to send messages via any channel and any content you choose. It's an alternative method to sending messages via dashboard. Besides Frizbit's marketing automation engine, if you would like to trigger messages through another system you can implement this API and do so.
5. Email Suppression List Management
Through Frizbit, now you can manage the list of email addresses in your blacklist. You can add email addresses manually or you can upload files with multiple email addresses to add them to your blacklist. Email Unsubscription can be done by users, but for special cases this gives marketers an option to manage their lists manually.
Get in touch for a one-month trial!