Email marketing is the practice of sending emails to promote products or services and engage with customers. Through email marketing campaigns, businesses can share news, updates, inform about new products, special sales and much more.
This channel has been the favourite for many businesses for a long time and with good reason. Here are some interesting stats:
The global e-mail marketing market was valued at $7.5 billion in 2020 and is projected to increase to $17.9 billion by 2027. (Statista, 2021)
There are 4 billion daily email users. This number is expected to climb to 4.6 billion by 2025. (Statista, 2021)
Across all industries, the average email open rate is 19.8%, the click-through rate is 11.3%, and the bounce rate is 9.4%. (Constant Contact, 2021)
So, whether you are already using email marketing campaigns as part of your digital marketing mix or not, is a channel that, after many years, is still very much alive and has a lot to offer:
So, whether you are already using email marketing campaigns as part of your digital marketing mix or not, is a channel that, after many years, is still very much alive and has a lot to offer:
Email Marketing Advantages
It helps you build long-term relationships with your audience
It drives traffic to your website
Cost-effective
Highly customisable
Provides value to your customers
Increases revenue
Any type of online business can use them (ecommerce, travel, B2B, SaaS)
As marketing professionals it's our job to recognise the value of tools that help us connect with our audience and reach our business goals, leaving aside rumours and prejudices. Having said that here are:
Types of Email Marketing Campaigns You Should be Sending
1. Welcome Emails – (All industries: ecommerce, travel, B2B, real estate)
Sites usually struggle and jump through hoops to get people to share their email addresses and become subscribers. So, once they do, make sure you show them your appreciation! The best way to do it is to send them a nice welcoming email introducing yourself and thanking them for joining your mailing list.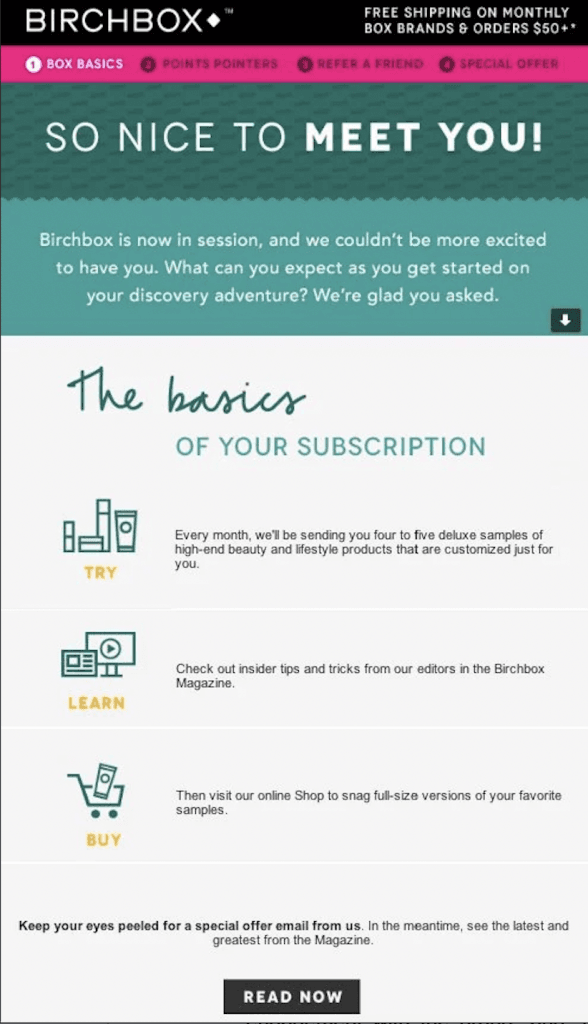 The welcome email is your opportunity to start creating a connection with your audience. Seize this opportunity to give a very good first impression about your business, share relevant information about what you do and (maybe) give them a small gift.
This is not the moment to try and sell something or ask anything else from your audience. They already gave you their email address, which is something very valuable for most of us, and not everyone is always willing to share it.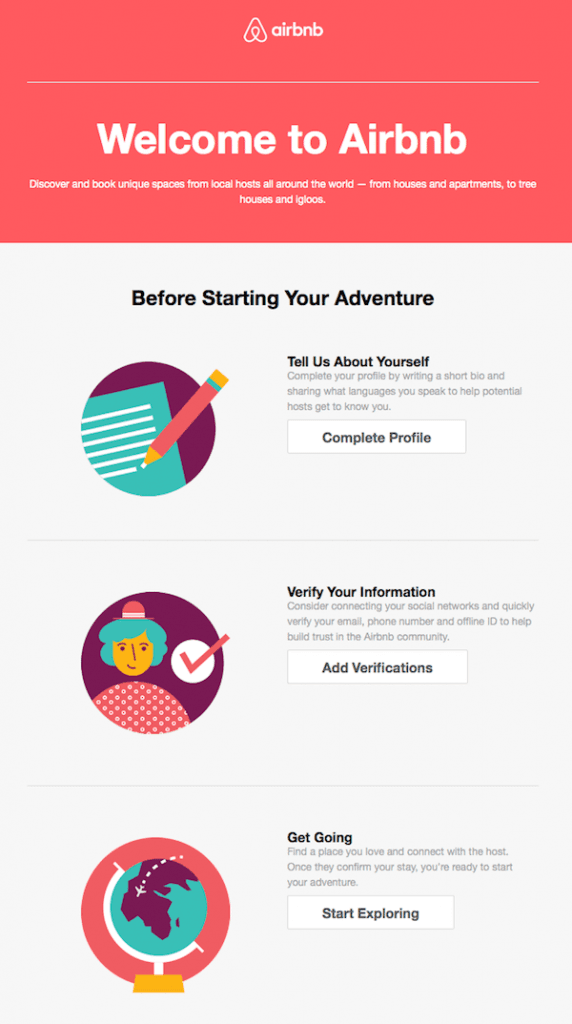 The welcome email is where you set the foundation of the type of relationship you want to build with your audience. Here is where you let them know what to expect from you, so also make sure you design an eye-appealing email that pleasantly surprises your new subscribers and you can also give a discount as a thank you for subscribing.
According to invesp, "subscribers who receive a Welcome email show 33% more engagement with the brand" and "have 14.4% click rate compared to just 2.7% in other types".
2. Informational / Update Emails – (All industries: ecommerce, travel, B2B, real estate
Informational emails are used to share news and keep your subscribers database up to date with everything going on in your business that might be of their interest. You can use them to let them know about new arrivals, product launches, new features or invite them to read a new blog post!
There are different types of informational emails:
New content announcements
Product updates
Newsletters
These types of emails are great to keep in touch with your subscribers and let them know you are constantly updating your products or services to please them and offer them a better experience.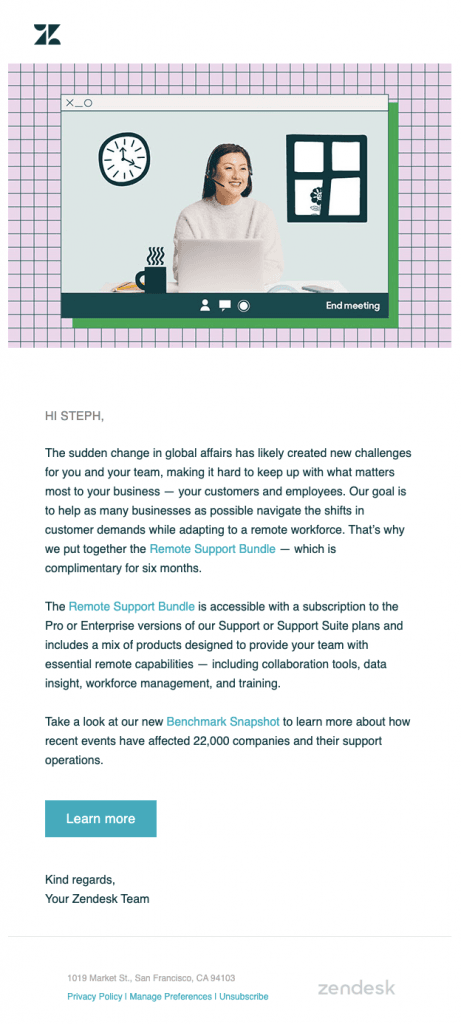 Informational emails don't tend to be very long since they might be the least interesting type to receive from the user's end. If you are going to include a call to action (which you should always do), you can invite them to visit your site and check out the new feature/service/product you have.
3. Cart Abandonment Emails – (Ecommerce, travel)
We are living in the era of digital marketing automation to simplify processes and make our lives much easier. That's why automated email marketing campaigns are a must for any online business. 
Behavioural emails are automated campaigns delivered to users based on their individual behaviour and actions taken inside a website. The way they work is by website owners defining certain scenarios that trigger the event (email being sent) when a user completes a specific action.
The most popular type of automated email campaigns are the cart abandonment recovery emails. 98% of users leave sites without completing a purchase, leaving behind products in their virtual shopping carts. Abandoned cart emails are sent to those users some time (usually 30 mins to 2 hours) after they leave the site with a message inviting them to go back and finish the purchase.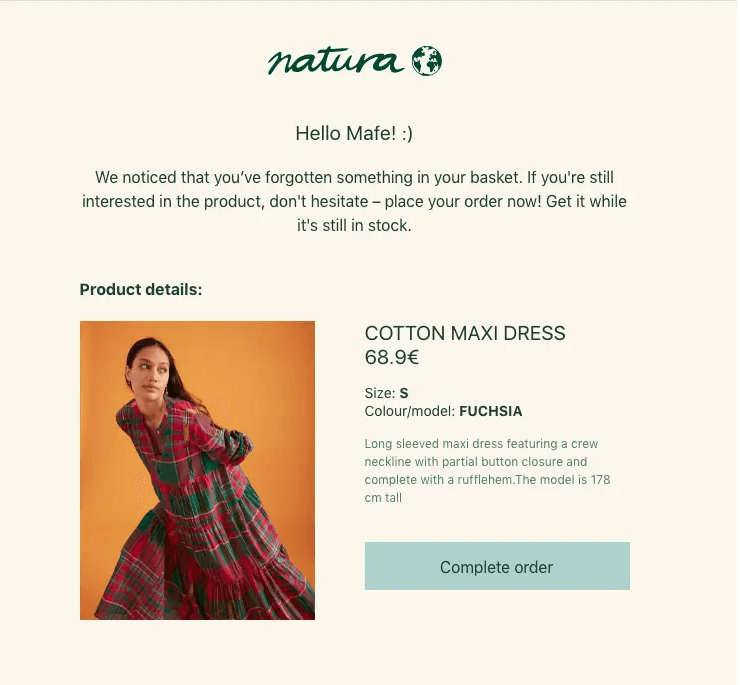 Cart abandonment emails have proven to be a great strategy that offers wonderful results, we have seen it work for our clients with::
4% increase in sales
3.8x conversion rate
The good thing about cart abandonment emails is that they usually have higher open rates than any other type of campaigns because they present subscribers with personalised content. These emails have information regarding the product they like and are usually enriched with images, price and a custom message inciting them to go back and finish the purchase/booking.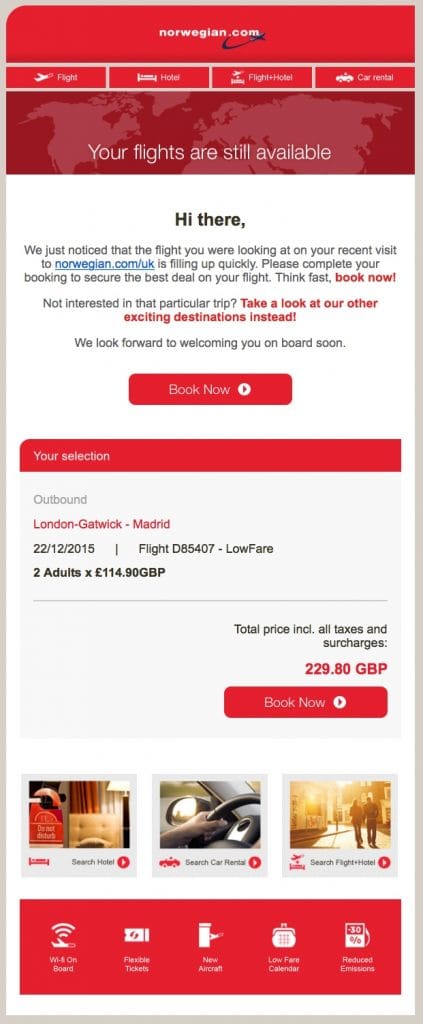 These types of emails are most commonly used for ecommerce sites. However, the travel industry can greatly benefit from them by sending emails to users that didn't complete a hotel reservation or didn't finish booking a flight, for example.
Suggested read: Are cart abandonment emails GDPR compliant?
4. Post-purchase Emails – (Ecommerce, travel)
By now you should already know the value of repeating customers:
The probability of selling to an existing customer is between 60% and 70%. (Semrush, 2021)
Existing customers are 50% more likely to try your business's new product. (Semrush, 2021)
Existing customers are also 31% more likely to spend more on their average order value with your business. (Semrush, 2021)
So we have established the importance of taking care of your existing customers and building loyalty with them. One way to do so is by using post-purchase email campaigns. These are the emails you send to customers after they complete a purchase/reservation on your site.
To build trust and loyalty, you can send an email with useful information related to their purchase. For example, if they bought an eyeshadow palette, you can send a post-purchase email with a tutorial on how to combine them, or if they booked a flight, an email with the details of their reservation information or maybe a few suggested activities they can enjoy at their travel destination.

If you apply this strategy, most likely your customers are going to really appreciate the gesture since they will find the information very useful. You will create loyalty because you keep showing interest even after having made a sale, thus increasing the chances they purchase from you again and decreasing the possibility of users unsubscribing from your mailing list.
5. Cross-sell Emails – (Ecommerce, travel)
Cross-sell emails are another type of post-purchase emails. They are sent to customers who already made a purchase with suggestions of other products that could complement the one they already got.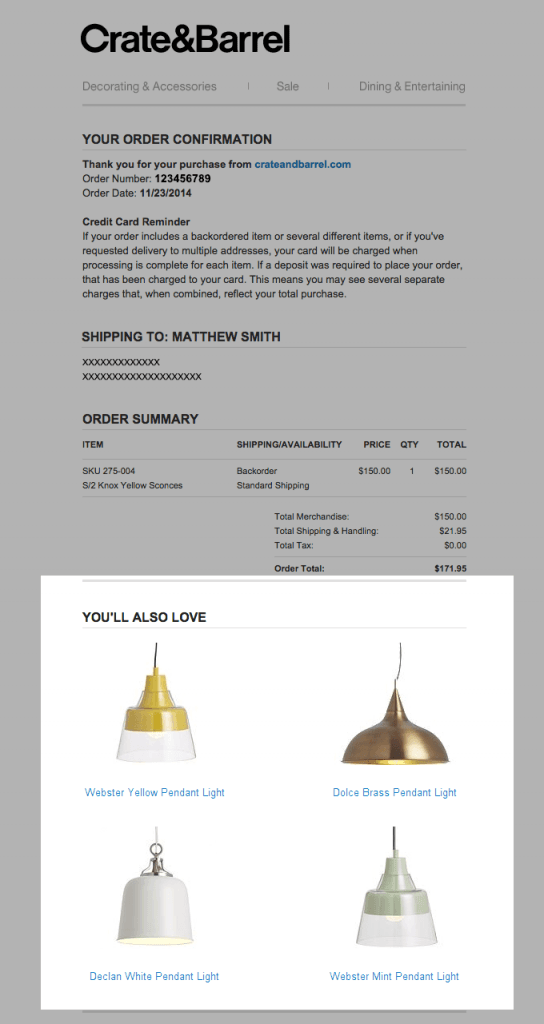 By suggesting other products from your catalog based on the consumer's purchasing history, you can turn one-time shoppers into repeating customers. The objective is to create loyalty that ultimately generates you more sales.
When sending cross-sell emails you should highlight the main product you want to make reference to and also add a couple more options. Since you are not 100% sure what your customer wants nexts, it's a good idea to give alternatives and increase even more the chances of a new purchase.
Cross-sell emails usually work so well because you are reaching out to a customer that has already engaged with your business before, and they also help make discovering new products so much easier.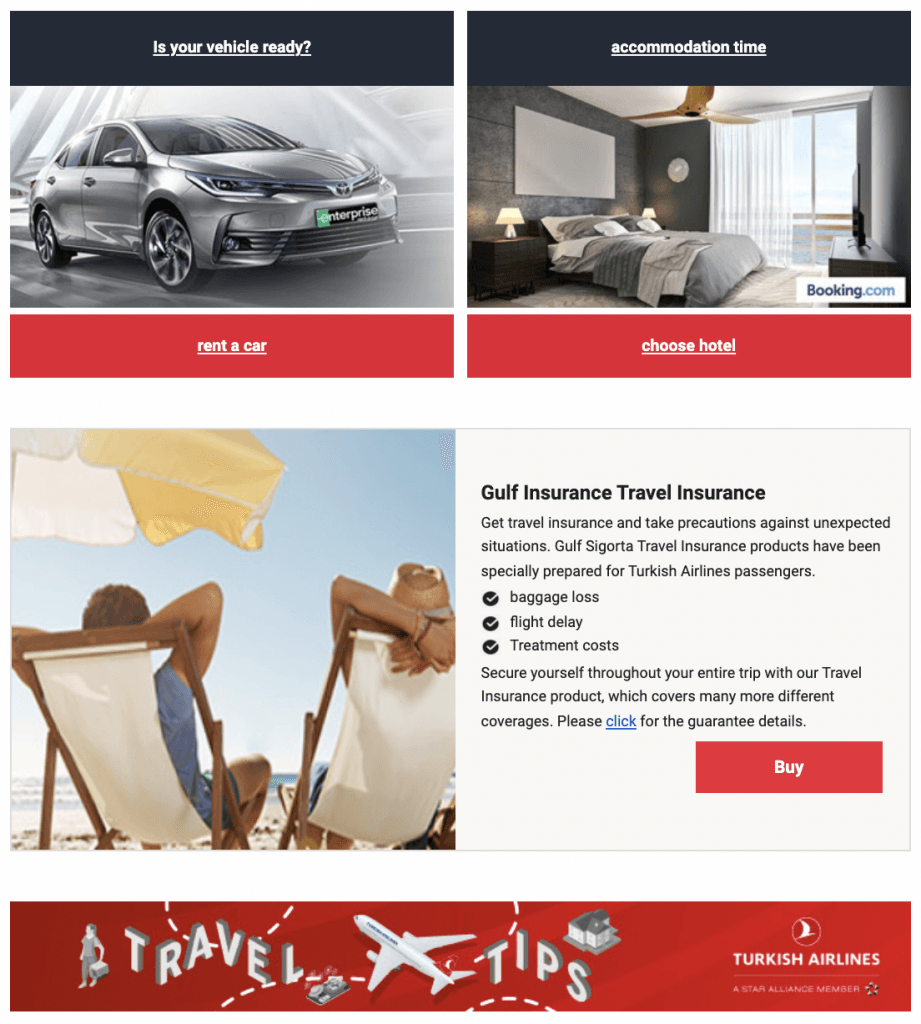 They are also valid for the travel industry. For example, if a customer booked a flight to Paris, you can send a cross-sell email suggesting accommodation, car rentals or tours.
6. Price Drop Emails – (Ecommerce, travel, real estate)
Price drop emails, as their name clearly explains, are emails sent to customers who expressed interest in a product or service, but didn't complete a purchase, announcing to them that its price dropped below a certain threshold.

These types of emails work very similar to cart abandonment emails because they are behaviour based and triggered by the user actions. They let shoppers know that a product or service they wanted to purchase is now available at a much lower price, thus presenting them with a great opportunity they wouldn't like to miss.
Price drop emails are very effective because they are based on user behaviour and have the added value of presenting a sale or offer on that specific product the user liked. They offer relevant, personalised information with a great appeal of a lower price.
Using price drop emails is a great tactic to bring users back to your site and also clear stock, finish filling a flight or finally rent that property you have been trying to get out there for a long time.
7. Back to Stock Emails – (Ecommerce)
Back to stock emails are probably the most neglected type of emails because usually everyone focuses on more traditional ones like welcome, cart abandonment and post-purchase emails.
However, back to stock emails represent a huge sales opportunity. Consider the fact that, if a product is sold out, it must mean that it's popular, that people like it and it might sell out again. How many people might be expecting for it to go back to stock to purchase it?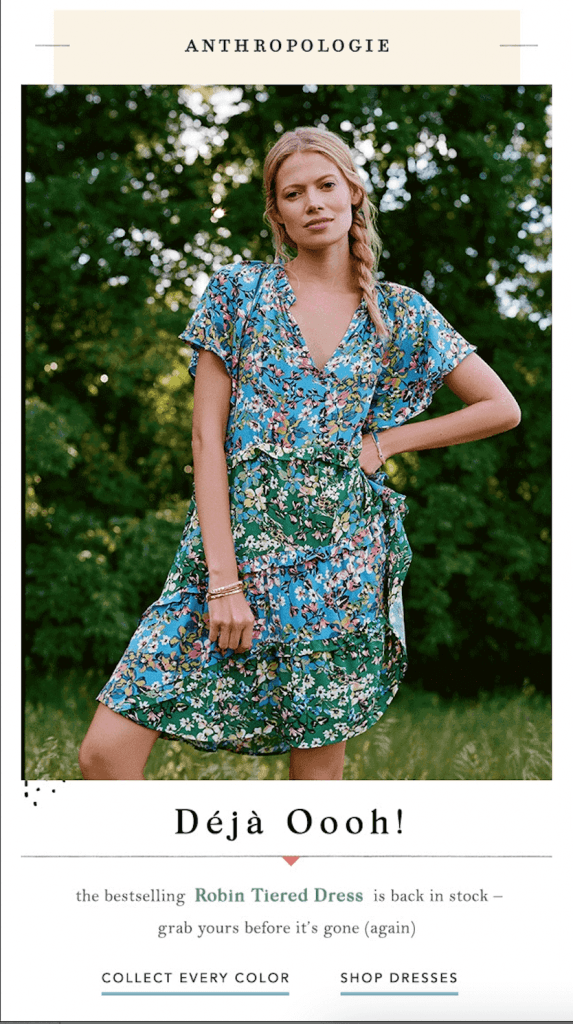 That's your opportunity to reach out to them with a fabulous back to stock email and let them know the product they want so badly is available again!
8. Lead Nurturing Emails – (All industries: Ecommerce, B2B, travel, real estate)
Lead nurturing makes reference to the process of developing a relationship between brands and potential clients helping them with their decision making process and move down the funnel until they complete a purchase.
This process is so important because it keeps your product or service in people's top of mind. Using lead nurturing emails showing more details and highlighting features of your product/service helps you tip the scales in your favor when the time comes to make a decision.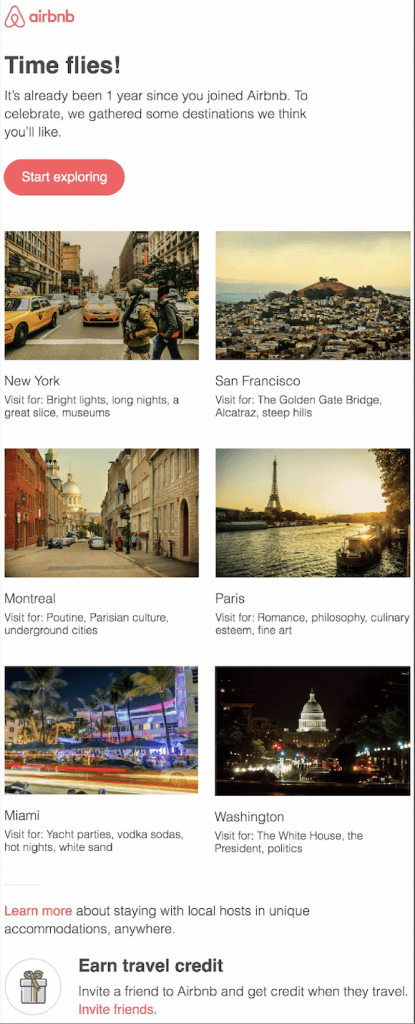 You can automate lead nurturing email campaigns by creating different sequences depending on the stage of the funnel the user is at the moment. These campaigns can be sent through a predefined period of time with personalised, specific messages.
For example, if someone subscribes for a free demo period of your software, you can add that user to a sequence of emails that first show how to use the platform step by step, then highlights the features and ultimately invites the user to make the purchase with information about how many days are left of the free demo.
General Tips to Make the Most Out of Your Email Marketing Campaigns
Whichever business you run and the campaigns you decide to implement, there are a few good practices you should follow to make the most of you email campaigns:
Make sure you write an appealing and descriptive Subject line
Include emojis in the subject
Personalise them as much as possible
Make them easy on the eyes taking care of the design
Add a clear call to action inviting them respond
Include links to your social media profiles
Keep track of your data and analyse your campaigns to optimise them later
We hope you find this information useful and apply these strategies and tips to your email marketing campaigns.
You can also check out: