Web push notifications are short, immediate and highly personalised messages delivered to users through their browser after agreeing or subscribing to receive them. This channel is quickly gaining popularity amongst e-commerce sites due to its inherent characteristics and benefits:
No 3rd party cookies required
No personal data from users required
They reach users from desktop and mobile devices
Messages get delivered even when users leave the website
Additionally, platforms like Frizbit offer the possibility to reach users through their entire journey by creating automated sequences of messages for each step of the marketing funnel based on individual user behaviour.
You can easily see why web push notifications are becoming the number one marketing tool preferred by online store owners and digital marketers to engage with their customers and bring them back to the site to finish a transaction.
Despite being recognized as most effective and profitable for e-commerce, this new channel has applications for all types of websites including B2B. One of the things that make web push notifications so great is that they can be personalised to adapt to any business, from tailoring the message to adjusting timings, languages and sequences, this is the most versatile digital marketing channel you can get.
Using Web Push Notifications for B2B
Digital marketing strategies for B2B don't usually differ so much from B2C, the main difference is that B2B processes last longer than in B2C businesses. This presents a different challenge for marketers because they need to find ways to keep audiences interested during longer periods of time.
The traditional way to do so has always been by sending emails with interesting and relevant content with the objective of finally achieving conversion. However, with the saturation of content on the Internet it is getting harder to cut through the noise of thousands of messages daily and actually make an impact.
Bottom line, customer engagement is key for B2B businesses to succeed and increase their lead conversions and web push notifications are a great channel to interact with customers and create a hyper-personalised experience.
Reach Anonymous Users and Turn Them Into Leads
As we mentioned before, web push notifications don't require any type of personal data to reach users after they leave the website. When a person visits your site for the first time, if they have enabled the channel, they will be shown a browser based prompt asking them if they wish to allow web push notifications.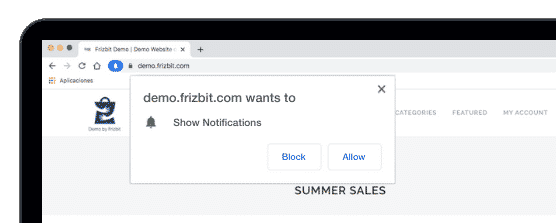 If they leave without taking any further action, you can re-engage them via web push notifications after a certain period of time you decide is best. Since you can customise the notifications as much as you want, you can decide which page you want subscribers to go to when they click on the notification.
This is a great opportunity to redirect them to a page with super useful information you think will tilt the balance in your favor and also peak their interest. For example you can offer them a trial period or present them with a special discount for first time customers as an exchange for them filling in a form and leaving their contact details such as email address or phone number.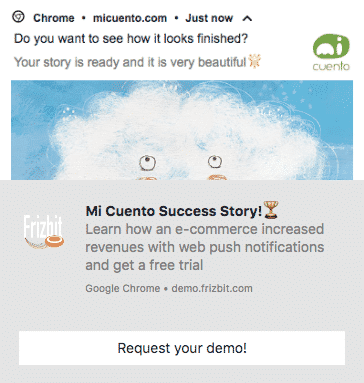 This is a great strategy to turnt anonymous visitors into leads so you can contact them later and give them your full pitch. This is not possible to do with any other channel. With retargeting ads you won't know for sure if your message got delivered, maybe you have competitors who are paying more than you so your ad is never shown and you lose that visitor for good.
Through some stages of the marketing funnel, people are browsing around a lot of pages looking for information. They jump from one site to another investigating and searching around and this might go on for some time while they decide to move forward with the process.
Web push notifications are a great channel to target people during these stages when they think and research and maybe lose the information from your site as they stumble into other similar solutions.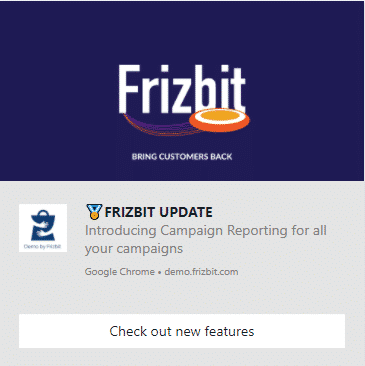 You can send manual web push notifications campaigns sharing information they might find valuable to bring them back to your site or, at least, maintain your solution on their top of mind so they keep it as a valid option. You can send notifications about:
New features
Updates about your solution
New downloadables such as whitepapers
Use Recurring Web Push Notifications
One of the most important stages of the marketing funnel is the "loyalty" and "advocacy" which, sadly, often gets overlooked. B2B businesses should invest time and effort in keeping their customers engaged even after they have converted.
Since this implies "spending" resources after the goal was achieved and extending the work beyond the main objective, its importance is diminished. But businesses need to understand that the best customers are recurring customers and the way to keep them coming back is to offer them an engaging post-purchase experience.
If you are a provider, you can do this by sending automated recurring web push notifications alerting them that it is time to repeat their order, for example. These types of messages keep customers engaged and offer the feeling that you care about them and appreciate their business.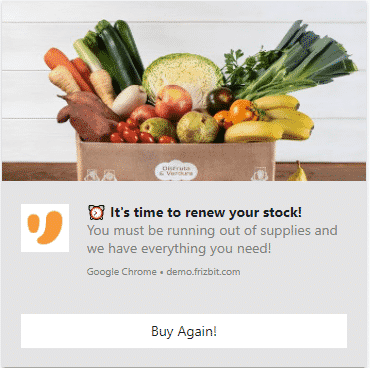 Sequences for Lead Nurturing
Once you have established the journey your customers go through when visiting your business site, you can create a sequence of automated web push notifications to keep in touch with them after they leave your site without converting.
You can send them hyper-personalised messages that will show on the screen of their desktop or mobile devices to re-engage them and bring them back to your site. Segmentation and automation will allow you to reach specific audiences based on their individual behaviour, targeting their specific needs.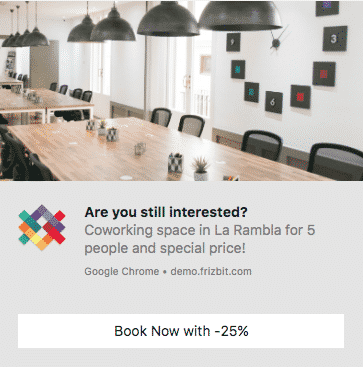 You can recommend them services or products that fit their requirements based on their most recently viewed category or products. Remember that the objective is to maintain a flow of communication with regular contact by providing useful information that ultimately leads to a conversion.
To sum up…
We hope these tips allow you to understand the applications of web push notifications for B2B. This channel offers online businesses a world of opportunities, you just need to strategize and find the right mix that works best for you and your audience.
Sending web push notifications to prospects or customers will increase your return rate and help you grow your business. Remember that the important thing is to keep your solution present in their minds throughout time as a valid option to solve and fulfill their own business needs and requirements.
If you found this information interesting, you will surely also like: