With just one month left to 2021 and a major holiday season right ahead, it's imperative that we take our time to checkout the most important:
1. Search Marketing News
Google Launches New Tools and Features to Support Local News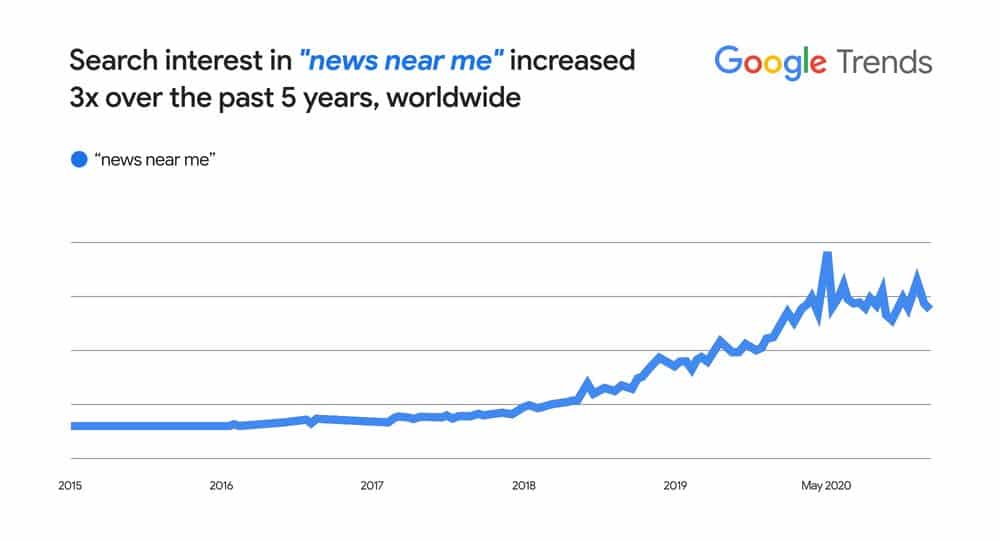 Over the past five years Google has reported an increase in queries on search like "news near me", reaching a special high during COVID-19 pandemic in May 2020. In response to this demand, Google is launching new features for local search results and new tools for journalists:
"At Google, we're dedicated to finding new ways to help readers better connect with publishers and helping publishers more efficiently and creatively produce quality journalism their readers want." Google Blog
a) New Features for Local Search Results
Local News Carousel: readers will see a carousel of local news stories when there's local news relevant to their query.
Top Stories: Google is improving their system to show authoritative local news sources more often alongside national publications.
Topic Understandment: Google is refining its ability to have a better understanding of general topics like "sports" to more specific ones like "tennis" to help readers get more relevant search results paired with location signals.
Local Tweets: results are now showing tweets by local sources, authors authorities and organizations relevant to the search query.
b) New Tools for Reporters
Census Mapper Project: an embeddable map tool aimed to help reporters sort out and visualize data in a more easy and appealing way. It displays Census data at the national, state and county level, as well as census tracts.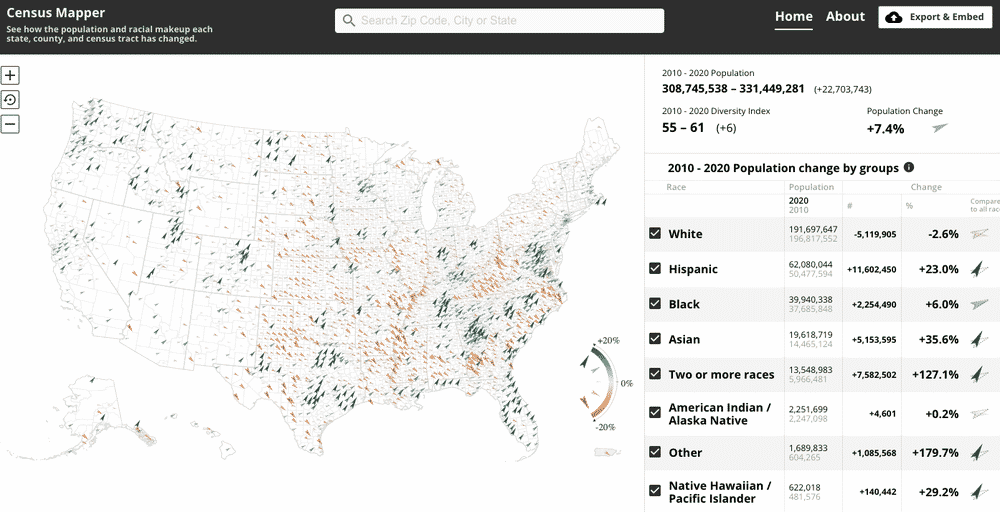 Common Knowledge Project: is a data explorer and visual journalism project and Google is making improvements to integrate journalist feedback and new features including geographic comparisons, new charts and visuals.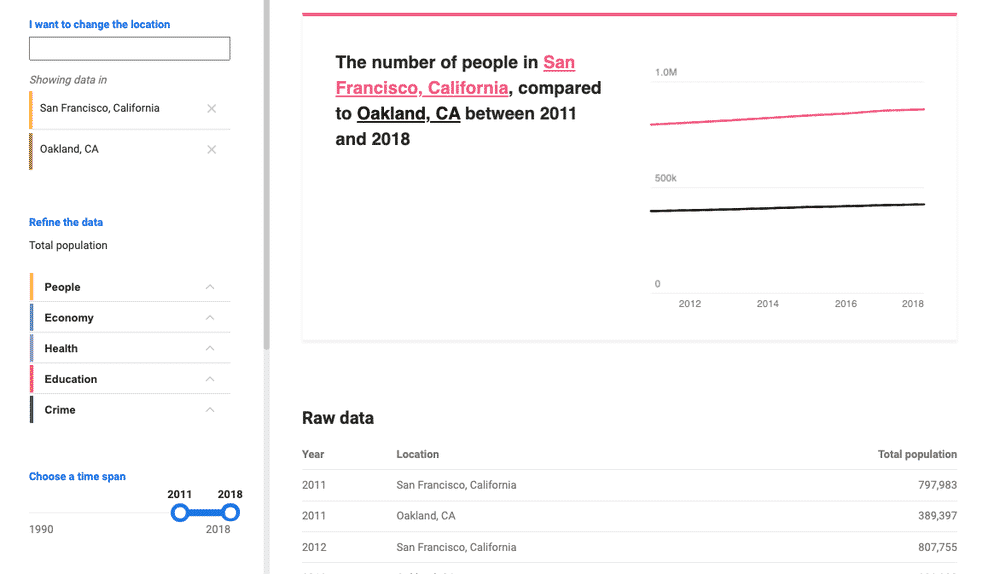 Google Ads App Updated With 3 New Features
Google is making marketers life's a little bit easier by updating the Google Ads App adding new 3 features that allow them to make changes and monitor campaigns performance directly from mobile devices.
Improved Performance Insights: the update will provide information about campaign performance with a real time notification when a significant change occurs, an explanation of why it happened and, in some cases, a recommendation on how to fix the issue. There will also be insights on positive changes in performance to help marketers understand what worked and how to replicate it in the future.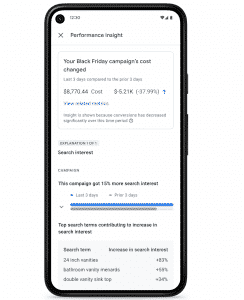 Real-time Search Trends: Google added search trends to the mobile app to make it accessible from everywhere.
"Let's say you're a grocery retailer looking to reach more customers. With Search trends, you may notice a rising trend for "cookie decorating kits" and "bread & pastry dough". You can then act on these trends by creating new campaigns for these products, and even update your in-store and online merchandising as well.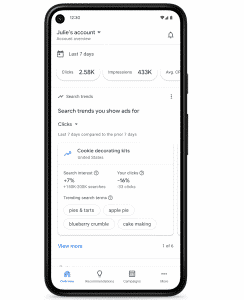 Campaign Creation on the go: with just a few taps is now possible to create campaigns directly from the Google Ads mobile app. By simply tapping the "plus" button you can select your campaign type, where you'd like your ads to appear and other campaign settings.
Google Makes Improvements in Search Results for "Deals" Query
During Holiday season searches for deals and discounts peak. That's why Google is introducing new ways for people to connect with businesses and find the "right deal at the right moment throughout the season."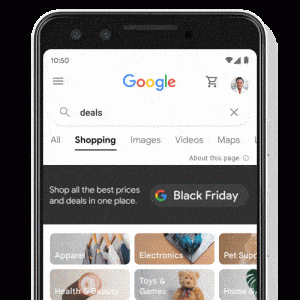 Helping People Find the Right Deal: products with a deals badge will appear in a new feed in the Shopping Tab. People can access it by selecting the "Deals" menu or by doing a search that triggers for queries like "deals" or "Black Friday." Any product with a deals badge is eligible and will be highlighted depending on how attractive the offer is.
Measure Deals Performance: merchants will be able to see which of their products are eligible for a deals badge in the products tab within the Merchant Center. The dashboard now shows a detailed performance report with data on impressions, clicks and click-through rate.
WooCommerce and Shopify Integration: both platforms businesses will be able to showcase their existing deals across Google by synching existing and new promotions to their products listed on Google directly within their store dashboard.
2. Marketing Tech Updates
HubSpot Launches New Payments Solution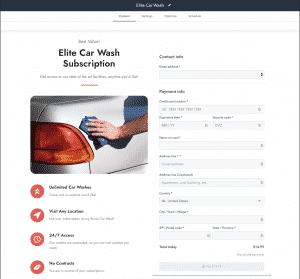 The CRM platform has announced the launch of HubSpot Payments to Help Customers Deliver a Better Buying Experience. HubSpot Payments is an end-to-end payment solution built natively as part of the platform and allows companies to accept payments seamlessly with fewer tools.
"For too long, B2B companies have suffered through painful sales processes that leave customers frustrated and lost revenue on the table. That's why we've built HubSpot Payments to enhance the customer experience rather than slow it down" – Brad Greene, VP of commerce and payments at HubSpot.
With HubSpot Payments companies will be able to accept digital payments without the need of any type of development, since it's integrated directly into the CRM. It also allows a more secure buying experience for customers being able to pay in just a few clicks using the payment method they prefer.
Mailchimp and Shopify Launch Direct Integration
Mailchimp announced a partnership with Shopify for new and existing users of both platforms to connect their Mailchimp account with their Shopify storefront through a direct integration without needing third-party tools or manual data transfer.
Mailchimp shared the news saying that "By connecting Mailchimp and Shopify directly, merchants will be able to combine the power of purchase data with marketing data and use those insights to help drive conversions, increase revenue, and reach more customers at the right point of their buying journey."
This integration comes in time to help small businesses make the most out of the holiday season by making it easier for merchants to reach their customers.
"The combined power of Mailchimp's suite of marketing tools and Shopify's robust commerce infrastructure will level the playing field and unlock even more opportunity for independent businesses to grow and succeed into the future." – Fatima Yusuf, Director of Commercial, App Ecosystem, Shopify.
Mailchimp also acquired the ShopSync app, which has helped Mailchimp users connect their accounts to Shopify stores.
Slack Introduces New Platform
With the purpose of empowering organizations by understanding that each one of them works with different flows, structures and specific requirements Slack has completely rebuilt and re-engineered the Slack platform.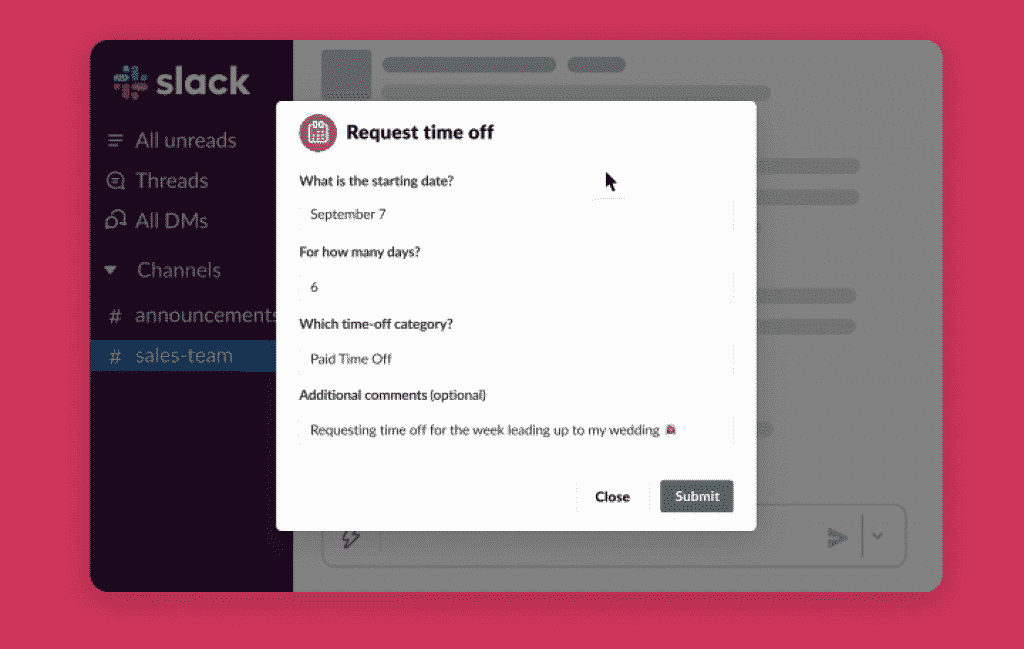 They want Slack to be companies' Digital HQ to make work more productive and pleasant. With this update they are offering businesses a tailored solution that adapts and responds to their unique business needs. On their blog they say:
"From everyday business users like sales representatives, administrators and marketers to seasoned engineers, everyone can customize their Slack experience and digital HQ to fit how they work, now and in the future."
Here's what's new:
Workflow Builder: a feature that allows non-developers to create workflows by dragging and dropping pieces of existing apps and then customizing how they work together.
Slack Links (coming soon): with just one click, users will be able to sign in to their work apps using their Slack accounts.
Subscribe in Slack (coming soon): users will be able to set up Slack notifications from their other tools integrated into their Slack workspace.
3. Social Media Updates
YouTube Removes Dislike Counts On All Videos
Videos on YouTube will no longer show a public dislike count, while the dislike button remains. Early 2021 YouTube experimented with the dislike button making invisible the dislike vote count to help protect content creators against harassment where people worked to increase the number of dislikes from a certain video.
"We want to create an inclusive and respectful environment where creators have the opportunity to succeed and feel safe to express themselves. This is just one of many steps we are taking to continue to protect creators from harassment. Our work is not done, and we'll continue to invest here". – YouTube Blog
The results from this experiment showed that, because the count wasn't visible, viewers were less likely to hit the button trying to drive up the number of dislikes. Apparently this is a practice that affects small and new channels the most.
Based on these results, YouTube has decided to make the dislike count private across the entire platform. Viewers will still have the option to hit the dislike button if they want to and creators will still be able to find the exact amount of dislikes from a video on YouTube Studio along other metrics.
This change is rolling out gradually since early November 2021.
Instagram Launches Live Test of Longer Videos in Stories
Instagram has launched a live test for 60 seconds videos in stories. This means that longer videos won't be split into 15 seconds clips anymore. This is what Instagram had to say when inquired about the subject by socialmediatoday:
"The ability to create longer Stories posts comes highly requested by our community. We're excited to be testing 60-second Stories so that people can create and view Stories with fewer interruptions."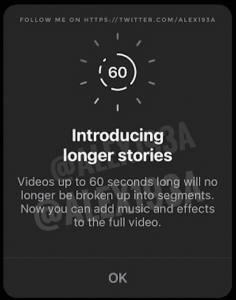 This initiative comes from the desire of Instagram to simplify and consolidate ideas, since they launched a lot of features in the last year. The decision has also been influenced by social media platform TikTok which has become most popular between younger crowds and thrives with simplicity.
The new feature is currently being tested with only a small group of users, but soon it will reach more and more people.
TikTok Tests New Option to Tag Other Profiles in Your Video Clips
With the objective of boosting engagement, TikTok is rolling out a feature that allows users to tag other profiles in their clips. This option comes as an addition to the already available @mention option within the post captions.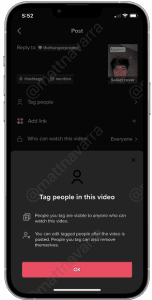 This means that users can still alert other profiles about their clips, but keeping the caption text free of mentions. Functionality wise it doesn't represent a major change, however it does provide a new way to link creators content.
The new option to tag other profiles, is still being tested and there are no plans to roll it out to all users at the moment.
Digital Marketing News From November 2021
So here are the most important news and digital marketing trends from November 2021. As always Google is constantly providing with more and better tools for marketers to do their jobs the easiest way possible, marketing platforms are keeping up with teams' requirements and social media competition never ends.
Which update caught your attention the most?
If you are interested in reading more about digital marketing make sure to visit some of our other blog post: