There wasn't much digital marketing news to report during summertime. However, September has arrived in full strength with many updates to note that might help us marketers strategize better for the last few months of 2021.
Digital Marketing News, Insights and Updates from September 2021
1. Search Marketing Updates
Google is Working on New Search Feature to Index Instagram and TikTok Videos
Google has been reported to be working on new deals with Instagram and TikTok's parent companies, Facebook and ByteDance, to get the data they need in order to index and rank videos from the social media platform in Search results.
Users often go to Google to search for TikTok and Instagram videos everyone is talking about and have no luck finding them. The best result they get is a preview with lower qualities. Well, Google is trying to fix that and show users the exact video they want to see in Search, just like they do with tweets.
A few years ago tweets didn't show in SERP like they do now. Since Google reached an agreement with Twitter back in 2015, they now show in results and the same thing might happen if these new negotiations go well. We might start getting used to seeing these short social media videos in SERP sooner than later.
Google is always aiming to make content easily discoverable by users. However, when asked about the new feature a spokesperson stated that sites "can choose how or whether their content appears in Search."
To this point is just a matter of time and wait to see how the negotiations pan out.
Google is Giving Users More Transparency Into their Google Ads Experience
Google has been innovating with different features to help users have a better understanding about ads they get in Search and Display in different formats. Features such as "About this ad" and the advertisers identity verification program, enhance user experience by offering transparency and credibility with the ads shown to them.
Not stopping there, Google has announced now they are rolling out Advertiser Pages to offer users more information about the ads they get. Users can access these disclosures in the new "About this Ad" menu and check the ads said advertiser has run over the last 30 days. 
"For example, imagine you're seeing an ad for a coat you're interested in, but you don't recognize the brand. With advertiser pages, you can learn more about that advertiser before visiting their site or making a purchase." Google Blog
Users will also be able to report an ad they feel is violating Google's policies and if they see fit, a Google team member will delete it. As always, Google is aiming to offer users the best online experience as possible and taking their feedback is key to achieving that objective.
Advertiser pages will launch in the coming months in the United States, and will roll out in phases to more countries in 2022.
Microsoft Advertising Launches Open Beta for Credit Card Ads
Microsoft Advertising has announced that, from this week, Credit Card Ads will be available for advertisers targeting customers in the U.S. and Canada.
Credit Card Ads are intent-triggered ads dynamically generated with no keywords or site crawling required. They appear on the right side of the Bing Search Results Page alongside text ads.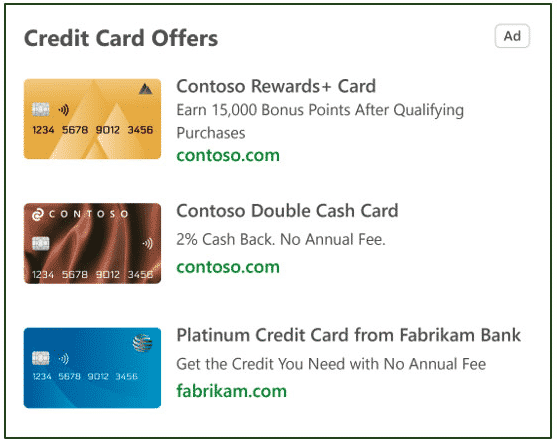 "Credit card ads trigger for queries such as brand name, card category, credit level, and more. Bank issuers, comparison sites and brands can all take advantage of Credit card ads." Microsoft Blog
On its blog, Microsoft states that, so far, advertisers have seen great results using Credit Card Ads:
Up to 46% more conversions
70% lower cost per acquisition
Early results are sure promising for advertisers.  This new feature is rolling out as an open beta and anyone wishing to participate has to contact their Microsoft Advertising representative or sign up here.
2. Marketing Tech Updates
Shopify Launches Shopify Markets to help Internationalize Stores
Up until now, if an ecommerce wanted to sell internationally, they'd have to use a third party marketplace or retailer to do so. With the launch of Shopify Markets that won't be necessary anymore, since it allows merchants to sell directly to a global market all from one place.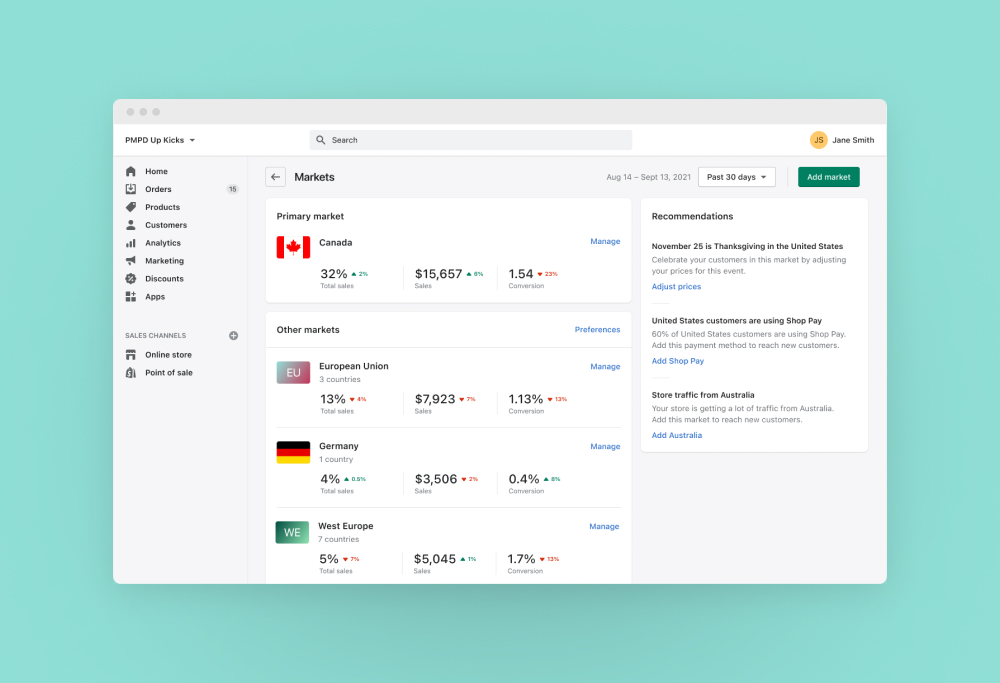 Shopify Markets is a centralized hub with all the tools ecommerce sites need to sell directly outside their home country. On the announcement of the new solution, Shopify stated that "Complexities like currency conversion, language localization, providing local payment methods, and duty and import taxes can all act as barriers to effectively selling internationally". All of this is solved with Shopify Markets. 
By entering, merchants can:
Enter new markets easily
Increase buyer trust and conversion with tailored experiences for each market
Optimize cross-border operations with actionable insights and smart settings
Save time with a central global management platform
Shopify Markets is already available in early access globally.
HubSpot Partners with Envato
The CRM platform and Evanto, the world-leading online community for creative assets have partnered to launch over 250 high-quality templates specifically designed for HubSpot. 
"Designed by Envato's internationally recognized community of professional theme developers, the new templates offer a wide variety of ways for businesses to customize their online presence, whether they use a multi-purpose theme or something more niche to their industry." – HubSpot.com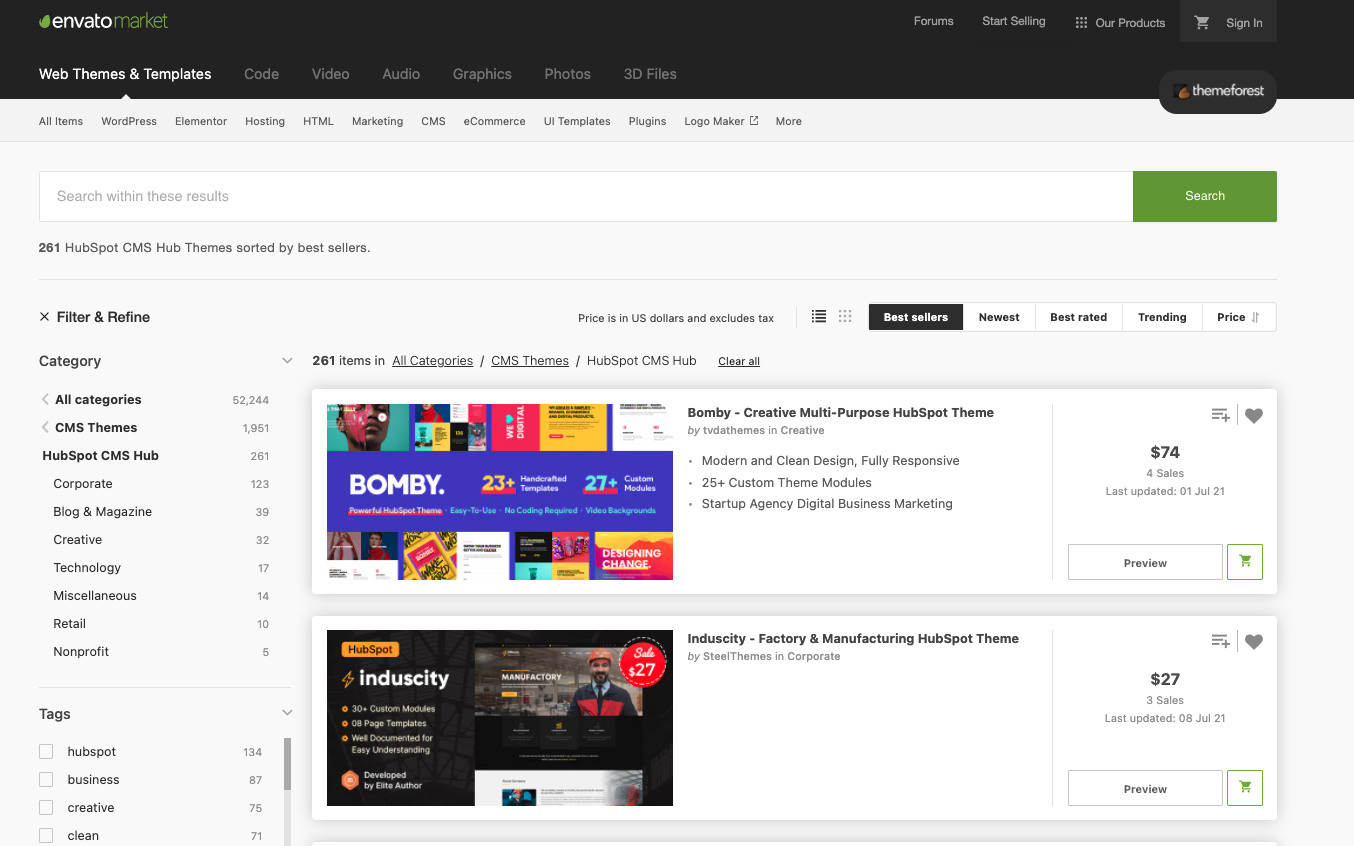 Since both platforms, HubSpot and Envato, are aimed towards building engaging web experiences faster, Envato's Chief Content Officer, Cameron Gough, said the partnership was a natural connection between both companies. He also added that:
"With these themes, we have an opportunity to provide the global creative community with the assets they need, while HubSpot can bring their CMS Hub product to life with the help of our talented author base".
The have reported that the initial reactions from the community have been very positive with the creation of a huge variety of template themes. You can see the collection of CMS Hub themes on ThemeForest here: https://themeforest.net/lp/hubspot-cms-hub-themes/.
Intuit Confirms Deal to Acquire Mailchimp
A few weeks ago, global technology platform Intuit, confirmed rumors about the acquisition of the popular mailing automation platform, Mailchimp for $12 billion.
Intuit is better known for its financial softwares TurboTax, QuickBooks, Mint and Credit Karma, but with this new acquisition they aim to "advance their mission to power prosperity around the world for consumers and small businesses".
They described the objective saying that they "will work to deliver on the vision of an innovative, end-to-end customer growth platform for small and mid-market businesses, allowing them to get their business online, market their business, manage customer relationships, benefit from insights and analytics, get paid, access capital, pay employees, optimize cash flow, be organized and stay compliant, and have experts at their fingertips."
3. Social Media Updates
Twitter Makes Tips Available to Everyone and Adds Bitcoin & GoFundMe As Tipping Options
Back in May Twitter rolled out a feature called tip jar, that allowed users to tip others. This feature was only available for a select group of English-speaking content creators. Now, Twitter is rolling out Tips for everyone and adding new payment alternatives. 
Tips make the payment much easier by providing one spot right in the user's profile where they can link to their Cash App, Patreon, Venmo and other platforms. Before, users had to manually share links to their payment profiles in their bios and in their tweets.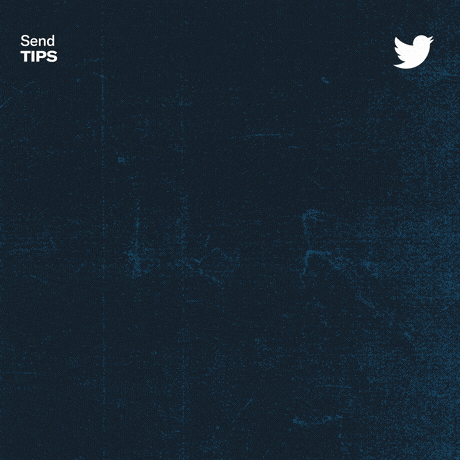 In addition to that, Twitter is also including new payment services: GoFundMe, an online fundraising platform, and Bitcoin through Strike, a payment application built on the Bitcoin Lightning Network that offers instant and free payments globally.
This is what Twitter had to say:
We want everyone on Twitter to have access to pathways to get paid. Digital currencies that encourage more people to participate in the economy and help people send each other money across borders and with as little friction as possible – help us get there.
Facebook Launches New Tools for Businesses
In order to help businesses connect with more people and generate more leads, Facebook is launching a set of new free and paid tools:
Start conversations with ads that click to message: businesses can use ads to invite people to message them through the messaging platform they prefer: Messenger, Instagram Direct or WhatsApp.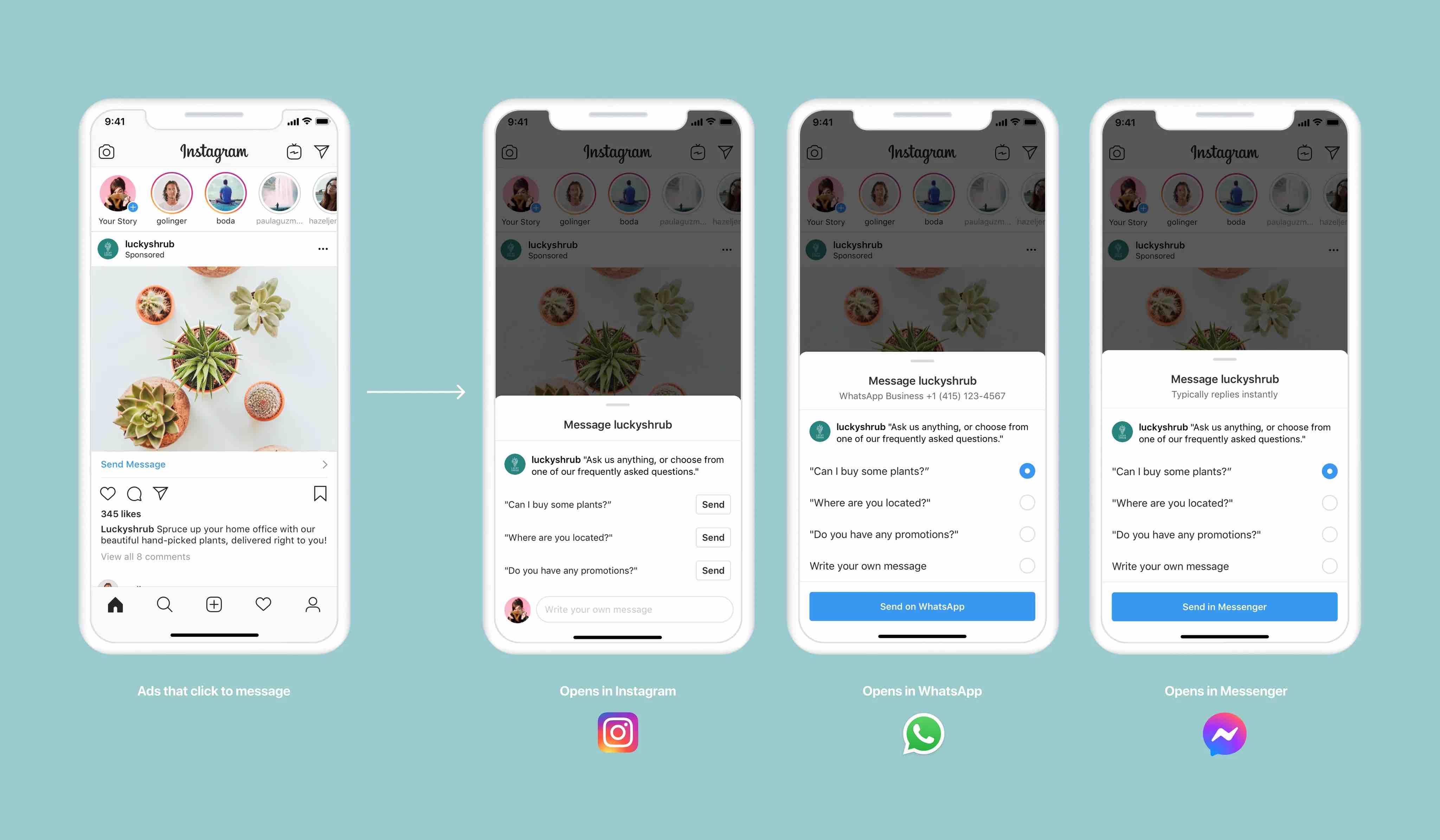 Start a WhatsApp chat from an Instagram Profile: for many small businesses Instagram is the main platform through which people discover them, and Whatsapp the platform to engage in conversations. With that in mind, Facebook is making it possible to add a click-to-chat button to their Instagram profiles and a button that takes users to Whatsapp directly from Instagram ads.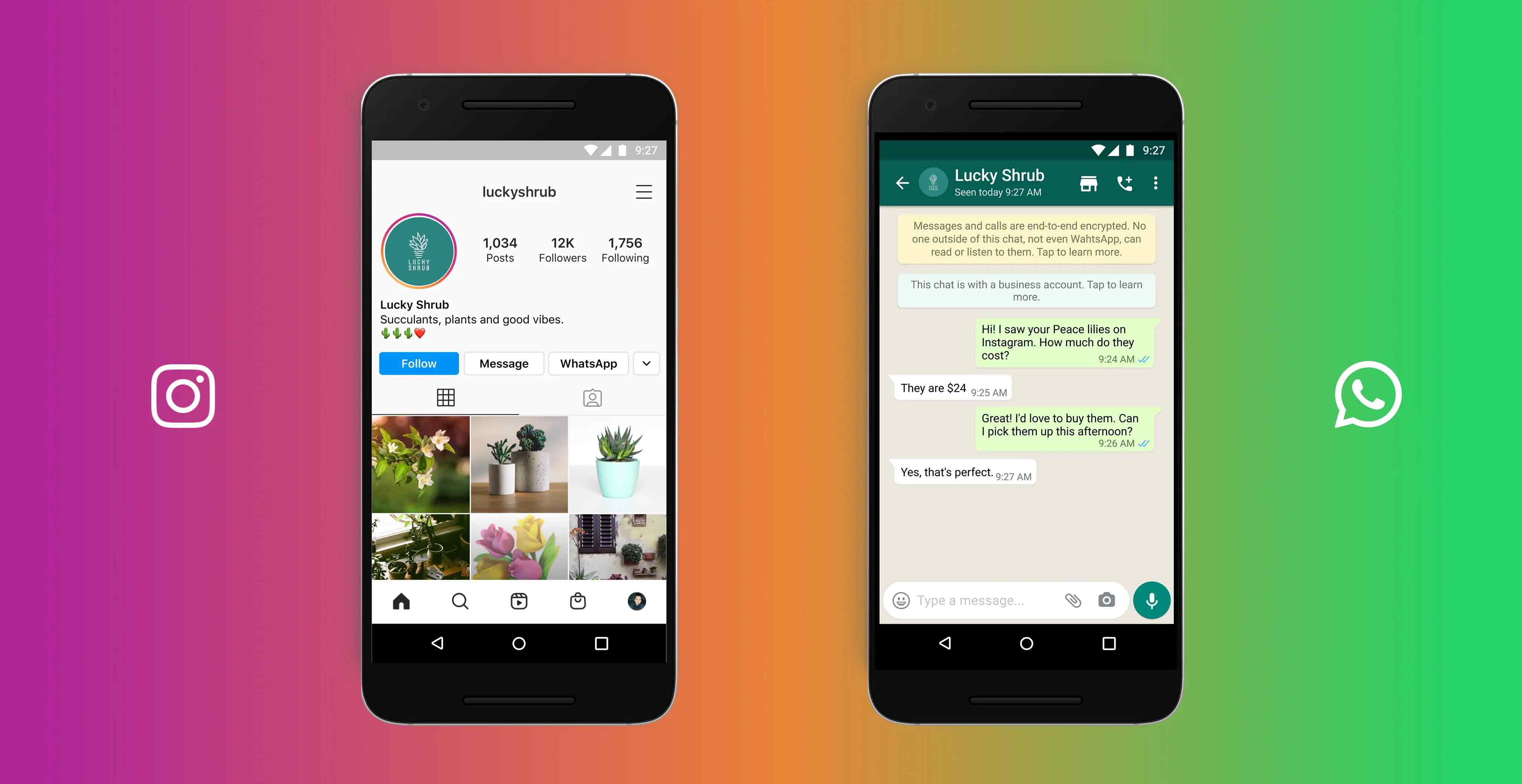 Quote Request on Messenger: with this feature businesses can elect 4-5 questions to ask consumers prior to starting a conversation. Then, consumers are able to request a quote from a business by completing a questionnaire on Messenger. This feature is only currently available for select advertisers for testing.
Lead Generation on Instagram: Facebook will start testing paid and organic tools to help businesses find qualified leads on the social media platform in a more personal way and reducing costs.
Regarding all updated and new features, Facebook stated that "Today is just a step towards the future we're building for and with businesses in this next era of personalization and we'll share more on this as it progresses.
YouTube Adds 5 Features for Creators
YouTube content creators will have access to more insights and more control over ads and chapters thanks to these five new features:
Evergreen video insights: evergreen videos are those that have been popular for a long period of time. YouTube is giving content creators access to insights for these types of videos as a way of helping them improve their monthly channel performance analysis.
Trending hashtags: YouTube launched the trending hashtag feature in the explore section to help viewers find popular content, and creators to identify topics for their future videos. This feature is only available for U.S mobile users.
AdSense Blocking Controls: YouTube is making available the Adsense Blocking Controls to multi-channel affiliate networks (MCNs). Previously this feature that allows content creators to control what type of ads run on their channels, was only available to channels in the YouTube Partner Program.
Bulk Edit Video Chapters: YouTube launched automatic chapters for newly uploaded videos and creators are automatically opted into it. And for those who don't want the feature enabled on their channel, YouTube is making it easier to edit the chapters in bulk.
Appeal Yellow Icons on YouTube Studio Mobile: a yellow icon means a video is receiving little to no monetization. From now on, content creators will be able to appeal them via the Studio Mobile app, instead of solely via desktop.
Digital Marketing News from September 2021
There was a lot to choose from to sum up the most important digital marketing news and updates from September 2021. We gathered the news we believe you'll find more interesting and useful to strategize next month.
If you want to keep reading…