As a marketer, when you hear the term "Remarketing", one of the first things to come to your mind are probably display ads. However, while ads are by far the most well-known and widely-used remarketing method, there is much more to remarketing if you know what you're doing and have the right tech at your disposal!
That's why in today's post, I will tell you all you need to know about remarketing – what it is, how to set it up, why to use it, and how to do it right. While I will explain a bit about how web tracking and personalized ads work, I'll also provide you with a few other strategies you can use and, last but not least, I will compare the different methods for you.
To begin, here's a brief overview of what I'm covering is this article in case you want to go straight to a specific section:
1. What is remarketing?
To keep it brief, remarketing refers to all activities aimed at getting a customer who has interacted with your website in the past, to return to the site and, in the best-case scenario, convert. This can be done through a number of different channels such as personalized ads, email messages, or web push notifications, which we will look into in more detail in a bit.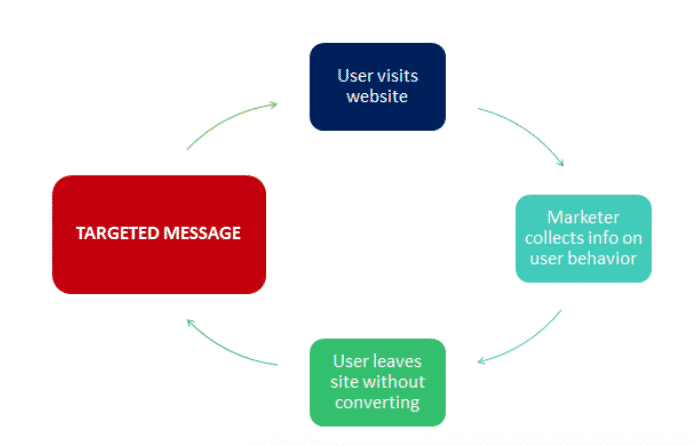 2. Is remarketing the same as retargeting?
Even among experienced marketers there is some confusion regarding this question, so let me try to clear it up for you:
Retargeting and remarketing are almost always used interchangeably, although according to some sources, there is a difference between the two:
Remarketing: includes all channels aimed at retaining customers including ads, emails and other methods
Retargeting: originally only used when talking about retargeting ads
So, basically, Retargeting is one out of many ways of doing Remarketing. However, other sources claim the opposite, so don't stress too much about this difference.
It is more useful to know is that somehow it has established itself that Google uses the word remarketing, while most other competitors use the term retargeting to refer to all of their remarketing activities. For this article, though, we will keep it simple and only talk about "Remarketing".
3. Why should you use remarketing?
Let's face it, the vast majority of website visitors don't make a purchase on their first visit. In fact, did you know that roughly 98% of these potential customers leave your website without having bought anything? The reason for this is not necessarily a sudden loss of interest in your products. Most of the time, people are simply reluctant to buy the first item they find. They need some time to consider your offer and compare the different options available to them.
However, while shopping online, they are faced with A LOT of options, so you need to make sure that in the moment they are finally ready to make the purchase, your offer is fresh on their minds. And this is where remarketing activities come into play! They remind web visitors of products they previously showed an interest in and make it easy to complete the purchase with only a few clicks.
But what makes remarketing so much more efficient than other marketing activities?
Precision: For one, you're targeting customers who have already shown an intent to buy what you're selling. Add to that that the messages can be highly personalized as you've already collected info on the user, and it doesn't come as a surprise that with remarketing you can achieve an extremely high CTR and CVR compared to other methods.
Cost: No matter which remarketing method you use, the CPC is low compared to other marketing activities.
Effort: Most remarketing campaigns are easy to set up yourself. They can be automated so they don't require too much upkeep.
The result of this is a much higher ROAS compared to other marketing methods!
What are the different remarketing methods, and how do they work?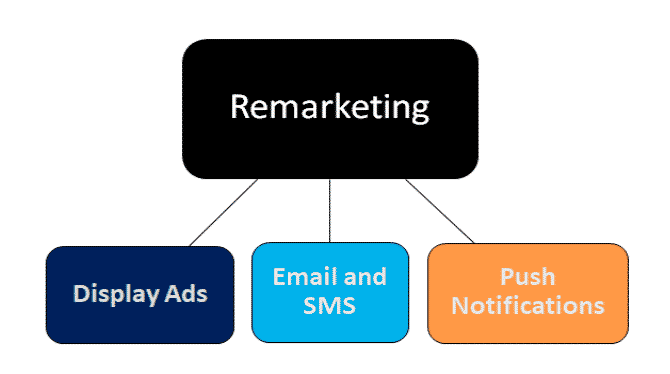 a) Display Ads
As I already mentioned, this method is the oldest and most commonly-used remarketing channel.
The way it works is pretty straightforward: A user visits your website and agrees to the storage of cookies on their device. Via these cookies you collect information about that user and their behavior. Once the user leaves your website, you can use the information you gathered in order to track them to other websites where you place tailored ads depending on what the user has shown an interest in.
How do you set up display ad campaigns yourself:
You can set up your own retargeting ads quite easily, all you need is access to your website's code and an account on a remarketing platform. The most popular platform to use is Google Ads, but there are other providers such as:
Facebook
Bing
Youtube (video ads)
Criteo
Adroll
Adform
Setting up a GoogleAds campaign only takes you a few minutes, but before you start, make sure you already have a general idea of what your campaign objectives are and which customer segments you want to target:
Do you want to drive conversions, increase your CTR, increase brand awareness, …?
Do you want to reach all website users or only those who have bought on your site before, clicked on a certain category page, or fulfilled any other criteria?
Tip: If you are not sure yet, just take a look at the suggestions offered by Google
Strategies for targeting the right people
Segment your customers into similar groups! Some examples for segmentation that work well are based on product pages viewed, based on the stage in the funnel, based on how often they visited over the last month,…
Target visitors at an advanced stage in the funnel! These already showed the highest intent to buy and thus, are more likely to convert. E.g.: customers with abandoned shopping carts
Cross-sell to existing customers! Customers who already bought from you are more likely to do it again.
Schedule ads for times when the target audience is likely to see them! E.g. if your audience are teachers, you can assume that they have class in the mornings and can't see your ads then,…
Adjust where necessary! Try different things, with time, you will see on which sites your ads perform best.
Let's look at the example of user A: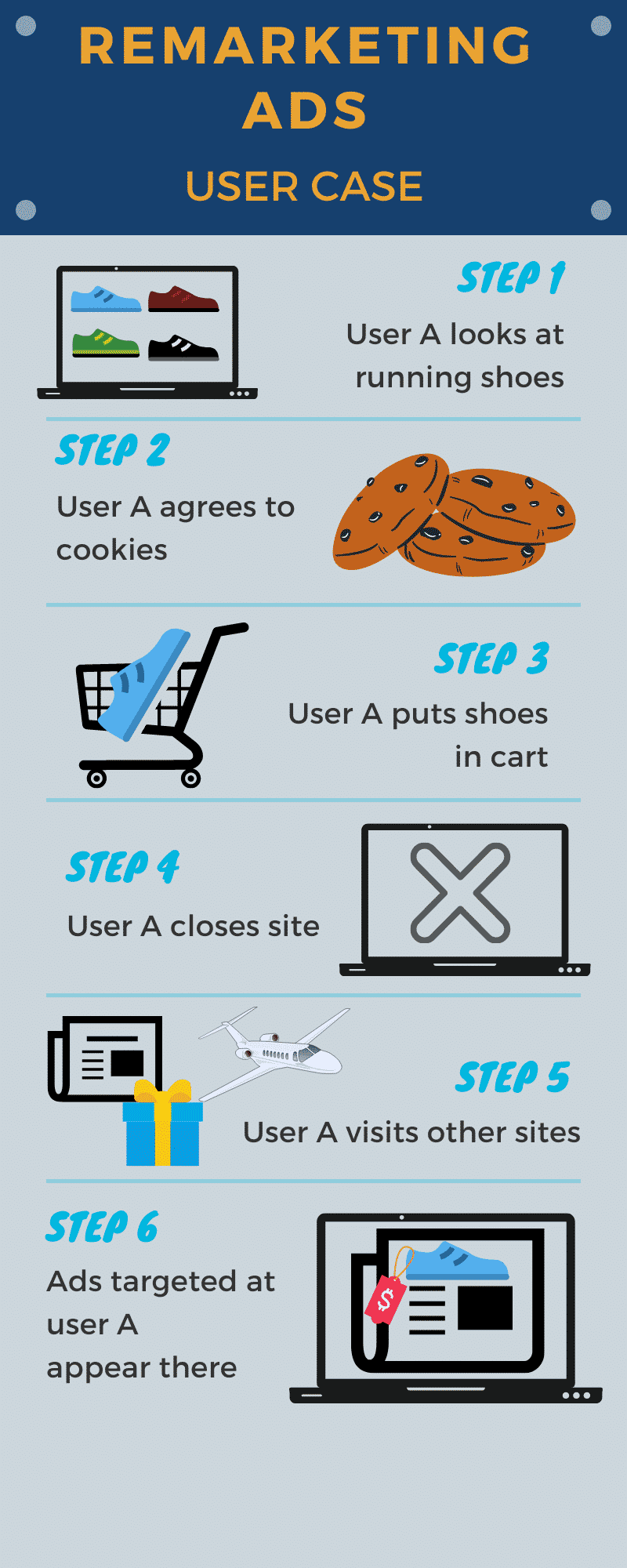 User A needs new running shoes which you are selling on your website.
As soon as he opens your site, he is asked whether he agrees to the storage of cookies on his device. Impatient to get to the shoes, he clicks "yes" without giving it another thought.
After some browsing, user A finds a pair of shoes he likes and puts it into his cart.
However, doubts start creeping in: Is it really a good idea to buy shoes online without trying them on first? And does he even need a new pair at all? And what if he can find a better pair elsewhere?… He just needs some time to think on it, so he leaves your site without finishing the purchase.
Anyways, over the next few days user A probably uses his computer for other things, be it to read the news, to buy a birthday gift for his sister, or to plan his next weekend trip. But surprise! When he opens the online newspaper, he sees an ad of the exact same shoes he looked at. And while he compares flights for his trip, the same thing happens! And again while he is ordering the gift for his sister!
What happened here is that, since user A agreed to the use of cookies, you as the marketer knew exactly what he wanted and could follow him to other websites to show him highly personal ads.
b) E-Mail and SMS- Remarketing
This method is focused on customers who have already purchased something on your website in the past or subscribed to your newsletter. Once you have their consent to use their personal information you are able to contact them about specific offers relevant to them, such as promotions or offers similar to what they bought in the past.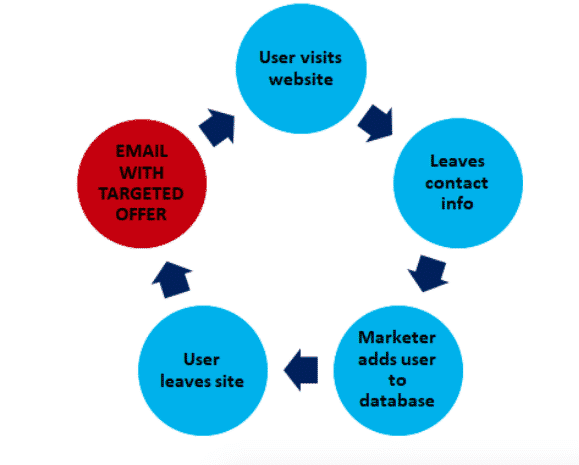 If you don't want to reach out to all your customers, but only to specific groups, just segment them. This way you can single out only those customers who meet the criteria you defined, e.g.
customers who bought a similar product in the past
customers who abandoned their cart
customers who looked at a product that wasn't in stock at the time, but is now
Tip: There are ways to encourage more visitors to leave behind their contact information, e.g., by offering free gifts or discounts in return.
Note: It is also considered email retargeting if you add your email subscribers to your ad network and configure targeted display ads specifically for that group.
To set up campaigns on your website, it is easiest to subscribe to an automation platform.
Let's look at the example of User B:
In the past, User B bought a school bag from your site. You now have his email address. The summer holidays just ended, and you have a promotion for school supplies going on.
Because of his past purchase you know that user B probably has a kid who goes to school and conclude that he is likely to be interested in your promotion. That's why his email address is added to a database of all customers who will receive this particular promotion.
User B is feeling stressed since just the other day, his kid had come home from school with a list of materials for the next academic year, needed by next week. When he sees your personalized email about the promotion, he is relieved and heads to your site where he gets all his supplies.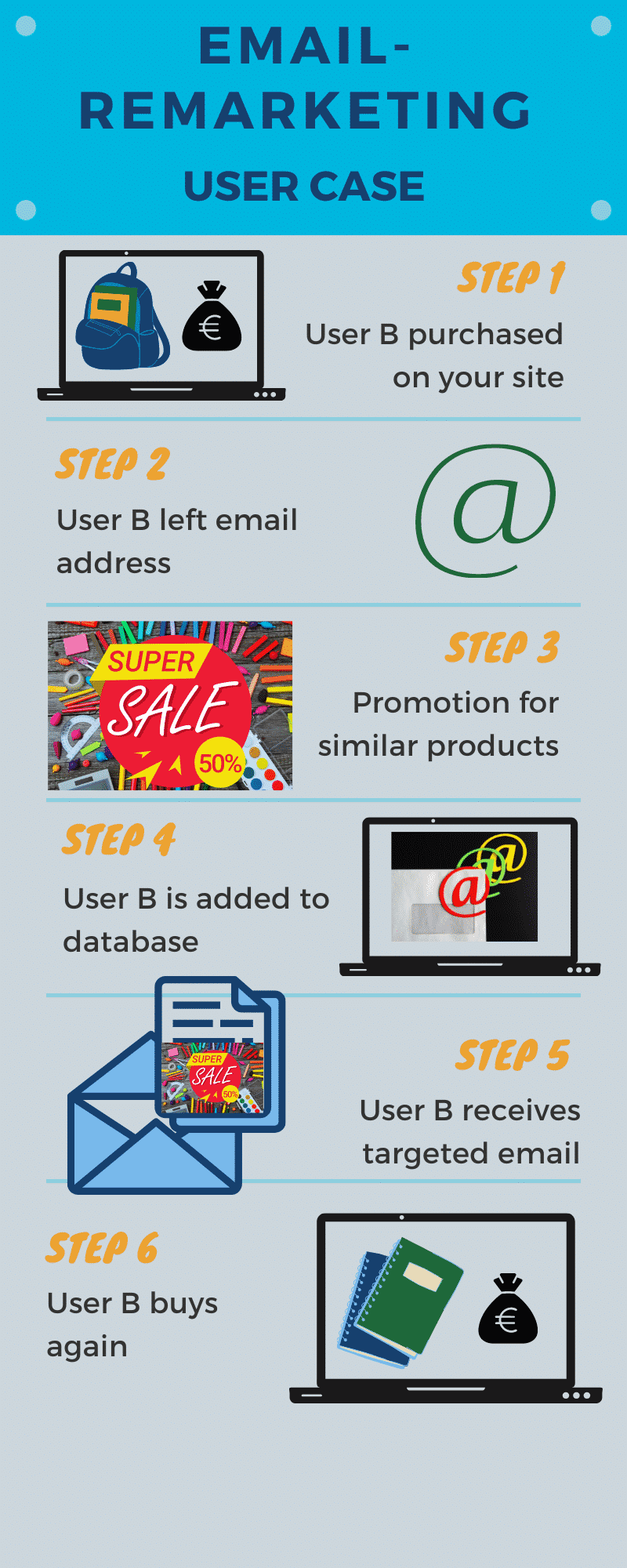 c) Web Push Notifications
A relatively new remarketing method that is quickly gaining traction are push notifications. These messages exist for both mobile and desktop devices and can be sent either manually or automatically to contact website visitors whose personal information you don't have access to.
How it works is that first-time website visitors are asked whether they want to block or allow messages in a so-called Native Opt-In: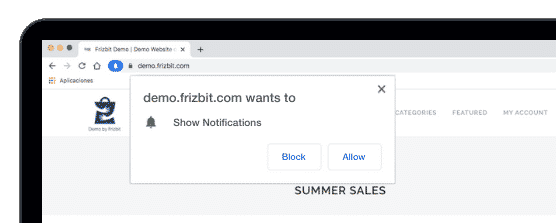 If someone who opted in now leaves the site, a message can be sent to his browser encouraging him to return to the site and finish the purchase. The great thing about it is that no matter what the user is doing on his computer, the message will appear on his screen until he either clicks it away or opens it, so there is no ignoring it.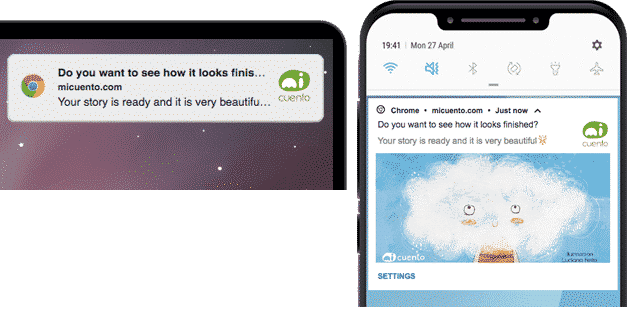 Again, if you want to set this channel up for your website, it is best to get a subscription to a marketing automation platform which has the capabilities for web push-notifications such as Frizbit.
Let's look at the example of User C:
User C opens your site to look for shoes.
Since you are using web push notifications, she is asked whether she wants to block or allow messages in the Native Opt-In.
She clicks on "allow" and browses your site for a bit. Although there's a pair of red shoes she likes, she ultimately leaves the site without buying it and without leaving her contact info. After all, the shoes will still be there tomorrow!
Later that day, she notices that she's running out of dog food. When she opens her laptop to buy some, the following message is waiting for her on the screen: "Hey user C! Hurry! There's only 2 of these red shoes left. Are you sure you want to miss out on them?"
User C is alarmed and doesn't want to miss out, so she quickly decides to get the shoes before it's too late.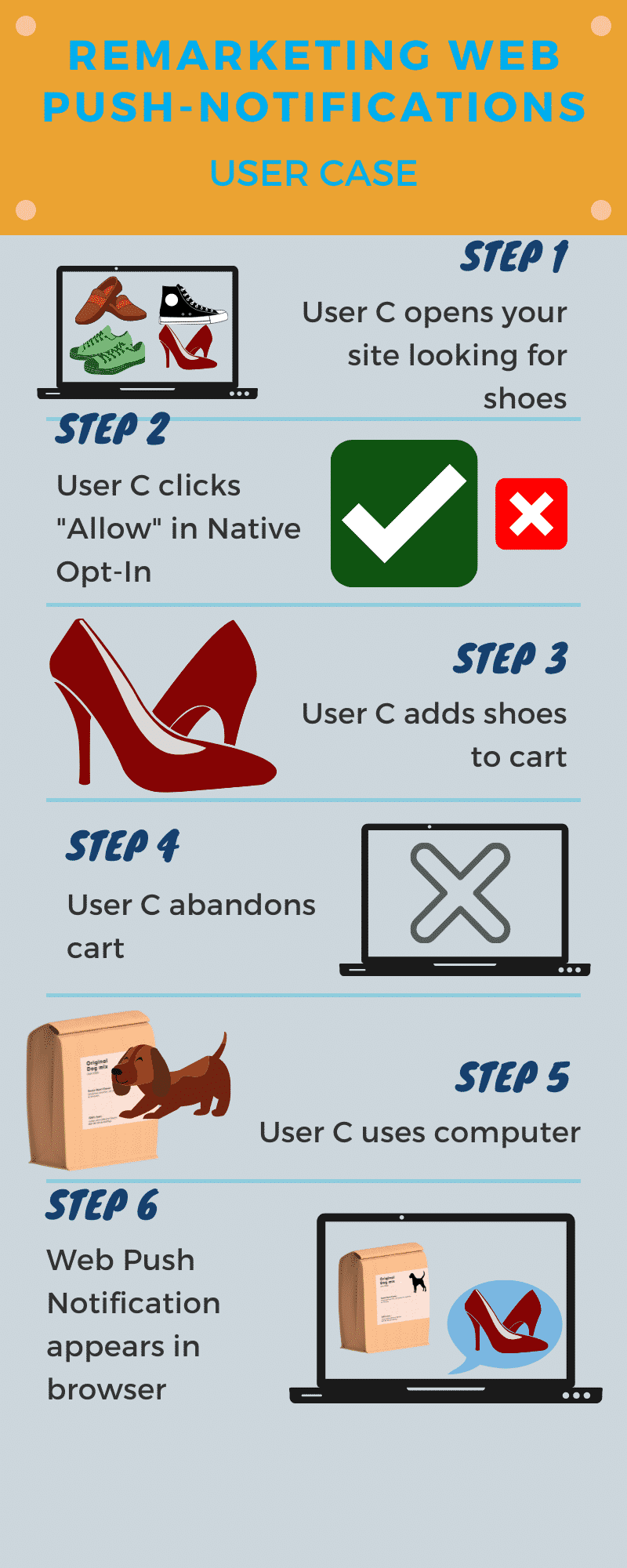 5. How does Web Tracking work?
Since web tracking is the technology behind every remarketing activity, let's take a closer look at how it works. I already mentioned that cookies make it possible for a site to track a user to other sites he later visits. But what is a cookie and how exactly is it able to follow you across the web just like that?
a) How does the tracking through cookies work?
When you visit a website, your browser sends it a message called an HTTP request. The website then responds to this message – both with the content you ask for, and with small text files, the so-called cookies, that the site wants your browser to save. If your browser does indeed save them, every time you revisit the website a particular cookie was sent from, your browser attaches this cookie to the access request it sends to the website. In this way, the website can identify individual users by their respective cookies and learn about their behavior.
b) What is the difference between 1st party cookies and 3rd party cookies?
Usually, websites use external software to handle their cookies, and there are 2 types of providers for this: single website trackers via 1st party cookies and multi-website trackers via 3rd party cookies. While 1st party cookies keep the info gathered by each of their client websites separate, 3rd party cookies make it possible to share user information collected by multiple individual website's cookies among all of their client websites. This means that websites can not only track your activity on their own site, but follow you to other sites as well.
c) What is going to happen after cookies are prohibited?
Up until now, remarketing ad providers have been relying on 3rd party cookies. However, Google announced that Google Chrome, the most common browser in the world, will prohibit the use of 3rd party cookies in 2022. This means that the future of remarketing with display ads is in shades, at least until a new alternative is being developed. Other remarketing methods, on the other hand, such as email, SMS, and push notifications, rely on 1st party cookies, which means they won't be affected by this dramatic change in regulations. Read more on The Future of Digital Marketing Without 3rd Party Cookies.
6. Which remarketing method should you use?
While you ultimately have to make that decision for yourself and it really depends on your goals and your budget, here you've got a comparison of the advantages and disadvantages of each channel: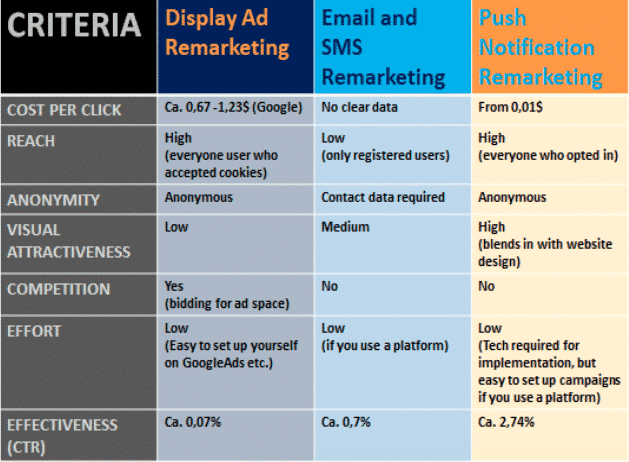 To summarize:
Remarketing activities are marketing activities aimed at getting customers to re-engage with a website they had already abandoned.
Because you're only targeting visitors who have already shown an interest in your site, this is much more efficient than most other marketing methods.
There are 3 main methods of doing remarketing:
Display Ads
Email and SMS Remarketing
App and Web Push Notifications
Which one(s) you should choose for your site depends on your objectives and resources. While Display Ads is easiest to set up yourself, Push Notifications achieve the highest CTR and ROI.
No matter which channel you use, keep in mind that…
… timing can make a huge difference. CTRs are generally highest in the afternoon
… images and emojis make your messages more visually attractive and increase CTRs considerably
… there is such a thing as too much! You don't want to make your customers uncomfortable, so limit the number of messages you send. For web tracking, you have the option to put a cap on the number of times a visitor is shown your ad
If you found this article useful, make sure to also check out: