SMS marketing is only as effective as the strategy behind it. According to a survey by Statista, "in February 2021, nearly half of the respondents stated that on average they spent five to six hours on their phone on a daily basis". Taking this into consideration, not having a SMS marketing strategy is a huge missed opportunity for your business. 
What is SMS Marketing?
SMS refers to Short Message Service. SMS marketing is a strategy focused on sending users messages regarding special offers, sales, reminders or updates through text messages to their mobile phones. People need to give businesses their consent to receive promotional SMS. 
There are different types of messages used in marketing that are all covered by the term SMS, but have different characteristics:
SMS – Short Message Service:

messages that are text only. 
MMS – Multimedia Messaging Service:

they're messages that focus on sending multimedia files such as images, videos, GIFs or phone contacts. 
RCS – Rich Communication Service:

rich media messaging is the evolution of SMS. They allow to send text messages that include multimedia content and links. 
Are SMS marketing campaigns intrusive?
Popular belief dictates that SMS are intrusive. However, it's important to note that said misconception can be caused because of the abuse in sending bulk/mass SMS. 
These types of campaigns lack segmentation and personalisation, so they can be perceived as annoying from the users' end. If you implement a well-though automated SMS marketing campaign, the results will shock you. It's an amazing channel with the highest ROAS, surpassing 100x (10000%).
"Frizbit SMS marketing campaigns have generated clients a ROAS of over 100x. 
Every SMS marketing strategy should be planned carefully and thoughtfully. Is not to be taken lightly as it presents a direct communication channel to connect on a more personal level with customers. In a study conducted by GSMA, 61% of people said that they would engage more with businesses if they offered a more personalised service. 
Here are some interesting insights on the effectiveness of SMS marketing: 
59%

of users want their communications built into the phone – not as a separate app, that they need to download (GSMA)
77%

of consumers are likely to have a positive perception of a company that offers SMS. (eRetailers)
83%

of millennials open SMS messages within 90 seconds of receiving them. (OpenMarket)
75%

of millennials prefer SMS communications for deliveries, promotions, and surveys. (OpenMarket)
SMS messages have a

98% open rate

compared to 20% of emails. (SMS Comparison). 
SMS messages have an average

click-through rate of 36%

, while email click-through-rates are a dismal 3.4%. (DSIM)
90%

of SMS messages are read within 3 minutes of being received. (SMS Global)
Using short, branded links in your mobile marketing campaigns can help improve conversions by up to 34%. (Rebrandly)
77%

of consumers said they opted-in to a brand's text messages to receive coupons or deals. (Exact Target)
97%

of companies found they communicated with consumers more efficiently after launching texting initiatives. (GSMA)
SMS COMPARED VS. OTHER CHANNELS
CTRs by channel from automated behavioural retargeting campaigns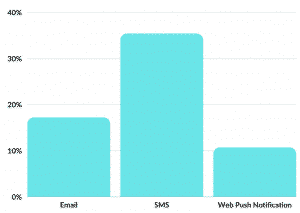 Conversion rate by channel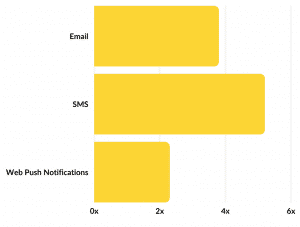 If you're already on board with the idea of including SMS marketing in your strategy, keep on reading for:
SMS Marketing: 7 Tips for a Winning Strategy
1. SMS Marketing Tip #1: Create an opt-in strategy

The first thing you need to think about when deciding to implement a SMS marketing strategy is how are you going to get SMS subscribers, people to opt-in and share their phone number with you. You have to design a strategy that allows you to collect subscribers to add to your lists. Here are a few ideas on how to approach it:
Website pop-up:

is one of the most common methods used to capture subscribers. You can add it to your homepage and include an engaging offer such a special discount in return. 
During checkout:

it's normal to ask a lot of personal information through the checkout process, including phone number. Make sure you include a message that requests the users' permission to send information and updates and be explicit about using their phone number for promotional purposes. 
Email:

if you already have an email subscriber list, you can use it to your advantage and send a campaign to direct them to a landing page asking them to leave their phone numbers. 
2. SMS Marketing Tip #2: Exclusive Content

A marketers life is a very hectic one. It's understandable that we might not have the time to design a different message for each one of the channels we use to communicate with our audience. However, when it comes to SMS marketing success, exclusivity of the message is of utmost importance. 
Send exclusive offers and deals to your subscribers. Include a text that indicates the offer you are sending is for VIP SMS customers only! This type of message will make them feel special, helping you create a tighter bond with your audience, which ultimately decreases opt-outs, increasing CTRs and conversions.  By using a provider such as Frizbit, you can do this by using dynamic parameters and adding users' names. 
Take the time to strategise specifically for SMS marketing. Design sales, promos and offers that are exclusive to this channel and make users know that. When you ask them to opt-in: make it clear that they will receive special and unique benefits from subscribing to your SMS marketing channel. 
3. SMS Marketing Tip #3: Segment your Audience

You might have thousands of subscribers to your SMS channel, but each of them is an individual with unique tastes and preferences. That's why it's so important that you segment your audience for every campaign you send. 
Your segmentation can be as general or as specific as you want it to be. You can segment from language, location, purchasing history, gender and much more. Taking your time to do this will highly increase the effectiveness of your SMS marketing campaign. 
Let's say you're an online sports store. There's a big, important game coming up between two rival soccer teams and you want to send a special sale on their t-shirts. If you don't segment your audience only to people who have shown interest in soccer, there's a really big chance your CTRs are going to be really bad and you might end up with a lot of opt-outs from people who will find the SMS irrelevant and annoying. 
This goes for all bulk SMS campaigns you send. You have to take your time and segment your audience to deliver the right message to the right person. 
4. SMS Marketing Tip #4: Send a Sequence of Messages

With Frizbit, you can do  SMS marketing by automating messages to reach subscribers every step of the marketing funnel. You can set up triggered SMS that are sent a period of time after a subscriber completes an action on the website:
Product viewed

Product added to cart

Post-purchase reminders
Design, automate and schedule a message for each event targeting users by behaviour. Event-based SMS are great to maintain a communication flow and seek an immediate response. 90% of the messages are read within the first 3 minutes after receiving it. By designing a sequence of SMS you keep your brand on the user's top of mind with ongoing communication. 
In addition to that, by configuring a flow, you'll have a long-term marketing strategy without extra work. The setup of the sequences only needs to be done one first time so you don't have to invest more efforts every time you want to send out a campaign. 
5. SMS Marketing Tip #5: Include an Image

Is no secret that including images in your communications have a direct impact on click-through rates. In a study conducted by Simple Texting, they discovered that messages with an image had a 52% higher CTR than the ones that didn't.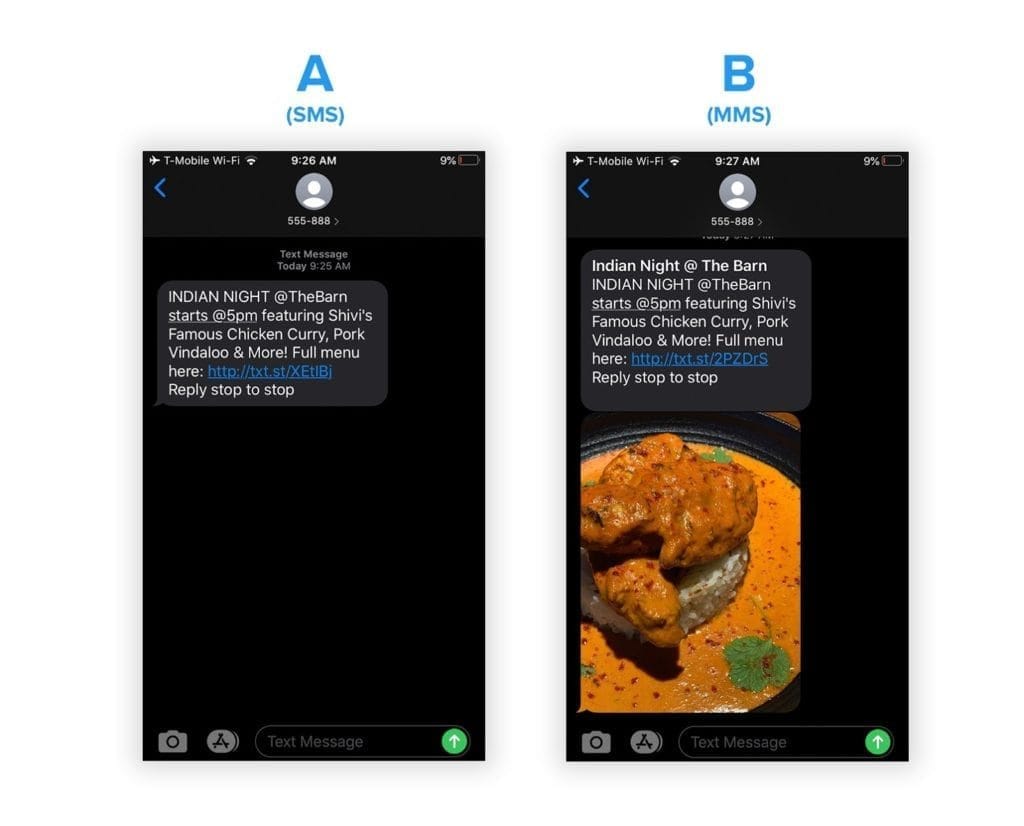 People are very visual and respond well to images. That's why it's always advisable to include a photo as long as is pertinent for the message and your industry. If you're in real estate, include a photo of the listing the subscriber shows interest in, if you own a restaurant include mouth-watering photos of the plates you offer, or maybe you have an e-commerce so you can add images of the articles the person liked!
Remember that the objective is to make the communication as personalised as possible. Including a photo will make the message more relatable, as when users open it the first thing they'll see is something they liked. 
6. SMS Marketing Tip #6: Include an appealing CTA

If you know anything about digital marketing, you might be tired from hearing about the "include a great CTA" tip. But the importance of the call to action justifies the repetition. The CTA is the element that closes the deal: this is when you tell people what to do. 
The copy of the call to action lets people know what to expect if they decide to click on that button. If you want recipients to finish a purchase, see what's new, discover new products or to not miss out a sale,  tell them here. 
Put yourself in their shoes. For example, what would your reaction be if you get a SMS from a travel website with a wonderful photo of the Eiffel Tower and a copy that says "Paris in the Spring is beautiful" but nothing else. It doesn't specify what you expected action should be, it doesn't include a CTA saying something like "book a flight with 15% off before spring is over". Don't leave people hanging and include a CTA that lets them know what their next move should be. 
7. SMS Marketing Tip #7: A/B Testing

Either you're a new or an experienced SMS marketer, A/B testing needs to be part of your strategy. You might have a lot of knowledge about your audience and have developed a strong instinct on what they respond to the best. However, these types of analysis will help you sharpen the strategy and make it the best it can be. 
Changing the CTA, the image or the copy can have a major impact on the results of your SMS marketing campaign. It's important to try different versions of the same message, track their performance and adjust it in order to get better and better results each time. 
A/B testing your SMS campaigns will give you amazing insights on your audience likes and dislikes. You can then take that knowledge and apply it to your overall strategy to optimise and enrich user experience.
8. SMS Marketing Tip #8: Select the right provider

None of the amazing ideas you have for your SMS marketing strategy is going to be effective if you choose the wrong provider. You have to do your homework and research the features available from each option you consider.
Is extremely important that you choose a SMS marketing provider that offers automated and personalised SMS, rather than only bulk ones. The key of success with SMS marketing campaigns is automation and that's exactly what Frizbit offers. 
In addition to complete automation and sending of campaigns triggered by users' behaviour on the site, Frizbit also offers dynamic parameters for hyper personalisation. The SMS include:
Sender ID

User name

Product name

URL

Call to action
Bonus tip!
To increase effectiveness of your SMS marketing campaign, we strongly recommend you to integrate it in a multi-channel marketing strategy. With Frizbit you can implement an orchestrated campaign that includes web push notifications, email marketing and SMS to offer users an enhanced experience and increase retention. 
Related blog post: