A multi-channel marketing strategy is key to success for any digital business nowadays. Many companies opt for managing their communication with their customers over multiple channels, using different teams, third-parties or providers. This can result in customers receiving messages through a variety of channels that can easily overlap each other with repeated, irrelevant information and end up wearing users out. 
Companies should focus on personalisation and start to cater to their customers as individuals with personalised needs and interests, while managing their communications centrally. If you're not engaging to your user's preferences, they're more likely to opt-out from all the channels you use trying to connect with them, due to finding your communication irrelevant and annoying.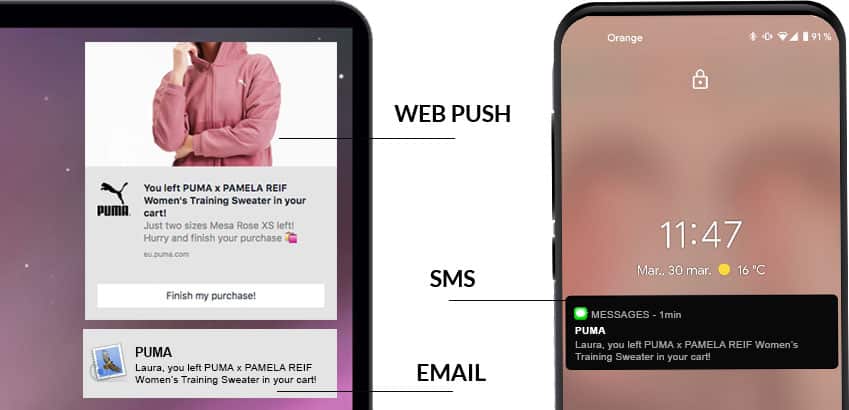 In today's day in age, customers have a lot of power over what type of communications they receive from brands by refusing to subscribe, refusing to share personal information and installing browser extensions such as ad blockers.  This leaves sellers constantly trying to find new and effective ways to get the end result necessary, which of course is to bring that customer back to complete a conversion. 
To adapt to this reality, businesses must strive to make it as easy as possible for customers to gain access to their site. This is made possible by the sheer orchestration of an automated, engaging, attractive and relevant communication strategy through different channels. This will allow you to interact with your users in the most effective way possible. 
Why should you use automated multi-channel marketing campaigns?
Value has more to do with being there for people, rather than selling the industry's best. having this kind of mindset will result in an increase of customer retention. This is vital, because even a five percent increase in customer retention can raise profits by 25-95 percent. If you are not already sold by this statistic, imagine this: It costs from 5 to 25 times more to get a new customer, than it does to keep the one you already have. Therefore, it's important to keep that user engaged by communicating through multi-channel marketing and a sequence of messages that's relevant, useful and attractive.
The Performance Comparison of Each Channel (Email, SMS, Web Push, Ads)
| | | | |
| --- | --- | --- | --- |
| Channel | Opt-in Rate | Deliverability | Average CTR |
| Email | 1-3% | 98.2% | 17.2% |
| SMS | 0.5-1.5% | >99% | 35.4% |
| Web Push Notifications | 5-10% | >98% | 10.7% |
| Retargeting Ads | N/A | Depends on CPC | 0.7% |
Multi-Channel Marketing Strategy: Benefits of SMS, Email and Web Push Notifications combined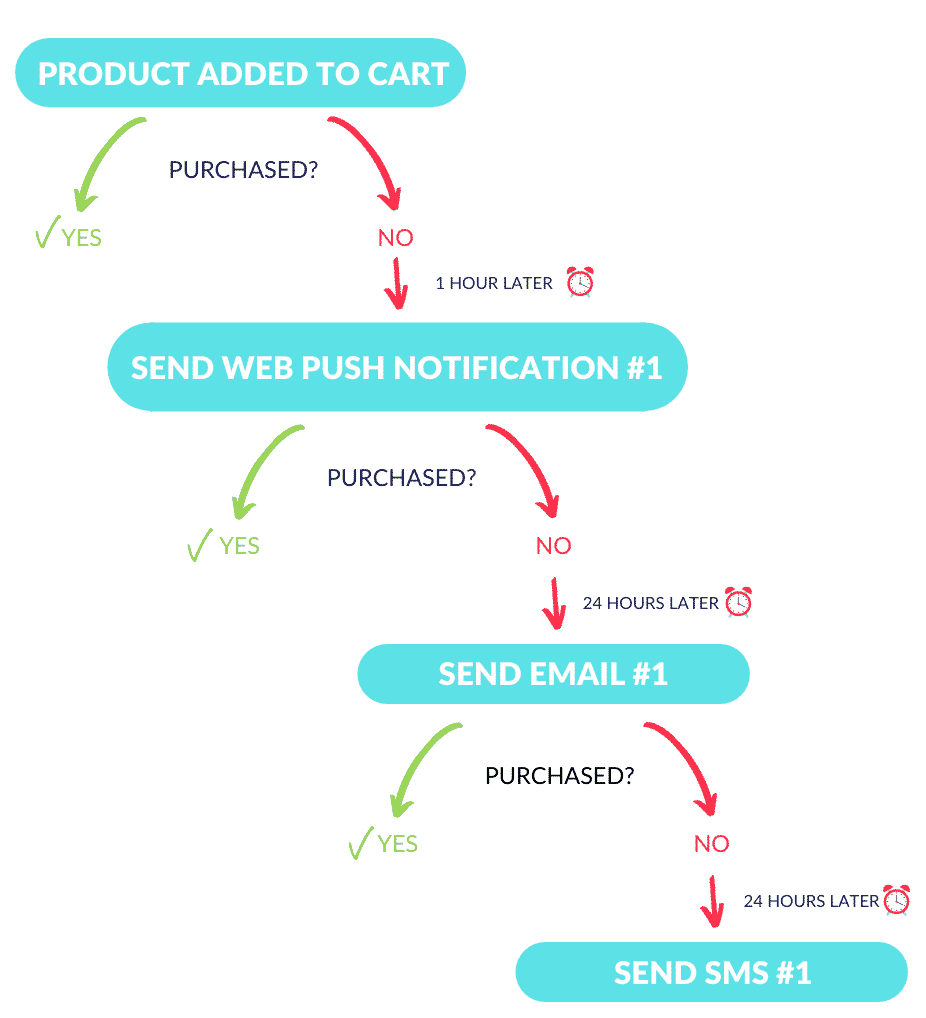 Reach more customers by offering multiple options for them to choose their preferred channel

Engage customers through the channel of their preference

Drive more traffic to your website/app, therefore generating more revenue

Connect with anonymous users who prefer not to share their personal info, via push notifications

Create a customer engagement journey through scenarios and templates designed for each channel to be sent at the best time

Track performance of your campaigns on each channel through Frizbit user and campaign reports

Optimize your communication and discover how to connect better with your customers on a more personal level with A/B testing and machine learning
Multi-Channel Marketing Strategies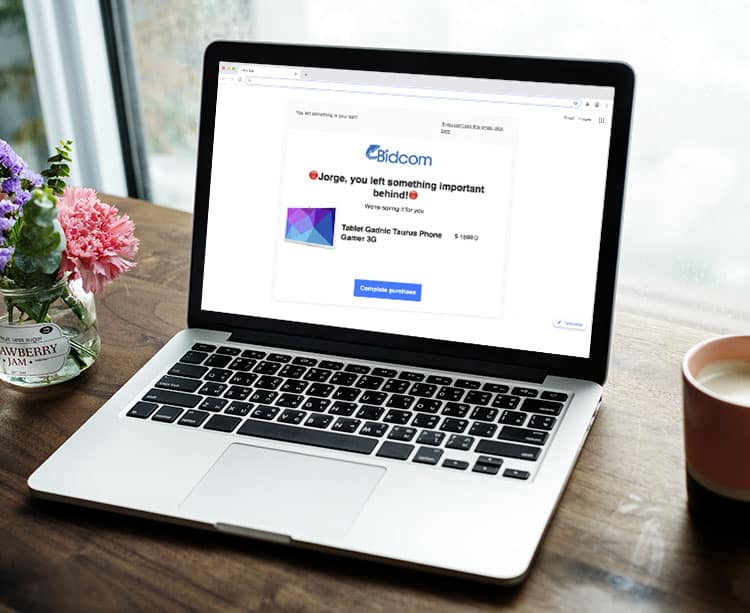 Email marketing has always been one of the most common and preferred channels for online businesses to get in touch with their customers. It's a tool that offers many possibilities, especially if you use the correct provider platform to plan and send your campaigns:
Ongoing communication:

Frizbit is able to strategically build a sequence of emails that will grasp your user's attention, bringing them back to visit your website once again. You can design messages series for cart abandonment recovery, product suggestions based on behaviour and much more to keep in touch with your customers during periods of time you can define yourself.  
More leads:

when a user decides to share their email address with you, you can easily start building a new leads database through email communication. With this information you have the possibility to get in touch with your customers on a more personal level. You can nurture those leads with inbound and content marketing campaigns that will create a more long-lasting relationship with your clients. 
Hyper-personalisation:

Customers appreciate and want to learn more about what you have to offer. Especially if you send a message with specific information that's relevant and useful for them, helping you increase engagement. You can include their names, product name, image, price and more to make the email as personalised as you can, which will highly increase CTRs. ç
Automation:

Frizbit allows complete automation of the email sequences you create. this means you won't have to invest lots of time to configure and send a campaign whenever you want, you'll just have to do it once.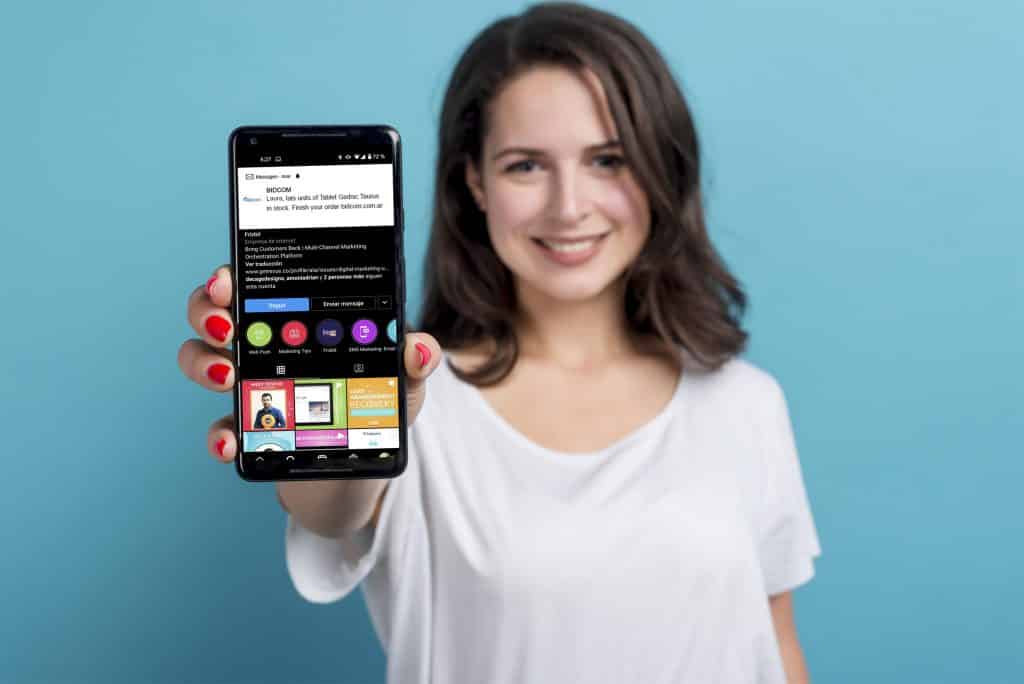 SMS marketing strategies have been around for a while, just like in the case of email marketing. There are many similar benefits of both channels, however SMS offer some additional ones worth revising that will help you take your multi-channel marketing strategy to the next level: 
Immediate communication:

SMS marketing provides an immediate channel of communication with your customers. If we keep in mind that most of us don't separate from our phones for nearly 5 minutes a day, SMS is a great option if you want an almost immediate response from your customers. SMS also highly guarantees the delivery of the message, since you don't have to wait for users to go online and check their inboxes like in the case of emails. 
Closeness:

Texts messages are an intimate channel of communication. They relate to close relationships which gives customers a feeling of a more personal and less commercial communication.
Automation:

As it does in the case of email marketing, Frizbit is able to send out automated and personalized text messages to each customer based on their actions on the site. The SMS can be scheduled to be sent after an exact amount of time after being triggered by an event on the web without adding additional work to your planning and execution.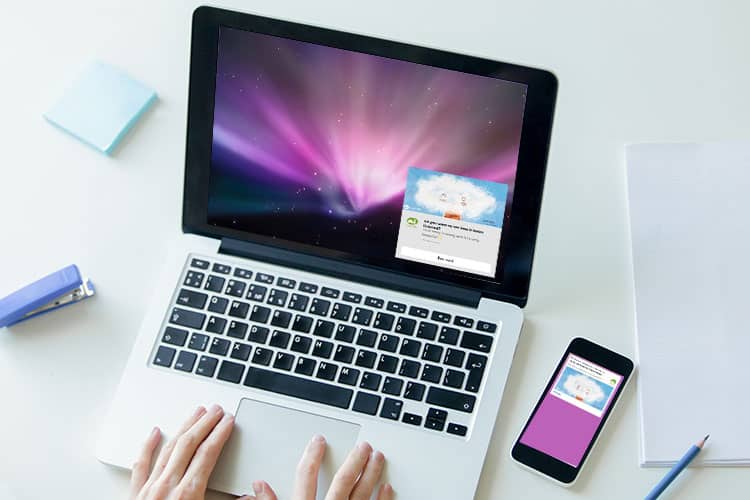 Web push notifications allow a one click process to redirect customers back to your site. They're short, direct messages based on users' behaviour and delivered through their browsers when they go online. This is a very new channel, so its benefits are not so well known like in the case of email and SMS marketing:
Reachability:

web push notifications are delivered to the subscriber on both desktops and mobile devices, even if they're not browsing your website. 
Connect with anonymous users:

in order to send web push notifications, you don't need to request users to share any type of personal information like email address or phone number. Visitors only need to Allow them via  the opt-in prompt shown when they enter the website for the first time and, with just one click, they become subscribers. This allows you to connect with visitors, giving you the chance to turn them into customers. 
Immediate traffic generation:

with manual or bulk web push notifications sent to all subscribers, you can send flash sales alerts, out of stock availability, price drop alerts or special offer messages that can generate a lot of traffic to your site very quickly. 
Full funnel communication:

web push notifications messages can be completely automated and triggered by events for every single step of funnel. They offer a channel through which you can communicate with your subscribers with a specific message throughout the entire shopping process: first visit to the page, category viewed, product viewed and product added to cart. 
Deliverability:

web push notifications offer guaranteed deliverability. This channel is browser based, meaning that as soon as a subscriber opens up its browser, the message will be delivered.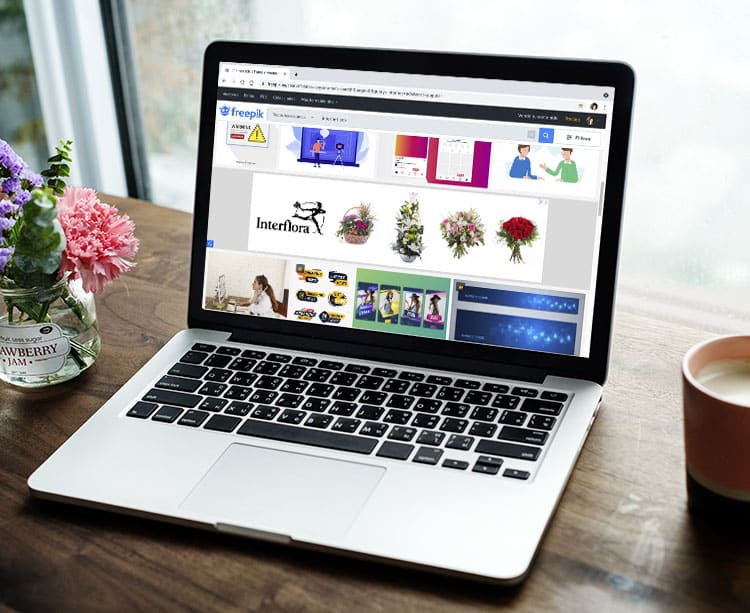 Retargeting ads are one of the main channels used by online advertisers to try to reconnect and bring back users to their site. By using retargeting ads, brands "follow" users that didn't convert to show them images and messages inviting them to come back and finish a transaction. The benefits of including them in your digital marketing mix are:
Branding:

usually, retargeting ads are shown multiple times to the same person. This contributes to increasing brand awareness by displaying the image of the brand, its logo and, maybe the slogan during a period of time making it stick in the users' mind. 
Reach:

retargeting ads have great reach, since they allow you to get to almost every user that accepted cookies. This channel allows you to reach people practically anywhere on the internet after they have visited your site only one time. 
Integrating multi-Channel marketing strategies
It can take up to twenty impressions across multiple marketing channels to convince a potential customer to take action. Keep in mind that people are usually not ready to make the purchase the first time they visit a web. Users need to see the message you are trying to convey multiple times before they actually begin paying attention and more so, before converting. You can greatly increase the possibility of that happening by consistent messaging across multiple channels with a well-though digital marketing strategy. 
It's predicted that people will likely interact with at least two marketing channels out of the many offered. Platforms such as Frizbit ensure that you're consistent with the information you send across all marketing channels in order to create a great experience for your customers. 
Start marketing your brand with a  multi-channel marketing strategy by signing up for a Frizbit demo! 
Meanwhile you can also read,