Marketing funnel knowledge is key for any business owner, e-commerce manager or marketing specialist. Understanding the basic know-how of the shopping process a person goes through, will help you create a more effective strategy to achieve your business goals.
What is a Marketing Funnel?
A marketing funnel represents the stages a person goes through before they reach conversion. The journey begins when a person discovers the product or service and ends when an action is taken, whether a purchase, a subscription or any other objective depending on the business goals.
Marketing Funnel Template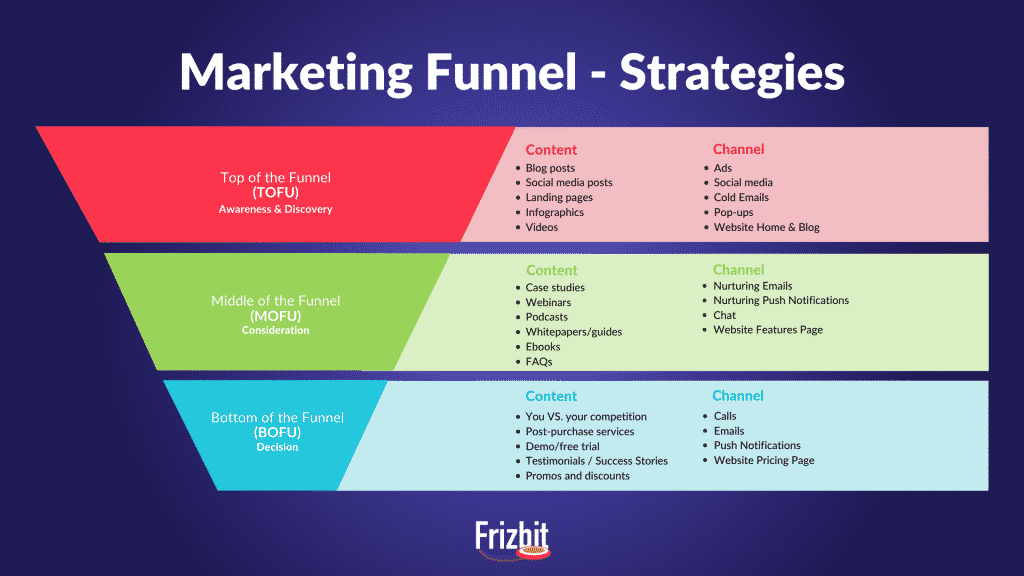 There are many variations to the marketing funnel. Nowadays it's even possible to find companies and businesses that have identified a specific funnel of their own process. However, in this case we are going to focus on explaining the most typical or standard one divided in three stages which will explain with more detail ahead:
Top of the funnel (TOFU):

Awareness & Discovery

Middle of the funnel (MOFU):

Interest & Consideration

Bottom of the funnel (BOFU):

Decision & Purchase
The reason why it 's called or portrayed as a funnel is because in the beginning of the process, during the discovery stage, there are lots of people. Then, as they continue to advance to the next stage, some of them drop out, abandoning the journey and reducing the crowd.
The objective of identifying these steps and how people go through, is to optimize every marketing effort into pushing the most of them to the bottom of the funnel and getting that conversion we're looking for. Let's say that we have a clear funnel path defined and data tells us that we're losing a big percentage of people in the second stage. We can then deeply analyse what we are doing in the Interest & Engagement step to identify the issue and adjust our strategy accordingly.
Marketing Funnel Stages
1. TOFU: Awareness and Discovery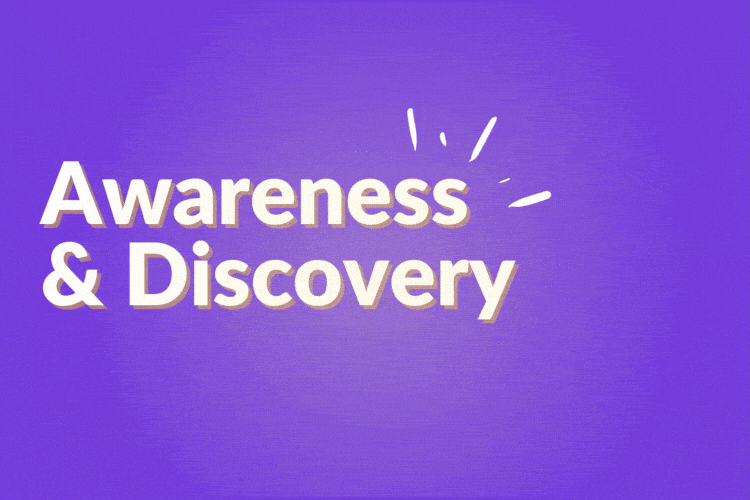 Awareness and discovery is the first stage of the marketing funnel. This is the step in which people become aware of a problem and of your product or service as a solution. The top of the funnel refers to when someone realizes a need and starts looking for information to fulfill it. It's during this stage that the first contact between prospect and business occurs.
The Awareness and Discovery stage is where you have to provide leads with useful and relevant information about your product or service and how it can solve the problem they're having. This first step is critical because it's the first opportunity you have to catch people's attention and try and persuade them to move forward to the next stage of Interest & Engagement.
There are many strategies available to create content that's both appealing and useful for this first stage. Let's cover a few examples:
Inbound marketing strategies for Awareness & Discovery stage
Inbound marketing consists of all marketing actions oriented to connect and engage with the target audience with useful and relevant content that interests them through organic means.
Blog Posts:

creating consistent content that's aligned to the interest of your target audience, opens a door for them to find you. Use the keywords they're looking for on browser searches and create posts centered around those topics including information about your product/service with call to action.
Social Media:

most people have, at least, one social media platform. Having a strong social media presence, posting regularly and being where our target audience is, represents a great opportunity to make that first contact and show them how our business can fulfill their needs.
Landing Pages:

landing pages are great for lead generation. In these pages, offer your target audience something valuable for them in exchange for some personal information like name, email address and phone number. This way, you can create a database and contact them with more detailed information in the future.
Videos:

video content offers a more real and tangible contact between you and your prospects. It's a world of possibilities where you can create various videos that engage and connect with your target audience.
Outbound marketing strategies for Awareness & Discovery stage
Outbound marketing is the opposite of inbound marketing and makes reference to actions oriented to reach a target audience through direct communication initiated by the brand or business. It consists of more traditional marketing channels such as ads.
Ads:

display ads,

retargeting ads

or social media ads all comprise outbound marketing techniques. They go directly to the target audience without them reaching out or making any type of effort to find you first by their own means.
Pop-ups:

emerging messages that promptly interrupt the visitor while browsing a site to show an offer, subscription request or special discount trying to catch the users' attention above all.
Cold emails:

these are emails sent to a recipient you don't know. They're mainly used in sales with the objective of a dual-sided gain, networking or lead generation.
Website's homepage: when people look online for an answer to a question or problem, the first contact they're bound to have with you is through your website's homepage. This is your presentation card. That's why it's so important to build a website with a homepage that offers great user experience, including the most relevant information here to catch user's attention and make them want to move to the next stage down the funnel.
2. MOFU: Interests & Consideration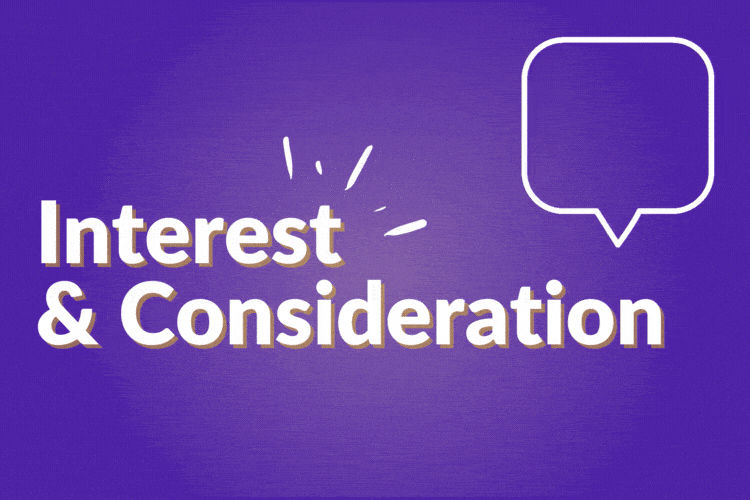 The middle step of the marketing funnel is Interest & Consideration. In this step users already know about you, your product or service and are actively engaging with your content. Usually, during the Interest & Engagement phase, users evaluate if the option you provide as a solution for their problem is right.
This is when prospects need to know more about you, they ask for opinions and research to find the best alternative. So during this stage it's your job to provide as much information as you possibly can to help them learn what they can gain if they choose you.
Here's a few references on what type of content and strategies you can implement for the second stage of the marketing funnel:
Case studies:

creating detailed case studies with insightful information and backed data of how your product or service performs, is a great way to provide convincing information that tilts the balance to your favor.
Whitepapers/guides:

whitepapers are guides that delve into a specific topic with insights that help people have a better understanding of said concept. These documents are a great resource to share with prospects who have reached this stage of the funnel with the purpose of providing deeper knowledge about what your solution can do for them.
Ebooks:

ebooks present a golden opportunity for you to declare your authority on the subject of your business/industry with a level of depth that a blog post just doesn't allow. They're also a great lead generating channel.
FAQs section:

a frequently asked questions section is an excellent resource to help users move down the funnel from consideration to conversion. Giving detailed answers to the most common doubts by identifying your prospects "pain points" will give you an advantage when the time for decision making comes.
Website's feature page:

remember that in this stage of the marketing funnel, prospects are looking a little deeper to find out more in depth about your product or service. Having a section in your site, specifically destined to highlighting the features of your solution is a great way to solve user's doubts.
Webinars:

webinars are a great tool to help people to get to know you much better. You can use them focusing on building trust around your business.
Podcasts:

podcasts are very digestible content. People listen to them almost in every scenario possible, so they have a great reach and you can get to new audiences. You can share useful information related to your business and industry offering additional value to your prospects and engaging with them.
Email:

with

email marketing

is possible to connect with users after they already expressed interest in your product or service and offer them more information. Sending more details after some time has passed, can help them move to the next stage of the marketing funnel. You can include here newsletters with infographics, white papers, guides, videos or invitations to webinars.
SMS:

is a fundamental for brands to nurture the relationship with their audience through a more personal channel.

SMS has a 98% open rate

and 45% response rate, with 90% of the messages being read within the first 3 minutes after receiving the SMS.
Web push notifications:

automated web push notifications offer a pathway to engage with the audience. The most interesting thing about this channel is that you can configure a different notification for each stage of the marketing funnel as it is explained on this

web push notifications guide

. It's possible to design a flow of messages and send them sequentially for top, middle and bottom of the funnel. An example of a notification created for Awareness and Discovery could be a Welcome message sent to users who visit a site for the first time, informing them about a special discount or promotion they'll receive if they decide to continue with their shopping journey.
3. BOFU: Decision & Purchase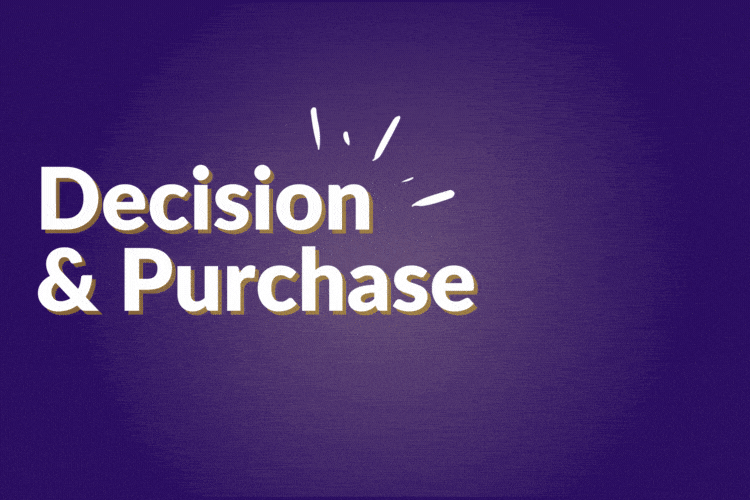 BOFU, or the final stage of the marketing funnel is Decision & Purchase. It makes reference to the end of the journey when users just have to take one more step into making a decision to finally convert. In this stage users usually take under consideration budget, goals and specific solutions for their main pain point.
This is when prospects compare different providers to choose the right fit for them. Is the negotiation stage where they need that final push into making a decision. Keep in mind that users that have gotten this far down the marketing funnel, already know you and understand the value your product or service represents for them.
In order to give your prospects that last push they need towards conversion you can focus on:
Comparative Analysis highlighting the advantages between you and your competitors:

during the Decision & Purchase stage, prospects are contrasting you against your competition. Is the moment to make it clear as water what you bring to table on top of them: what makes you unique and what makes you the best option.
Post-purchase service:

a lot of people base their buying decisions on post-purchase service. Nowadays customer experience has a ton of weight when it comes to tilting the balance towards deciding for one option or the other. Make it clear on what you have to offer prospects after they opt to choose you regarding important issues such as:
Payment options

Timelines

Delivery experience

Customer support

Installation and onboarding (if the case)

Refunds and return policies
Demo/free trial:

if your product/service allows it, offering a free trial period or a demo is a fantastic way to clear any doubt prospects might have by actually having direct contact with your solution. It's a great strategy to hook clients and make them realize, first-handed, you are the best choice.
Testimonials:

by this stage, users are already engaged with your content. In the intent of getting as much information as possible and gaining trust on your offer, they'll be more willing to read testimonials. They help increase trust on your solution, so make sure you ask clients to share their thoughts and opinions about your business.
Website's pricing page:

prospects that have arrived to this stage of the marketing funnel are already interested in your product. Most likely one of the first things they'll do is look for your pricing. Make it easier for them to find it by adding a specific pricing page or section in your website.
Promos and discounts:

a "first-purchase" discount or "no shipping fees" promo can go a long way into closing the deal. Entice prospects to take the final step with a one time offer they can't refuse.
Nurturing emails:

if users have engaged with your content by sharing their email addresses with you, take this opportunity to communicate with them with nurturing emails. Share content that's both attractive and valuable, inviting them to visit your site once more.
Nurturing web push notifications:

with automated web push notifications from Frizbit you can send subscribers a message after a few days they haven't visited your site inviting them to come back. You can also add a few manual notifications to share special discounts, promos or updates and stay in their minds through time.
Additional marketing funnel stages
As we mentioned before, there are many variations of the marketing funnel and its stages. In some versions, there are two more: Loyalty and Advocacy. These stages make reference to what happens after prospects have become clients.
4. Loyalty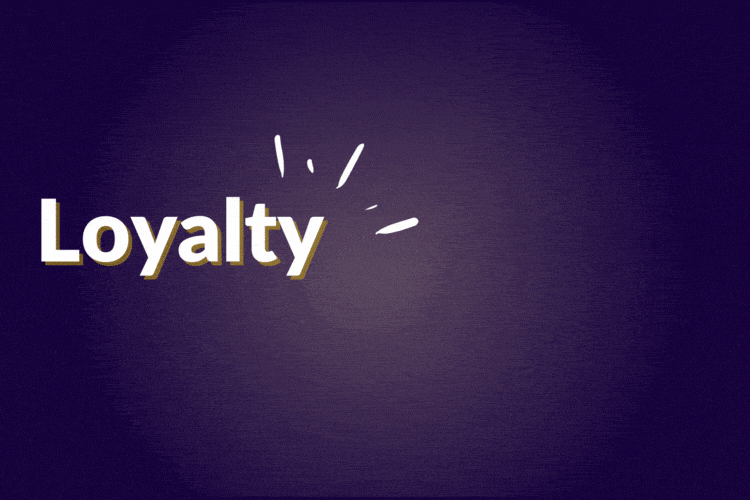 It's important to design a strategy to keep in touch with customers after they finish a transaction. You don't want people to leave your site and then forget about you forever or until they need something from you again, leaving it to fate that they remember you and come back.
Creating a loyalty program to build a relationship with your customers deserves your attention (or more) as all the stages that got them here. You can do this with:
Manual web push notifications:

if users allowed them, even after they have completed a purchase they still are part of your subscribers list and you can send them bulk notifications with special discounts, flash sales or promos. With regular communication through web push messages, you can stay on the top of mind of your customers and increase the chances they think of you the next time they need a product or service from your business category.
Mailing lists:

asking your customers to share their email addresses and become part of your mailing list to send updates and interesting information is a great way to keep in touch through time.
Innovation:

you want to maintain customers engaged. Constant innovation is a great strategy to peak their interest constantly and make them want to come back and repeat. Launch new features, make upgrades, create new collections and keep things interesting!
5. Advocacy/Referral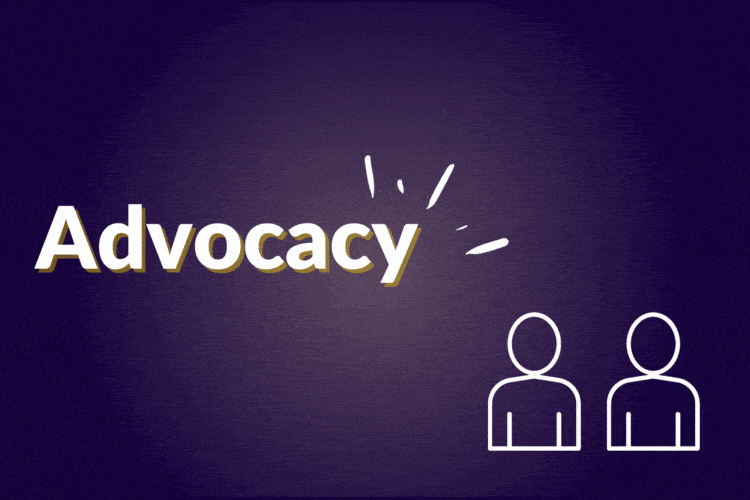 Advocacy is the ultimate goal and dream for any business. This stage of the marketing funnel makes reference to the moment customers become fans of your brand. They turn into advocates and start sharing content on social media, writing reviews and recommending you to others.
Final thoughts about the marketing funnel
When it comes to planning your strategy, the more information you have about your target audience the better. Having a clear understanding of your own funnel, and in which stage prospects are, can help you perfect your digital marketing actions and make every single one of them as effective as possible.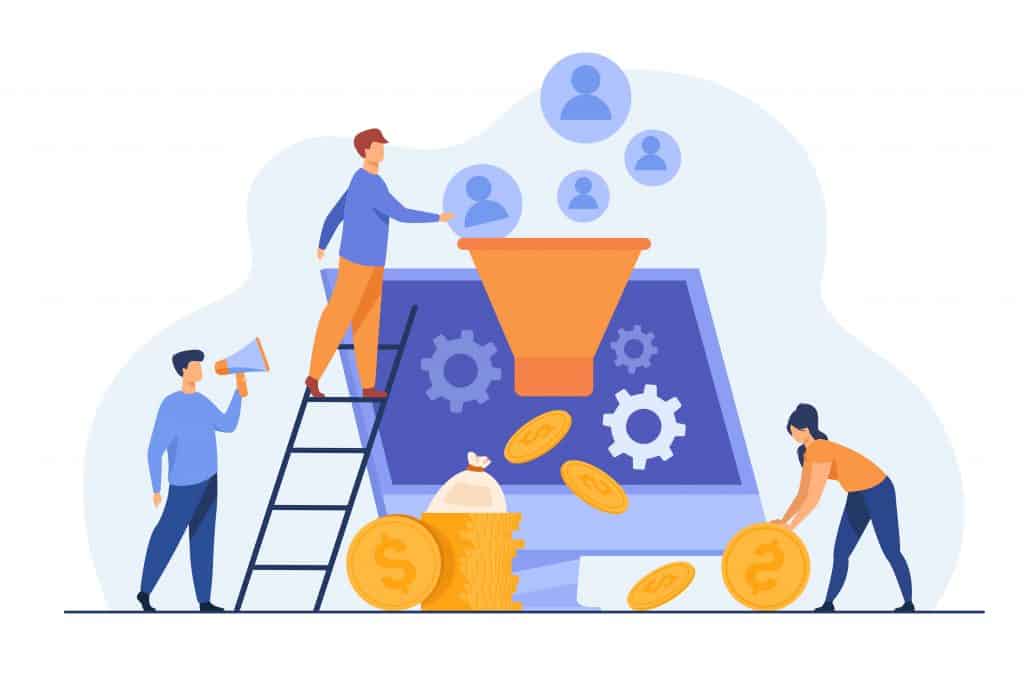 This marketing funnel offers the view of the prospects journey with a very broad perspective. Depending on your business model and your own products or services, the funnel can be much more detailed, specific and with more stages.
Based on this model, you can analyse your processes and identify additional stages. Remember that the most important thing is that you know who you're talking to and with what purpose.
Let us know the stages you have in your business marketing funnel and which strategies you apply for each one, we would love to know!
You might also like: