Web push notifications are messages sent through browsers. Besides the text, they can also include images and action buttons. What's great about web push notifications is that they work as a retargeting channel but with added values:
No personal data from users required
Can reach users on both desktop and mobile
They have hyper-personalization capabilities
If you want to dive deeper on the functionality of this new channel, we recommend you check out our Complete Guide on Web Push Notifications. But in this blog post we are going to focus specifically on the types of web push notifications and how you can use and combine them to grow your online business, engage users and increase your revenue.
Types of Web Push Notifications
First of all, what you need to know is that there are two main categories of web push notifications: automated and time- based ones. This distinction is important because each of them have their own subcategories. So let's get into it!
What are Automated Web Push Notifications?
Automated web push notifications are behaviour-based messages sent to users automatically after they perform a specific predefined action on the website. These notifications require the definition of a trigger event and exception event and a time frame to be sent.
For example, if someone adds a product to their shopping cart and leaves the site without completing a purchase, after the time you define, they will receive a web push notification reminding them about their abandoned cart and inviting them to go back and complete the purchase.
On the other hand, in the same scenario, if the user adds the product to their cart and completes the purchase, the notification won't be sent. In simpler words:
Triggering event: product added to cart
Exception event: product purchased
Automated web push notifications campaigns only have to be configured one first time, then everything keeps running automatically. You just need to define the messages, for each one, the trigger and event scenarios and the timings.
Just like with emails, cart abandonment web push notifications are the most popular and common ones. However, you can have more than one message for each campaigns you create and it is possible to define as many triggering and exception scenarios as you desire to match your typical user journey:
1. Types of Automated Web Push Notifications
1.1 Welcome Notification
In order to subscribe to a web push notifications channel, users need to click on Allow in the otp-in prompt shown to them when they visit a site that has web push notifications enabled. Once they do, after a few seconds (we recommend 10 seconds), you can send a notification welcoming them!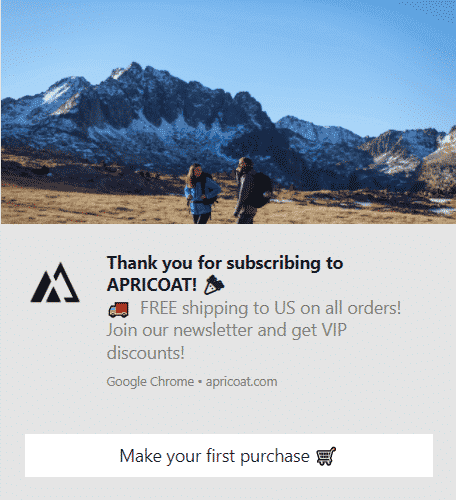 In this case the trigger event would be "subscription received". Normally, the welcome notification doesn't have an exception event because it is sent rather quickly after the action taken by the user and it is always a good idea to seize the opportunity to make that first contact through this new channel.
You can express your gratitude to them for opting in and take the opportunity to redirect them to a specific page on your site like a new collection, a sales section or maybe the about page.
Another option is to offer them a discount coupon for their first purchase or invite them to join your newsletter. The welcome notification is a great way to introduce the channel to your new subscribers and let them know what they can expect from it.
1.2 Category Notification
In a very traditional user journey in an e-commerce site, the second step after landing in the home page would be to visit a category page. With automated web push notifications you can define a scenario accordingly.
If a user visits a category page and then leaves the site without taking any further action, a notification will be sent (after the time you decide) with a message related to the visited category.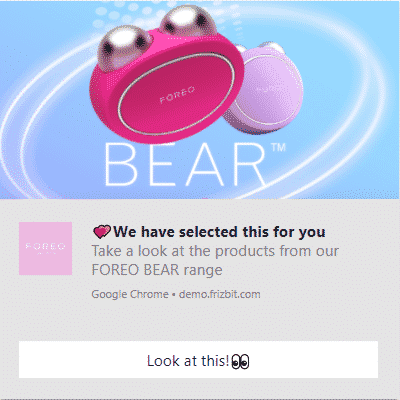 In other words is doing category retargeting with a message that can include the complete name of the category, an image representing it and an appealing message that invites the user to come back and take another look.
In this automated scenario the triggering event would be "category viewed" and the exception event "product viewed", which takes us to the next type of notification.
1.3 Product Notification
The product retargeting notification is sent to users when they visit a product page and then leave the site without doing anything else. In this case the triggering event would be "product viewed" and the exception event would correspond to the obvious next step which is "product added to cart".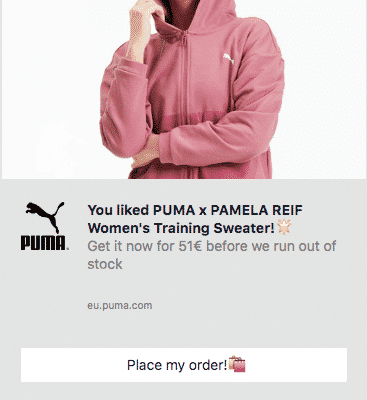 Since product pages have much more detailed and specific information, the product notification can include it making it a lot richer for the user. You can include product image, product name, product brand, price, size and even color if the case. These are all dynamic parameters taken directly from the website so you don't have to do any manual work.
By making the notification as personalised as possible, you can highly increase the click through rate because it will be more relevant to the user that receives it.
1.4 Cart Abandonment Notification
The following stage in this journey would be to add the product to the shopping cart. The retargeting cart abandonment web push notification is sent to users that add a product to their carts and then leave the site without completing the purchase.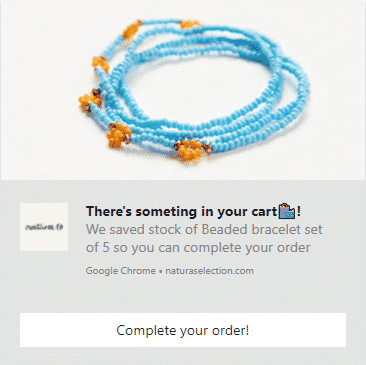 The triggering event would be "product added to cart" and the exception event "product purchased". This means that the notification won't be sent if the user goes through with the purchase.
The same as with Product Notifications, you can also include dynamic parameters to make the message as personalised as possible. For cart abandonment web push notifications is also a good strategy to include messages that appeal to a sense of urgency such as "last units", "get it before we run out", or "this is your last chance".
Normally, click-through rates of cart abandonment notifications are the highest because, when users reach this stage of the funnel they already show a higher purchase intent than in other stages. If you design an appealing message you will get amazing results for sure.
1.5 Post-purchase Notification
You are probably already familiar with post-purchase emails. Well, there's a web push notification version in which you can set an event that automatically sends a message to a customer some time after they made a purchase.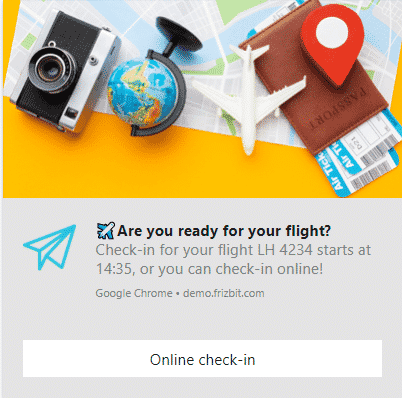 In this scenario, your imagination is the limit! You can send a notification asking for their opinion of the product they purchased and use it as a strategy to get more online reviews about your brand, for example. There's also the option to announce a new collection, new arrival and invite them to come back and make a new purchase.
Post-purchase web push notifications are great to stay in touch with your customers after they have already converted by sending updates and information that could interest them. The main objective here is to stay in their top of mind and try to make them recurring customers.
1.6 Cross-sell Notification
Cross-sell campaigns are very popular and effective for e-commerce. These campaigns offer value to shoppers and can increase business' revenue significantly. They consist of sending a message to a customer that finished a purchase, suggesting complementary products.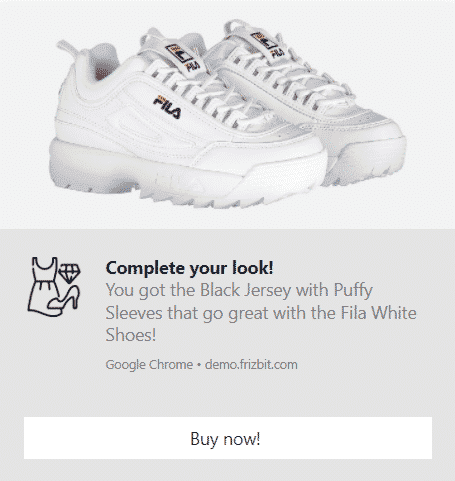 In this scenario the trigger would be "product purchased" and there wouldn't be an exception event. To set up web push notification cross-sell campaigns you need to register and track information regarding the product the customer bought and time since the last purchase.
Combining this data you can create a hyper-personalised notification suggesting a product that complements the previous purchase. For example, if the shopper got a moisturizing day cream, you can suggest a moisturizing night cream from the same brand.
1.7 Back to Stock Notification
Back to stock announcements are very effective because they make reference to a very popular and on-demand product that customers are surely eager to get. If you run out of stock from a specific product, it's safe to assume that there's a lot of people waiting to buy it, so sending a notification letting them know that it's available again is a great strategy.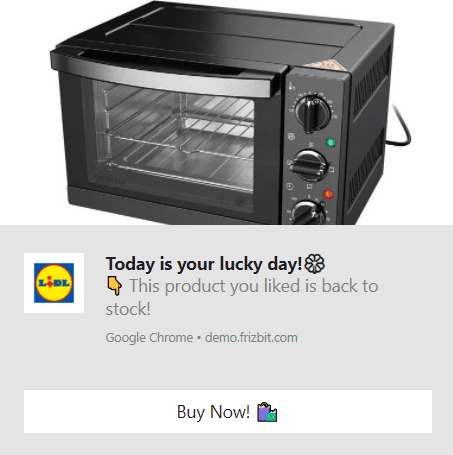 You can send this message to all users that visited said product with a trigger event "back to stock" and an exception event "product purchased". Keep in mind that, in order to be able to send back to stock web push notifications you need an additional integration process in your site through an API.
1.8 Price Drop Notification
The same as with back to stock, price drop web push notifications also require an extra step with integration with an API to get the info of when a product experiences a price drop.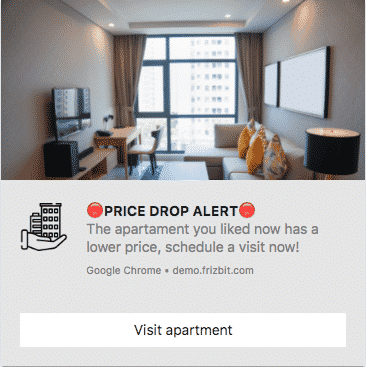 The trigger event here would be "price drop" so the notifications get sent to all subscribers that visited said product page. These types of notifications also show great results because they are extremely relevant for users. Not only do they show information about a product they have expressed interest in, but they have the added value of the price drop making it much more attractive for them.
1.9 Lead Nurturing Notifications
Lead nurturing web push notification sequences are great for B2B. You can create a flow of messages that offer valuable information that helps prospects move down the funnel during their decision making process.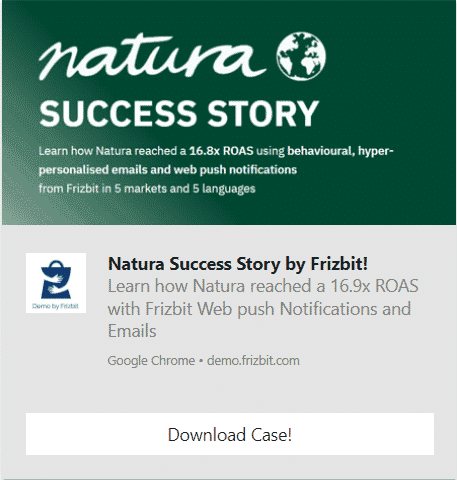 For example, you can send a first message sharing information about a special feature your product has 1 day after receiving the subscription. Then, 1 week later you can send a web push notification with a case study as an example of what you can do for your clients and 1 week later maybe a whitepaper with useful information about your product in different industries.
2. Types of Time-based Notifications
2.1 Manual Web Push Notifications
Also called bulk web push notifications, they are the notifications equivalent to email newsletters. These notifications are not automated, which means you have to set them up manually and they are sent to all of your subscribers database unless you segment manually as well.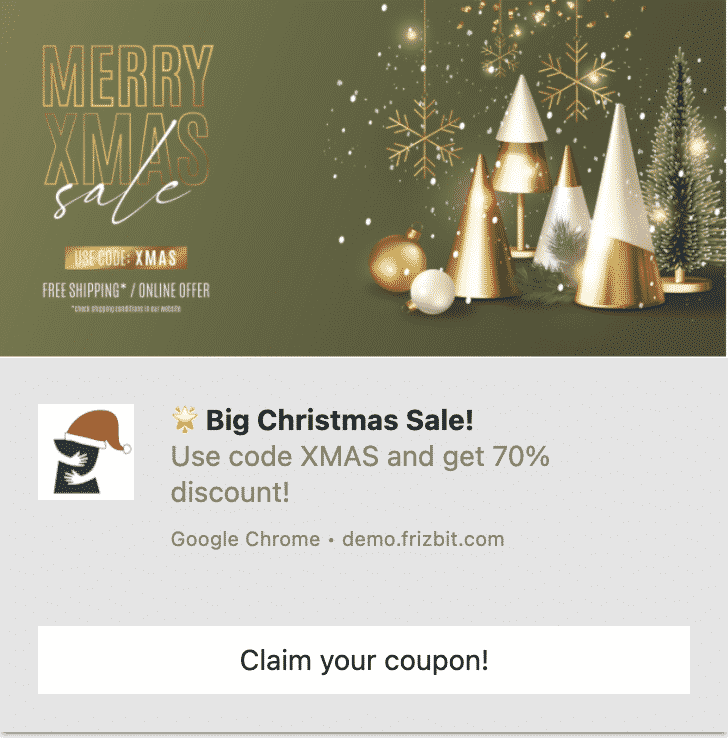 Manual web push notifications are used to share time sensitive information like sales, special promotions or contests. You can use them to communicate any time you launch a product, for example, and they are excellent for special dates like Black Friday and Cyber Monday.
Keep in mind that bulk web push notifications are not behaviour based like the automated ones. This means that you need to be extra creative and careful with your copies and the images you add to make sure you park your audience's interest with a great message.
One of the great benefits of these types of campaigns is that, since you can send them to all of your subscribers at once, they are amazing traffic generators to your site. If you like to plan ahead, you have the option to schedule them for a specific time and date or, in any other case, to send them as soon as you create them.
2.2 Recurring Web Push Notifications
Recurring web push notifications are great to ensure a permanent contact with your subscribers. You can set up 2 or 3 different generic messages to be sent automatically in a 30 day period inviting subscribers to visit your site again.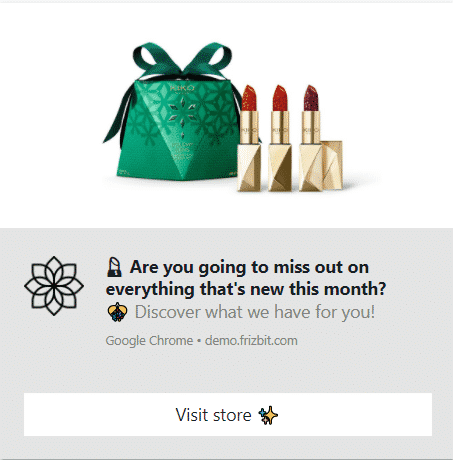 Since you can design a couple of different versions, they will be sent randomly to all your subscribers varying each month. For example, you can have a monthly notification with a message related to new arrivals and another one inviting users to visit your social media pages. Each month 50% of your subscribers will receive one of them and the other 50% the other one. You can have as many versions as you want and use Frizbit's A/B testing features to choose the percentage of subscribers you want to send each one to.
Another option, if you sell a product that's bought frequently like pet food for example, you can set up recurring web push notifications that work as a reminder for pet owners letting them know it's time to buy again! Your subscribers will find it valuable because it would serve the purpose of a reminder of something that's important to them and you'll increase the chances of them purchasing from you again. It's a win-win situation!
Recurring web push notifications correspond to the loyalty stage of the funnel.
General Comments
As we mentioned before, you can create as many scenarios as you want for your web push notifications campaigns. However, for optimal results we strongly recommend to set up at least the 4 main ones:
Welcome notifications
Category retargeting notifications
Product retargeting notifications
Cart abandonment notifications
You can create a sequence of automated notifications for each of them with a different message that's sent after certain periods of time. For example:
The important thing is that you try and find the combination that works best for your online business regarding timings and amount of notifications for each campaign. While for one brand it would make sense to send 5 product retargeting notifications in one week, for another it might be better to only have a couple notifications in a 3 day period.
Web push notifications open a whole new world of possibilities when it comes to retargeting strategies and we would be delighted to show it to you. If you want to request a one trial month period with us, don't hesitate to get in touch!