The most joyful time of the year is fastly approaching: Christmas! Ho Ho, it's time to put on our thinking hats and make our brands shine for the last major holiday of the year. And what better excuse to reach out to new and old customers than amazing Christmas offers, discounts and special products?
Businesses need a very strong online presence and a super effective digital marketing strategy to really stand out during these times when all brands are competing for customer's attention.
Why should you have a Christmas Marketing strategy?
If you are wondering if and why you should plan a specific Christmas digital marketing strategy for your ecommerce, here are some interesting insights:
According to GlobeSt, in 2021, experts predict that online retail sales will make up 16.3% of total retail sales. It will hit 18.3% in 2023 and 19.9% by 2025. 
A study from eMarketer states that by 2022, retail sales from e-commerce will comprise 16.3% of total retail sales.
CNBC says that the number of shoppers that went to brick-and-mortar stores on the Saturday before Christmas 2020 dropped by 40.9% from a year ago.
Keep in mind that during, and after the Covid pandemic, a lot of customers changed the way they shop, getting used to purchasing online and less in physical stores. Brands and businesses need to adapt to the new shopping habits and offer customers what they are looking for.
To help you prepare better for the upcoming holidays we would like to share with you:
Christmas Marketing Ideas and Strategies to Boost your Ecommerce Sales 2021
With the purpose of making this guide as helpful as possible, we are going to divide it into two sections:
Channels to use in your Christmas marketing campaigns
Strategies and ideas for your Christmas marketing campaigns
This way, you'll have ideas on actions to do and ideas on how to communicate those actions the most effective way. Let's start with:
1. Strategies and Ideas for Your Christmas Marketing Campaigns
The first step in planning your Christmas digital marketing campaign for your e-commerce is to decide exactly what you are going to offer. Whether it is discounts, product bundles, or limited offers you must be very clear, for this is what will guide all the rest of the steps.
In this section we will share some ideas for your ecommerce Christmas campaign!
1.1 Dress Up Your Website
When people go on Christmas shopping they want to be filled with excitement and holiday spirit: give it to them as soon as they enter your site! When people go to physical stores during Christmas time, they are surrounded by decorations, lights and music, try to give them that experience online as well.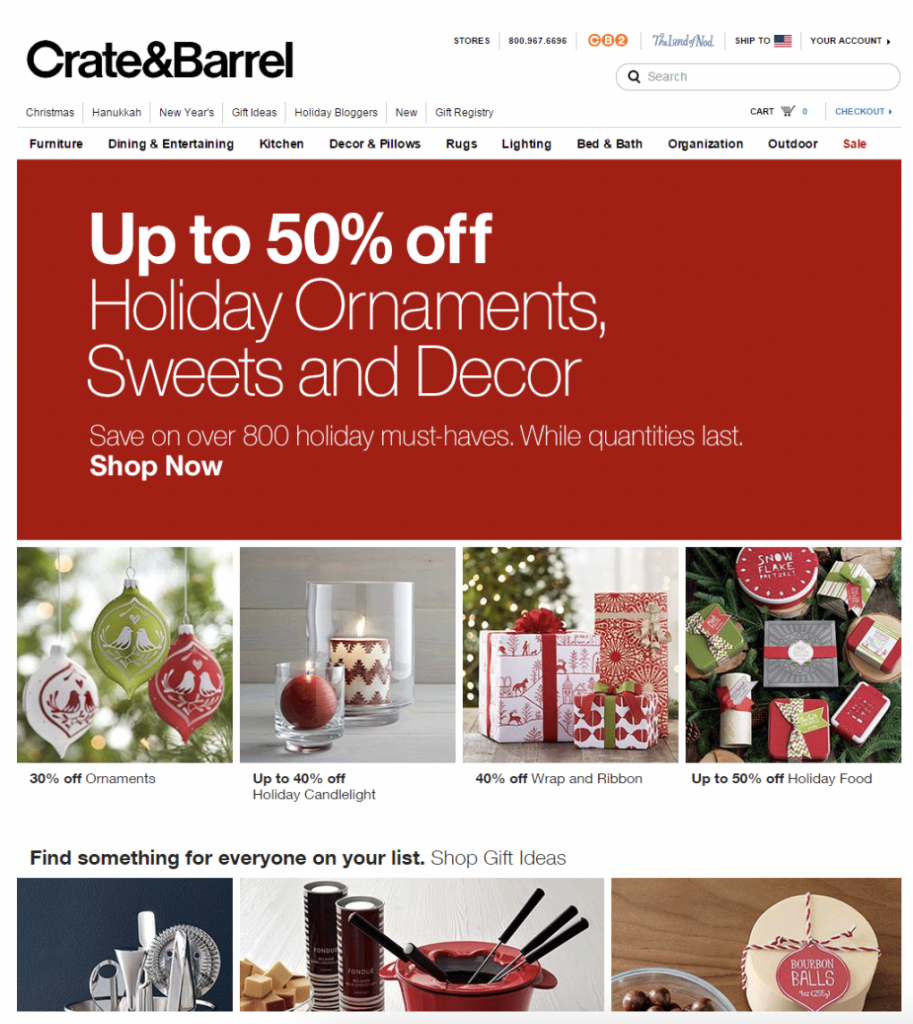 You can do it by maybe changing the colors of your site a little bit, adding Christmas decorations to your logo, changing product images and descriptions to fit the season mood. Making your website festive by including some details can tilt the balance in your favor when it's time for potential customers to shop!
If you don't have time to design Christmas-themed assets for your site, many CMS like WordPress and Shopify have free plugins you can activate with just a few clicks!
1.2 Christmas Products, Collections and Bundles
Whichever type of product you sell, there's always a way you can give it a Christmas twist to make it more appealing to potential customers during the holiday season. You can:
Create Christmas product bundles ready to gift
Decorate your products with some sort of Christmas add-on like ribbons, stars, glitter or Christmas ornaments
Offer gift wrapping service for the purchase, with customizable cards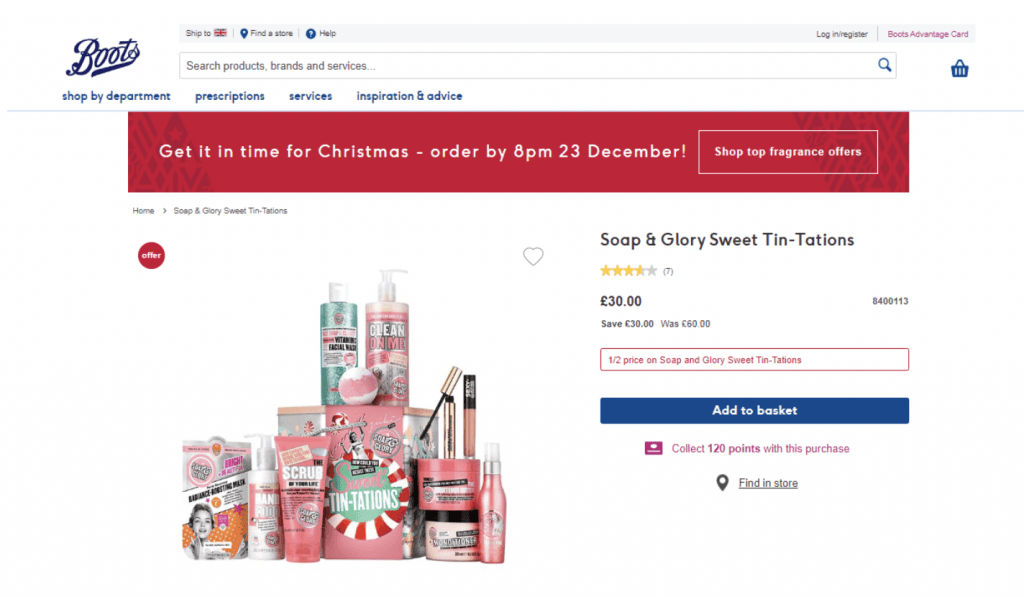 An even more attractive strategy is to create a special Christmas Edition of some of your most popular products. It can be a new color, flavour, scent or design that's only available for a short period of time in your online store.
In addition to making the product something special for Christmas, you will be appealing to a sense of scarcity, enticing people to make their purchase before you run out of stock and the miss the chance to purchase a unique edition.
1.3 Christmas Sales!
When it comes to seasonal marketing strategies, one of the most attractive things is to promote the fact that shoppers won't get the same deals any other time of the year.
That's why offering unique Christmas promotions and discounts is a wonderful strategy to attract shoppers and increase sales. Flash sales work great because people are afraid they might lose the opportunity to purchase a product they want for a lower price.
Keep in mind that during Christmas, people are spending a lot of money buying gifts for everyone and, for sure, they will appreciate a good bargain when doing their shopping. You can apply 2×1 discounts, big price reduction on selected products, free shippings and discounts for after Christmas shopping.
2. Channels to Use During your Christmas Marketing Campaigns
Ok, so you already have amazing sales, discounts, gifts, offers and special product bundles to offer your clients for Christmas, now is the moment to think about how are you going to let them know about everything you have prepared for them.
In this section we are going to share different channels you can use to communicate and engage with your customers by offering information about your products and services, solve doubts and, overall, help them make a purchasing decision during the hectic Christmas shopping time.
2.1 Manual Christmas Web Push Notifications Campaigns
Web push notifications are a great channel to communicate and truly engage with your customers. Their inherent qualities such as not requiring personal data, being able to reach users both on mobile and desktop outside of your website and their level of customization make them a very effective tool.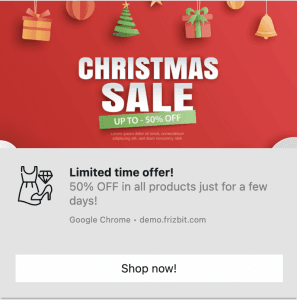 This the perfect channel to include in your Christmas marketing strategy since we have established the importance for your brand to stand out from the crowd. You can design christmasy manual web push campaigns to notify your customers about your special Christmas offers, discounts or bundles.
Unlike automated web push notifications, manual campaigns reach your entire subscribers database. They are the browser-based communications channel equivalent to a newsletter, which means they are super versatile and useful for sharing time sensitive information.
You can prepare a series of manual web push notifications to inform your customers about:
what's special in your online store for the month
send reminders to do their shopping on time
invite them to seize an offer of special sale
inform them about new arrivals, Christmas collections and more
2.2 Christmas Email Marketing Campaigns
Emails are one of the most profitable digital marketing channels so it's pretty obvious that you must include them in your Christmas marketing campaign. The works is very similar to that of manual web push notifications, except that in this case, you'll be reaching out to customers that have shared their personal information with you and you can include more detailed information.
Since you have more space and unlimited time for users to read, with email marketing campaigns you can be more explanatory about all you have to offer during Christmas. This is the ideal channel to include beautiful and large images, countdowns, social media links and everything you can imagine to enrich the content and make it irresistible!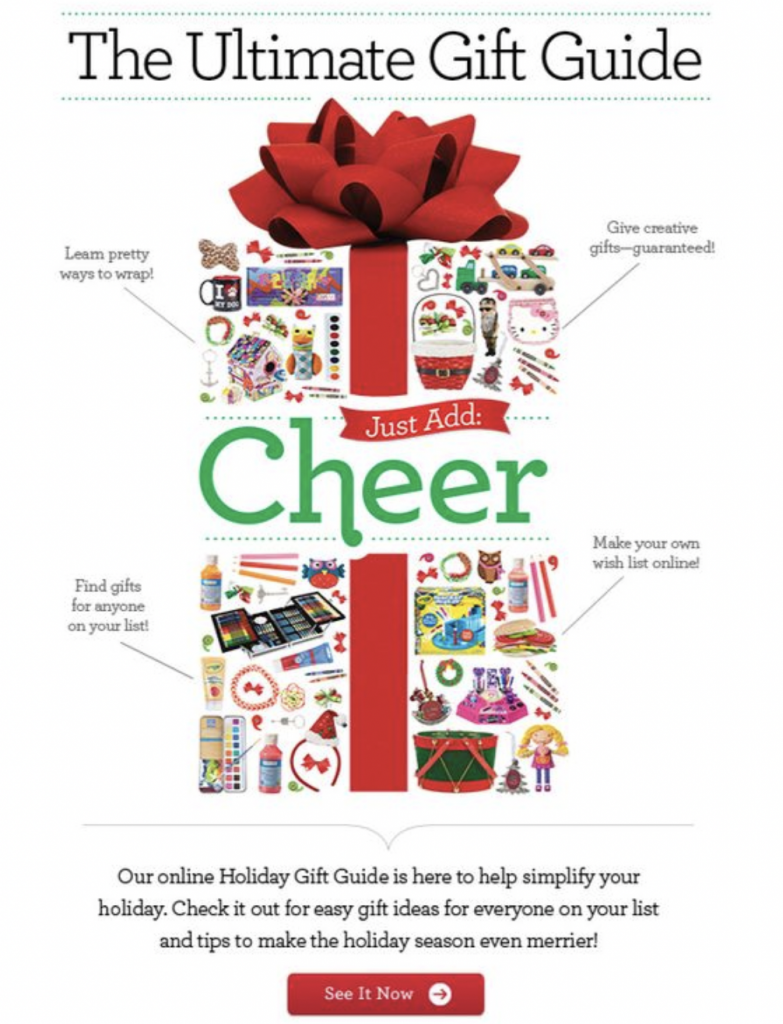 Using a marketing automation tool you can design and schedule a sequence of emails to be sent through a period of time adjusting each message to the offer or discount you are running at the time and appealing to a sense of urgency as the final dates of Christmas sales approach.
Keep in mind that emails are extremely customizable and you should use all the cards under your sleeve to make them as attractive as you can with festive visuals, christmasy-copies and an overall happy holidays spirit.
2.3 Live Chat
It's normal for people to be a little more on edge during a holiday season. Customers might have more questions and doubts about your products, services, delivery times and want to get faster replies to make decisions and complete their Christmas shopping in time.
Integrating a live chat to your website is a great asset to connect with your customers in a very direct way and make them feel more comfortable and more cared for.
Consider that you can lose a lot of sales if customers don't find a way to resolve their doubts quicker than usual. With a live chat you can create deeper relationships with visitors and convert them into customers. Specially during a time like Christmas when you are surely getting more traffic than usual to your site.
2.4 Create a Christmas Landing Page
A specific Christmas landing page is a key element to increase conversions, since it is focused on one single objective and makes the decision-making process easier for customers.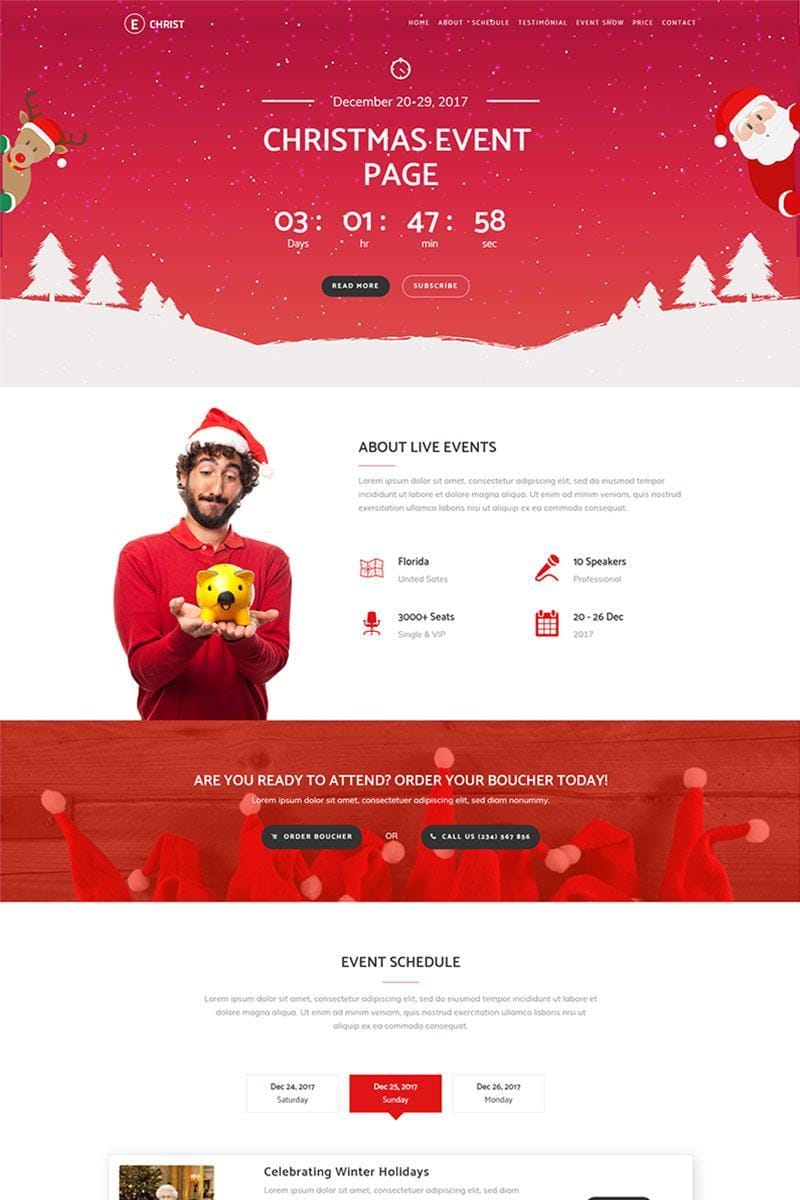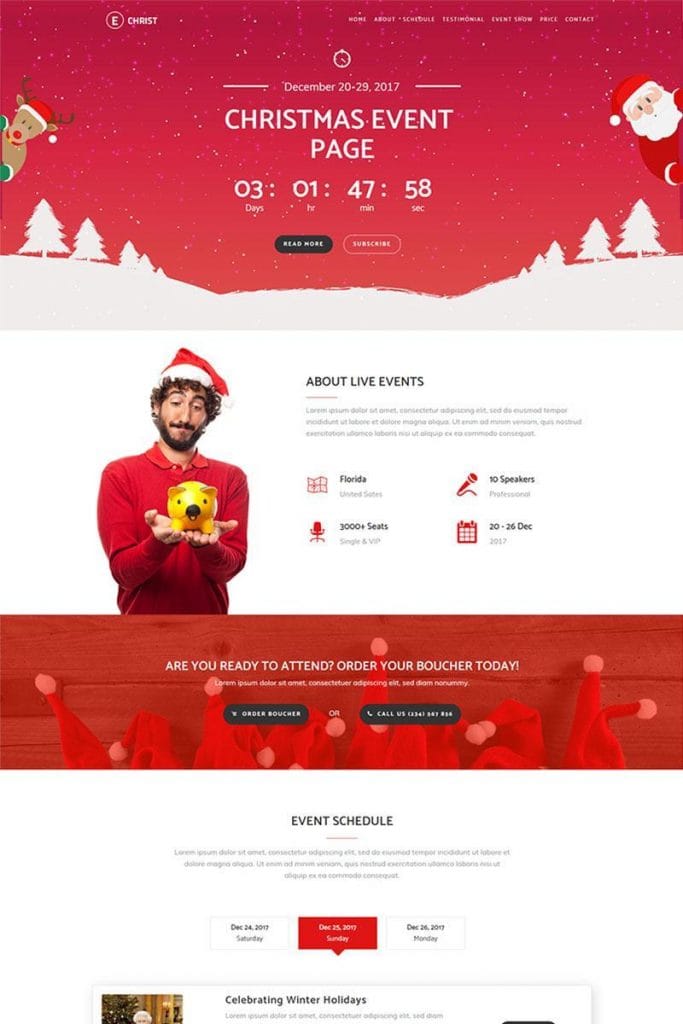 Source: sminion.com
You can design a super christmas-theme landing page in which you display special products only available during the holidays for example. You can create different versions for different target audiences or sales and segment customers to redirect them to the one that fits them best depending on their interests.
Seasonal landing pages can have a great impact on your sales. There are many options to create beautiful landing pages you can check out:
Swipe Pages
Unbounce
Instapage
All in all…
These are some of many digital marketing strategies and ideas for your 2021 Christmas campaign. You can combine the channels with the strategies that best fit your brand to engage with your target audience and boost your revenue!
Before you go, check out: