We welcome September after a slower summer season with our monthly newsletter. During August, while most professionals enjoyed a well-deserved break or had a slower-business season (at least in Spain), the rapidly changing marketing landscape kept its usual pace.
Let's start this back-to-school and back-to-business season with the most recent and relevant digital marketing news and updates.
Keep reading to find out the latest insights from the digital marketing world.
Digital Marketing News and Updates from August 2022
CONTENT
Search Marketing Updates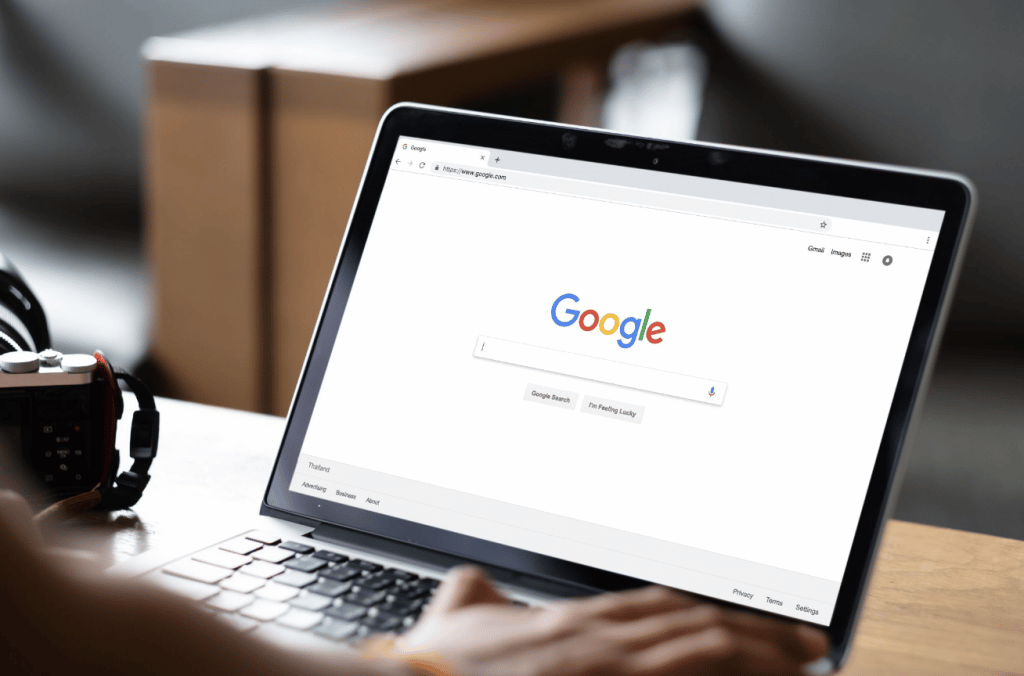 As announced in the blog of the company, Google is rolling out a new algorithm for its search engines. While many eCommerce stores are still struggling with the recent Product Review Update, Google is determined to provide a more human approach to online navigation. And clearly, this update demonstrates so.
So far, there are many reactive opinions about this new update going around in the SEO industry. Most of them are implying that with this new update, the SEO era will come to an end. Some experts are arguing that the new algorithm will devalue the content written for SEO purposes. However, all that this update aims for is to favour the content written for people by people.
So, what can you expect from the new roll-out? Contrasting with the previous update, which only affected certain pages of a website, the new Helpful Content algorithm has the potential to impact all pages within a site. 
As Google describes it, this update aims to:
"Tackle content that seems to have been primarily created for ranking well in search engines rather than to help or inform people."
What else do you need to know about the algorithm?
A new signal ranking is coming out for both new and existing websites.

It will start rolling out in September

Google is prioritising expertise and added-value rather than simply summarising content from other posts.

Undefined niche categories in publications might classify a site as unhelpful.

If Google detects that users aren't finding what they

truly

need, it might affect the ranking of the site.

Writing about trends outside your niche or industry might get classified as an effort to classify higher in the rankings, rather than providing value.

Removing unhelpful content will increase the possibility of ranking in a higher position
So what can we learn from this update?
First things first, the SEO era will not come to an end. It is definitely taking a new direction towards a more streamlined practice, connecting humans with humans. 
This new update isn't either devaluing the SEO practices, but rather is an open invitation to content creators to incorporate conscious practices into creating content with people in mind.
Google sets the race for Local and Smart Shopping campaigns to shift into Performance Max campaigns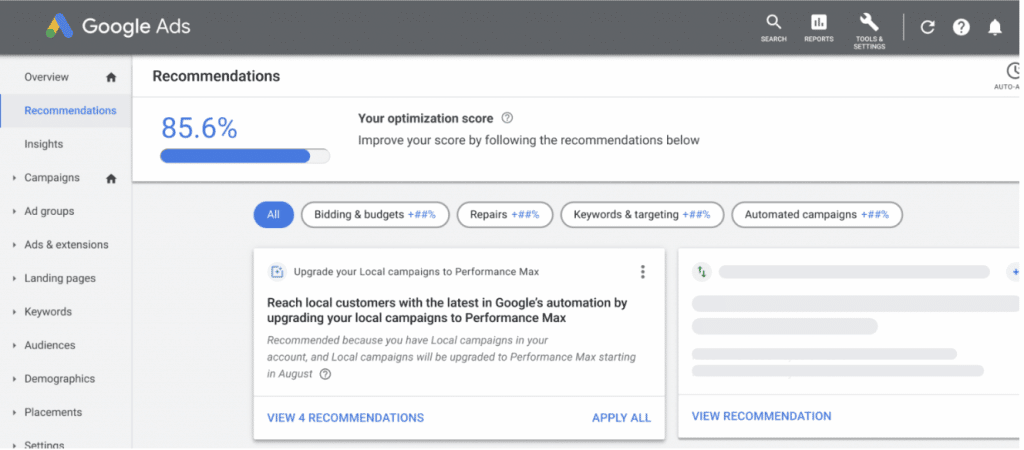 Earlier this year, Google announced that its Local and Smart Shopping campaigns would embrace changes and turn into Performance Max campaigns. In their announcement, Google provided clear deadlines for this placement, with it being September 2022. 
To understand the relevance of this update, let's get back to the basics: what exactly are the benefits of the Performance Max campaigns?
Performance Max campaigns use Artificial Intelligence combined with automatisation to maximise the performance based on a specific conversion goal. 
So conversion, performance, AI, and automatisation are in one place? Yes! And the benefits don't just stop right there. These campaigns encompass all Google properties such as YouTube, Gmail, maps, search discovery, and display. Ultimately, you are able to track the customer journey a client does when searching for a product or purchasing online.
Now that we've covered the basics and we are well aware of the tight deadlines Google is giving, let's break down the official news.
In August, Google released a tool to self-upgrade both Local and Smart Shopping campaigns with just one click. The trick with this update is that although you can do it with a simple configuration setting, it won't be available for all the merchants yet. 
So, how can you know if you're eligible for the self-upgrade?
If your campaigns were compatible with the upgrade, it is likely you have received a notification with a link or that you are able to find the option through the Google Ads Dashboard. If, on the contrary, that wasn't your case, your Local campaigns won't update to Max Performance until 2023.
Now, the next big question is: What happens with the old campaigns?
We do recommend that you use the self-upgrade option as soon as you are eligible. The reason is that all the old self-upgraded campaigns will keep all the historical performance data and your chosen settings.  
Although having this option is great for analysis and reporting purposes, all old campaigns will be automatically set to "Removed" status. This means that no edits, nor reactivation, will be allowed.
The International Targeting report has been deprecated, and will be removed from Search Console soon. We continue to support hreflang and our recommendations for managing multilingual and multiregional sites still stand. https://t.co/yz4lsHhXhO

— Google Search Central (@googlesearchc) August 24, 2022
If you own a multilingual or multi-regional website, stay tuned because Google has officially announced that its International Targeting report will be removed from Search Console by September 22nd.
Many are the questions that have arisen with this announcement, such as:
Where will the hreflang-tags errors be found?

Can you target a specific country manually with a .com domain?

Will hreflang continue to be supported?
While Google hasn't announced what will happen with the hreflang errors found in websites through the report, they have stated that hreflang tags will continue to be supported by Google Search Console. In fact, as they quoted in their tweet, Google will continue to support multilingual and multi-regional sites with their standard recommendations still. 
So, how can you help Google understand your site if you support different languages or locations?
If you are managing a multilingual or multi-regional site, you can optimise Google Search results directly from your website




If you manage multiple sites for different languages, make sure you are reporting and telling Google about each of these variations. By doing this, Google will appoint the corresponding variation to the right user.

If your website shows certain content based on the location or language of the user, Google might not be able to crawl, index or rank all the content for the specific locale.
With this update, certainly, manually targeting countries or the preference of the language from users might become a harder practice. We believe that by doing this, Google continues to strive in its fight against SEO-done content and keeps moving towards a more human navigation experience.
Marketing Tech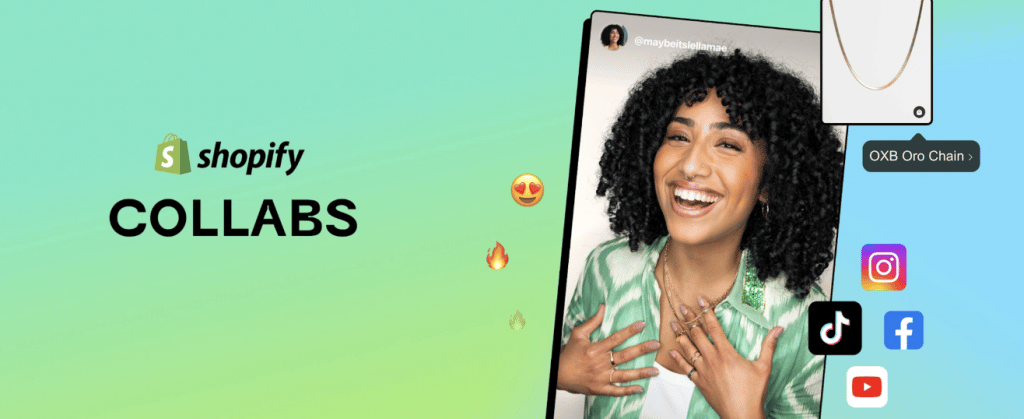 With creators and brand experiences in mind, Shopify has rolled out its Collabs. It's a win-win for both creators that can sustain their activities with brands they love, and for brands that can reach new audiences.
Influential marketing has played a big part in the development of brands. In most cases, it helps to boost the awareness of a brand or increase the sales of a product or service. We can agree that nowadays, it is a crucial part of any digital marketing strategy.
This is a free initiative in which brands can:
Communicate that they are open to collabs

Detail the brief and description of the brand to match with the perfect creator

Build stronger and real partnerships with creators

Announce specific products to be promoted by collabs 

Send gifts to creators

Track reports and analytics by the performance of the influencer
Collabs will work on an application basis to ensure that brands connect with the right audience. 
As stated by Kabbara, its Director of Product, in the article of the company:
"For Shopify merchants, Collabs is a new way to find potential customers at a time when it's never been more difficult or expensive," Kabbara continued. "By giving merchants the ability to discover and partner with creators that align with their brand, they can tap into the power of community-driven commerce to reach consumers in new and meaningful ways." 
For the time being, Shopify Collabs will be available only in the US and Canada.
 Canva gets one step closer to becoming the one-stop-shop for visual needs with Whiteboard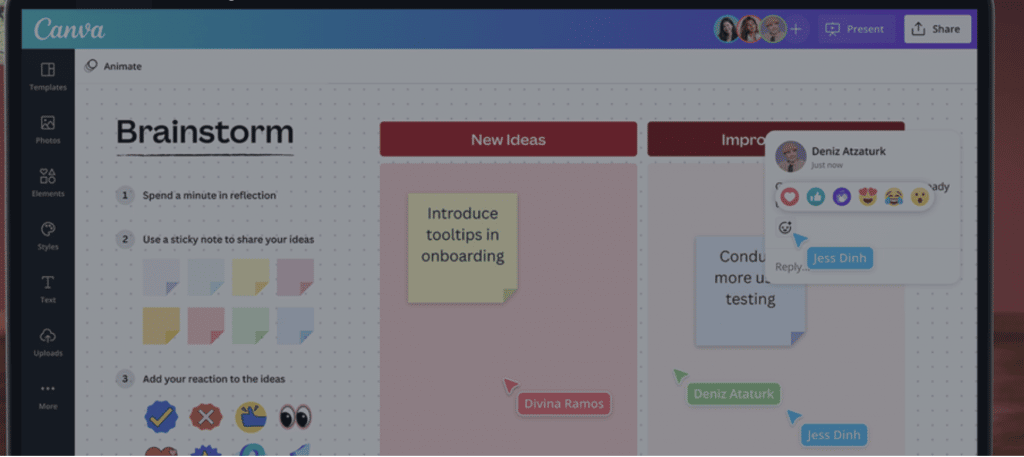 Canva is living up to its name with its newest product release. The online visual and creative platform surprised everyone with the brand-new feature Whiteboards.
This feature includes pre-made templates to brainstorm and express ideas visually by non-designers. It's bringing creativity to the fingertips of the day-to-day user. 
One of the most loved features is the possibility of collaborating online with others. This property comes in handy nowadays that remote working is more common.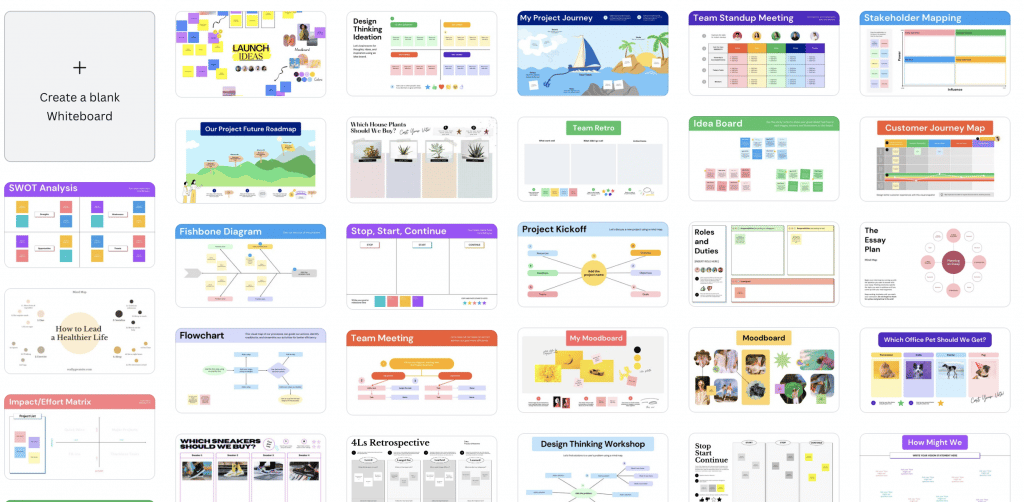 From Kanban templates to all types of diagrams and mapping options, Canva is building limitless spaces to bring your ideas to life.
What are some of the best usages you can have with the new rollout?
Create dynamic presentations that expand in a limitless space.
Conduct workshops with experience and timing in mind.
Create Customer Journey and general mind-maps while collaborating online with others.
As Canva states in their blog:
"Great things happen when people come together to bring their ideas to life. There's truly no limit to what you can do with Canva Whiteboards, which is free for our global community and available on the web, desktop and mobile."

 Social Media Marketing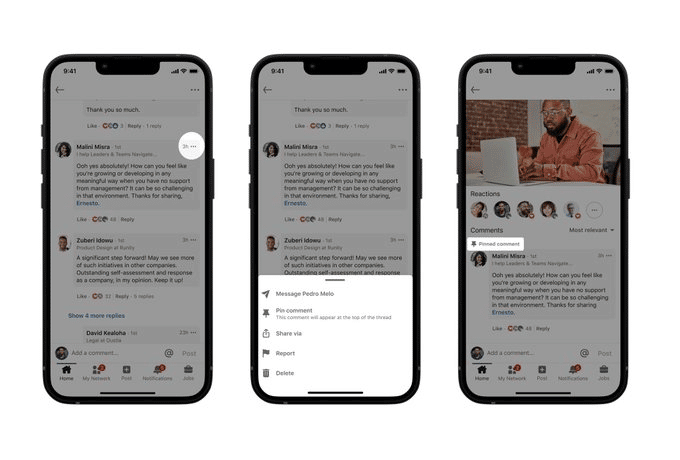 LinkedIn has rolled out a new feature that enables all users, both company pages and personal profiles, to pin comments under a thread. To pin a response, simply access the three dots menu, and become ready to place the best responses on the top.
How can this update be useful to you?
With LinkedIn being a social media platform in which getting awareness and visibility tends to be easier than other channels, this new functionality has the potential to elevate the engagement of your publications and get seen by many others.
We firmly believe that this new update will boost interactions and can become a great tool to build personal branding in this social network.
Podcasts steps firmly into the YouTube platform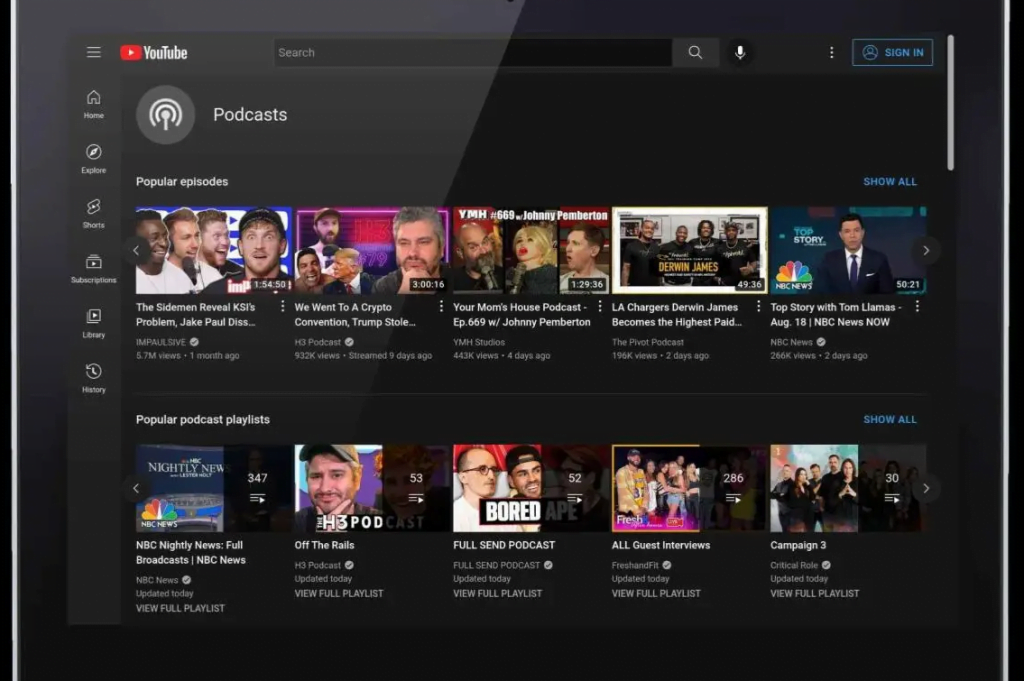 The long-format video platform is slowly introducing a dedicated section for podcasts. YouTube is updating itself to provide podcasts with its own dedicated section. 
YouTube has decided to make the best out of a common malpractice of users publishing static content on a dynamic and video-based platform (A.KA. Podcast videos on YouTube). Truth be told, most podcast producers would update their episodes despite sometimes displaying only a picture with the audio behind it. 
Although YouTube hasn't formally announced the new platform changes, many users have found it while navigating within the platform. Some have even documented how to access the dedicated section.
To access the update, just go to the Explore tab, which will display the menu options, including the podcast. Then click the option of 'Podcast' and get ready to support your favourite content creators.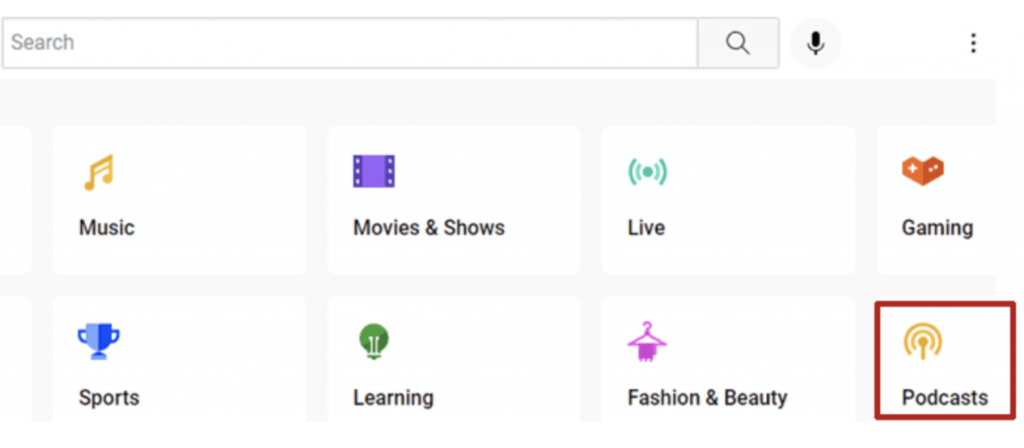 Does this mean YouTube will also raise the fight for podcasts in the industry? 
What we know about this update is that it is slowly being tested and rolled out by countries. It is also known that podcasts are being displayed by subcategories to ease the navigation of the user.
There are 9 podcast categories to suit the need of the customers and help them explore the vast content. These categories are:
Popular episodes

Popular podcast playlists

Recommended (Based on your Subscriptions and History)

Popular podcast creators

Comedy

True Crime

Sports

Music

TV & Film
It does seem that this rollout is the start of something bigger than merely performing changes in the layout of the platform. YouTube knows its market advantage and has taken the first steps into the podcast industry.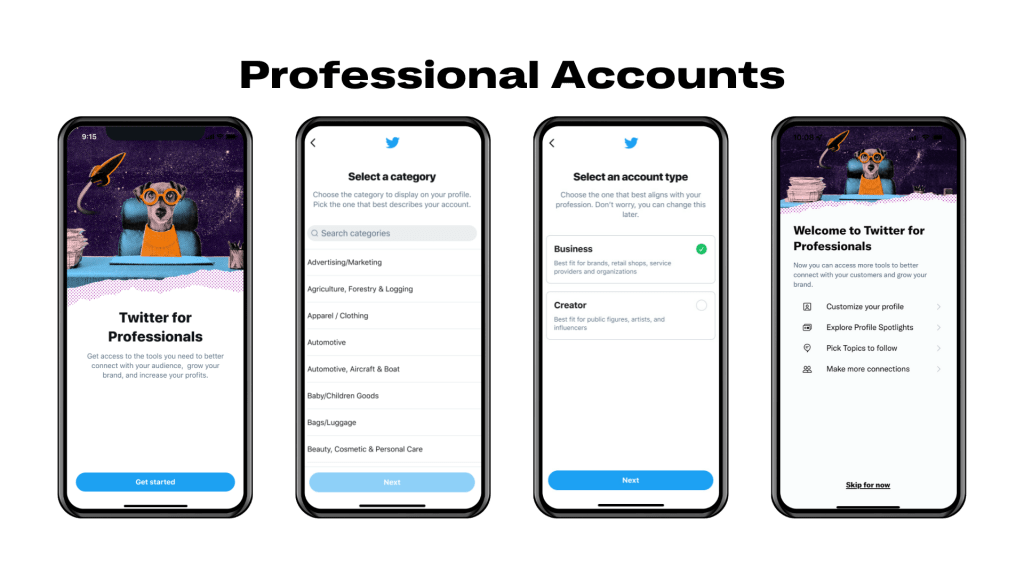 These sure are exciting times for professional accounts on Twitter. The platform has announced that a new set of features are being unlocked exclusively for professional accounts. 
Twitter is committed to helping businesses, brands, and creators to have a strong online presence and this new shopping and custom links functionality seems to be hitting off the ground.
? We're going global! Now, any professional around the world can add a Location Spotlight to their profile to help customers find their biz location and get in touch faster. And☝️it has a new Google Maps integration to help customers with directions. pic.twitter.com/Uw5oLdJWXU

— Twitter Business (@TwitterBusiness) August 4, 2022
Let's review what these two new profile spotlights are about. The first one would be the Location Spotlight has rolled out globally. This update aims to help any business owner to become visible to their customers with even a Google Maps integration for directions.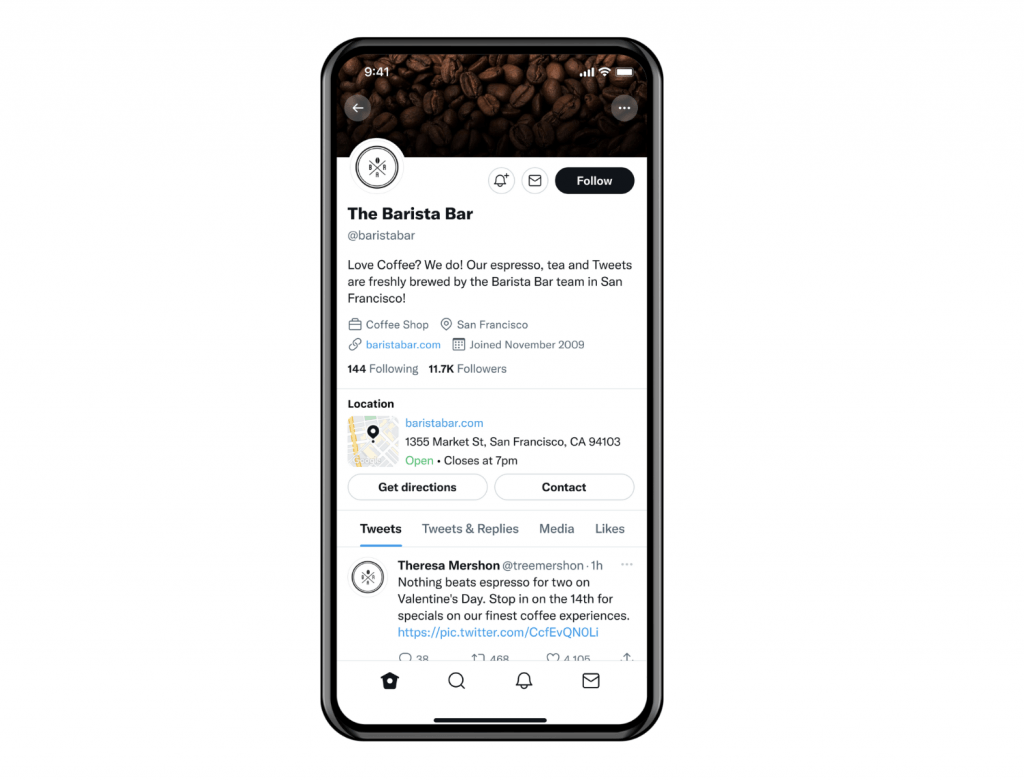 But this isn't all this new spotlight feature can do for your business. It also includes updates such as displaying business hours and direct contact methods to bring customers closer to businesses. Among the contact options, you can set up to be contacted by phone call, text message, direct Twitter message, and email.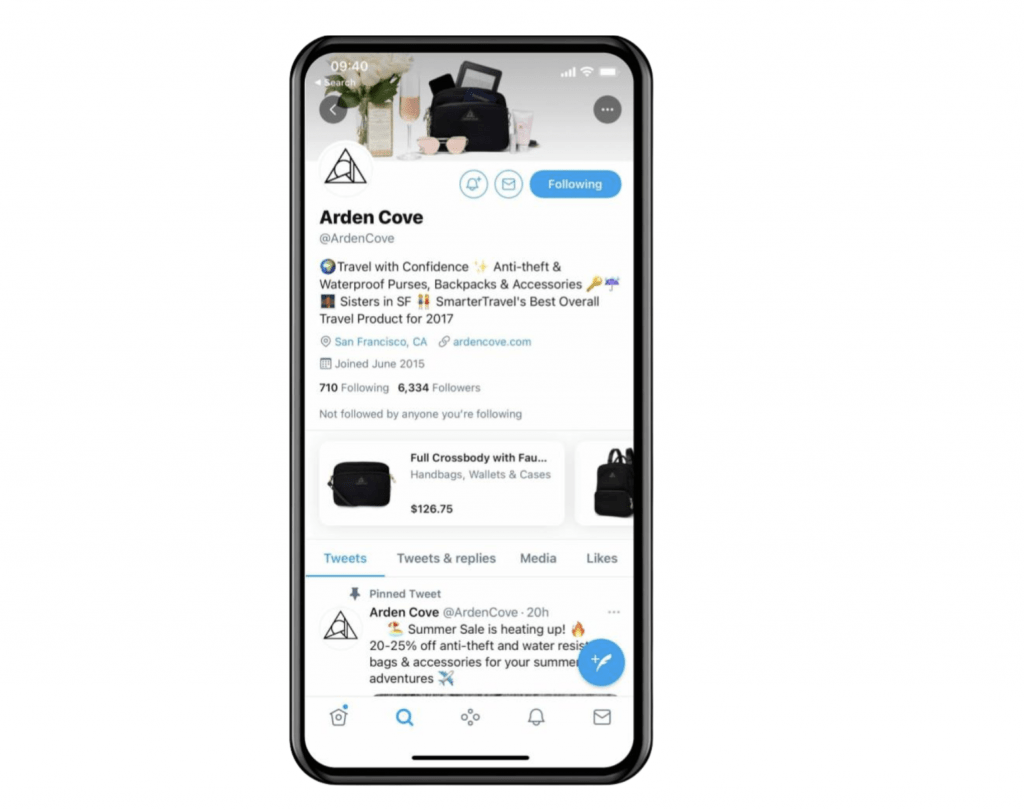 Last but not least, the Shopping Spotlight is perhaps the most exciting update for professionals and their sales goals. Unlike the previous update, this functionality is available only to qualified accounts, mainly in the US. 
So what's exciting about this update?
Those qualifying accounts will be entitled to a dedicated section at the top of their account profiles to display their products. The spotlight will act as a catalogue for easy access to purchase products without having to leave Twitter.
As Twitter describes this update:
"This is a feature that allows us to explore how shoppable profiles can create a pathway from talking about and discovering products on Twitter to actually purchasing them. "
The update doesn't stop here. Twitter is actually developing a product management platform to create a seamless experience in showcasing products. This development will mainly assist business owners to create their own catalogues in-line with the right display in the app.
About Frizbit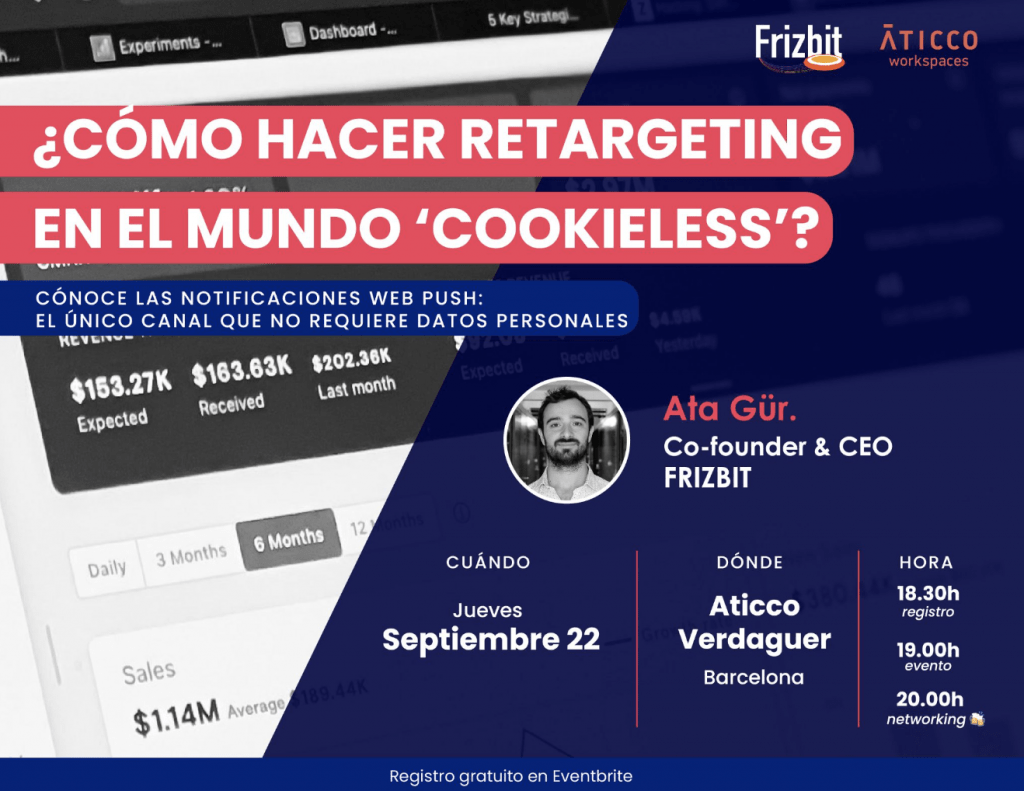 We are delighted to announce that we are back with our offline events in Barcelona after a well-deserved summer break. In this event held in Spanish, we will review the strategies to perform retargeting without using third-party cookies.
Despite the delays from Google in fully implementing the cookieless era, we know the change and upcoming challenges are imminent. So, what better way than to actually get your hands on a theory-practical workshop to get ahead of the game?
If this event already sounds like you, keep reading to find out the details about this exciting workshop. 
During the event, you will learn what these types of alerts really are, and you will discover everything they can do for your e-Commerce to bring your customers back. 
In addition, you will explore this channel, which besides being innovative, is aligned with the new data privacy restrictions and third-party cookie limitations that will come into force by 2024.
Of course, after-work, and networking could not be missing in this workshop, so besides learning about best practices and tips to implement them, you will also be invited to enjoy some free beers on a nice terrace in Barcelona.
If you are not in Barcelona but still would love to attend the event, we got you covered! For those who can't make it physically to the event, we will have a live broadcast for the workshop. To access the broadcast, register through the link below and choose "Watch Online – Remote".  We will email you the live link on the day of the event.
The details:
When: September 22nd
Time: 18:30 (registration opens) until 21:00 
Where: Aticco Verdaguer, Barcelona
Workshop Facilitator:  Ata Gur, CEO & Co-founder of Frizbit