The marketing updates from October are here, and as we approach the end of the year, the industry keeps rapidly changing.
This month, in particular, we want to highlight the updates from Search Marketing as some interesting shifts are taking place. Let us start with the search bar itself, it's getting an upgrade and becoming more powerful than ever. And we are only talking about surface level here; wait until you read all about the technical changes that are happening now.
If you're here, you're open to learning and adapting, so let's get into it!
Digital Marketing News and Updates from October 2022
CONTENT
Search Marketing Updates
In the last months, we have seen how Google keeps putting all its efforts into improving online navigation, making it either more human or simplified.

This time, having in mind the simplification of the navigation of users, especially for mobile search, Google has removed title tags from the SERP results page. The results are a few words or one-word site name title, simple and easy to skim through.
We have performed an example searching for "Frizbit" that illustrates the difference between mobile (site name) and desktop search (branded title tag) for you to make the comparison easily.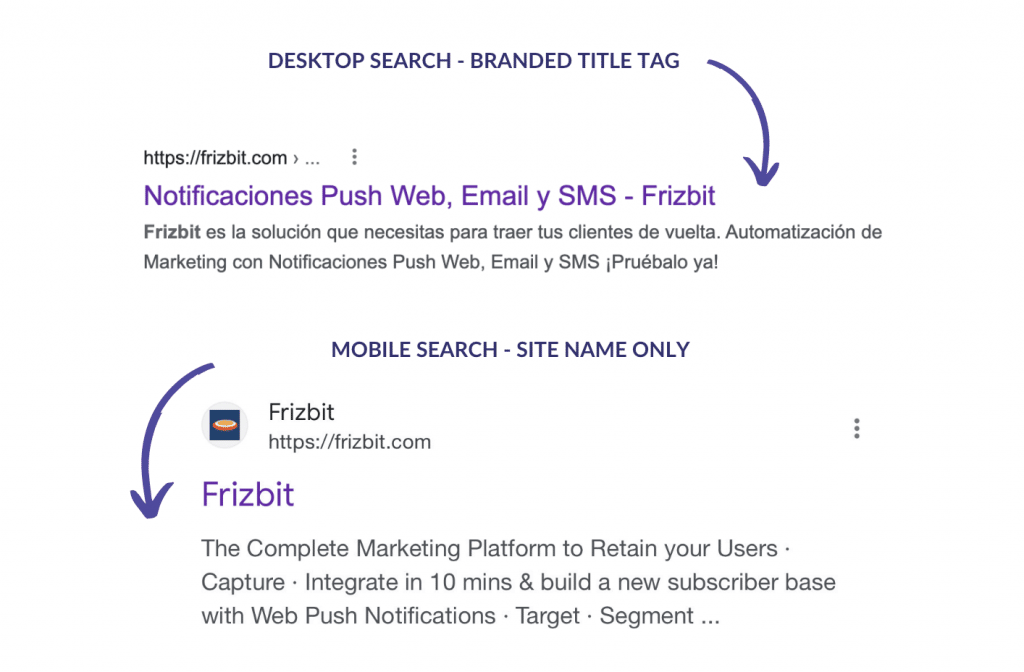 Now, if we go further about this, it is clear that this completely changes the scope of mobile search. In most cases, if your site name doesn't state clearly what it is that you do, it might have a negative impact on your search statistics.
But why is Google applying these changes?
The reasoning behind this choice is that by removing any branded words and therefore leaving only the site name, users will identify easier the website they are searching for. Once again, Google opts for simplicity.
"Today, Search is introducing site names on mobile search results to make it easier to identify the website that's associated with each result…"
For the time being, this update is only rolling out for English, French, Japanese, and German. More languages are expected to be covered in the upcoming months.
What do we recommend?

Optimise the meta description with your value proposition

Use keywords at the beginning of the description

Learn more about the

official documentation here
Source Adobe Stock
Google Chrome has developed some new interesting features for its search bar, including price tracking and search in the side panel. This means a great advantage for both searching, and online shopping as users continue to develop more and more online behaviours.
Shopping: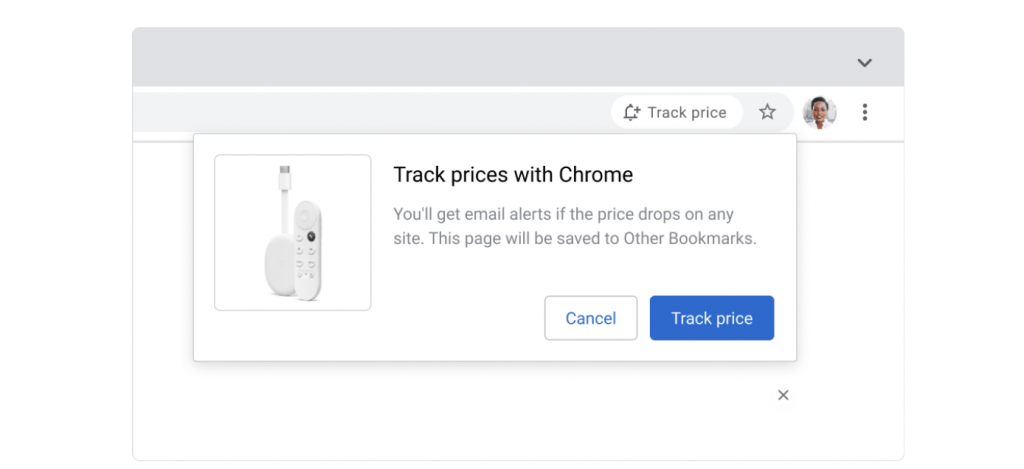 This feature is a game changer for users who tend to shop online and, of course, for eCommerce stores, too. This update aims to help users save money and time when shopping through the search bar.
What does it do?
When users are online shopping,

the search bar will now be able to track the price

across different online stores at once.

Email users when the price drops

in any of the visited sites
How does it work?
When in an online store and after finding the desired product, users will have the option to click on "Track price" at the address bar.

Users need to click on "Track price" to start tracking the item

When the prices drop, the users will receive an email to the Google Account they are signed in to.

To stop tracking a product, users need to deactivate the option manually in the address bar.
Side Panel Search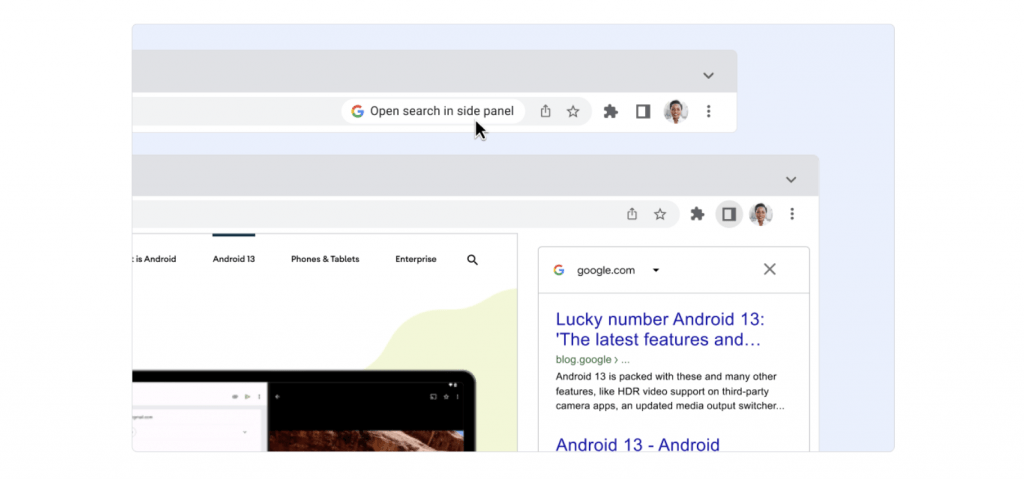 When you click on one of the results in the SERPs, you will now see this feature in the search bar. Basically, this will display a sidebar in the same navigation window, so users can check the other results of the search while navigating on the website where the user originally clicked.
In summary, this new feature aims to help users compare results in a much faster way through the new side panel, avoiding the use of the back button.
The real question here is, how are these searches going to be measured?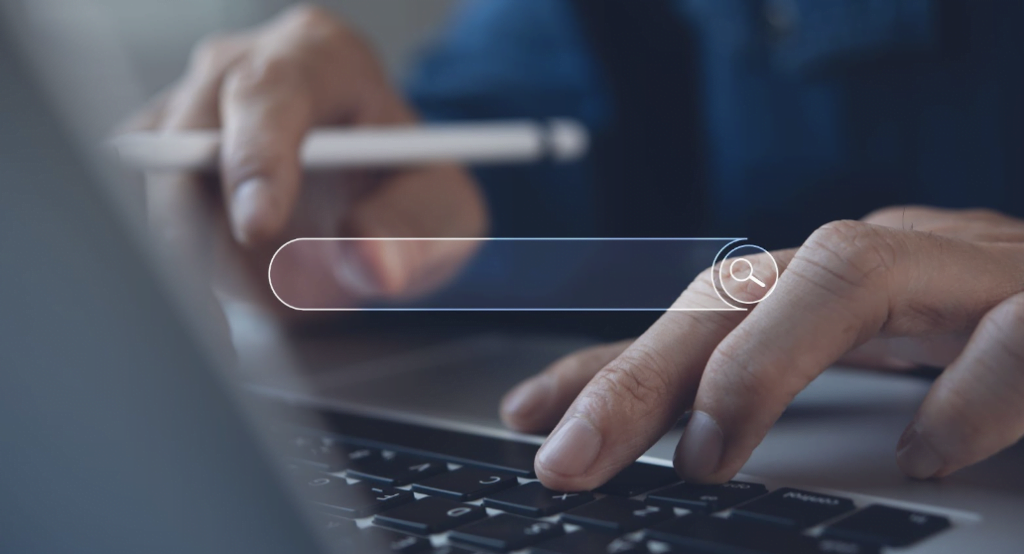 With all the constant changes within the SEO landscape, many doubts constantly arise. However, we finally have some answers related to the use of AI for content creation purposes.
In October, Google has finally decided to be more specific about the behaviours to be avoided when using AI, and shed the light with its ultimate guide.
Here you can find the most relevant points from their update and what's there to avoid:
Writing content that has no meaning when put together, but yet is full of keywords.

Translated content without any revision before publishing

Content generated through automated processes without having in mind the user experience or quality

Generated content from source skimming or SERP results

Use and combine content from other sources without adding enough added value
What do we recommend when using AI?
Revise the written content and try to amplify its extension further.

In most cases, content written implementing AI is surface-level and brief. Adding more content will add value to the users who are reading.

When applicable, add an element of personalisation or personal storytelling.

People love to hear stories and read about personal experiences.

Make your content fresh.

Normally, IA uses old data to create new content; however, when looked at properly, the content might seem old-fashioned. Therefore, add new statistics and data to make it relevant.
So should you use or not IA when writing content for your brand?
The short answer is, of course, you should use it if it helps you save time and resources. Technology is out there to be used, and Google knows it. In fact, they aren't banning its use. However, it shouldn't be an excuse to provide poor user experiences, which is what the company wants to avoid at all costs.
Marketing Tech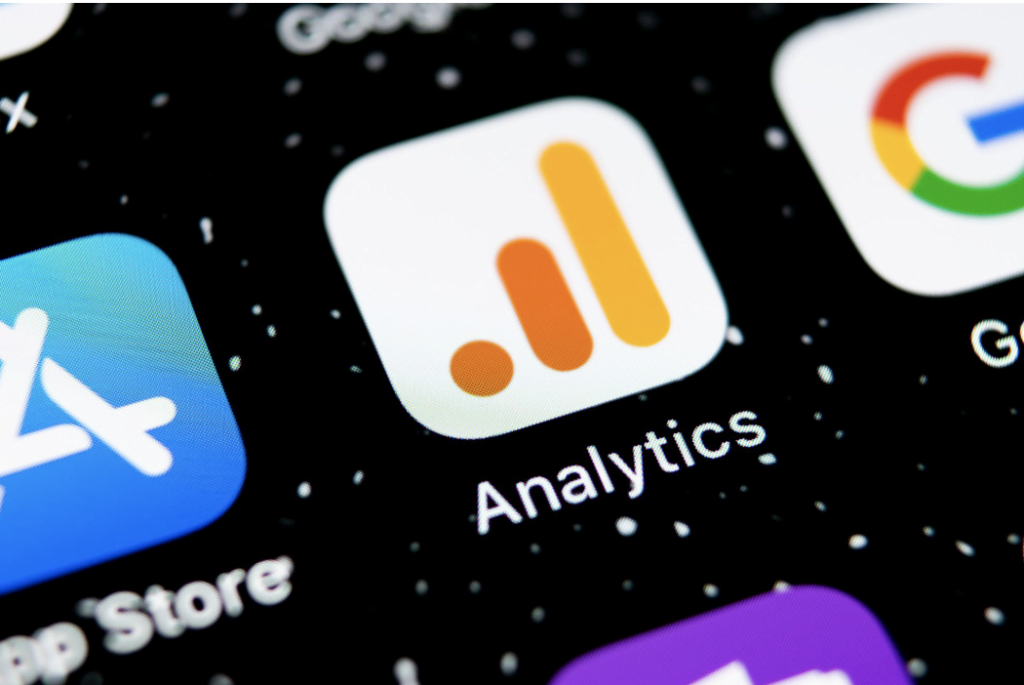 The migration to Google Analytics 4 continues to be a controversial topic, as the company has set up deadlines for when Universal Analytics will cease to operate. However, what happens to those who have acquired its premium version of Universal Analytics 360?
Although undergoing migration is a must for any enterprise that wants to thrive in the digital marketing landscape, many are still resisting to take the shift. Having those in mind who are already paid users, Google has decided to push the cease of operation for UA 360 from October 1, 2023, to July 1, 2024. In this way, the company aims to give enterprise marketers more time to switch to GA4 and transition smoothly.
We believe that as the new tool is operating but still under development and some bugs need to be fixed, Google Analytics 4 is taking advantage of this extra time to offer a better product suite built for enterprises.
If you'd like to learn more about what GA4 is, what are the key differences between UA and GA4, key metrics and how to migrate with ease, you can find all the necessary information at the Frizbit blog here.
"We're focusing our efforts and investments on Google Analytics 4 to deliver a solution built to adapt to a changing ecosystem. Because of this, throughout 2023 we'll be shifting support away from Universal Analytics 360 and will move our full focus to Google Analytics 4 in 2024."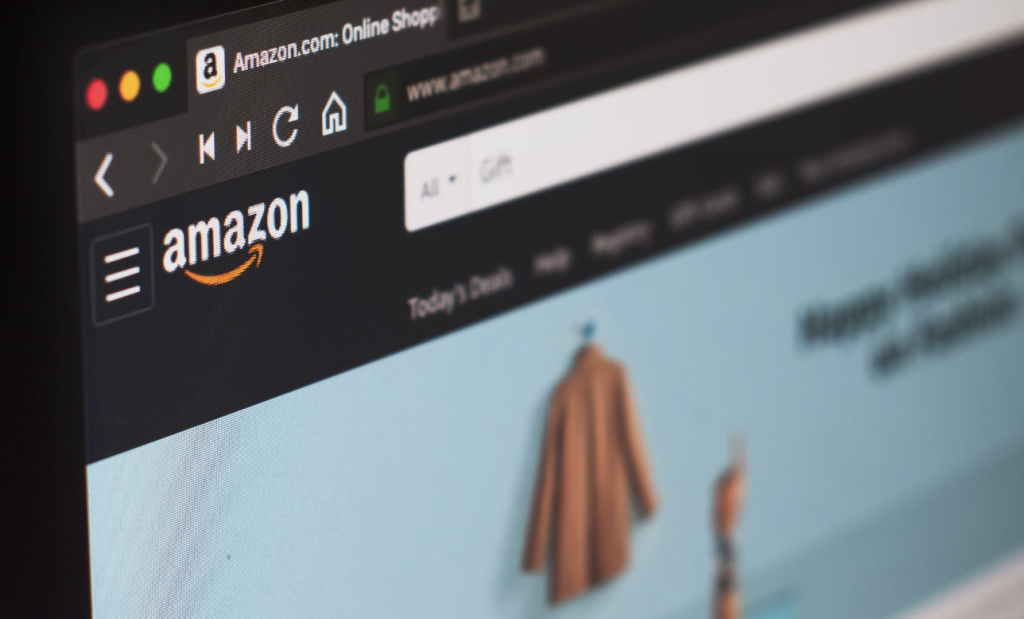 The power of video and live-streaming has arrived to Amazon Ads, and is available from brands of all sizes. As announced by the company during the unBox 2022:
"Our video ad solutions work together and make it simpler for brands to reach relevant audiences at scale, so they can deliver their creative work alongside popular content, engage viewers with delightful experiences and measure and optimise their impact," said Tanner Elton, VP of US sales for Amazon Ads. "We want to bring the power of video advertising to more brands, no matter their size or level of resources."
With small brands in mind, this new solution empowers merchants to finally be able to enhance their level of trust by creating easy-to-make campaigns using creative video formats.
If you are a merchant, what type of content can you create using Amazon video ads?

Live demos

Testimonials

Tutorials

Unboxing

Product showcase

Live Q&A
If you are worried about tracking the performance of these new campaigns, this roll-out is easily measurable through the standard Sponsored Display metrics.
Alongside this new launch, Amazon is testing its public beta software Video Builder, in which brands can create with ease videos for their Sponsored Display campaigns from the available templates. The software also includes ready-to-use products and lifestyle photography.
We are well-aware of the high importance that video formats have been acquiring recently, so we are sure this update will help more brands using the platform to share their stories and products with their customers.
Social Media Marketing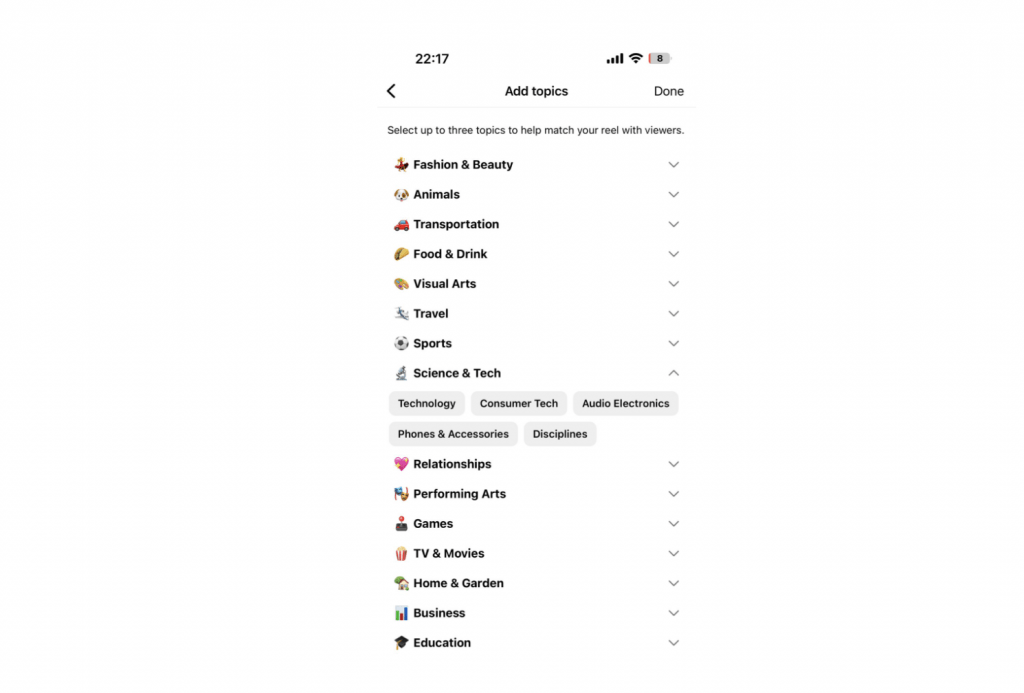 During the last months, the video format of Instagram Reels has been the main-featured format by the company. As its popularity grows steadily and more users are eager to implement reels into their content strategy, some accounts have experienced a decrease in the expected reach results.
In order to refine and tailor the content to the interest of the users, Instagram has rolled out the "Add topics" feature, which started being tested in September. This categorisation aims to better classify and nurture the recommended content to users.
As the chief of Instagram stated, the AI for the content recommendation wasn't working up to the expectations:
"When you discover something in your feed that you didn't follow before, there should be a high bar — you should be delighted to see it. And I don't think that's happening enough right now."
With this new functionality, Instagram is clearly adding efforts to compete against the solid TikTok recommendation algorithm. Having said this, classifying the clips by specific topics will certainly allow the content to reach more engaged audiences, bettering the visibility of the accounts.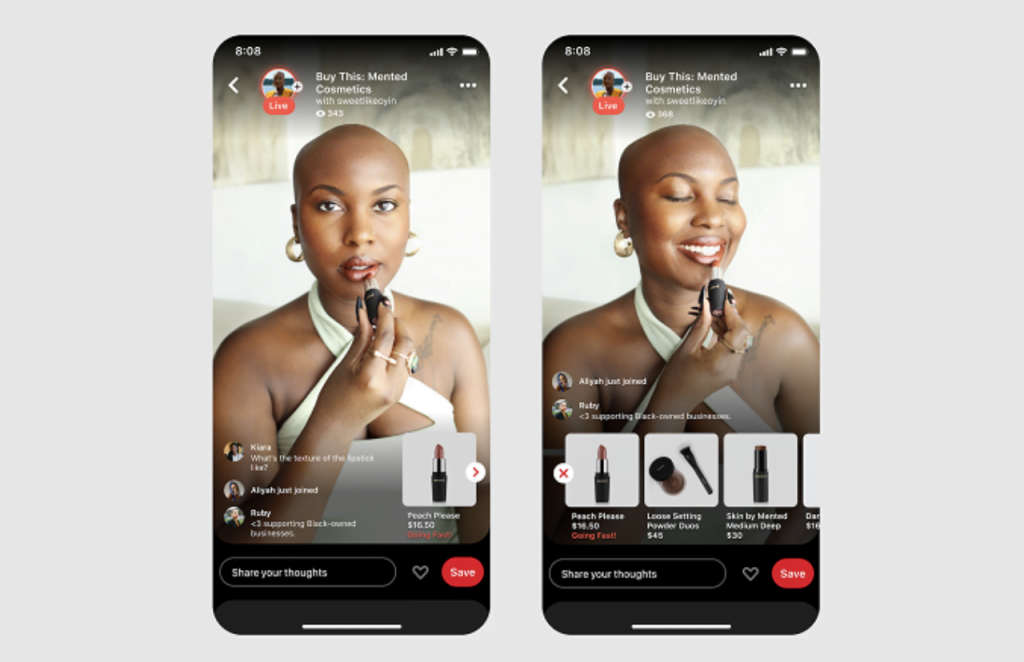 Source: Pinterest Newsroom
The iconic visual search platform has leaned into the rising eCommerce trend of live-stream shopping in China. Featuring live shopping events, Pinterest is launching 'Pinterest Tv'
As explained by Pinterest:
"Today we're announcing Pinterest TV, a series of live, original and shoppable episodes featuring creators right on Pinterest. Pinterest TV episodes are refreshed each weekday and will be recorded and available for Pinners to view on-demand, and save and rewatch later."
How will it work?
Set of live and shoppable episodes

Creators will be featured on Pinterest itself

TV episodes are refreshed each weekday and will be able to watch later

Streaming Monday to Friday on Android and iOS in the U.S.



This new initiative will change the scope of the eCommerce landscape as it brings immediate interactions and shopping activity to the platform. In addition to the human-to-human experience, 'Pinners' will also enjoy exclusive deals and discounts in the app while broadcasting from their favourite creators.
Some of the brands participating are Patagonia, All Birds, Crown Affair, Melody Ehsani, Outdoor Voices, Mented and more.
We are sure this roll-out could be the next big shift in the eCommerce world, as shown previously in China, it has a huge traction and engagement. It isn't only immediate and real, but it touches the emotional bases of consumers, sparking the impulse buying behaviour.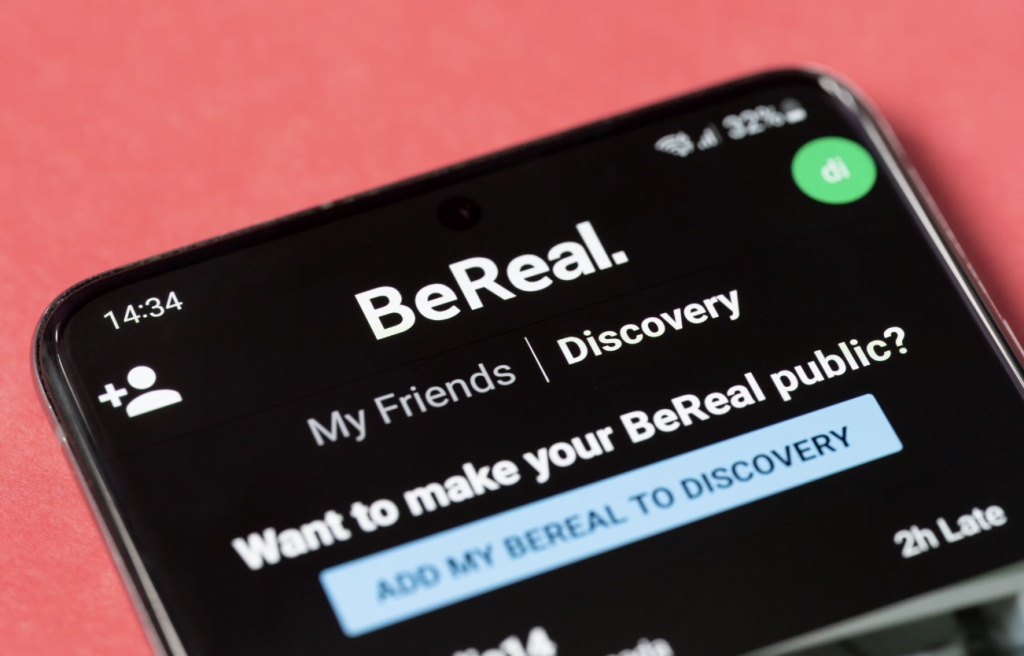 If we were to define the new social media platform BeReal in a few words, it would probably be spontaneity and naturality. And what happens is that when such a disruptive platform goes against all the rules, it truly creates an impact.
Some social media users believe that this platform and its use will remain mainly to share personal raw content. However, big brands such as Chipotle, Burrito Palace, Elf Beauty, and Trident, among others, have taken the leap and jumped into the social media channel.
For starters, you can't buy any ads on the platform, which already makes it unique in comparison to all the other social media channels. Secondly, you can't find a huge amount of businesses of all sizes trying to cold sell. This, altogether, makes it the perfect place to create connections with other users at an unfiltered level.
Up-to-date, BeReal already has registered over 20 million users, which clearly positions the platform as a possible threat to the now head-of-the-game channels. In fact, with the fear of staying behind TikTok, Snapchat and Instagram have replicated the dual-camera feature natively within the apps. In short, the competitors know the potential of the app and are willing to fight to retain the users.
Let's set the reality here. The new social media channel is rapidly growing, and some brands are deciding to enter the market and appear honest and raw with their audiences. However, despite the incorporation of businesses in the platform, BeReal hasn't made any statements about its monetisation strategies yet. Although the platform is still in its early stages and monetisation through ads is out of the table, if the platform continues to grow and more brands start to enter the market, the shift will be inevitable.
Updates from Frizbit
On Wednesday, 26th October, we hosted our latest event, "Google Analytics 4: Migration, differences, metrics, and the future". This workshop was led by Michele Sforza, SEM Account Manager at Jevnet and co-organised by Frizbit. Overall, the event was full of good energy and a lot of learning curiosity about this new tool.
At our workshop, we aimed to clarify some of the most frequent doubts and myths about this topic, and for this, we couldn't have had a better panellist. Having said this, if you couldn't join us at the event or would like to refresh what you've learnt, we have created two options for you:
If you'd like to learn more about what GA4 is, what are the key differences between UA and GA4, key metrics and how to migrate with ease, you can find all the necessary information here.
If, on the other hand, you are more of a visual learner and would like to learn first-hand, then the event session replay in Spanish is here.
Make sure to follow us on our Eventbrite profile to not miss out on any further events.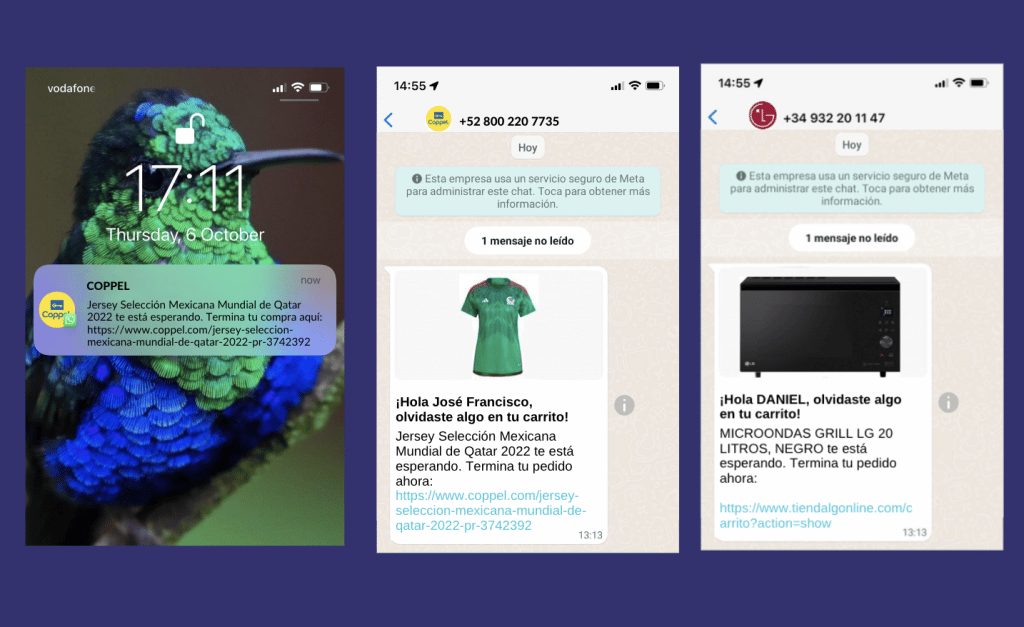 In our previous monthly blog post, we mentioned that we had recently added WhatsApp as a new channel for abandoned carts to offer with our cookieless solutions.
We believe that this opens the door to new ways to reach customers and keep delivering the right message to the right user at the right time and, most importantly through the right channel.
While hyper-personalisation was already in place, we knew that, just as the saying goes: "images speak louder than words". Therefore, during the last month, our developers worked on the deployment of adding an image of the targeted product to the bespoke message.
The results? Even more powerful and relevant messages to consolidate omnichannel customer journeys while remaining timely appropriate, and closer to the audience.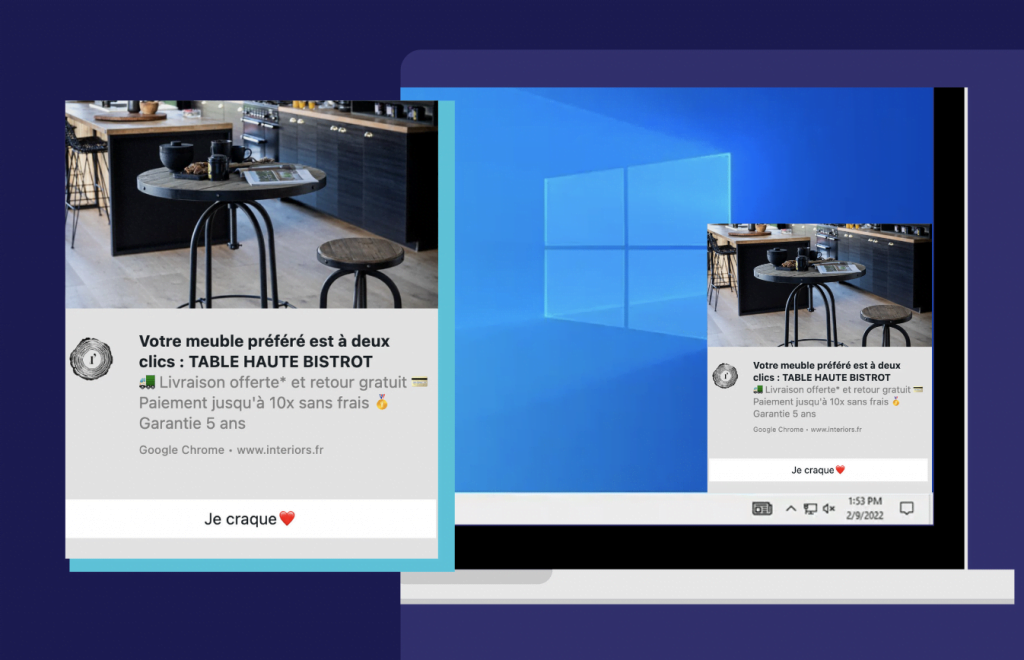 We are proud to announce that the French premium boutique interior design shop, Interior's has jumped on board into the future of retargeting with Frizbit.
Interior's, which is a brand of higher-end products, was hesitant at first to implement web push notifications to their eCommerce, as for them, it was relevant to respect, above all, their product image. We followed a one-month risk-free trial, in which they could see by themselves the possibilities of implementing new technologies to their online strategies.
In their case, we listened carefully to the needs of their businesses and co-jointly worked on developing messages and funnel stages tailored to their niche.
This is only the beginning, and we can't wait to see the great results that you will accomplish!
Welcome on board!
If you wish to experience what retargeting without ads can do for your business, get in touch with us for a personalised demo.