A new month is here, and with it, our monthly newsletter has arrived as well. As we enter the last Q4 of the year, it is even more crucial to keep up to date with the latest digital marketing news and start adjusting our strategies.
So, if you are ready to dive into this new quarter of the year with the latest trends and updates, keep on reading to get the latest insights and advice from us.
Just a quick announcement for those living in Barcelona, our next event (in Spanish) is scheduled on October 26th, 18.00h @Aticco Verdaguer. For those who can't attend on-site, we will also have a live-streaming option.
Without further do, we wish you a happy reading!
Digital Marketing News and Updates from September 2022
CONTENT
Search Marketing Updates
Search mobile experience is definitely getting an upgrade, according to the latest announcement from Google. The company has recently listed 5 upcoming changes worth learning to increase your search possibilities on mobile devices.
Say hello to Google Search Shortcuts:



Source: Screenshot from Google Blog Post




As we know, users can search on Google beyond typing their queries. However, although the possibility of this has always been there, few are fully aware of it. From searching through Google Lens uploading pictures to humming songs, the search experience is just so much richer nowadays.

Well, Google has decided to amp up the experience and introduce more tappable solutions. For the moment, this update is only available for the Google app on iOS and is here to compete directly with the native Safari browser.


Predicted results are coming from the results in the search bar:


Source: Screenshot from Google Blog Post

This feature is expected to roll out in the upcoming months, but Google has shown that they are committed to improving the navigation for users.

The new feature aims to shorten the search time spent when doing a query by suggesting the most suitable solutions right away. This plays a significant role in SEO to match and guide the users in the right direction, working seamlessly with the algorithm.

Refined queries:


Source: Screenshot from Google Blog Post


Following the previous update, Google is enhancing the search for queries with recommended words to tap on. Again, we believe having a clear SEO strategy can boost your company to be associated with the most common related searches.

While the user types his/her query, Google with start recommending associated and common words to that search to make it more relevant and specific.

Welcome to the Google Web Stories:


Source: Screenshot from Google Blog Post

This update aims to make the mobile searching experience a more pleasant one through the integration of visual layouts. However, this rollout also gives credit to content creators and positions them as a valuable source for content search.

As stated by the company:

"So, we're also making it easier to explore a subject by highlighting the most relevant and helpful information, including content from creators on the open web. For topics like cities, you may see visual stories and short videos from people who have visited, tips on how to explore the city, things to do, how to get there and other important aspects you might want to know about as you plan your travels."

This feature will be displayed as a widget in the search results, in which the users will be able to expand further, if interested.

Visual Search Feeds will be a reality:With the clear goal in mind of enhancing searchability navigation, Google aims to bring a visually harmonic experience by combining text, images, and video in mobile searches.

The feed is expected to look like the following example:




Source: Screenshot from Google Blog Post

As aesthetic as it looks, the next big question is what happens with the traditional ranking system? This new search layout puts all media at the same level, so it will be safe to say that visuals and graphics will become as relevant as the main content for upcoming searches.

Google has stated that creating aesthetic searches is going a step further into the mobile navigational experience:

"We're also reimagining the way we display results to better reflect the ways people explore topics. You'll see the most relevant content, from a variety of sources, no matter what format the information comes in — whether that's text, images or video."
Source: Adobe Stock
Google has announced a new rollout to identify which sites are HTTPS and which ones aren't, all accessible from Google Search Console. Unfortunately, the new integration will still need a few months to be completed, but it is undoubtedly a functionality that users have been requesting.
As the company stated in its blog:
"One of the common requests we heard from you was to provide more information regarding the HTTPS status of the site and make it easier to understand which pages are not served over HTTPS, and why not,"
Why does this matter? How can it be useful?
Both marketers and SEO professionals can benefit from this new feature, given that it will help to map out which URLs from the same site are indexed as HTTPS or HTTP.
HTTPS doesn't only serve a secure navigation purpose, but also, as announced by Google in 2014, it is a recognised ranking signal. The report will also help to prevent common errors that prevent pages from being served as HTTPS by addressing the exact cause of failure.
Lastly, this report will certainly come in handy as, according to the Core Web Vital from Google, using HTTPS increase the metrics ranking for UX.
To recap, both in providing secure navigation to the users and for better ranking possibilities, this report is an outstanding addition to Google Search Console.
Marketing Tech
Today as Safari 16.0 ships for iOS, macOS Monterey and Big Sur — lots of you are asking about Web Push.

Yes, real Web Push is coming to macOS Ventura in Oct. 100% web standard based. No Apple Developer Program membership required.

Read all the details:https://t.co/RYGjmoJUrQ

— Jen Simmons (@jensimmons) September 12, 2022
Earlier this year, we published an article highlighting what this rollout could actually mean for the 'cookieless' retargeting world. We finally have some dates to mark on our calendars for the release on MacOS Ventura in October 2022.
Let's recap what web push notifications or browser notifications are: These are alert-messages types working on an efficient opt-in basis. Users get asked for permission to receive time-sensitive alerts without compromising their personal data.
What do we know so far about the update?
It will be available for all users, regardless if they have or not an Apple Developer Program membership.
Apple rolled out this update ahead of its original expected date, which was appointed to be in early 2023.
It will use the same Apple notification service powering Native Push on all iOS devices.
If you want to be ahead of time and prepare for when push notifications are ready to be used on iOS (iPhone), get in touch with us for a personalised demo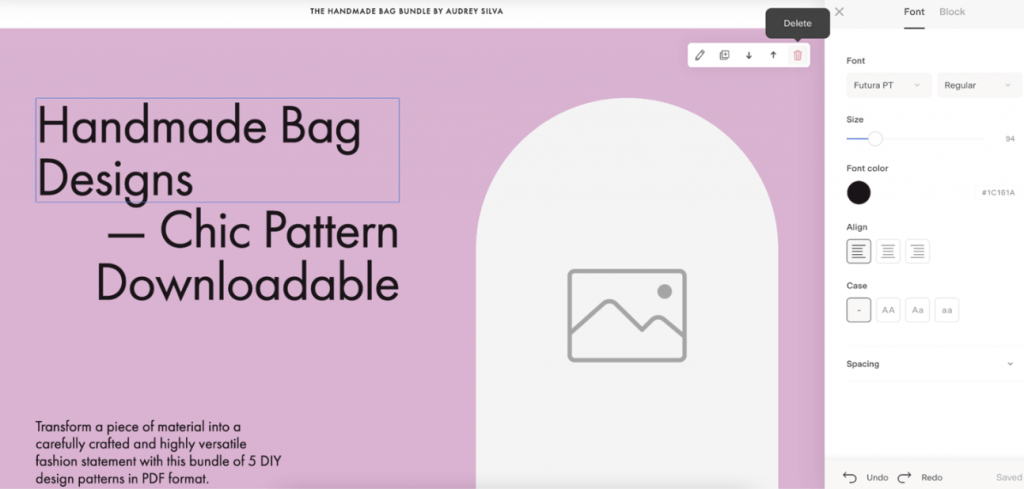 Source: Flodesk
Flodesk has slowly worked on its branding positioning as one of the most visually pleasant and straightforward email marketing platforms in recent years. By providing high-performance experiences to their users, they have partnered with Stripe to bring to live Flodesk Checkout.
What is it, and how can it benefit you?
It might be one of the simplest and most visually aesthetic ways to sell online. Their advantage is that you don't need to create a fully operating website to sell.
With this rollout, you can:
Build a sales page

Build a checkout page

Build a delivery page

Publish a functional payment gateway page

Integrate payment methods with Stripe.
Of course, while keeping the great CRM and email marketing functionalities from Flodesk.
Canva Create 2022 surprises with its new features

Source: Canva
Canva Create 2022 came in with tons of new functionalities. It is positive to affirm that the platform is evolving and growing with its audience needs to become the new one-stop-shop for all visual needs. Yet, by remaining accessible to non-designers.
From the Frizbit team, we have highlighted 3 of their recent updates:
Video Background remover:


Source: Canva

In the same way that removing the background from a picture was possible for non-designers with Canva, now the platform brings a whole new level to video editing. Video background removal is now possible, just under one click. This is an outstanding development, considering that not even professional tools can get done the same job with that ease.

Creating websites is now accessible to everyone:


Source: Canva

This rollout allows users to create responsive websites with both desktop and mobile previews. Again, everything under the same mission of making design accessible to everyone. Choosing from beautiful templates and customising it was never so easy to bring a website to life



Canva Docs (Beta Version coming soon):


Source: Canva


Canva announced their Canva Docs development, aiming to create visual docs in an entirely collaborative environment. The main standout characteristic is that these documents are meant to work on building richer media documents. As in opposite to the other existing text-based document with a difficult media integration option. The rollout already has a waiting list for when its Beta version becomes available.



Social Media Marketing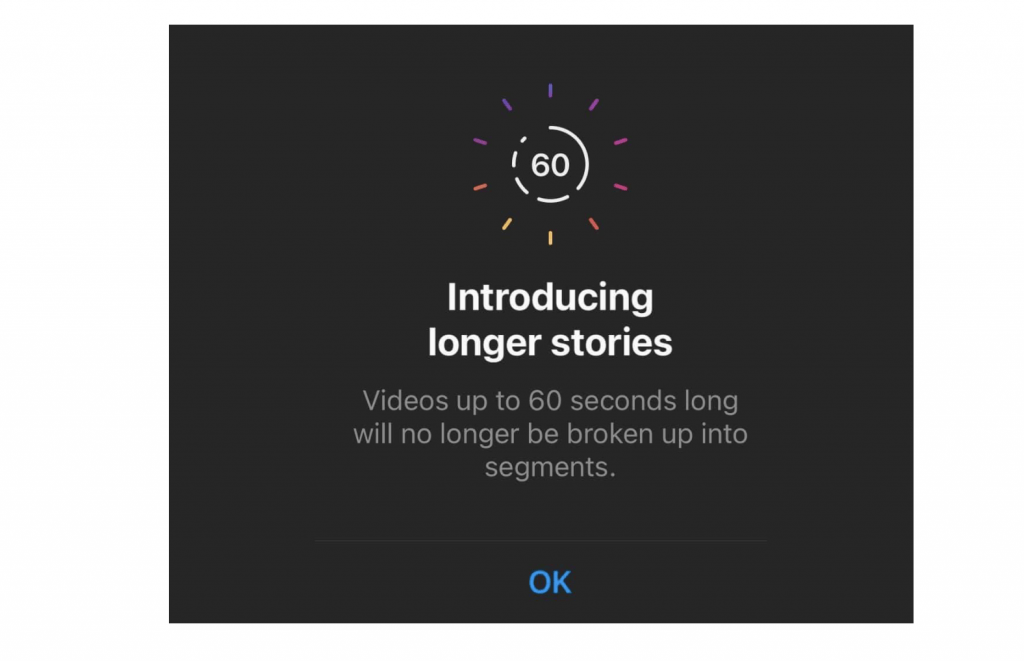 Source: Instagram
The well-known video updates from Instagram continue their course over the last months. The newest announcement revealed that now videos of 60 seconds will no longer be split into 15-second segments in the app.
The new feature has already started rolling out in September by showing a pop-up notification to users.
So, can this have an entirely positive experience for content creators?
Pros: Content creation through stories for promotions, selling content or engaging could be easier for creators, easing the work to split the content.




Cons: Users typically scroll through stories to get the information they are looking for as fast as they can, meaning that engagement might actually drop.
Instagram has confirmed the new Stories video expansion to TechCrunch, explaining that:
"We are always working on ways to improve the Stories experience. Now, you'll be able to play and create Stories continuously for up to 60 seconds, instead of being automatically cut into 15-second clips."
Woah…! TikTok has increased video description character limit to 2,200 characters!

This is huge for creators and massive in terms of TikTok's plans for becoming a search engine pic.twitter.com/kGhnL97uUM

— Matt Navarra (@MattNavarra) September 23, 2022
The video platform is clearly evolving into a wider version of itself, leaving behind being considered only as an entertaining social media platform.
According to Matt Navarra, TikTok has increased the maximum length of its captions from 300 characters to 2,200. Although the company describes the update as a space to express more details about creations, the truth is that it leads the platform to become more competitive as a search engine social media platform, especially for Gen Z.
This update allows content creators to include keywords that will improve the discoverability of their content in search. If we take into consideration that TikTok is already recognised for having one of the most accurate algorithms, then this entitles TikTok as a leading search engine social media platform.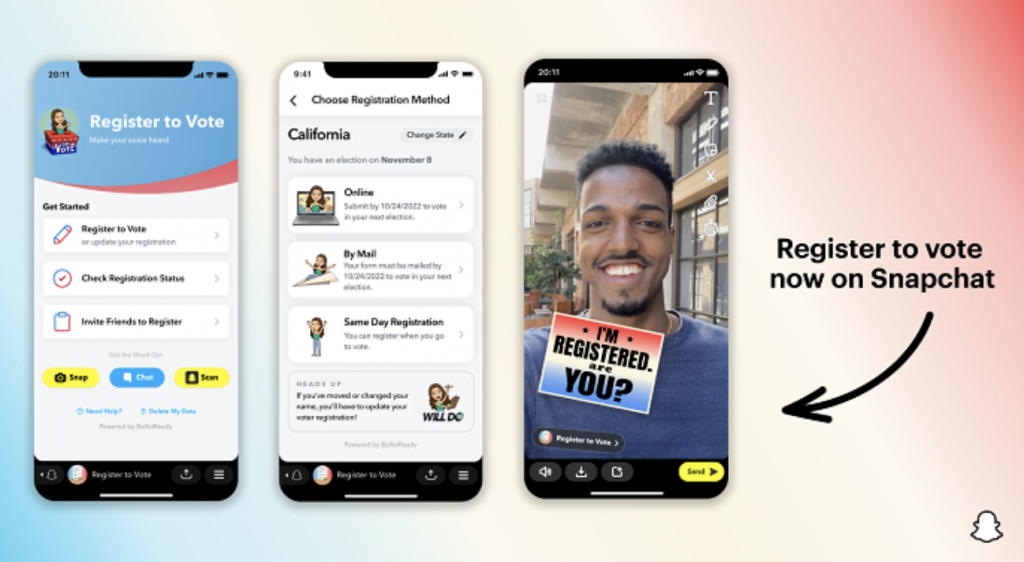 Source: Snapchat
Snapchat has shown a history of educating its users and providing in-app tools to build youth engagement in political events. For instance, in 2020, the platform helped 1.2 million users to register to vote and play a part in what resulted in the largest youth turnaround in decades.
The platform reaches 90% of the 13-24-year-olds, giving the opportunity to empower and educate the youth about the importance of participating in the democracy.
2022 couldn't be any different from previous elections periods aiming to build youth civic engagement, so they have developed some tools:
Allow Snapchatters to register to vote

Allowing 16- and 17-years-old Snapchatters to pre-register in selected states.

Community building to reach out to friends who haven't registered yet

Creation of Voting 101 Hub: an in-app training on how to register to vote, becoming a poll worker, and so much more.

Curated Map stories

Safeguards to review the content and prevent misinformation
Updates from Frizbit
This monthly newsletter comes with some outstanding updates from the Frizbit team!
We have a special invitation for those interested in evolving with Google Analytics 4, some product updates and past-events recap.
In partnership with Jevnet, Aticco Workingspaces and the Barcelona Growth Marketing Group, we have designed a new workshop to skyrocket your digital marketing skills.
As some of you might already know, the traditional UA (Universal Analytics) platform is phasing out in less than 9 months, meaning that data and traditional measuring will come to an end.
So what solution do you have at your fingertips? The answer is short: migrating into Google Analytics 4 as soon as possible.
We have come to realise that there is still some hesitation and doubts around the new platform. Having this in mind, we've created this event in Spanish to equip marketers with all the relevant information about the new software.
Event details:
Date: October 26th 2022
Where: Aticco Workspaces Verdaguer for our friends based in Barcelona and streamed online for those who can't attend live.
Time: 18.00h to 20.30h
Workshop Facilitator: Michele Sforza, Senior Account Manager at Jevnet
Language: Spanish
In the last few months, we have been working on improving the experience and added value for our customers on the platform. Currently, our product could integrate different channels such as web push, email and SMS to provide seamless messaging strategies. However, in order to improve and reach a wider audience, we are developing the WhatsApp channel as a retargeting medium without ads.
The update is still under development, so elements such as images included in the message are not yet available. However, we have prepared an example as a preview of what is to come.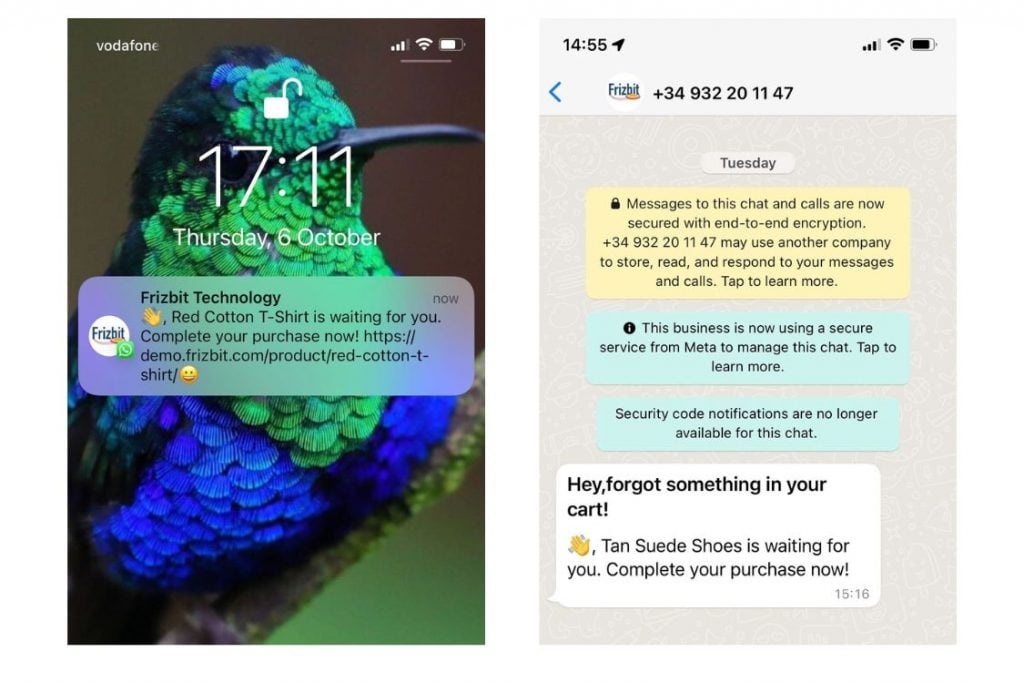 Among the hyper personalisation possibilities, you can have the following:
User name
Name of the specific product
Price of the selected product
CTA
Product image (coming soon
From the Frizbit team, we are excited about this new launch as it will generate more possibilities to reach and bring back more users at different points of their customer journey.
If you'd like to know first-hand what these new software updates can mean for you and your business in bringing customers back, you can get in touch with us for a personalised demo.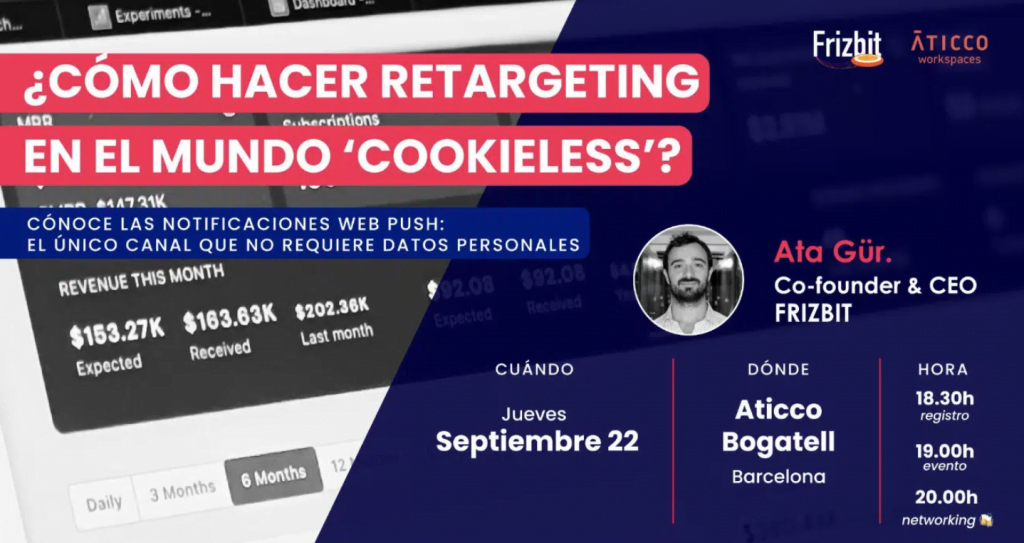 On the 22nd of September, we hosted our first event after the summer break, and we must admit it felt like a great way to come back to the routine. As usual at our events, we enjoyed -which was maybe – the last open terrace networking session of the year with some mandatory beers.
If you work in/with the digital marketing industry, you might be aware of the constant changes that we frequently face. During the event, our main goal was to demonstrate to our attendees that entering the cookieless is less scary than what we could imagine. There are alternative ways to do retargeting without ads or third-party cookies.
Also, in the way things are shifting, leaving third-party cookies behind is no longer an option or a choice, but rather a necessity. In our event, we teach you how to do it seamlessly.
Having said this, if you couldn't join us at the event or simply would like to refresh what you've learnt, we have created two options for you:
? If you'd like to learn more about the right strategies, channels and have a deep understanding of the cookieless world, you can find all the necessary information here:
Read all the info from the blog here
?If, on the other hand, you are more of a visual learner and would like to learn first-hand, then the event session replay in Spanish is here for you: