Digital marketing is an ever-evolving field that is constantly changing with the latest trends and technological advancements.
It's been an exciting month, especially in the Search Marketing field. We've noticed a lot of activity, thanks in part to the role of AI. Even Google Search has incorporated AI, and we're happy to share that Google has addressed concerns about whether AI can negatively impact a site's ranking. Spoiler alert: it won't! But for all the juicy details, make sure to go through the blog post.
As a marketer, it is essential to stay updated with the latest news and updates to stay ahead of the competition. In this blog post, we'll discuss the most significant updates and news from the digital marketing world in February 2023.
Digital Marketing News & Updates from February 2023
CONTENT
Search Marketing Updates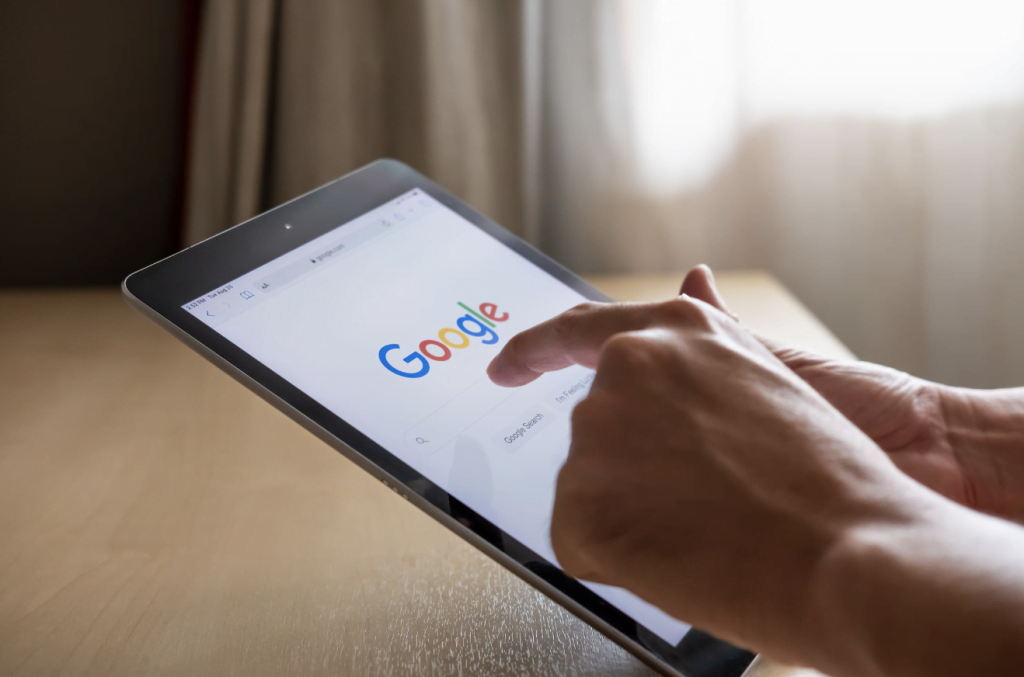 Source: Deposit Photos
Google has clarified its stance on AI-generated content . As a result, it provides guidance to ensure that high-quality content that prioritizes people ranks well.
There's a whole tendency revolving about different AI tools specifically made for content marketing. Going beyond how useful or helpful it would be for different businesses, the question that has always remained at the back was what about SEO factors when actually using AI to create content?
In response to the increasing prevalence of AI-generated content in search results, Google has recently released a statement clarifying its approach to such content. As a company with a longstanding commitment to valuing high-quality content, regardless of whether it was created by humans or machines, Google's ranking systems prioritize content that demonstrates expertise, experience, authoritativeness, and trustworthiness (E-E-A-T).
This E-E-A-T was their latest system update, and without doubt Google's emphasis on E-E-A-T underscores the importance of original, high-quality, people-first content. Creators who aspire to succeed in search results must produce content that showcases their expertise, experience, and authoritativeness while being trustworthy to users. By doing so, creators can ensure that their content ranks well, providing users with helpful and informative content to make informed decisions.
In summary:
Google prioritizes high-quality content, regardless of whether it is generated by humans or machines.
Google advises publishers to produce helpful, people-focused content that demonstrates expertise, experience, authoritativeness, and trustworthiness (E-E-A-T).
Using automation or AI solely to manipulate rankings in search results is considered a violation of Google's spam policies.
Our advice? Rely on storytelling and experiences to enrich your content. While the latest developments might help you save time and even enhance your skills, there's one thing AI will never be able to replace: telling your story or sharing your knowledge from your own unique perspective.
Today we released the February 2023 product reviews update, which applies to these languages globally: English, Spanish, German, French, Italian, Vietnamese, Indonesian, Russian, Dutch, Portuguese, Polish. It'll take ~2 weeks to fully roll out. More here: [https://t.co/YpNnK97G3O](https://t.co/YpNnK97G3O)

— Google Search Central (@googlesearchc) February 21, 2023
The upcoming update, which will be rolled out next week along with the product reviews update guidance, will be implemented globally and applied to 11 languages.
What did this roll out include?
First, note that if your site is affected by this update, Google is well-known to affect rankings when roll-outs are happening, however it doesn't mean that they are necessarily permanent.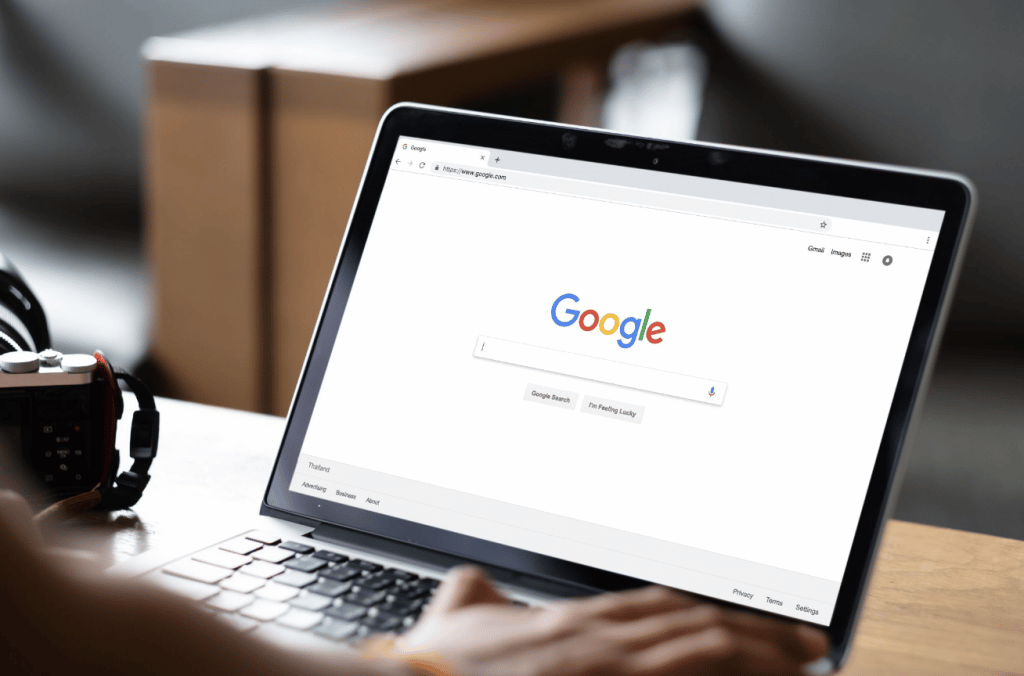 Source: Adobe Stock / Thaspol
The Product Reviews System, as announced by Google in February 2023, is designed to improve the quality of product reviews that appear in search results. Its purpose is to identify and remove content that is deemed "thin" or lacking in substance, such as those that only provide brief summaries of products without offering any valuable insights for consumers. Instead, the system aims to surface more in-depth product reviews that are based on actual experiences and research.
By doing so, Google hopes to provide users with more helpful and informative content that can assist them in making informed purchase decisions. The system works by analysing various factors, such as the length and depth of the review, as well as the credibility and authority of the website or author.
This update makes special emphasis on the words "product review system". While it might seem like a light change, it completely changes the focus of the update, taking Google's guidance away from product reviews update.
One of the new sections in the updated guidance for the Product Reviews System explains:
"Periodically, we improve how the product reviews system works.When we do this in a notable way, we share this as a "product reviews update" on our Google Search ranking updates page."
So, what's the main goal of the Product Reviews System?
Overall, the implementation of the Product Reviews System represents a significant shift in how Google prioritizes content in its search results. It underscores the importance of providing high-quality, informative content that can truly add value to users. So, if you're a content creator or website owner, it's essential to ensure that your product reviews are comprehensive, well-researched, and provide genuine value to your audience.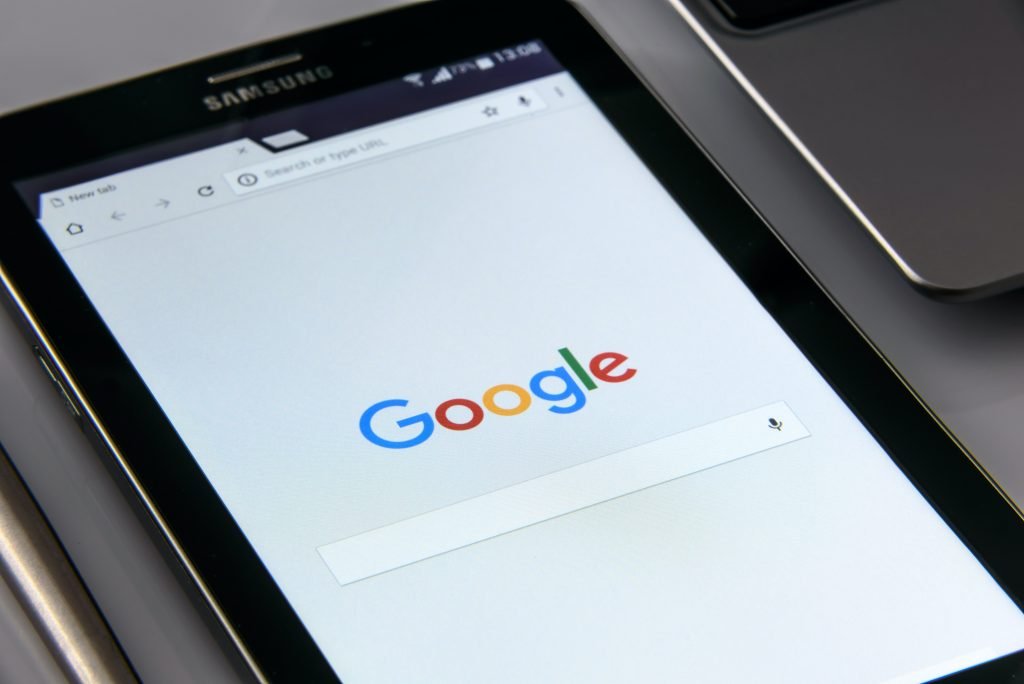 Source: Pexels / Photomix Company
Google is introducing new AI-powered features for seach to Google Lens and Multisearch, making searching easier and more efficient.
It has been announced that Google will use artificial intelligence (AI) to enhance its search features, as a response to Microsoft Bing's enrichment its algorithm with its partnership with ChatGPT as we mentioned last month.
The impact of ChatGPT was significant, especially in terms of disrupting the Search Engine market. With its advanced natural language processing capabilities, ChatGPT has revolutionized the way people search for information online.
Moreover, ChatGPT's ability to understand the context and nuances of language has made it easier for users to find the information they need, even if they don't know exactly what they're looking for.  As a result, ChatGPT has had a profound impact on the search engine market, and is poised to continue shaping the future of online search.
Throughout the history of Google's search technology, artificial intelligence has played a crucial role in improving the company's ability to understand foreign languages. As a result of further investments in artificial intelligence, Google has expanded its understanding of information to include images, videos, and even context from the real world.
Google is using this intelligence to improve the search experience in the following ways:
Search your screen with Google Lens: Google is now using AI in a new way through its Lens feature. This feature has become increasingly popular, with over 10 billion monthly searches. With the latest update, users can search for information directly from their mobile screens using Lens. Soon, Android devices will be able to access this technology globally.
Multisearch: Google has introduced a new feature called multisearch, which allows users to search with images and text simultaneously. This feature is available globally on mobile devices in all languages and countries where Lens is available. For example, if a user is searching for "modern home office ideas" and comes across a desk that they like but in the wrong material, they can use multisearch to add text such as "wood" to find what they're looking for.
Location and proximity: for all searches, Google has also added the possibility to search at local levels, which will make it much efficient for users to find what they are looking for in their proximity.
Google is constantly striving to make its search experience more natural and visual. With the AI race heating up, it's likely that we can expect more from the search giant in the coming months.
Marketing Tech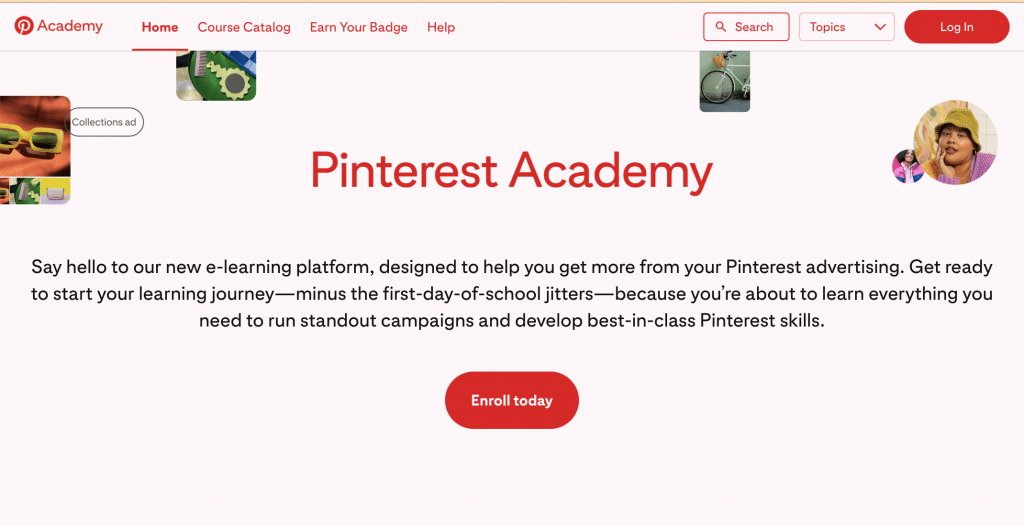 Source: Pinterest Academy
Pinterest has just released the latest edition of Pinterest Academy, a powerful and interactive e-learning platform that covers everything advertisers need to know in order to effectively engage and inspire their target audience on the platform.
Different from other existing platforms, Pinterest confidently claims that they offer advertisers a unique and valuable differentiation.
Sharpen your pencils ✏️

It's time to enroll in Pinterest Academy, our new e-learning platform guaranteed to give you a best-in-class ads education.

Get started today ???? https://t.co/9edIFeHY4Upic.twitter.com/iEXB0EsTyU

— Pinterest Business (@pinterestbiz) February 13, 2023
This is mainly given that usually the users arrive to the platform with a clear intent and are actively seeking to shop, making Pinterest an ideal destination for advertisers looking to connect with potential customers.
More than a social media channel, Pinterest has become a visual search engine in which users often visit Pinterest early in their decision-making journey. This positions Pinterest as the perfect place to discover new ideas for both purchases and activities, so ads are both expected and welcomed on the platform.
So, why Pinterest Academy?
The Pinterest Academy courses provide valuable guidance on a range of Pinterest ad formats, including how to use measurement tools and a deep dive into specialty subjects. This includes an explanation of why Pinterest is worth your time. You'll also learn how to use the Trends tool, whose trends on Pinterest are proven to take off faster and last longer than anywhere else on the internet.
As Stacy Malone, head of global business marketing at Pinterest, said:
"We created Pinterest Academy to help brands, agencies and marketers alike harness the unique intent and buying power of people on Pinterest and understand how to unlock the full potential of their campaigns on the platform. Only on Pinterest do people come with the clear intention of discovering the things that add value to their real lives, so they welcome content from brands that help them do just that. In today's uncertain times, it's more important than ever to connect with your audience where it matters, and Pinterest Academy will teach marketers how to do that effectively."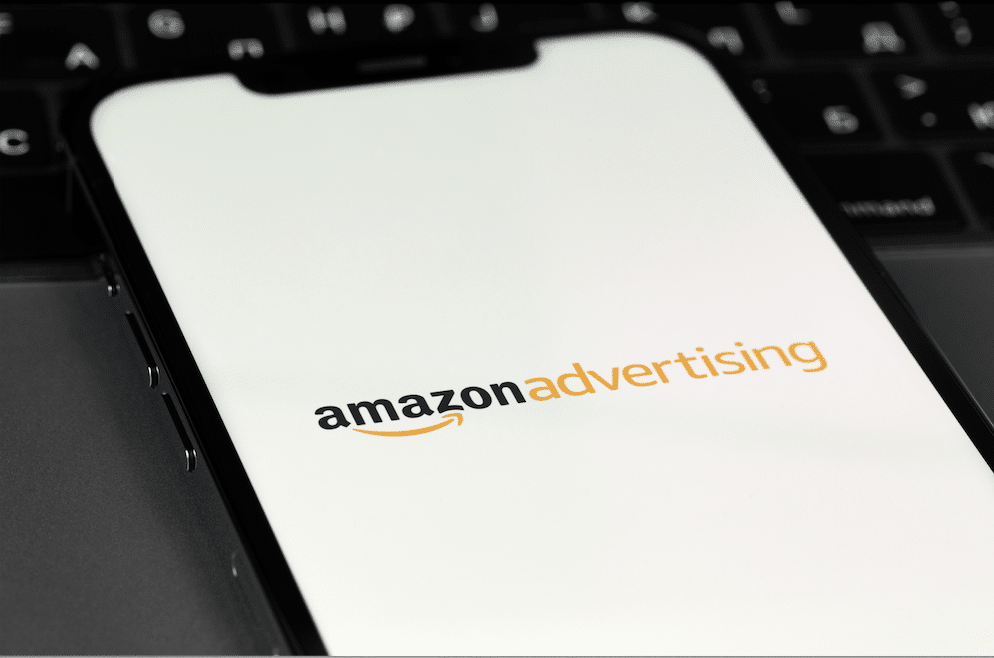 Source: Deposit Photos
AI is here to elevate almost every corner on the digital world, and Amazon Ads could be no different. Can Amazon make the most of its own capabilities with AI-powered marketing recommendations?
Amazon's advertising business is expanding and the key to its success is delivering ads that consumers actually want to interact with. According to The Drum, the company is committed to investing resources in developing its video advertising capabilities, based on the consumption habits of users.
Given Amazon's increasing collection of video content, it's no surprise that the company is expanding its video ad capabilities to meet the growing demand for this format.
According to Heaton-Armstrong, the Vice President of EU Sales at Amazon Ads, Amazon's sponsored display options are deliberately created to offer advertisers a variety of choices in the video ad arena.
This means that brands can deliver a wide range of immersive video ads, including tutorials, demos, unboxing, and testimonials, while also being able to accurately measure their campaign's performance with standard sponsored display metrics.
This comes as a fantastic news as we mentioned in our 2023 Digital Marketing Trends, proximity and transparency are demanded by customers to make better informed decisions. In our opinion, video ads definitely can have a bigger impact and engagement on desired audiences.
 Social Media Marketing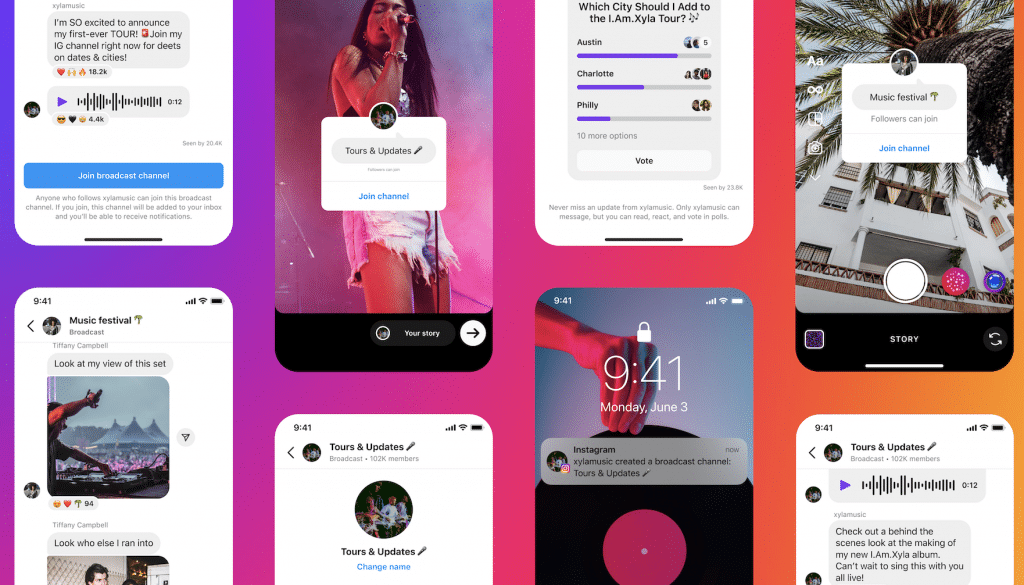 Source: Instagram
Let's begin with the basics: what exactly are broadcast channels?
Broadcast channels are a public, one-to-many messaging tool for creators to invite all of their followers into and engage with their most interested fans.
As Instagram states:
We're always exploring new ways to help creators directly reach their audience and form deeper connections with their communities.
Broadcast channels can be used by creators as a casual and efficient method of updating their followers.
With the ability to share text, photos, videos, and voice notes, creators can easily provide their followers with the latest updates and behind-the-scenes moments. Additionally, creators can create polls to crowdsource fan feedback, allowing them to gather valuable insights from their audience. It's important to note that only creators can send messages, while followers can react to content and vote in polls.
In the next few months, Instagram will be introducing even more features to help you connect with your fans. These include the ability to bring another creator into the channel to discuss upcoming collaborations, collect questions for an AMA using question prompts, and much more.
With these new possibilities, we are confident that creators will find exciting and innovative ways to engage with their fans.
Some alternative uses of how you can use this new feature:
Free trainings or challenges with your community
News and updates on your industry
Product or services launches
Community building with guest speakers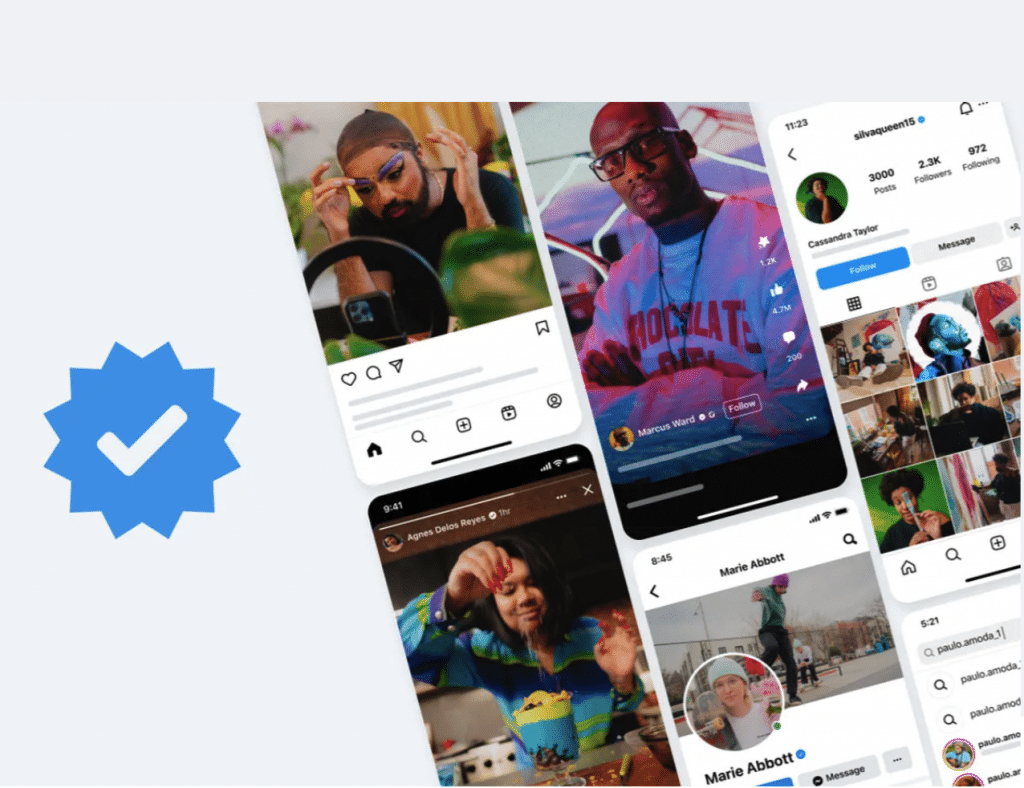 Source: Meta
Meta Verified, a new paid verification subscription service, is being rolled out by CEO Mark Zuckerberg, as announced in a confident update on Instagram last Sunday.
Meta has announced its entrance into the paid subscription market, following in the footsteps of Twitter and Snapchat. The company will offer an additional tier of exclusive features and increased post reach for a monthly fee. The move is expected to be a successful one, as Meta continues to innovate and provide new opportunities for its users.
So, are these actually good news? Should people be able to pay for additional reach, which is not disclosed as an ad? Does it de-value the blue checkmark? So far, both Snap and Twitter have earned millions from their programs, and Meta could also generate a significant new revenue stream.
Unlike Twitter Blue, this subscription also includes an increase for reach and visibility, making it almost compulsory for companies wanting to thrive in into the digital space.
It's worth noting that purchasing verification instead of earning it raises questions about the level of exclusivity that can be achieved through this service, similar to Twitter Blue. Additionally, it's important to consider how natural communication can be when accounts gain exposure purely by paying for it, rather than being genuinely exceptional through their content.
Can anyone apply to the Meta Blue Verification subscription?
Users must be at least 18 years old
Users should meet minimum account activity requirements
Users should submit a government ID that matches their profile name and photo.
The finer details:
It is important to note that at present, businesses are not eligible to apply for Meta Verified. Additionally, users will need to go through the application process again if they wish to make changes to their profile name, username, date of birth, or profile photo.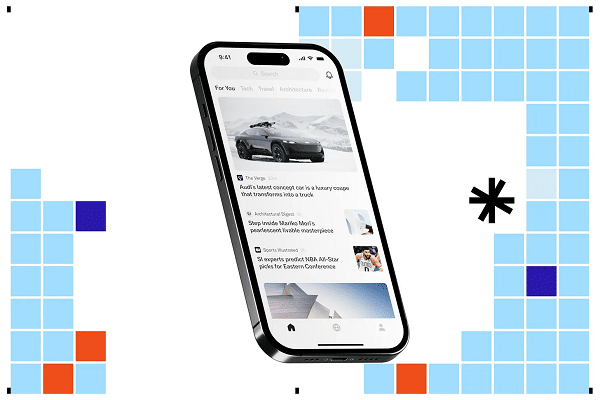 Source: Artifact
The launch of a new social app by Instagram founders Kevin Systrom and Mike Krieger is imminent. Though initially, its focus will be more on content specifically than social elements, at least in its early stages.
Introducing 'Artifact', the innovative app that combines articles, facts, and artificial intelligence to provide you with a personalized and curated news experience. With a focus on your interests and engagement, Artifact is designed to be your go-to source for staying informed and up-to-date.
So how does Artifact work?
The app provides users with a curated list of articles from a variety of publishers, ranging from major news organizations such as the New York Times, to small-scale blogs with niche topics.
With a simple tap, users can select articles that interest them and Artifact will subsequently recommend similar posts and stories, similar to the way TikTok's For You page algorithm improves over time with user interaction.
It is clear that this new app has been strategically launched to capture the attention of Twitter users who have become disheartened with Elon Musk's changes to the platform. With its advanced features for highlighting relevant news content, it is poised to become a valuable alternative for those seeking to stay up-to-date on the latest developments.
Artifact will be highly selective in choosing the publishers and content that make it onto the app. They stated they will not tolerate posts that promote falsehoods and will remove them without hesitation.
The app is currently accepting sign-ups exclusively through their waitlist.
Updates from Frizbit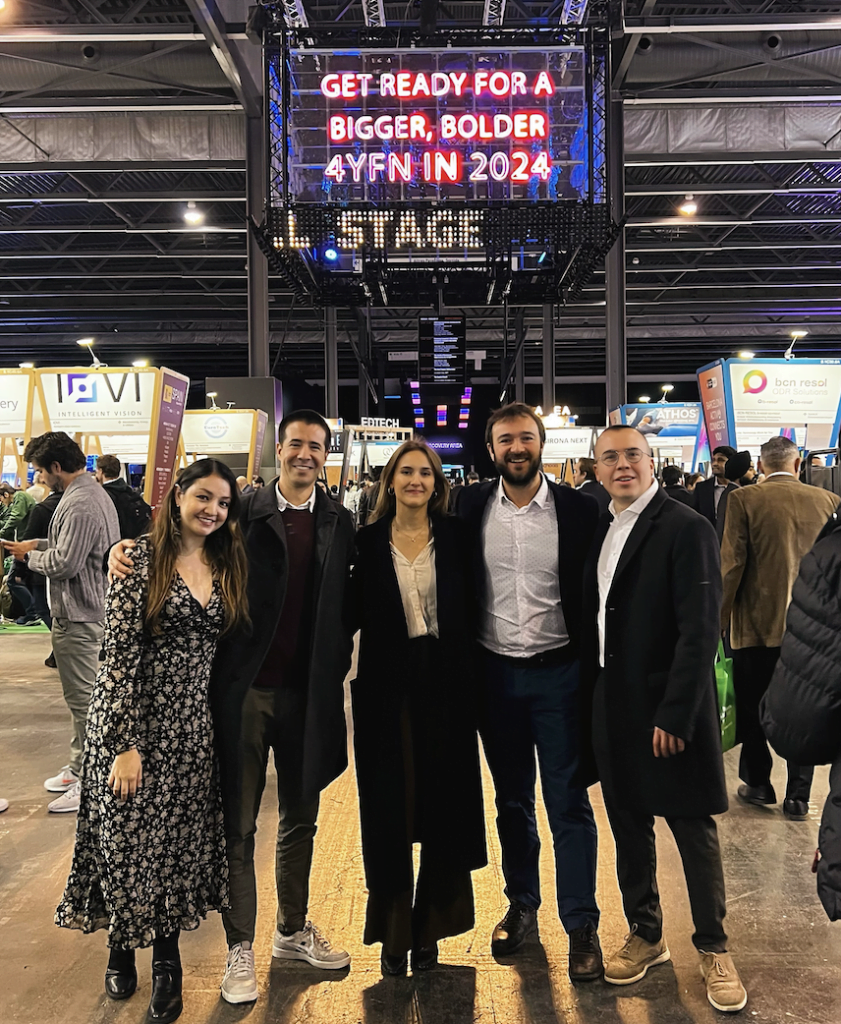 As Frizbit team, we attended the Mobile World Congress 2023, the world's largestevent on telco industry, held in Barcelona, Spain.
This year's event brought together top industry leaders, forward-thinking innovators, and passionate technology enthusiasts from around the globe to showcase the latest mobile technologies and trends.
During the event, there were several trends that caught our attention. First and foremost was the development and implementation of 5G technology, which promises to revolutionize the way we use mobile devices and connect with the world around us.
Additionally, there was much discussion about the growing importance and impact of artificial intelligence (AI) on various industries, with many experts predicting that it will become even more pervasive in the coming years. As we left the event, we could not help but feel excited about the possibilities that these new technologies and trends offer for the future.
Our Barcelona team had the unique opportunity to exchange ideas with other industry experts, attend informative sessions and workshops, and proudly showcase our cutting-edge, AI-driven marketing automation platform.
We are honored to have been a part of such a thriving event and to have had the chance to share our innovative solutions with a global audience.
Stay tuned for more exciting updates on our latest developments and upcoming events!