It's time for our monthly newsletter on digital marketing news, insights, and updates.
In May, Google once again played a major role in the search marketing field. The combination of AI and Google's products gave us plenty of topics to cover, including the newest SGE (Google's Search Generative Experience) and Google Bard, a ChatGPT competitor. We also discussed why Google is not taking risks by opening up to the European Union.
May was also an exciting month for social media channels. We provided insights from LinkedIn for SaaS companies, discussed Pinterest's positioning as an efficient traffic-driver to websites, and finally, revealed how Instagram's algorithm works!
Make sure to thoroughly read the entire post and stay ahead of the competition in the ever-changing marketing industry.
Search Marketing Updates
1. SGE: 3 AI overviews of Google's Search Generative Experience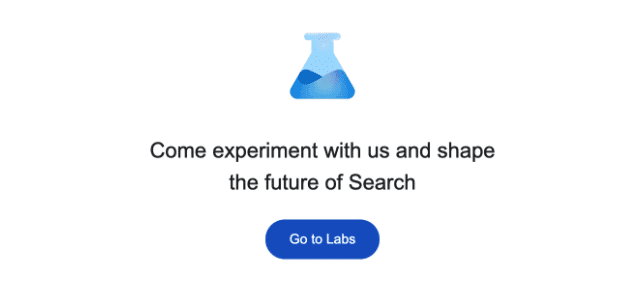 Source: Google Bard
If you're curious about how Google SGE transforms information discovery by handling search queries, prioritizing publishers, and shaping the future of content discovery, be sure to read through these examples.
Bonus points: We will also be comparing SGE results to typical Google SERP features.
We have compiled 3 of the most relevant AI examples from Google SGE. AI continues to surprise us day by day, and search marketing is becoming a fully immersive experience.
AI has probably been the most frequently mentioned word this year, and it seems like we are suddenly experiencing an AI boom. Naturally, with ChatGPT leading the market, Google has to put all of its efforts forward, and hence, Google Search Generative Experiences comes into play.
So, how can I access SGE?, you may ask.
Unfortunately, Google has started rolling out the new Google Search Generative Experience (SGE) to people on the Search Labs waitlist in the US only.
1. SERP Search taken to the next level.

Source: Search Engine Journal
SGE seems to elevate the experience with FAQ, People Also Ask & Knowledge panel features.
In answering the question "What is Bard?", Google SGE compiled information from six sources. Among the six sources of information about Google Bard, five were publishers and one was Google Bard's official help page.
From the results, we can see that beneath the generative AI response, there are standard Google search results that include organic search results, "People also ask" section, and a knowledge panel. You can toggle the viewing option at the top right of the AI result to see which sources are used to craft the summary.
2. SGE For SERPs With Shopping & Reviews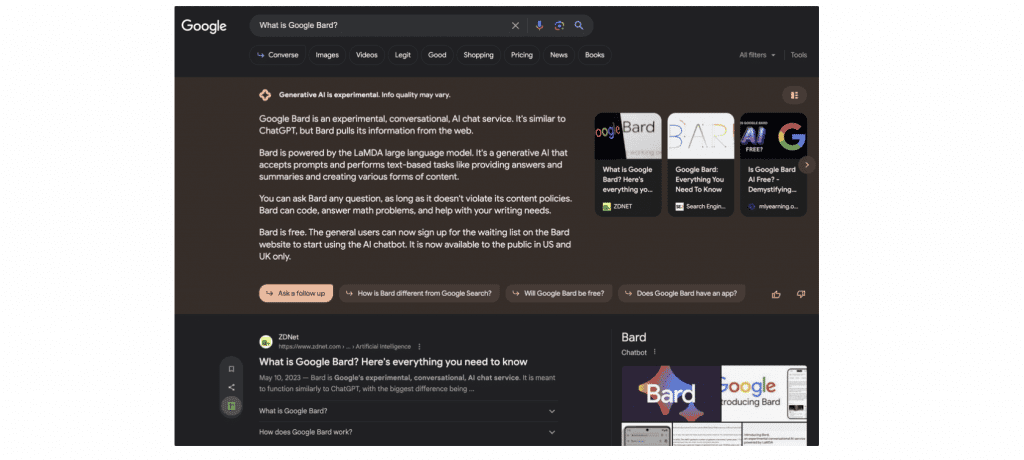 Source: Search Engine Journal
Searching for products and making informed decisions before buying has been an ongoing trend in consumer purchasing habits.
That is where SGE comes in handy because it not only provides you with a list of specific products that match the search criteria, but also offers advice on what to look for in a certain product.
When it comes to search, using this tool to incorporate its recommendations into your website copy can be a game-changer for driving traffic to your site.
While there are still some doubts about how the algorithm selects the "best of" each product, it certainly presents an opportunity to improve your chances of generating leads.
3. SGE For SERPs With Sponsored Ads & Featured Snippets

Source: Search Engine Journal
For the next example, a search regarding "Link building", and the results from SGE offered a definition based on 6 sources about this topic.
When you search for something on Google, the search engine results pages (SERPs) typically showed multiple sponsored results from Google advertisers, followed by a featured snippet, a "People Also Ask" section, and organic search results. (Refer to the image on the right)
Now, the generative AI response from the Google app provided more information than the original response. Not only did it list eight sources instead of six, but it also included additional details about each source. (Refer to the image on the left)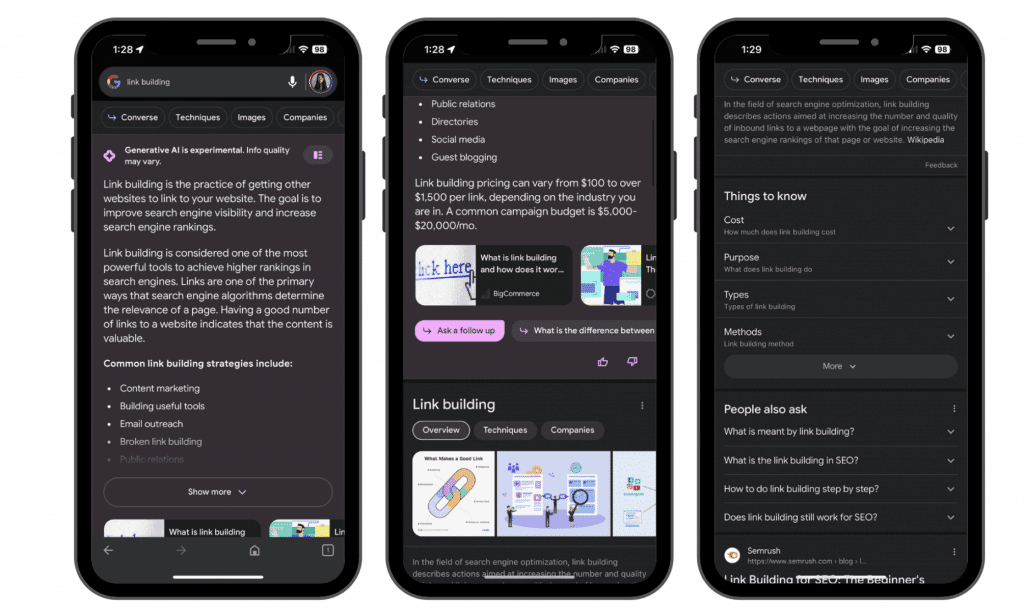 Source: Search Engine Journal
So, now the question might be"What will happen to sponsored ads?" in SGE?
Ads will persistently occupy dedicated ad slots that are strategically placed across the page.
According to Google, the company is committed to maintaining transparency and ensuring that ads are distinguishable from organic search results.
As a result, when search ads are displayed, they prominently showcase Google's industry-leading, unmistakable ad labels featuring the bold black text of the "Sponsored" tag.
 2.  SEO ranking system for News sites based on Google Topic Authority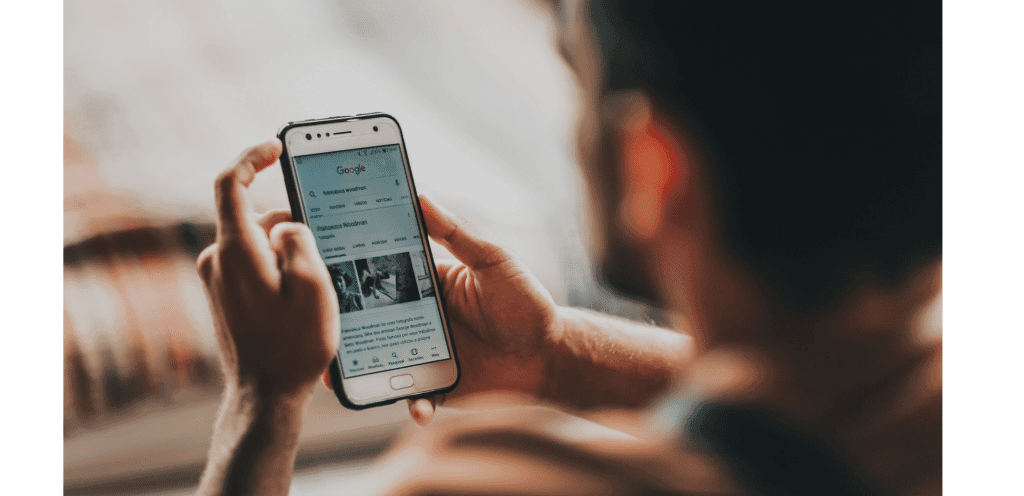 Source: Pexels Matheus Bertelli
Google has recently revealed new information regarding its 'Topic Authority' ranking system.
This system prioritizes local and regional publications, as well as original reporting from news teams who are familiar with the location and topic being covered.
This means that publishers who focus on a specific area of expertise and provide excellent coverage will have a better chance of succeeding with Topic Authority.
So, what exactly is the topic authority for SEO?
With Topic Authority, Google hopes to solve a common problem faced by users searching for authoritative content. You've likely encountered dozens of websites that simply reshare content from other sources, thereby producing unreliable search results.
When looking for expert commentary on topics such as economic reports or local news on disasters, users often encounter a mix of general coverage that may obscure more scholarly work by publications with specific expertise in those areas.
The Topic Authority system enables Google to serve more local news results and prioritize content from local and regional publications, providing readers with more relevant coverage.
According to Google, local publishers receive increased visibility for news events covered in their area. Therefore, publishers with specific expertise can expect the same when their content is relevant to a news story about a specialised field.
How does this new Authority ranking work?
Using a range of signals, Topic Authority determines the level of expertise of publications. Among the most important signals are:
Source reputation: Sources are evaluated based on their history of high-quality reports, such as recommendations from professional societies.
Influence and original reporting: Google's system considers how other publishers cite the website's original reporting.
Notability for a topic or location: Google's systems can determine if a publication is relevant to specific topics or areas.
What happens to SEO Strategies if keywords are no longer the main factor to be considered?
It is highly recommended for SEO professionals to take note of Google's Topic Authority ranking system.
This system emphasises the importance of a publication's expertise, influence, and reputation, and aligns with Google's efforts to promote quality content.
In order to benefit from this new ranking system, professionals should invest in developing authoritative content in specific areas of expertise. To improve SEO rankings, it is imperative to take advantage of this opportunity to move away from generic, one-size-fits-all content strategies.
 3. Google withholds EU access to Bard artificial intelligence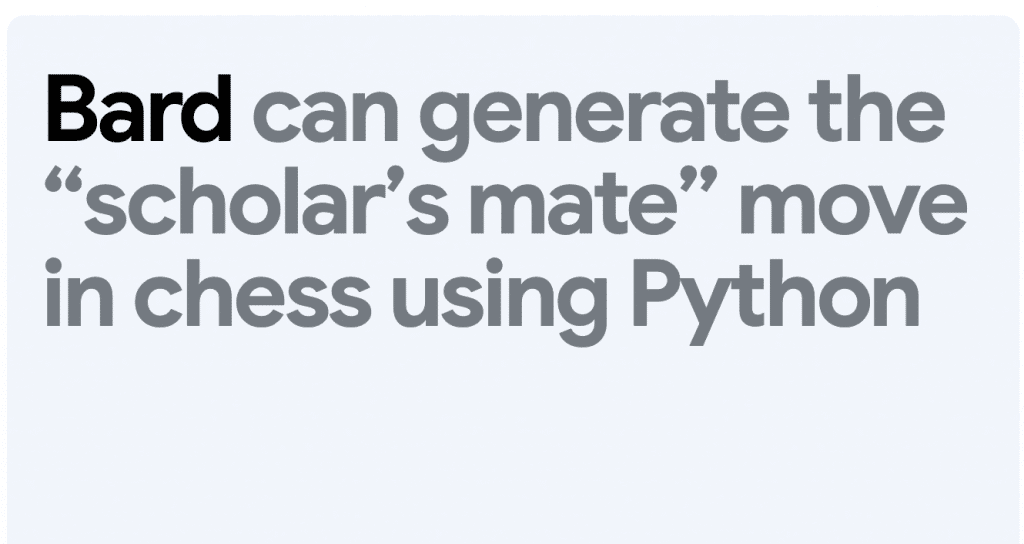 Source: Google Bard
Getting back to the basics, let's recall what Google Bard, is in case you haven't heard of it yet.
Google Bard is the company's generative artificial intelligence that has arrived to compete with Microsoft's ChatGPT and Bing.
While there are already various giants like Microsoft, Adobe and even Shopify, the king of search marketing – Google – was missing from the equation. And that's where Bard comes in.
Bard's main goal is to help Google evolve its search engine to provide the user with faster, more accurate and easier to understand answers, authentically.
For example, when asked a question, Google now provides an AI-generated answer with relevant information, links to supplement the search, and possible related questions at the bottom of the text to expand on the topic of interest.
The service is already operational in 180 countries, but only in English, Korean and Japanese. It is expected to be available in more territories and in more languages soon. However, it seems that the company is reluctant to open its doors in the European Union.
The bigger question here is why Bard is not available for the EU?*
Google has not offered reasons for the chatbot's absence in some countries, but has provided information about its next steps: "Currently, Bard is available in 3 languages and in over 180 countries and territories. We will gradually expand its availability to more countries and territories, in a manner consistent with local regulations and our AI principles", they mention.
A relevant issue for European legislators is the need for developers of artificial intelligence systems to avoid bias or misinformation.
Some controversy has arisen in relation to Bard, as it has been found that it can be made to deny climate change, question vaccines or speak incorrectly about the Ukraine-Russia war.
In fact, some anonymous company workers have categorised AI as "worse than useless ". In the Bloomberg publication, anonymous internal sources have denounced the lack of priority the company gives to AI ethics. This is clearly exemplified by the recent relocation of experts working in the ethics department.
On the other hand, it is possible that Google is not trying to put pressure on Europe, but rather does not want to risk making a major mistake on the continent. This could play against it during the AI law negotiations, according to senior policy analyst at Brussels-based digital rights group Acces Now, Daniel Leuer.
Marketing Tech Updates
 1. WhatsApp resumes in-app-payments partnering with Stripe for Singapore-based users

Source: Stripe
WhatsApp has launched the ability to pay businesses within a chat in Singapore through Stripe, following its successful rollout in India and Brazil.
Meta has partnered with Stripe to make in-app payments available online and offline through Stripe Connect and Stripe Checkout solutions. Customers can pay businesses using credit cards, debit cards, or Singapore's PayNow fund transfer system.
Currently, Meta has made the feature to accept payments available only to a few businesses in Singapore. However, it plans to expand the availability to more merchants over the coming months. Businesses can set up this feature through WhatsApp Business, which will guide them on getting a Stripe account too.
This opens up a new opportunity for the world of conversational marketing and live-shopping options. It's a promising marketing and sales strategy for e-commerce managers and owners.
Sarita Singh, the regional head and managing director for Southeast Asia at Stripe, said, "Most people I know in Singapore use WhatsApp to chat with each other. Now, they can pay local businesses using the app as well. The speed and convenience of payments through WhatsApp will help businesses expand their revenue streams with new channels and access a wider customer base."
Last August, the company introduced an end-to-end shopping experience with Reliance Jio in India, allowing customers to order groceries using the app. Last month, WhatsApp also launched merchant payments in Brazil after allowing peer-to-peer payments for nearly three years.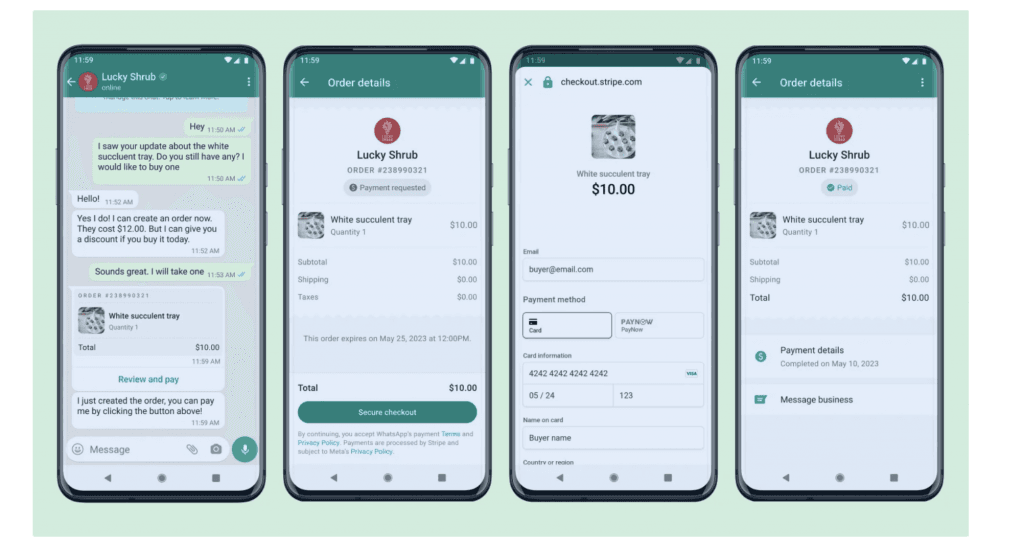 Source: WhatsApp
We have seen a similar model before, with WeChat's evolution from a messaging app to a super app for Chinese consumers. This transformation was undoubtedly impressive. However, it was one of the marketing trends we had predicted for 2023. Could this mean that we will start seeing other similar apps follow the same path?
Mark Zuckerberg is now leveraging the chat app's 2 billion user base to launch payment services in different regions.
Given that WhatsApp doesn't have subscription fees or ads, its business offerings are the marquee method for Meta to earn money from the app. Starting next month, WhatsApp is also switching from a notification-based pricing system to a conversation-based pricing structure for usage of its Business services.
This launch of in-app payments in Singapore is a step forward for the tech giant to become a dominant player in the payments industry, as it offers a quick and easy payment system for businesses and consumers alike.
2. Microsoft designer launches an all-out battle against Canva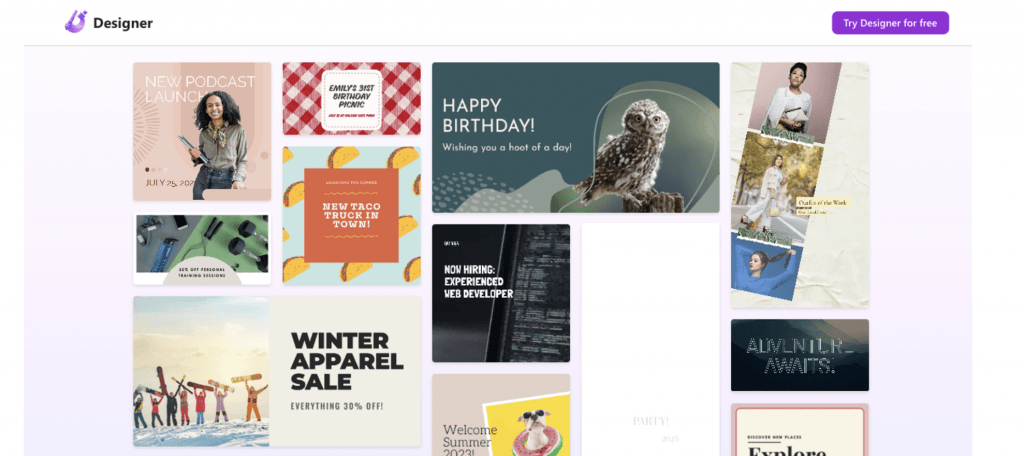 Source: Microsoft Designer
And we are once again back with Artificial Intelligence as the protagonist of this update.
This time it is one of the giants of the industry, Microsoft, which has created an AI application called Microsoft Designer, which allows users to create quick and customised designs based on AI.
The app is very easy to use, simply enter a descriptive message indicating the type of image you are looking for and the idea you have in mind. And it's worth noting that Microsoft Designer also supports Spanish language input, broadening its consumer base.
Microsoft Design's AI system takes care of creating the image in question, which can then be customised by the user. Although the application is very simple, it is capable of creating complex and interesting designs, making it a very useful tool for those without a background in graphic design.
What is the potential threat to Canva from Microsoft Designer?
The latest update of this software indicates that it is now available as a trial version for all Microsoft users, and for the time being for free.
Not only is the interface similar in its use of colour, which already creates a familiar perception in the minds of consumers, but the ability to add prompts and the ability to produce complete graphic pieces make it a tool with a lot of potential.
These are the main reasons why we believe it can be a direct competitor to Canva:.
Given some guidelines, it will allow us to make a quite complex and interesting design, combining images, text, shapes and colours in the result.
It allows a series of functions that are missing in Canva, although the latter is more complex and opens up a much wider range of uses.
It can be customised easily.
It's as easy to use as an AI: insert the instruction and wait for it to work its magic.
It's perfect for creating quick designs, which is ideal for those with no graphic design skills.
All of this positions Microsoft's application as an interesting alternative for those looking for a quicker and simpler approach.
Now, if we go back to Canva, compared to Microsoft Designer, it is still a "more complex" interface to use, so while the platform offers templates and resources that can be helpful, you still need to have prior knowledge.
The ultimate question would be: Will Microsoft Designer be able to end up as a "best-of-breed" interface? 
At the moment, we believe it won't, because Canva, although it is more challenging to use, it also offers many more possibilities to create more elaborated graphic pieces.
And like all IAs, Microsoft Designer is still in a testing period, so some of its designs are very questionable.
 Social Media Marketing
 1. LinkedIn rolls out a Guide to Maximising Your SaaS Marketing Performance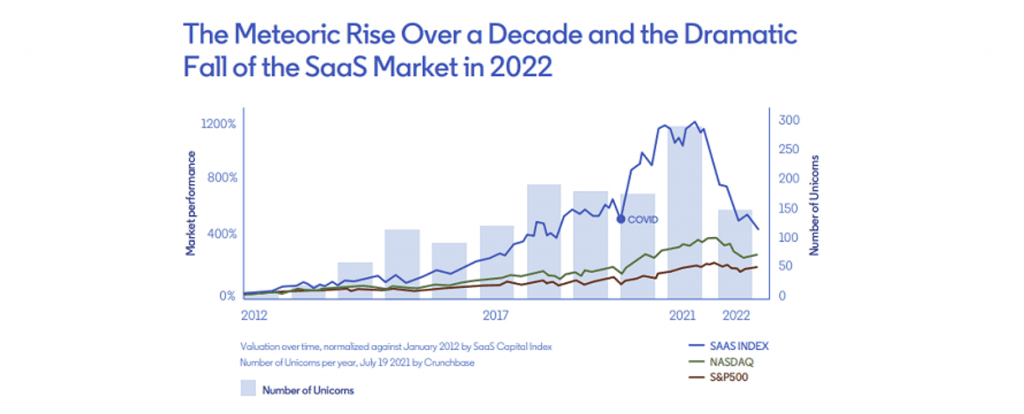 Source: LinkedIn
SaaS Marketers can leverage LinkedIn's insights to capitalize on current trends
LinkedIn has recently published a new overview of emerging software-as-a-service (SaaS) market trends, which looks at how SaaS providers can maximize their marketing performance, despite the broader market downturn which could see reduced customer acquisition results.
Despite the broader economic downturn, investments in SaaS services are still increasing, and are expected to grow from $176.2 billion in 2022, to $208 billion by the end of 2023.
But much of this spending will come from existing client bases, and LinkedIn's new 15-page guide explores how businesses can tap into this potential and maximize their performance via the app.
The guide first looks at the more recent SaaS market downturn and how that's changed approaches for SaaS marketing teams.
Essentially, the focus has shifted from investing in customer acquisition to also ensuring long-term viability and expansion for SaaS clients, with vendors benefiting from building out their approach and not limiting their marketing focus to acquisition alone.

Source: LinkedIn
The report then looks at the opportunity of LinkedIn specifically, and the reach that LinkedIn provides to SaaS founders and decision-makers. There are also more specific notes on the role that LinkedIn can play in the connection and promotion process, with tips on the different LinkedIn ad types that you can use in your pipeline.
The main takeaway, as noted, is that SaaS providers need to reallocate their marketing budget to building their brand, by working with existing customers (through content marketing), while also focusing on upsells and cross-sells to maximise opportunities.
In conclusion, LinkedIn's new guide provides valuable insights into how businesses can maximize their SaaS marketing performance. By focusing on long-term viability, building brand awareness, and working with existing customers, SaaS providers can thrive in an increasingly competitive market.
 2. 

Pinterest Launches Simplified Pin Creation Flow, Adds Links in All Pins becoming a powerful referral tool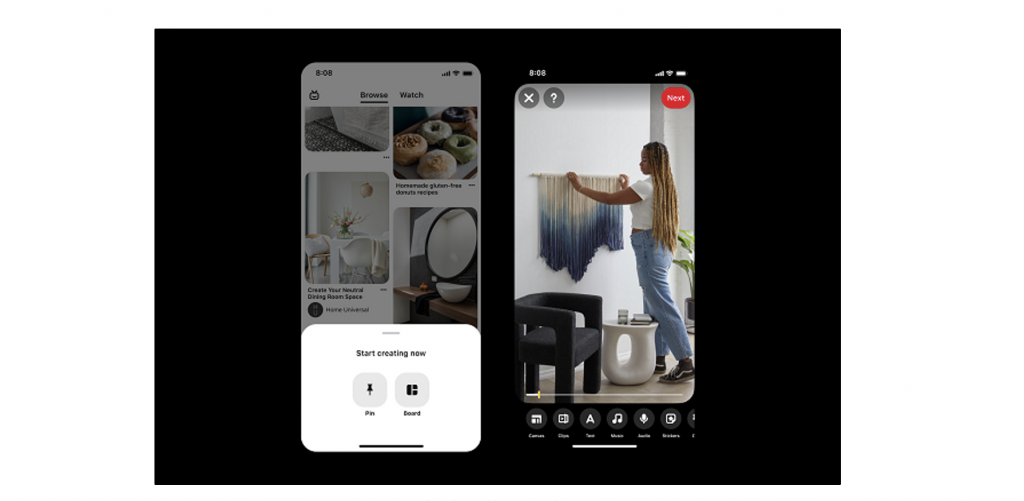 Source: Pinterest
Pinterest has recently announced a new update that will simplify creation flow for users.
Previously, certain Pin formats had features that were not available to other formats. However, with this new update, all features will be integrated into a single stream, making it easier for users to access these features.
This includes links, post-publish editing, and flexible aspect ratios. Furthermore, all content creators will be able to include expressive features like music, text overlay, and stickers to their Pins.
As mentioned by Pinterest:
"Pinterest users will now be able to access features that were previously only available to certain Pin formats or users with a business account, including links, post-publish editing, and flexible aspect ratios. All content creators will also be able to include expressive features like music, text overlay, and stickers to their Pins."
Pinterest is also rolling out enhanced metrics on Pins, including views and watch time, making it easier for users to track and measure Pin performance.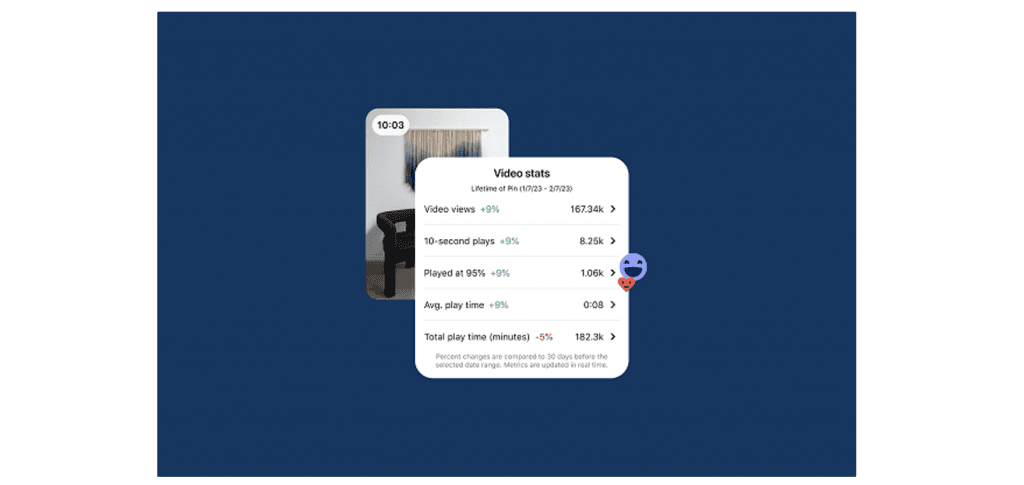 Source: Pinterest
Another significant addition is the capacity to add links to all images and videos in the app. This will allow users to drive direct traffic from every Pin type, making Pinterest an even more powerful referral marketing tool.
In addition to the above updates, Pinterest is also rolling out its paid partnership tool and product tagging using affiliate link options to more users. Finally, Pinterest is enabling its emoji reactions on all Pin types.
These updates will improve the functionality of Pinterest, while also facilitating more business potential and revenue generation options in the app.
Businesses can take advantage of these new features to increase their online presence and drive traffic to their websites. We advice you to consider how these new elements can fit into a Pin strategy, and how they can be used to their best advantage.
 3. Instagram spills the tea on the New Explainer on How its Feed, Reels and Stories Algorithms Work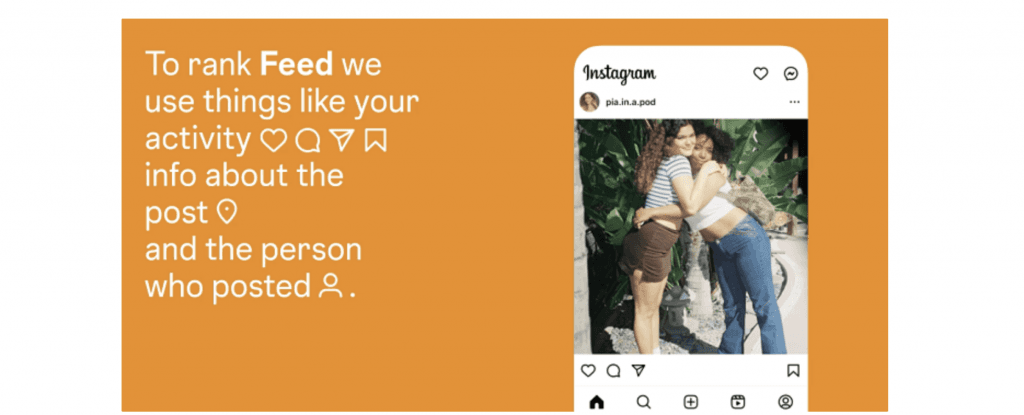 Source: Instagram
Instagram chief Adam Mosseri has recently provided an overview of how Instagram's ranking algorithms work.
Understanding how these algorithms work could help you maximise your content reach and optimize performance in Instagram's main feed, Stories, and Reels.
Mosseri explained that Instagram doesn't have a singular algorithm that oversees what people do and don't see on the app. Each part of the app uses its own algorithm tailored to how people use it.
For example, people tend to look for their closest friends in Stories, use Explore to discover new content and creators, and be entertained in Reels. Instagram ranks things differently in these different parts of the app and has added features and controls like Close Friends, Favorites, and Following so you can further customise your experience.
Mosseri then gets into the specifics of how Instagram's algorithms work, starting with the main feed, which has become increasingly filled with AI recommendations lately.
With Feed, Instagram considers recent posts shared by the people you follow, as well as posts from accounts you don't already follow that Instagram thinks you might be interested in.
Instagram determines what you might be interested in based on a variety of factors, including: what and whom you've followed, liked, or engaged with recently.
Instagram personalises the experience for you to try to strike a balance between content from accounts you follow with content from accounts you don't follow but might be interested in.
This is not a surprise – the only new development is that Instagram has now started ranking content format more highly as well.
"So if we notice you prefer photos, we'll show you more photos."
Mosseri went on to explain how Instagram's system ranks Stories and decides which Stories to display, in which order, along the top bar of the app.
Instagram doesn't show you AI-based recommendations for Stories (as yet), so the Stories display is ranked based on the content shared by accounts that you follow.
The key ranking considerations for Stories are viewing history, engagement history, and closeness. Based on these, Instagram's system then tries to predict how likely you are to tap into a story or reply to a Story, then ranks the display accordingly.
Finally, Reels are more influenced by entertainment and how likely you are to find a Reel engaging.
The key Reels ranking factors are your activity, your history of interacting with the person who posted, information about the reel, and information about the person who posted.
Action points from us to maximise your marketing efforts within the platform:
Make sure to post regularly and consistently so that your followers can see your content in their main feed.
Use relevant hashtags and location tags in your posts to increase your chances of showing up in Explore.
Create engaging and entertaining Reels to increase your reach and grow your audience.
Use Instagram Insights to track your engagement and adjust your strategy accordingly.
Measure and analyse which content format your audience prefers using insights, and include more of that format in your strategy.
Engage with your audience by responding to comments and direct messages to increase your closeness and improve your engagement history.
Updates from Frizbit
1. Frizbit attends the Aviation Festival Americas 2023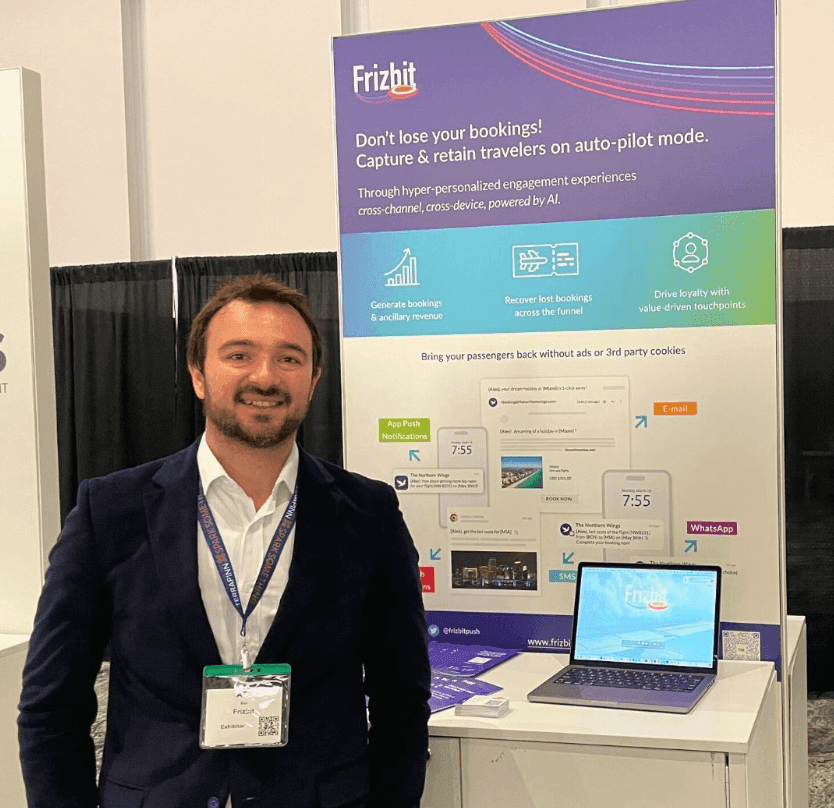 Frizbit exhibited at the Aviation Festival Americas 2023 held on May 16-17 at the Miami Beach Convention Center.
The event was a great opportunity to showcase our marketing automation solution that helps airlines bring passengers back on autopilot mode under a cross-channel and full funnel strategy.
Our solution covers various aspects of airline marketing such as destination retargeting, flight retargeting, cross-selling, and real-time alerts, all under a single platform and without relying on ads or third-party cookies.
At the event, we had the chance to meet with fellow aviation industry professionals and discuss how we can help them skyrocket their airlines forward. We also talked about how we are revolutionizing the way marketing is done and how excited we are to showcase our product.
We look forward to creating more opportunities to showcase our marketing automation solution in the future.