Is not rare to see frowns and hear negative comments when web push notifications are brought to the table as a new addition to a digital marketing strategy. Myths and strong-felt prejudices are common given the novelty of the channel and maybe a lack of understanding on how they work and the results they can provide for any digital business.
The truth is that web push notifications are one of the highest engaging digital marketing channels available for online businesses. Frizbit's clients have achieved remarkable success with ROAS up to 36x and costs per session as low as 0,02€. 
Given the fact that there still are way too many misconceptions about this new retargeting channel, we believe is time to address the issue and demystify the
Biggest Prejudices About Web Push Notifications
1. "Users don't Want to Receive Web Push Notifications"
The first comment you might hear when mentioning web push notifications is"how many users actually click on allow?" and "users don't accept them, nobody likes web push notifications" .
Well, we are here to tell you that's just not true at all. 
A study revealed that web push notifications have an overall acceptance rate of 16,7% globally. Even though there are many factors that can affect the willingness of a user to click on "allow" when asked to subscribe, there's no other channel that offers such a high opt-in rate.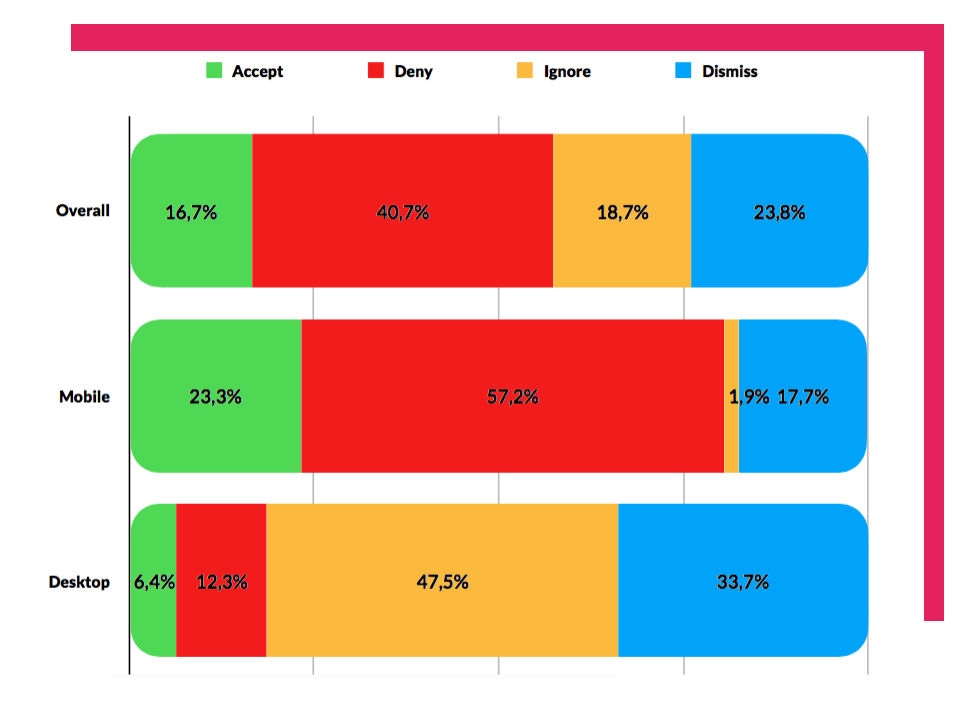 Web push notifications have a x3 higher opt-in rate than emails. Keep in mind that users are not requested to share any type of personal information to subscribe, which is a huge factor taken in consideration when it comes to deciding to opt-in to any marketing channel.
There are other variables that also affect opt-in rates to web push notifications such as:
Device, whether mobile or desktop
Country
Business industry
Engagement with the brand
Users do find web push notifications helpful and valuable as long as you offer them highly personalized and relevant content. People don't have an innate hate for web push notifications, they just don't like to receive useless information at all times of the day. You just need to make sure you always send the right message, to the right person at the right time.
Which brings us to web push notifications myth number two.
2. "Web Push Notifications are Intrusive"
No, they are not. Nothing is intrusive by itself and the same goes for web push notifications. Of course a lot of people might be "scared" of this new channel because of bad practices some companies have pulled off in the past.
However, with platforms like Frizbit you have many tools at your disposal to make sure you use them at their best, with careful consideration to never annoy your subscribers.
Features like "frequency cap" are specially designed for this purpose. When creating new campaigns you can specify how many notifications you want your subscribers to receive within a day to make sure you don't drown them with messages.

We usually recommend a frequency cap of two notifications per day. With Frizbit you have two levels of frequency cap: global and per campaign. This way you guarantee that, for example, a subscriber gets an automated message related to a product viewed or added to cart if they were browsing your site, and a manual notification regarding a special offer, if the case.
Bottom line, making notifications intrusive or not is completely in your hands. You have full control over how many messages you send and how many messages a subscriber receives in a certain period of time. Make good use of it and you won't have to worry about disturbing users, getting a bunch of opt-outs or giving bad reputation to web push notifications!
3. "Web Push Notifications are Difficult to Implement"
Many website owners get scared or intimidated when asked about the possibility of implementing web push notifications on their site with the misbelief of it being a cumbersome process.
However, web push notifications are very easy to implement and configure when working with the right provider. Foremost it's important to know that web push notifications can be implemented in any website. 
Mainly, there are two ways to do it:
Via Google Tag Manager: this is by far the easiest way to implement web push notifications and most websites use GTM. All you have to do in this case is add the snippet as a tag. Frizbit can do all the work by accessing your GTM as an editor an in just one day, you can be collecting subscribers.
Directly adding it to the site: if for any reason you don't work with Google Tag Manager, you can add the JavaScript snippet by copying and pasting it inside the <head></head> section of your website.
That's for implementation. When it comes to setting up the campaigns, Frizbit offers ready-to-use templates designed for five different scenarios that follow a typical customer shopping journey in an e-commerce.
Of course, these templates are completely customizable to fit the language and brand philosophy. You can also add or remove steps from the sequence as you see fit, and you only have to set up the campaigns one first time. From that moment forward, everything will run by itself and you just have to see the results and adjust accordingly, if necessary.
4. "Web Push Notifications Have Low Conversion Rates"
Web push notifications affect the overall site's conversion rate, globally, by having the power to bring back users that have already expressed interest in a product or service.
Let's put an example: imagine a user goes to your site, browses a bit, finds a product he likes and adds it to the cart, but leaves with the intent of finishing the purchase in another time. One hour later that user gets a cart abandonment web push notification, he clicks on it and goes back to finish the purchase.
When the user starts the check-out process, it turns out that it is very complicated, confusing, the site asks for way too much personal information and the user ends up leaving without making the purchase.
In this scenario, the web push notification got a click and fulfilled its purpose of bringing the user back to the site to complete a purchase and recover an abandoned cart. However, when the user found himself in such a complicated checkout process, he left without buying, thus not converting. The conversion didn't occur due to a UX problem, not because of the notification.
If you detect that your web push campaigns have low conversion rates, the problem might not be the notification at all. What's important is that you contrast different variables to determine if there is a problem in any of the steps leading the user towards conversion.
Contrast your web push notification click-through rate with your website's conversion rate and time spent on page to understand how users are behaviouring to determine where you are losing them and hypothesize about why.
5. "You Need to Develop an App to send Web Push Notifications", "They Only Work on Desktop"
When people talk about push notifications, many automatically think of app push notifications. It is important to clarify that there are two different types of push notifications: web and app.
Web push notifications are sometimes also called browser-based. This is because they are sent to subscribers through their browsers when they go online and they are delivered to both desktop and mobile devices equally. App push notifications are sent to users through applications to their mobile devices only.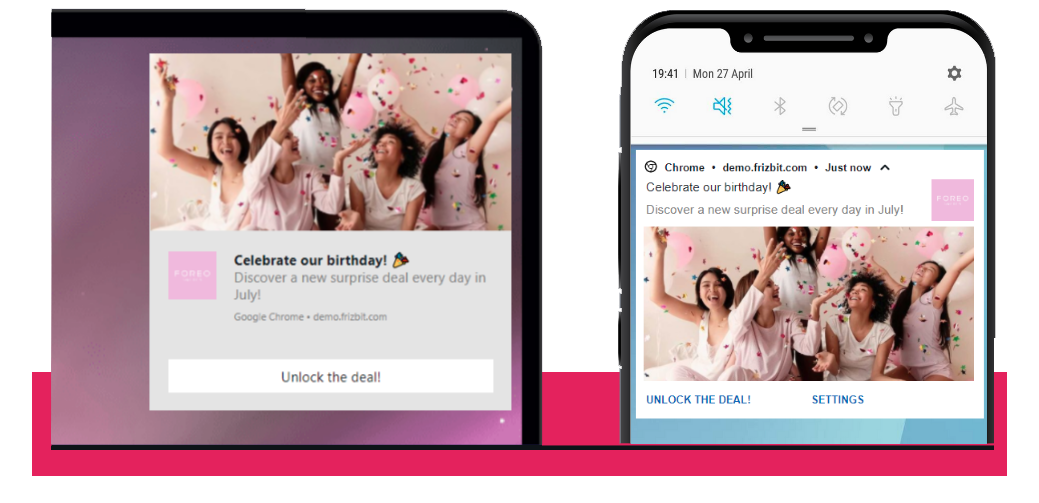 As we explained earlier, web push notifications are implemented on websites through a JavaScript snippet which makes them browser-based. This means that when users allow them and become subscribers, they will receive them the moment they open their browser, whether they navigate from desktop or mobile. There is no need to develop an app to be able to send web push notifications: all websites are eligible to do it.
6. "Web Push Notifications Affect User Experience Negatively"
Because web push notifications are still a fairly new retargeting channel, there are a lot of misconceptions about what they are and how they work. And one of the most common ones is to confuse them with regular pop-ups we all know too well.
Web push notifications are not pop-ups. Pop-ups are messages that appear suddenly,without permission over the website's content while the user is navigating it. They interrupt user experience by showing up unexpectedly, covering the content and are activated by an action, such as scrolling down or moving the cursor to a certain spot.
Unlike pop-ups, web push notifications only show if the user has allowed them by subscribing through an opt-in prompt that appears on the left top corner of the website when first visiting it. They also differ from pop-ups because they appear even when the user has left the site and don't intrude over the site's content.
Because web push notifications are delivered outside the site that sent them, they don't affect the user experience at all.
These are the most common web push notifications myths out there
If you still have doubts about the workings of this new retargeting channel and what it can do for your online businesses, get in touch with us and we would be happy to offer you a free trial period of one month so you can see the results for yourself.
If you are looking for even more information about what are web push notifications and how they work, make sure you also read: