What Are Real Website Push Notifications?
People sometimes tend to confuse web push notifications with pop-ups that get in the way of one's virtual experience when actually browsing on a webpage. This is not the case for push notifications. Push notifications are intended to notify subscribers even when the users are not on the website, similar to how mobile applications inform their users.
Push notifications are quickly taking off and on the up rise in the technological community, according to Ritchie Pettauer, digital media strategist and pro blogger, who uses web push notifications to point readers to his blog whenever he publishes a new tutorial or a helpful article.
Once a blog post goes live, subscribers to that blog will receive a notification on their mobile or desktop device immediately and once the user clicks on the web push notification, they will be redirected to the URL provided by the blogger.
Drive More Traffic to Your Website in Real Time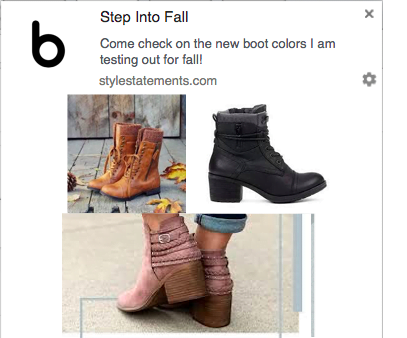 Being able to bring the readers back again and again to the blog, increases traffic and in return, more reach is produced.Push notifications are the latest channel that is nudging subscribers and future viewers to return to that website. Web push notifications are proving to be a big advantage in the process of converting one-time viewers into returning visitors.
Once first-time visitors interact with a blog post that they had seen shared on a social media site, such as Facebook, they are able to also share that post if they enjoy it, but may never return to that particular blog again because they are not aware the blogger has published again.
Push notifications allow viewers to subscribe to the blog during their first visit, while the initial love for that content is still fresh. This helps to constantly increase traffic flow to that blog through repeating visits and easy access.
Going the Extra Mile for Your Subscribers
Web push notifications allow bloggers to send instant content to their viewers. Through welcoming and immediate interaction, viewers feel more connected to the blogger and like a top priority.
The instant interaction that web push notifications provide to an audience, allows that content to feel new, opposed to a blog post shared solely on social media that they found randomly scrolling through Facebook at night. By receiving that immediate notification to their mobile or desktop device, it allows readers to feel like they are a part of something and one of the first to view that content.
Push Notifications Have a Higher Opt-in & Click Through Rate Than Email and Other Channels
Push notifications eliminate the hassle of signing up through an email address and the long process of providing all of your personal information. Along with this, users tend to click on these notifications right away, and if they do not, the notification is still subconsciously on their mind until they do.

Whereas, emails tend to lay in a subscriber's inbox or spam folder without any urgency to check the content. Having push notifications instead of emails is especially important for time-sensitive posts, such as topics on current events or a new trend. This allows the blogger to be considered the first to the story.You can also find more information at our blog post 7 Reasons to Start Using Web Push Notifications Now, on why push notifications are more effective than emails.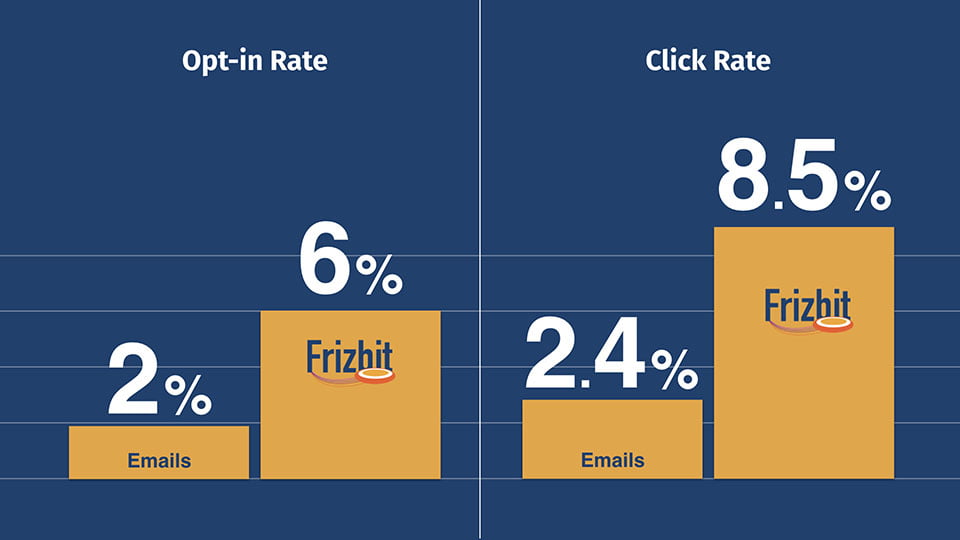 Web push notifications allow subscribers to see that time-sensitive piece immediately. They also provide bloggers with the ability to promote a live or upcoming video broadcast and give exposure to their latest social media updates, which is helpful in the process of building a brand.
Creating a Large Impact Through Minimal Effort & Time
Once web notifications are set-up accordingly for your blog, you are ready to go! Marketing companies, like Frizbit, begin managing those notifications and create personalized messages directed at your audience.These messages reach subscribers through all channels, with those subscribers being contacted as soon as you want and as much as you want.This marketing tool makes delivering real-time relevant messages to viewers, easier than ever with it only taking a few minutes to send a push notification.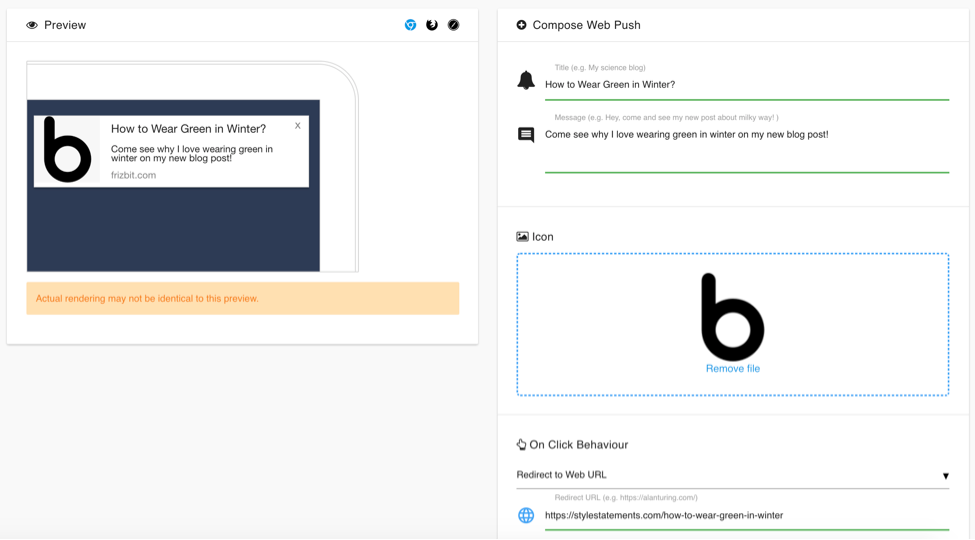 Satisfy Readers with Relevant Content Directed at Their Interests
The priority is the subscriber. The idea is to keep them happy. As a blogger, you cannot expect all of your readers to stay updated with each post you make. This is especially true if the content being produced is daily or even weekly.Web notifications are a simple strategy that keep readers re-engaged with content. Frizbit allows you to segment your subscribers with their user behavior on the website, such as what content they have been reading in their previous visits. Therefore, you are able to send relevant messages about the topics that interest the user the most and avoid messages regarding posts that a subscriber might not be interested in.
Not only does this establish relevant communication between you and your subscriber, but you can also engage with them at the perfect time. You can achieve that by scheduling the notifications to be sent at specific times and as often as you decide. This allows for that extra assurance of a successful engagement, as well as the satisfaction of the subscribers.

Begin Using Push Notifications Today and Don't Let Those Posts Go Unread

Web push notifications create a demand of immediate action on the part of the subscriber. Subscribers are given the option to either close the notification or click on the notification, where they are taken directly to the content. Being able to interact with the content that a reader is viewing has become a vital element in user experience.
Create a free account with Frizbit today! Then simply select"Create a New Website" and insert the information for your blog. After that, you will be able to start sending push notifications in just a few minutes!