New methods and tips for brands to do permission marketing after losing majority of their mailing lists due to GDPR
What is Permission Marketing?
Permission marketing is the privilege (not the right) of delivering anticipated, personal and relevant messages to people who actually want to get them.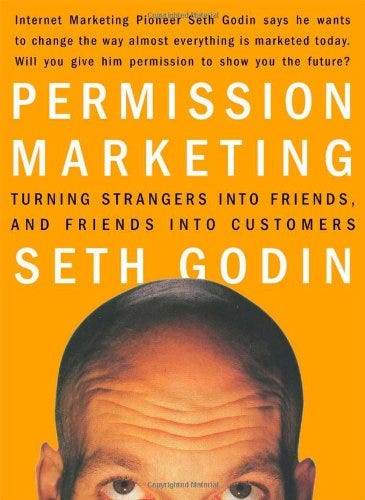 The term of Permission Marketing was coined by Seth Godin in 1999 on his book with the same name "Permission Marketing: Turning Strangers into Friends and Friends into Customers". This concept can be defined as the antecedent of inbound marketing. It inspired many brands to shift how they do marketing. It encouraged (only some of) the brands to stop bombarding their audience with advertising in paid media and to reach out to them with a type of content they promise after getting the permission from them. You can read more on the article on Seth's blog.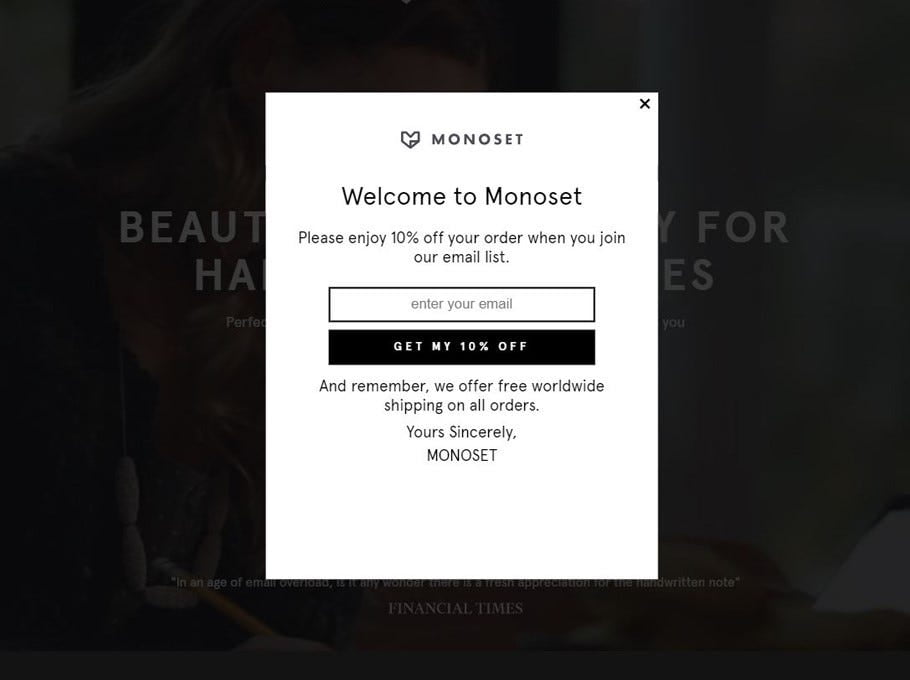 Examples of Permission Marketing
Landing pages which request our email address in order to send us a white paper, an e-book or invitation to an event or webinar can be some decent examples of permission marketing. The most common example by brands is that they ask e-mail addresses to send their newsletters. It's also common to incentivise by offering a discount for e-commerce companies.
Channels of Permission Marketing
Even though it has been used as synonyms, permission marketing is not all about email marketing. There are many other and effective opt-in based channels.
Email marketing has been flagship of permission marketing channels for many years, due to being more affordable and direct.
SMS marketing has been used widely as well, as it is quite powerful to reach users in seconds, but harder to get the permission for a mobile phone number and it's more expensive per each message sent.
Direct mail, another popular channel of old times, are mainly forgotten in most of the countries now at least for many digital businesses. In your mailbox I bet you are finding some brochures about the supermarkets or services around your location, but you didn't give permission for that, did you?
Social media channels such as Facebook or Twitter are some other channels can be counted as permission marketing as end users follow or like pages and brands share their information or updates via there.
Push notifications came to our lives as the newest method of opt-in based marketing channel. We have push notifications in our lives since 2009 on mobile apps and mainly since 2015 on websites.
But Permission Marketing was Really Permitted by End Users?
If it was really permission based, why are we receiving emails or text messages from the senders that we have never permitted? As an end result, these channels are identified as "spammy" by end users. But what is wrong with them? That's due to the fact that, these channels are inherently weak for privacy and personal information, which allows this conclusion to be drawn.
On all of permission marketing channels except push notifications, the medium requires a type of disclosed address to convey the message to its subscriber.
For email that's the email address.
For sms that's the mobile phone number.
For direct mail it's the work or home address.
One can easily copy and paste a spreadsheet with thousands of emails or phone numbers in seconds and start spamming. That's why these channels can be used to spam, even though no consent is given.
Why GDPR was Rolled Out?
It is not only hackers, who find insecure databases to steal information from, causing you to receive emails from people that you don't know. In the opt-in pop-up of many brands, even without you realise or tick a box, you accept to share your contact data to the 3rd party partners of that brand. That's why all your personal contact data are spread on different databases all over the world. That's quite improper, no? All of this information is personal information and it should be treated as such by the brands. European Union believes so, too.
As a response to that European Union rolled a new comprehensive data protection law which is called General Data Protection Regulation or "GDPR" in short. GDPR was adopted in April 2016 by the EU Parliament and became effective on May 25, 2018.
Permission Marketing after GDPR
If you are based in EU or at least you are serving some customers within EU soil, hopefully you took the necessary means to comply with the GDPR.
There are some notable requirements brought by the regulation regarding the permission marketing.
The consent should be given explicitly. It cannot be collected in silence or pre-ticked boxes.
Separate consent boxes should be used for accepting to receive emails and accepting the other terms of the service.
Keeping a record of the consent as an evidence including who gave the consent, when gave the consent, for what they gave the consent, where they gave the consent and if they have withdrawn consent or not.
The latter is a requirement affecting both the consents which will be collected in the future and which have been collected in the past. In case you haven't kept the record or if you basically haven't get the consent before, then you have to ask for the consent again. Exactly this point made lots of companies lose 90% of their email databases.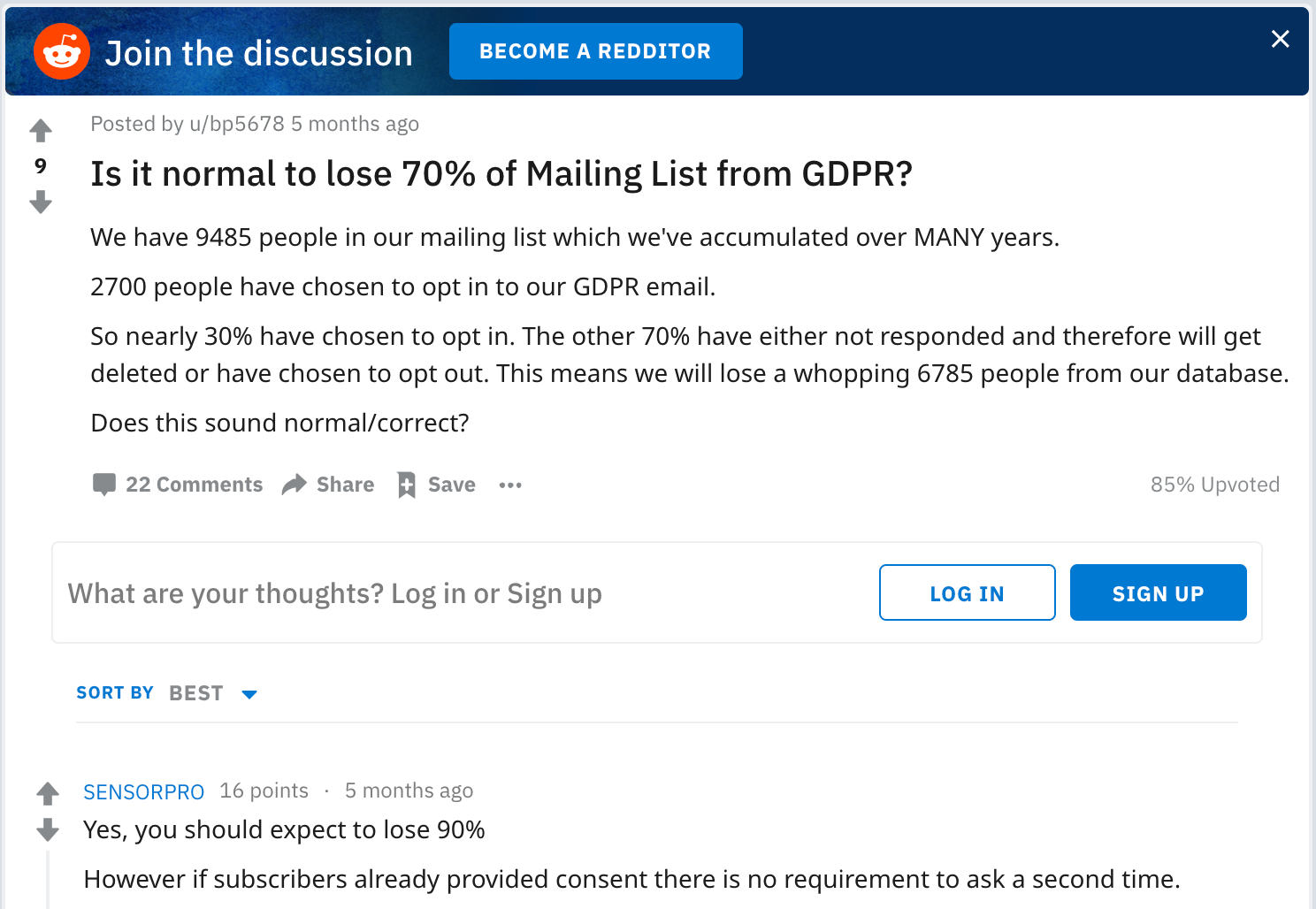 Just like the size of the opted-in email database dropping by 90%, then effectiveness, opens, clicks and revenue should drop by 90% from this channel, as well.
How to Grow your Database Again after GDPR?
The first idea to come to your mind is probably showing more pop-ups to get their e-mail address and consent, right? Yeah, but that's not a really good idea, because that's your reaction after losing the permission to communicate with 90% of your email database.
Why to push too hard to grow your email database? Users are already fed up with sharing their personal information to be contacted and they are much more sensitive about their privacy more than ever.
You should consider building a new database of a brand new channel:
Push Notifications.
If you have a mobile app in place, mobile push notifications;
If you have a website, website push notifications;
If you have both, use both!
You Should Start Building a Push Notification Subscriber Base, because…
It doesn't require any personal information from users such as email address to deliver a message, update or offer.
It's technically impossible to send a message without getting the consent.
It's very easy to opt-in and opt-out.
It's inherently secure as the consents are given to the domains and they cannot be faked, copied or shared to a 3rd party.
The consent data is stored on the secure push notification servers of the browsers you trust.
It naturally complies with GDPR, unless you use a data processor who doesn't comply with GDPR.
Boost your Permission Marketing with Push Notifications
Push notifications are perfect complement for your permission marketing. It doesn't cause any problems using emails and push notifications together and you can use them hand in hand.
As push notifications are free of personal data, you can still get consent from privacy-concerned people for push notifications who wouldn't opt-in to the emails. The opt-in rate for push notifications are usually much higher than emails, so you would grow your database much faster with the inclusion of push notifications to your permission marketing toolset.