Web push notifications are the new retargeting channel any website can benefit from. Maybe you are used to communicating with your customer via emails, social media or even by phone, but have you been introduced to the power of direct, hyper-personalised messaging via web push notifications? Keep reading and let us tell you
Why and how can the travel industry benefit from web push notifications
Web push notifications allow websites to communicate with visitors using behaviour-based messages without requiring any type of personal data, even when they have left the site. Users that visit just need to accept (or opt-in) to become subscribers and start receiving notifications on their browsers or their mobile devices.
The combination of all these characteristics make web push notifications the best channel to reach subscribers and encourage them to return to the website and complete an action, whether fill out a form or complete a hotel or flight booking.
Everyone knows that planning a trip can be a bit stressful. There are way too many options regarding airlines, flight schedules and all bookings processes. It takes people a lot of time, research and comparison before making a decision and here's where web push notifications come in handy for the travel industry.
This channel has the power to make the entire process a lot easier for people planning a trip and for travel companies to increase customer engagement, satisfaction and boost revenue.
By using a web push notifications platform that allows automation, the use of dynamic parameters and hyper-personalisation, any website from the travel industry can greatly benefit from this channel.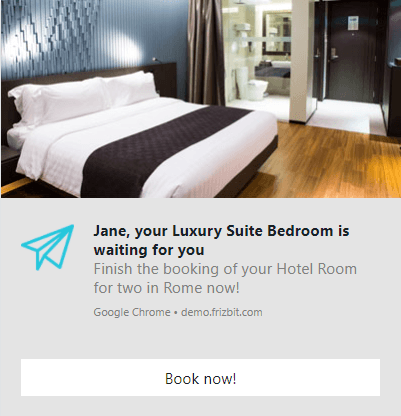 Let's dive into how to boost your travel site marketing strategy with web push notifications
Recover lost reservations
By using automated sequences of web push notifications, you can create campaigns that are triggered by user behaviour on your site. This means that when users search for a trip destination, accommodation or a specific tour booking but leave the site without completing it, a message will be delivered encouraging them to come back and finish the booking.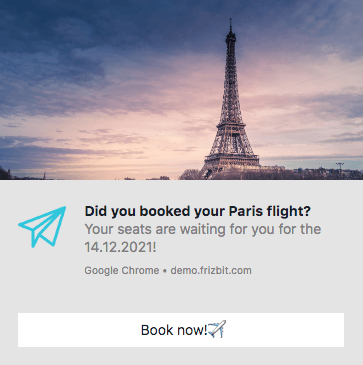 Thanks to dynamic parameters and behavioral recognition, this strategy is great to connect with users with highly relevant information. The notification sent can include details such as name of the destination, price, airline, hotel name, specifics about accommodation and pretty much anything you wish that's available from your site. As a result of receiving such detailed and personalised information, customers are more likely to engage with the notification, resulting in higher CTRs and conversion rates.
With this type of notifications, customers will land directly on the booking page, as if it was an abandoned cart from an e-commerce site, making it even easier to push them down the final stage of the marketing funnel.
Itinerary updates and changes
Remember that customers today want personalised experiences and catered services. If you can offer them that, you will be steps ahead of your competitors and one way to do so is to maintain a flow of communication with relevant information.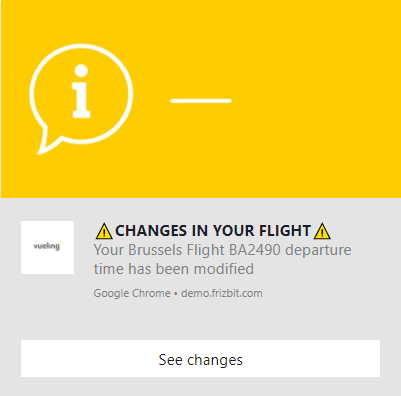 If there are changes on your customer's travel itinerary you need to use all communication channels available to get that message across, making sure it reaches its destination on time. Web push notifications are the best way to do so.
Email might be the most common channel to communicate with customers, however it is not the fastest or most effective one. Web push notifications can reach them on both mobile and desktop even if they are not visiting your site and they will be grateful that you sent them urgent information.
You can send these types of notifications by using the segmentation feature of the platform. There you can choose exactly which subscribers you want to communicate changes and updates about specific destinations or bookings.
This strategy is very useful during this pandemic times in which every country constantly changes the entry requirements (PCR tests, vaccines certificates). If a certain destination updated the type of document travelers need to enter, you can send them a web push notification informing them about the changes so they can be prepared.
Advertise travel deals, sales and special offers
We've been talking about automated web push notifications as a great strategy to stay in touch with customers. But there also are manual or bulk web push notifications. These types of campaigns are sent to all subscribers' databases since they are not behavioural-triggered.
Manual web push notifications are great to communicate special deals, offers or promotions that are time sensitive or limited. If you have a special offer coming up with discounted flights, accommodation or tours, you can send a bulk notification to let customers know about it! This is a great strategy to generate lots of traffic very quickly.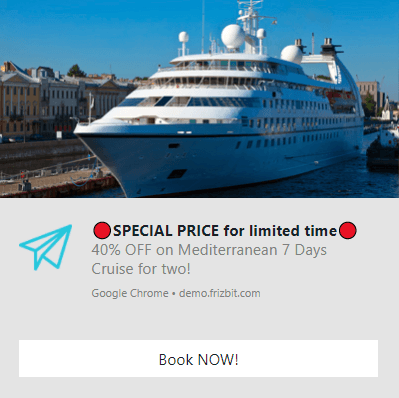 If you want to be more specific, you can also use segmentation here and target users based on their interests. For example, if you are having a sale on Mediterranean Cruises, you might want to send a notification to users that previously searched for cruise vacations to alert them about the sale.
It's a wonderful strategy for users that still are at the first stages of the funnel and still haven't decided on a specific destination or made any reservation intent. This will not only help you get more bookings, it will help customers benefit from discounted travel plans and they will certainly appreciate it.
Traveling involves a lot of important information. Once a user has already made a reservation, you can use web push notifications to remind them of their travel details, like flight departures, delays or hotel check-in hours.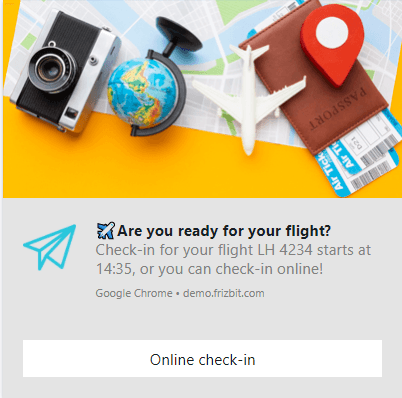 These are the types of messages that users appreciate and value the most. Web push notifications have the great quality of immediacy, so you can rely on them to guarantee important information gets delivered.
By applying these strategies, you enhance user experience. They will feel the process was smooth and safe and will increase the chances of them repeating and booking their next trip with you.
You can send and schedule manual web push notifications to alert users about price drops. If a user was browsing your site looking for interesting traveling plans and leaves without completing a booking, a great strategy to bring them back is to communicate price drops on destinations they expressed interest in.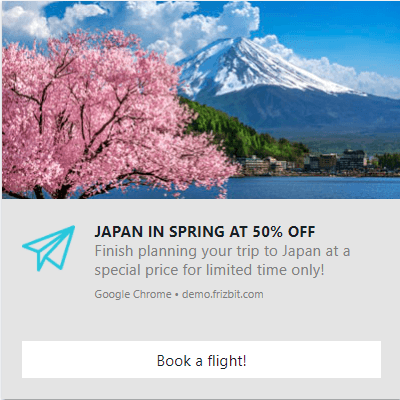 Maybe a great hotel announced an offer, or a flight is selling the last seat at a discounted price. Let users interested know about these great deals and leverage that information to close the deal.
When sending manual notifications about price drops, always remember to include a call to action button with a sense of urgency. Tell users that the offer is for limited time only, or that there are only a few seats left with the special price.
Web push notifications for all the travel industry are a must!
The travel industry is a universe within itself. There are tons of agencies, airlines, accommodation finders sites, car rentals and more that a user can browse when planning a trip and all of them can benefit from the inclusion of this channel in their marketing strategy.
Web push notifications can help travel websites connect with users by offering a better user experience with hyper-personalisation. If you have been relying on traditional emails to communicate with your customers, you are definitely missing out.
You can check out Frizbit's success story with Corendon Airlines as a great example on how to boost your travel website with web push notifications.
And if you want learn even more about this amazing channel, make sure you read: