Either you're a hopeless romantic or a lone wolf, Valentine's Day is just around the corner and it's kind of hard to miss it. If you're planning to stay at home binge-watching Netflix, or having a super romantic dinner, no one says you can't benefit from amazing deals and offers. 
And if you're a digital marketing professional, you can't let the romantic holiday just pass you by, whether or not you like the fuzzy-love scenario, or not. For 2018, Valentine's day was reported to be the 4th largest shopping day of the year after winter holidays, back to school, & Mother's Day according to Microsoft Bing. If you add to this the fact that online shopping has exponentially increased the last year due to Covid-19 pandemic, is a date that can't go unnoticed. 
As professional marketers, we are well aware of the vast extent of Valentine's Day marketing strategies out there. From boosting loyalty programs, 2×1 sales to social media contests there's a lot to choose from. But the most important thing is how we communicate those promotions, offers and special sales to our customers. Having amazing Valentine's Day sales on your online store wont do the trick if no one hears about them. 
How to use Web Push Notifications to boost your Valentine's Day Marketing Strategy
1. Create a themed landing page to direct your subscribers
We've mentioned before how important it is to send subscribers to the right landing page after they click on the notification. When running a Valentine's Day holiday campaign you can seize the opportunity to theme your landing page according to the season. It's important that you portray a consistent look and feel throughout the entire Valentine's Day campaign.  
Make it clear to the subscribers that you're presenting something special for this date and that they don't want to miss out what you've got to offer. You might want to create a unique Valentine's Day landing page where you showcase a curated group of products with limited discounts. Remember that a lot of people conduct their shopping online at the last minute and can be very indecisive. Organizing your deals in one page and making it easy for shoppers will be something they appreciate.
2. Create a Valentine's Day web push notification calendar
Most digital marketing professionals agree that Valentine's Day marketing communication should start late January or early February. This means, you'll have around 15 to 20 days before the love holiday to begin communicating with your subscribers.  
You can design a web push notifications communications calendar with different messages and timings to communicate with your subscribers throughout the weeks and days preceding Valentine's Day. Sending different notifications manually that alert them about the upcoming date and let them know they can start shopping, or at least browsing your site for gift ideas is a great way to increase retention and conversions. 
Here's an example of web push notifications sequence for the previous weeks, days and hours before February 14th. Each one includes an alert of the time left to make a purchase, suggestions of products the subscriber might like and even a cart abandonment reminder.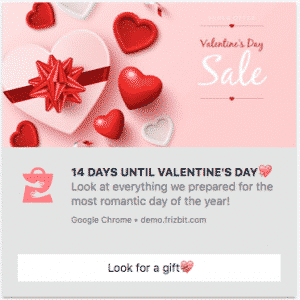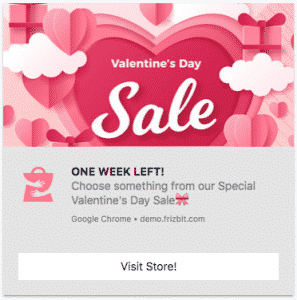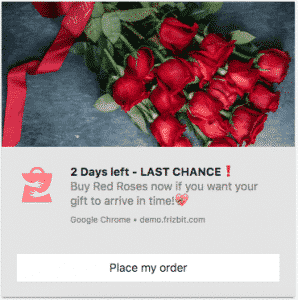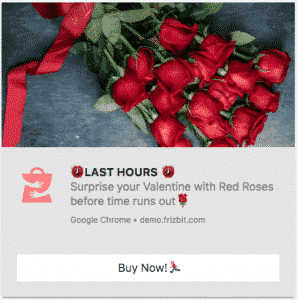 This way, you'll have increased traffic to your online store and the opportunity to conduct automated web push notification retargeting campaigns closer to Valentine's Day to all those subscribers that clicked the alert notification and viewed products on your site or already added them to their shopping carts. 
A notifications calendar it's also a great strategy to increase brand awareness with subscribers that haven't visited your e-commerce in some time, and a way to keep in touch with those last minute shoppers. Letting them know you'll be having special Valentine's Day sales will keep you on their top of mind and tilt the balance in your favor when it comes to the actual holiday shopping moment. 
3. Retarget subscribers that interacted with the Valentine's Day landing page
After sending the manual web push notifications according to your communication calendar alerting subscribers about the upcoming love holiday, you'll get insights on click-through rates and their activity within the landing page you sent them to. Knowing which subscribers clicked on that message and which products caught their attention, will allow you to target them specifically with new automated notifications. They have already expressed their interest in the Valentine's Day sales you're having, but maybe they need a little extra incentive.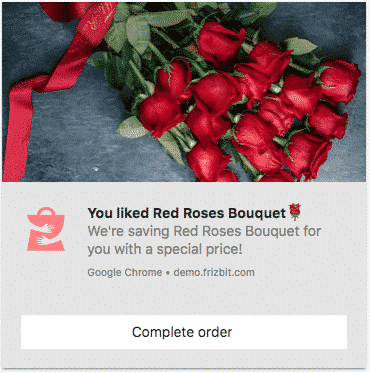 Segment your subscribers based on their activity and their interaction in the site. Users that converted the first time, are more likely to complete a transaction if you send them another notification suggesting a product, informing about a sale, applying a general up-sell strategy or reminding them about an abandoned cart. Sometimes people need a reminder or help deciding, especially when dealing with stressful shopping dates like Valentine's Day.
4. Dress up your notifications
If there's a moment to use color, lots of emojis and humor, this is it. Customise all the elements of the web push notification to match Valentine's Day. Make sure subscribers know there's something different going on by just glancing at it. You can change the icon of your company logo during the first two weeks of February, adding some Valentine's Day details! Include bright shades of red and pink in your images, heart and love emojis to accompany the text, and even change the tone of your communication a little bit.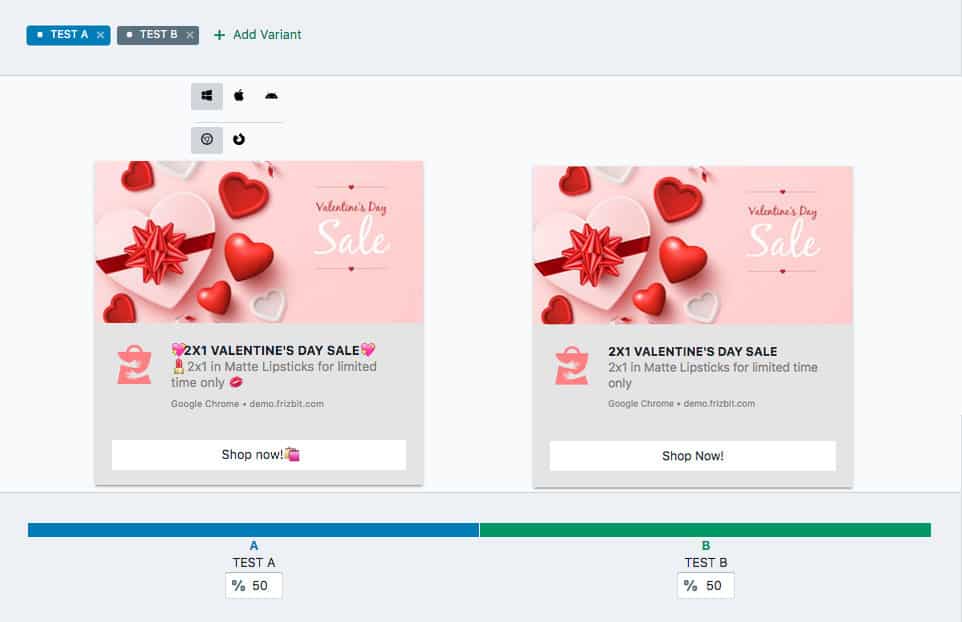 You can use more fun copies and be a little more playful. The perfect way to nail your Valentine's Day message is to run A/B testing. Platforms like Frizbit allow you to design variations of the same web push notification in order to try them out and see which one works best. Get inspired and bring out the romantic in you!
5. Show your subscribers some love!
Valentine's Day is the perfect holiday to let your subscribers know how much you appreciate them. Send a special web push notification with a unique offer or discount they can use in their next purchase, even after the holiday has passed. If you'd like, you could segment this for the users who have purchased in the past 2 weeks to award them about being thoughtful on Valentine's Day, or if you have so much love to share, send it to all your subscribers! 🙂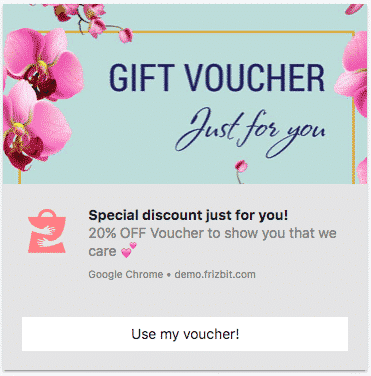 This is a very nice gesture that shows customers you value their business. It won't cost you much and it can have great repercussions for your brand by increasing client's loyalty, brand awareness and web push notification retention rates, lowering opt-out or churn rates. 
6. Use cross and up-sell techniques
People tend to go all out on Valentine's Day, so it's the perfect moment to apply some old, but effective traditional marketing techniques like cross-sell and up-sell. You can send automated web push notifications to all those shoppers that already bought a product from your site with a nice suggestion on another one that complements it. 
Maybe a subscriber left an abandoned cart with a product in it. You can seize the opportunity to send a notification suggesting a different article that another user liked better, instead of the one in his cart. It's all about helping shoppers to make the best decision possible por this unique and special date. 
Summary
When it comes to important holidays like Valentine's Days, there are so many digital marketing strategies to choose from that it's easy to lose focus on simple details like how to effectively communicate them to our audience. 
You only have a few days to get your message across and attract as many people to your site as possible. Manual and automated web push notifications campaigns are the ideal channel to do so:
You can highly customise the messages to carry the Valentine's Day spirit 

It's a direct communication in real time channel based on user's behaviour

You can engage with visitors and turn them into subscribers

4x times higher click-through rates than emails
We hope this inspires you to use web push notifications to boost your Valentine's Day marketing campaign! If you want to try it out, get in touch with Frizbit for a demo!
You also might be interested in: