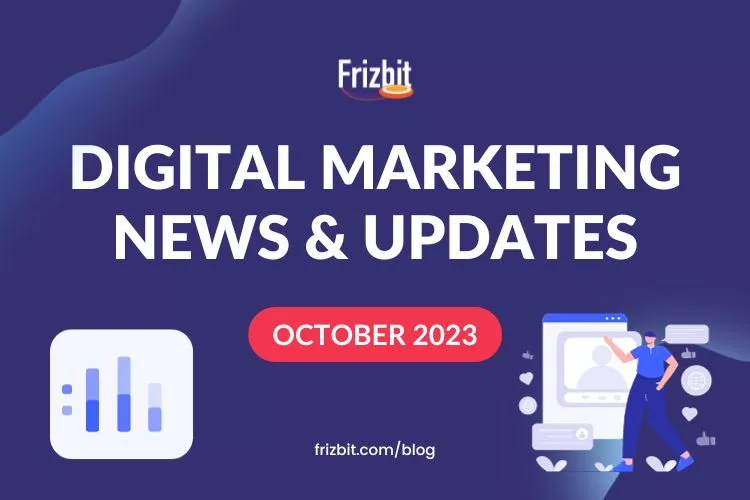 Welcome to the October edition of our monthly newsletter. Filled with the latest digital marketing news, industry updates and valuable insights.
October has brought us some exciting news, especially in the Search Marketing and Martech areas.
Among the most outstanding news we have:
Google, always at the forefront of innovation, had two rollouts during October. First, there's the Google October 2023 Core Update – it's making waves and changing the game for visibility, and it has even impacted Google itself. We'll also share some real-life examples of how businesses are being impacted by it.
Additionally, Google addressed user concerns with the rollout of the October 2023 Spam Update. We'll provide a detailed overview of this update and its potential impact.
In the social media landscape, Elon Musk unveiled a new test on his platform, X, which has taken many by surprise and includes an additional charge for new users. What is this new measure by Musk about? We'll tell you all about it below!
Shifting our focus to the field of Martech, Canva has undergone a notable transformation, introducing the 'Magic Studio' update. Stand by because Canva is coming on strong, exploiting AI to the fullest.
If you're eager to dive deeper into these developments, make sure to read the full blog post. There's a lot more to discover!
Search Marketing Updates
1. Impact of the NEW Google's October 2023 Core Update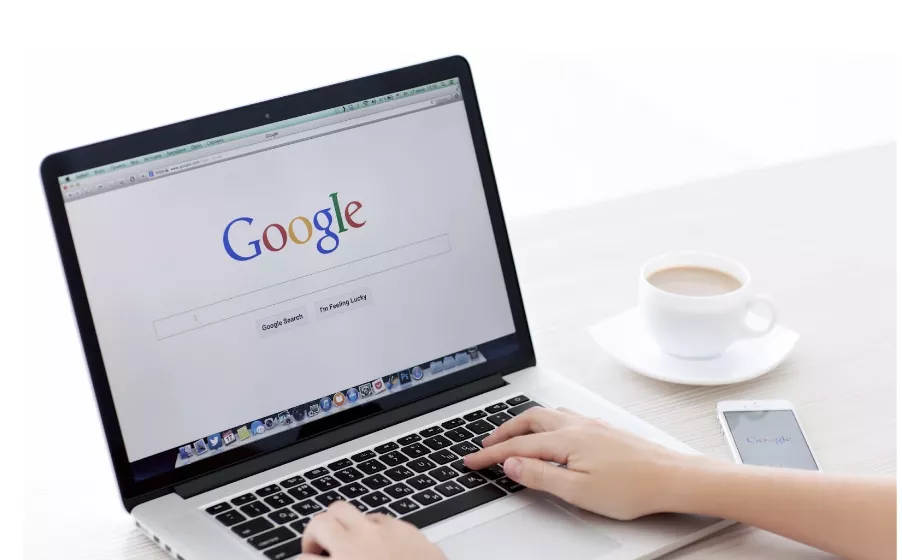 Source: Deposit Photos
Since our last Digital Marketing News & Updates from August on this Core Update of Google, we've been keeping a close eye on the company's developments. Now, we're excited to bring you the latest and third core update of the year, freshly launched in October. It's part of a series of updates aimed at enhancing search engine performance.
The October 2023 Core Update has a clear mission: to prioritise web pages that offer more value compared to the existing ones ranking on Google. This aligns with Google's ongoing commitment to delivering the best possible search results for users. Additionally, Google plans to refresh its ranking release history page.
So, how have companies experienced this update so far?
To take the impact of this Google's algorithm update and see its impact in real life we have gathered some examples of well-known companies that have reported being affected by the October core update, both positively and negatively.
Usually the core updates tend to awake the fear in companies who work their SEO to rank in the first positions. Although it is typically like that, the truth is that the updates are just here to improve the experience of everyone when doing online search.
One great example of the positive impact it has had is GB news, a British news company which experienced an increase in visibility of 103%. Nevertheless, not all companies have run with the same luck, for example Lancashire Live, another British news company have experienced a decrease of 40%
Another example is "Casa del libro" a Spanish company which experienced a 15% increase of visibility in prior updates, nevertheless, Google's recent updates reduced their visibility in searches, resulting in a 38% decrease.
What has been clear is that even though the company has not targeted specific websites, some have been heavily impacted.
What to do in this case
Google provides a useful content guide that comes in handy for understanding what a website should do and what it should avoid . Some of our preferred questions to audit your content are:
Does the content provide original information, reporting, research, or analysis?
Is the use of automation, including AI-generation, self-evident to visitors through disclosures or in other ways?
Are you producing lots of content on many different topics in hopes that some of it might perform well in search results?
2. Google Finishes Rollout of the October 2023 Spam Update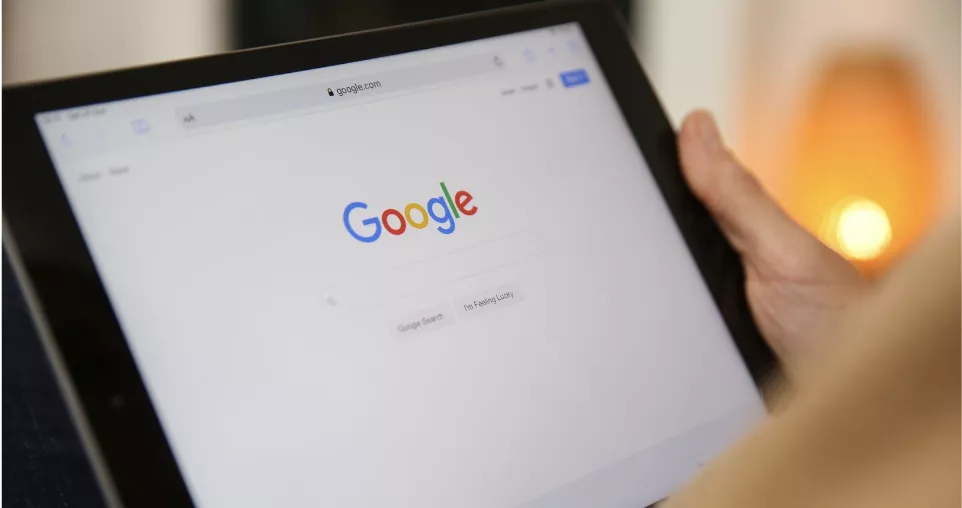 Source: Deposit Photos
The Spam update was first announced on October 4th, after users repeatedly reported finding spam results as they searched in their native languages. Ultimately Google finished the Spam Update rollout as of October 20th.
The update is focused on targeting copied, misleading and highly promotional content aiming to reduce spam found in the search results. Moreover, it is part of a series of updates the company has launched to optimise and ensure safe and real content on websites.
The results of this update have had a significant impact on enhancing the accuracy and trustworthiness of content for all users. By implementing this update, Google has taken steps to ensure that the information displayed in search results is not only more precise but also more reliable.
How does the Spam update work?
With the joint effort of automated system technologies and human reviewers, Google will be able to identify Spam pages quickly and act upon it. These automated system technologies have leveraged AI and machine learning in order to be updated with upcoming tactics. On the other hand, Google will continue to serve updates to keep on top of spam trends.
The release of the October 2023 Spam Update can be attributed to several key factors:
Search Results Enhancement: Google's objective is to minimise the presence of spam in search results, including types like scraped spam, auto-generated content, cloaking and hacked material. By addressing these issues, Google aims to enhance the overall quality and relevance of search results.
Advanced Spam Detection: The update integrates advanced spam detection techniques to identify and penalise websites that engage in spammy practices. Websites violating Google's spam policies could experience adverse effects on their search rankings.
Improved User Search Experience: Google's primary emphasis is on elevating the search experience for users. The reduction of spam ensures that users can anticipate more precise and dependable search results, ultimately leading to an enhanced overall search experience.
Ongoing Commitment: This update is a part of Google's continuous efforts to combat spam and preserve the integrity of its search engine. Google consistently refines its algorithms and policies to guarantee that users enjoy a smooth and spam-free search experience.
After seeing the updates, this is how part of the community has been reacting and acknowledging Google's initiatives in combating spam:


Source: X (formerly known as Twitter)
What can be considered as Spam?
Providing content with the end to manipulate users or mislead them
Concealed text or hyperlinks that can only be detected by search engines.
AI produced content lacking substantial enhancements.
Machine generated traffic
Hacked content
Adding unnecessary keywords or links just to have higher rankings
Extensive unauthorised extraction of articles and copyrights
Webpages with disruptive advertisements.
"Doorways" pages and other strategies aimed at deceiving search engines.
Assertive or deceptive business practices, including false assertions, scam, and fraud
So, how to best embrace this core update and audit your content to avoid Spam on your website?
Make sure you are publishing high quality content which is original and engaging. Moreover, if you constantly check the content and ads provided, you will be able to identify any spammy situations and fix it. A good way to see it is providing value and transparency.
Here are some guidelines for websites to prevent adverse effects on their rankings:
Ranking Strategies
Prioritise keyword optimisation.
Create quality content consistently.
Encourage user engagement and interaction.
Ensure relevant and authoritative linking.
Spam Detection Techniques
Regularly monitor backlinks and remove low-quality ones.
Implement CAPTCHAs to prevent spam form submissions.
Put security measures in place to guard against hacking.
SEO Best Practices
Develop mobile-friendly website design.
Optimise meta tags and descriptions.
Adhere to Google's spam policies to maintain a strong online presence.
3. Google AdSense introduces a new feature for Auto Ads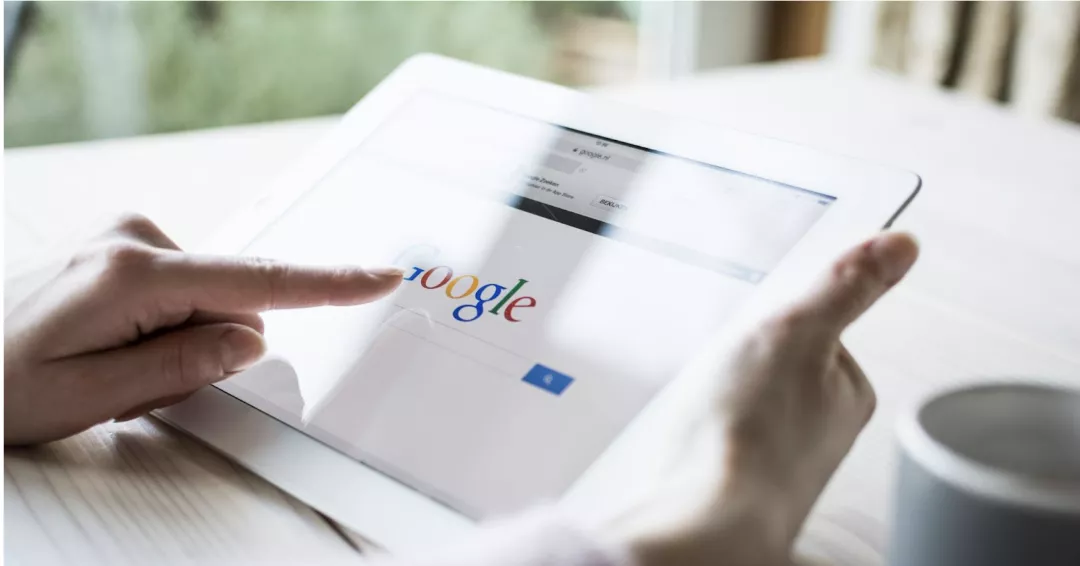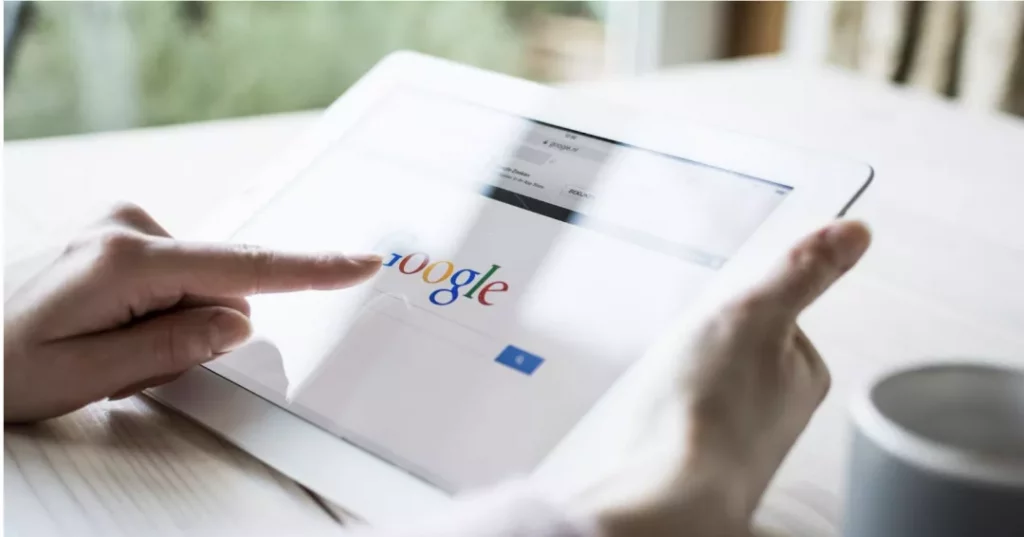 Source: Deposit Photos
Google's newest feature called "related search" within Auto Ads, aims to have a more accurate targeting for the ads of publishers.
What's new about "related search"?
This feature significantly refines an advertiser's ability to target their audience with remarkable precision. It guarantees that only ads closely aligned with the context are delivered to users. This approach enables advertisers to effectively engage with high-value consumers while simultaneously enhancing the overall user experience through heightened relevance.
What makes this feature interesting is that it prompts search terms that are relevant to the content users are viewing at the moment, instead of random content.
As mentioned on the announcement of Google, the company explained: "When a user selects a suggested search term, they are taken to a search results page where they can engage with AdSense for Search ads and relevant results from your site"
What to expect from this feature?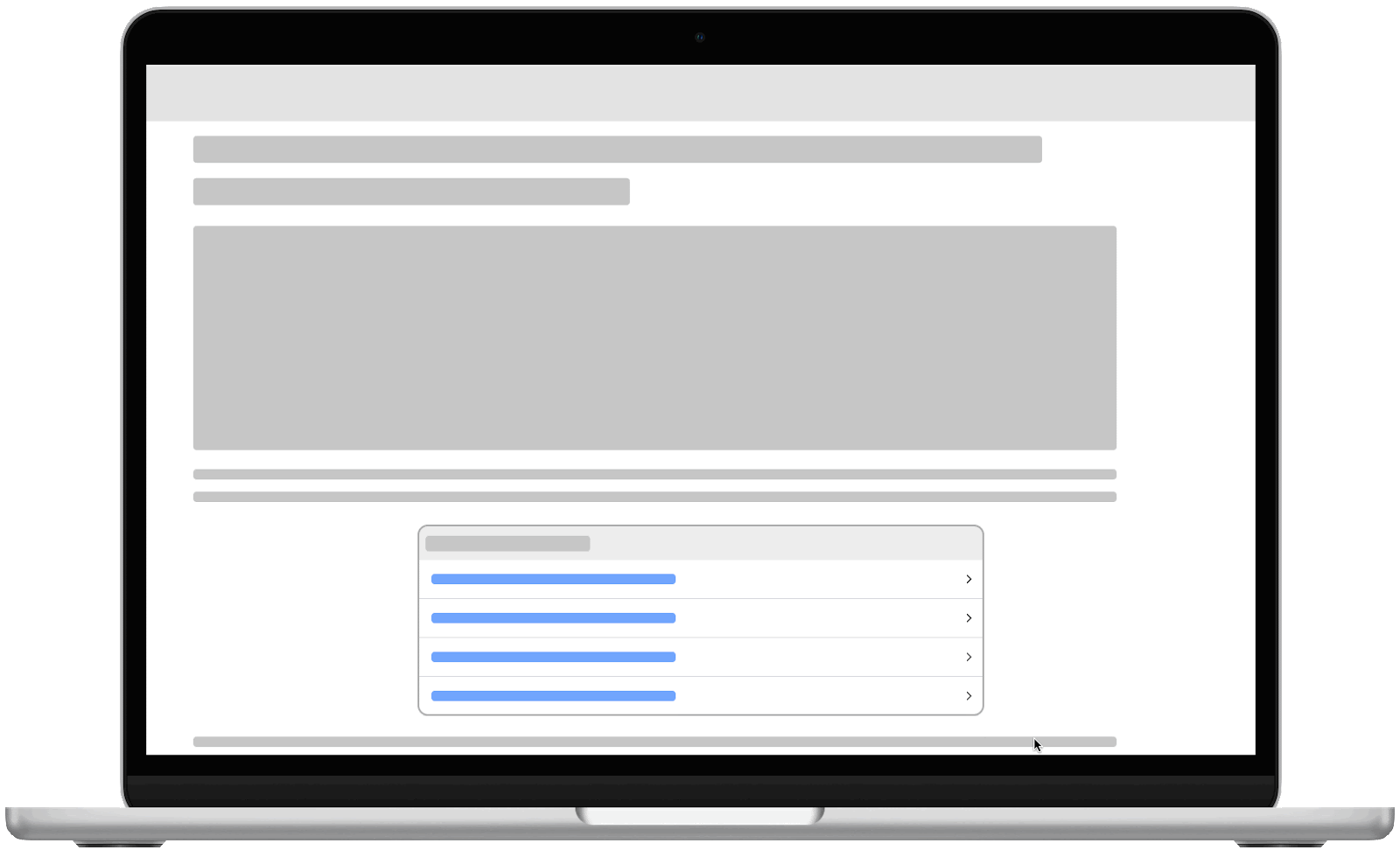 Source: Google
Related Search for Auto Ads, makes it possible to deliver relevant ads to the users, allowing advertisers to have the chance to create meaningful connections with new customers, while elevating user experience.
In addition, It's important to note that clicks on the related searches do not qualify as ad interactions, and you will not receive payment for these clicks. Google clarifies that this is because related searches in Auto ads are considered a navigational unit rather than an advertisement.
Under these terms, we firmly believe that this update is a win-win for everyone!
How it works
Publishers just need to access the Auto ads setting page and turn on the search feature for auto ads. For the moment, this update is available for all publishers with pages written in English and German.
Martech Updates
1. Canva introduces a new functionality: "Magic Studio"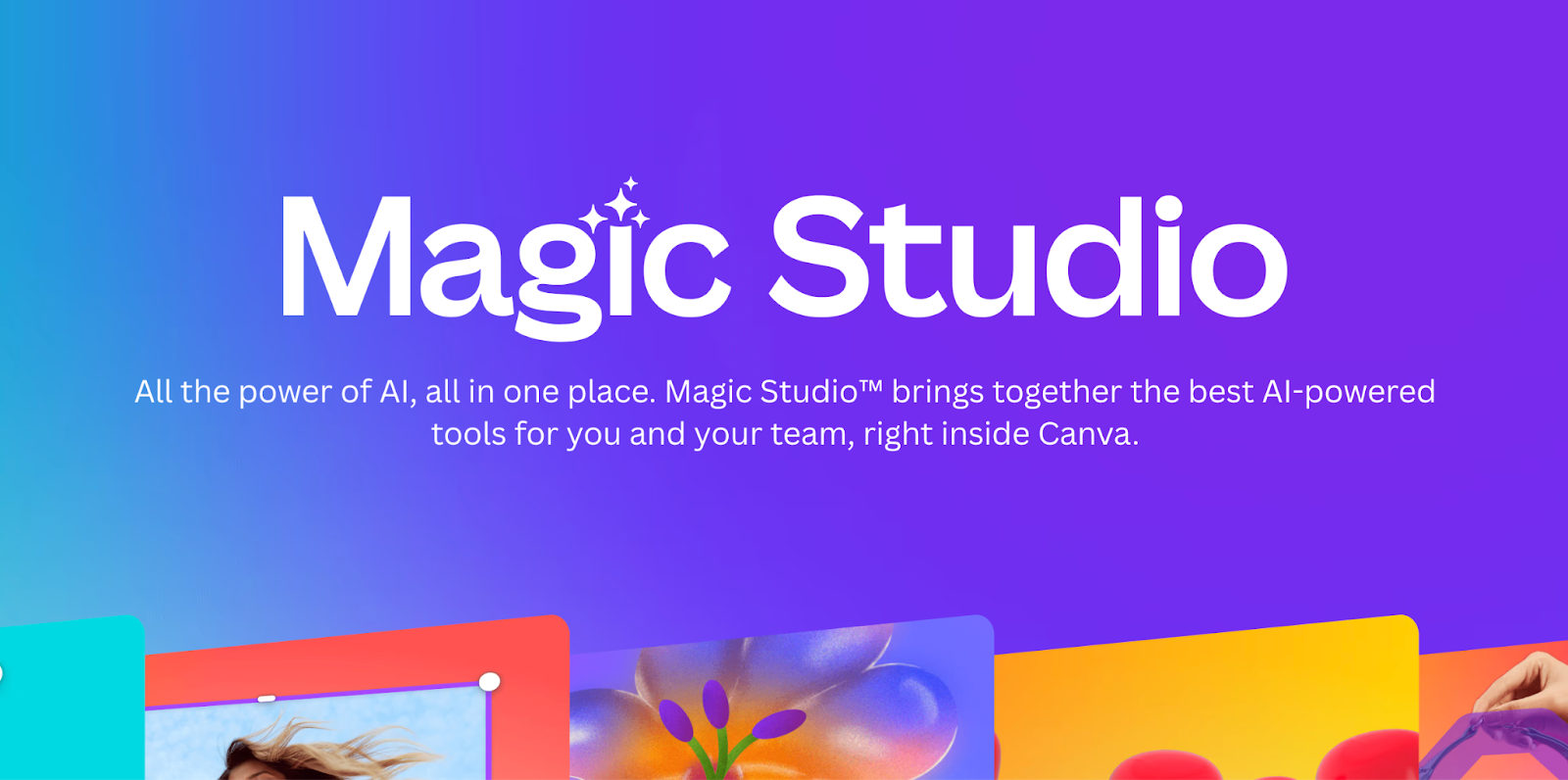 Source: Canva
Canva, the creative platform that took its first steps a decade ago, has just unveiled a groundbreaking leap in technology, marking a significant milestone in its journey. This major advancement, aptly named 'Magic Studio' by Canva, is set to revolutionise the way we create and design content.
The magic all begins with an incredibly intuitive feature – the ability to understand precisely what the user needs. Just type in your idea or upload specific media, and Canva's AI-powered engine goes to work, designing personalized content in mere seconds.
Magic Designs for Presentations and Videos
Imagine having a brilliant idea and wanting to turn it into a presentation that perfectly reflects your brand. Canva makes this dream a reality. It crafts presentations, complete with content and branding elements.
What's even better is that it takes care of the heavy lifting, leaving you to add those unique touches that make your content stand out. And if you're into video creation, it's never been easier. Canva offers all-in-one solutions to create videos quickly.
But that's not all; Canva is all about saving you time and effort. Your content can seamlessly transform into different formats for various platforms, and with a simple click, it can be auto-translated, expanding your content's reach across different channels instantly.
Multiple features for media generation and editing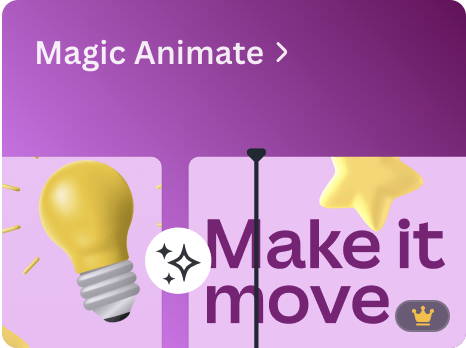 Source: Canva
Users can easily move subjects or edit elements on photos with Magic Grab, allowing resize, reposition and customization. Moreover, Magic Morph can be used to easily apply various effects to enhance text or shapes, swiftly generate elements and textures or generate innovative concepts.
On the other hand, Magic Expand, allows users to have proper image frames. Lastly, Magic edit, allows users to edit images with a short prompt.
So, now the next big question is, with so many new features, where does Canva stand for data privacy and safety?
Canva partnered with multiple AI apps to create Magic Studio, but with so many new AI technologies, concerns about safety naturally arise. To address this, Canva introduces 'Canva Shield,' a feature dedicated to safeguarding your data and content.
And here's an exciting twist: users have the option to allow their content to be used for teaching AI technologies. Even better, those who opt for this will receive monetary compensation. Canva's commitment to this endeavor is evident through its announcement of a $200 million investment over the next three years.
2. Notion's update 2.33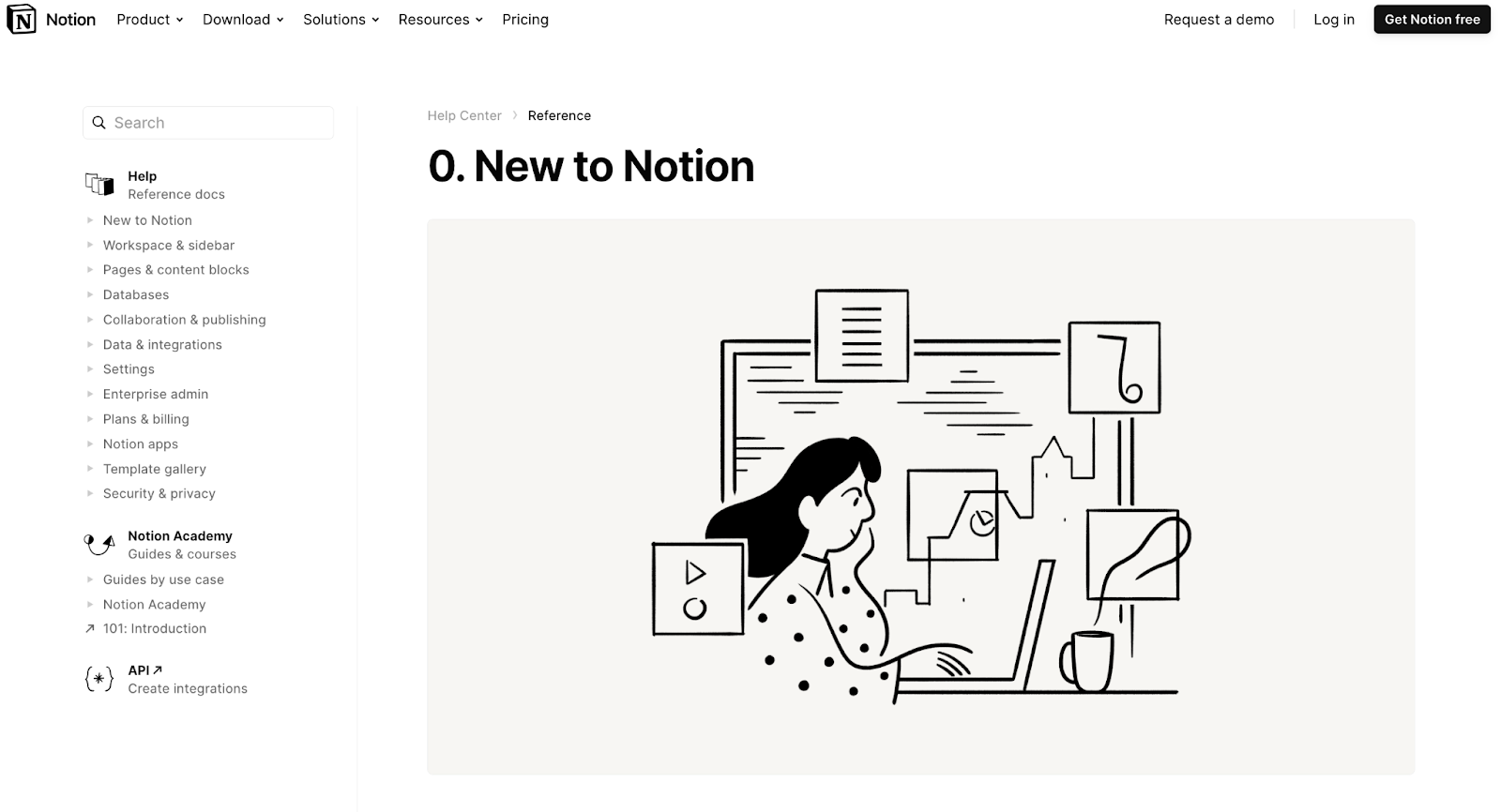 Source: Notion
Notion has just dropped its latest update, and it's a game-changer.
Welcome to 'Version 2.33'! This update is all about embracing the power of AI, and it promises to elevate your experience on the platform, whether you're working in teams or tackling personal projects.
So, what's new in this exciting update?
Automatic Workflows within One Database: No more manual drudgery. Notion now brings you automated workflows right within your databases, making your tasks smoother and more efficient.
Column Freezing While Scrolling: Finally, a feature that many of us have been waiting for. With this update, you can freeze columns while scrolling, keeping your data in view, no matter how long your page gets.
Formulas 2.0: Formulas just got a major facelift. They're now simpler to create thanks to integrated functions, giving you more power to crunch numbers and analyze data effortlessly.
Automated Content Translation Powered by AI: Communication knows no bounds with this feature. Notion now offers automated content translation, powered by AI. Break language barriers and reach a global audience with ease.
With 'Version 2.33,' Notion is stepping into the future, making your work and collaboration smarter and more intuitive than ever before.
Social Media Updates
1. Facebook and Messenger's Latest Update: Broadcast Channels and Data Privacy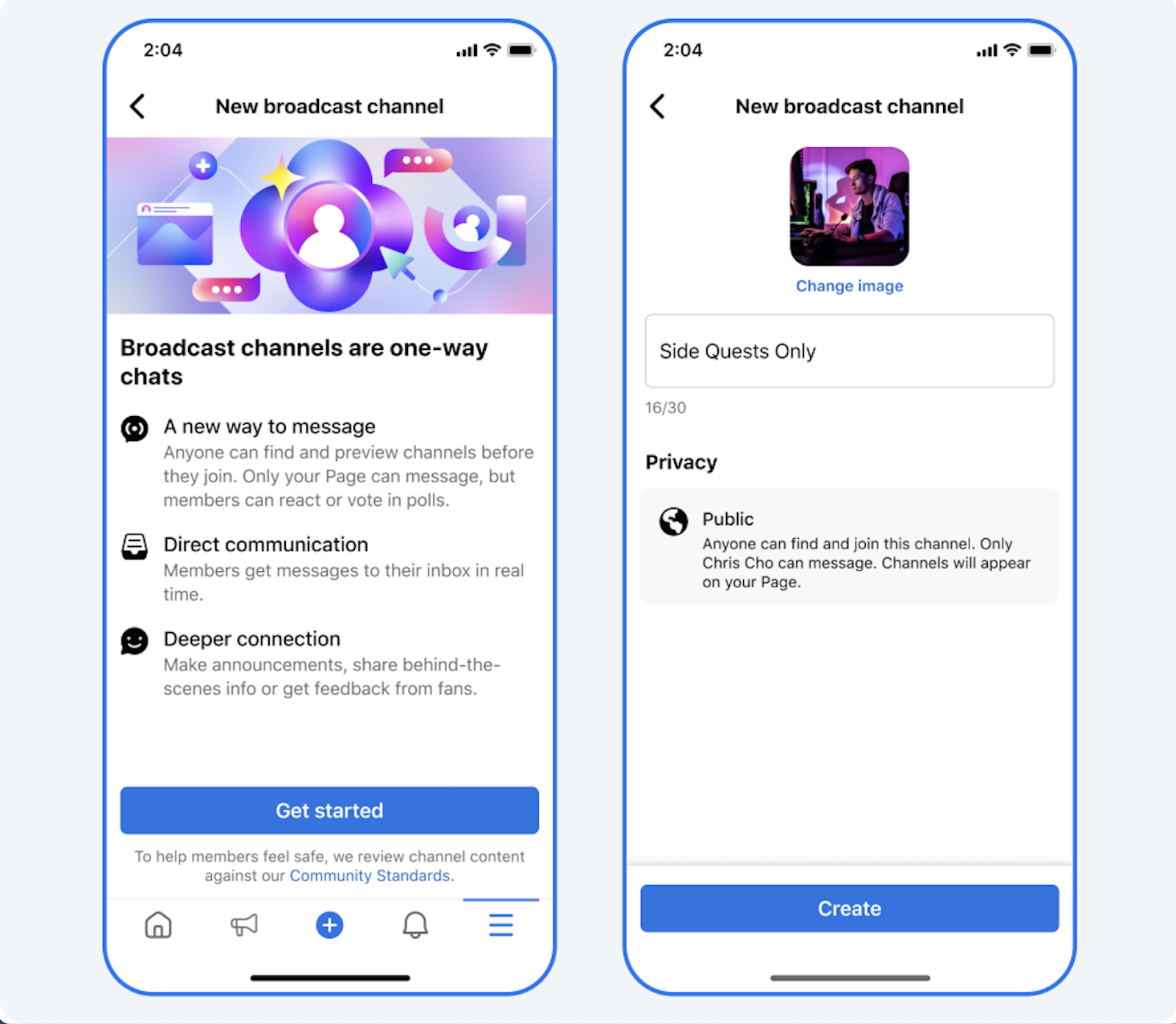 Source: Meta
Facebook and Messenger are rolling out an exciting update introducing 'Broadcast Channels.' These channels offer a new way for page admins to connect with their followers, creating engaging experiences. Some notable channels, like Netflix, League of Legends, WWE, and more, are already in the mix.
How It Works:
Facebook page admins can initiate a channel from their page, with the option to join a waiting list if the feature isn't available in their region yet.
When Broadcast Channels go live, admins can send their first message, prompting followers to receive a one-time notification to join the channel.
Once onboard, followers gain access to the content, but admins retain the privilege to send messages, voicenotes, photos, and videos.
Followers can participate by voting in polls and reacting to messages, receiving notifications with each new post. Of course, they can turn off notifications at their discretion.
This exciting feature empowers companies to create unique content, connect with followers, and collect valuable data from polls.
Now, let's talk about Data Privacy and Safety:
Facebook and Messenger prioritise user safety and data privacy with Broadcast Channels.
These channels adhere to Community Standards to provide a secure environment. Users can report entire broadcast channels or specific content that violates platform policies.
It's important to note that broadcast channels are public and easily discoverable chat experiences, subject to different regulations compared to private messaging on Facebook and Messenger.
Facebook employs a combination of tools and human reviewers to identify and remove content that breaches Community Standards, often taking proactive steps to maintain a safe online space.
With these new features and robust safety measures, Facebook and Messenger continue to evolve, enhancing your experience while prioritising your data privacy and security.
2. Linkedln's new update on Collaborative articles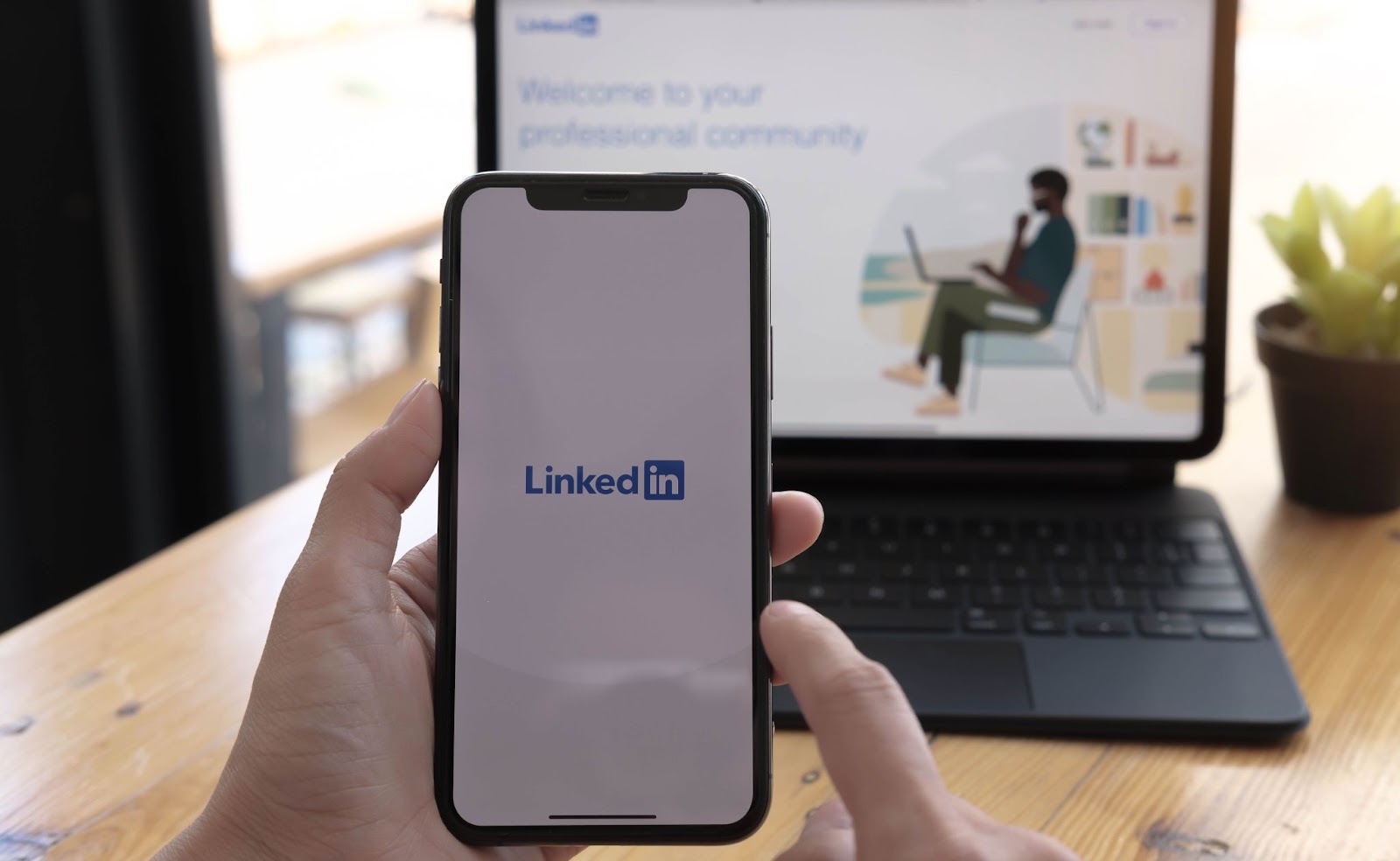 Source: Deposit Photos
Do you remember the feature of Collaborative articles launched in March by LinkedIn? If you don't, no worries, here's a small summary.
The Collaborative articles is a feature that uses AI to generate topics for discussion. Once the topic is sorted out, users are prompted to share their professional opinion and knowledge on the matter. Moreover, these professionals get a "Community top Voice badge" on their skill area, which can be a great opportunity for users as it makes their account stand out.
Insights of the new update
New layout and User Interference
New ways to interact with the post
More recognition
AI prompts
User behaviour to match topics to collaborate with
Firstly, the new layout will allow users to have more visibility of the collaborators. Giving them more recognition and with the new User Interference, readers will be able to scroll down through all the collaborators in an easier and quicker way. Even though the update is yet to come, we have a sneak peak of how it will potentially look, shared by Lakshman Somansundaram on LinkedIn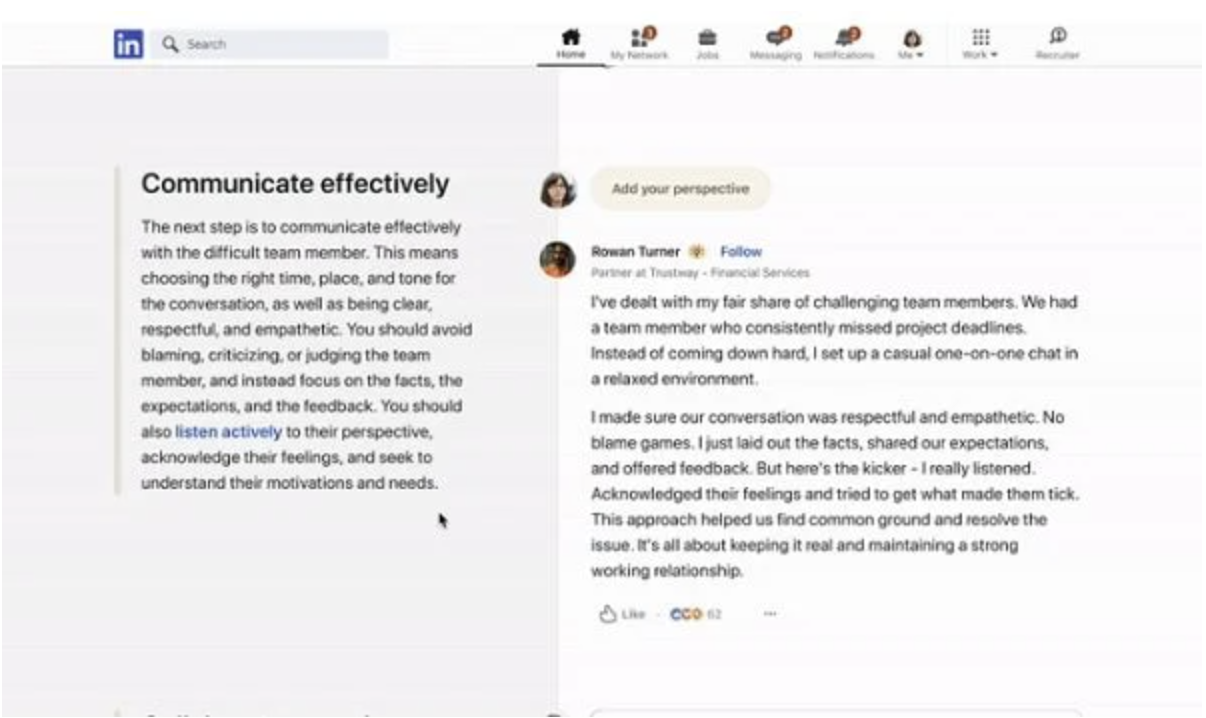 Source: LinkedIn
Secondly, now readers will be able to react with emojis, adding a more personalised way to react to the collaborative articles. But it doesn't stop there, as you can see who reacted and these users can follow the contributors directly.
Thirdly, contributors can now make it to the "top contributors section", depending on their contribution. Moreover, the posts will be visible for all users, not only for their followers. On the other hand, LinkedIn will now send notifications to users that will benefit with the contribution. Providing more reach.
Fourthly, in order to keep the generated topics relevant, LinkedIn has also updated their AI generator, aiming to provide quality content.
Lastly, users will be able to choose the skills they want to collaborate with. Moreover, the company has added a new system that looks over user behaviour and based on this it recommends topics of interest to collaborate with.
How can you best use this feature to improve your metrics on LinkedIn
The use of this feature is the perfect opportunity for companies and professionals to stand out on LinkedIn, by showing knowledge and area of expertise, achieved effortlessly by simply sharing their opinions on topics of their interest.
Moreover, the benefit of getting a "Community top Voice badge" will level up their account, providing authority, recognition and showing that they know what they are doing.
3. X's 'Not a Bot': New Subscription Model Sparks Controversy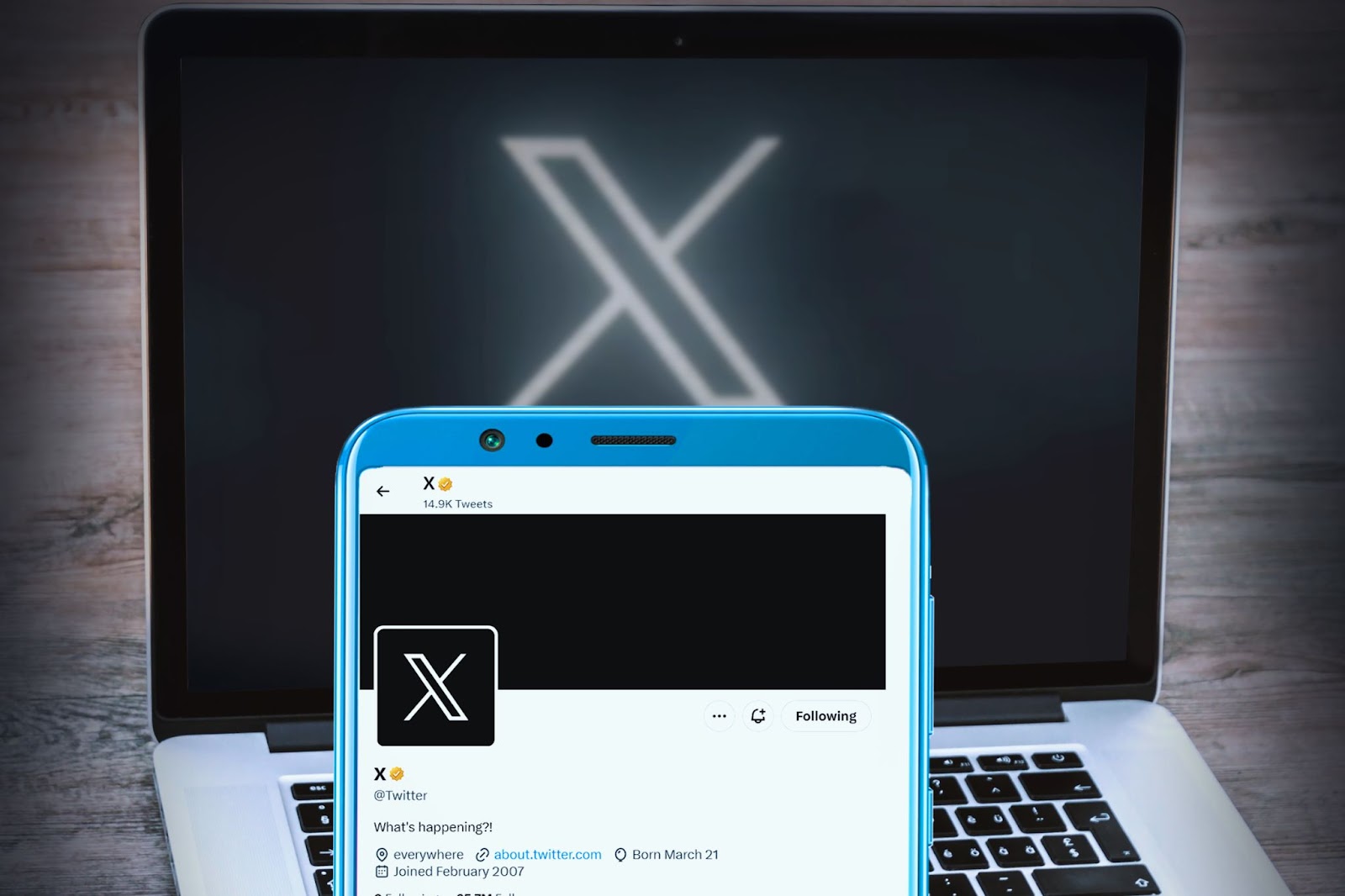 Source: Deposit Photos
Ever since our recent Digital Marketing news & updates from July 2023 about Twitter's rebrand as X, we have been following the company closely and after months of speculations it seems our fears are coming true.
Two new tiers of X Premium subscriptions launching soon.

One is lower cost with all features, but no reduction in ads, and the other is more expensive, but has no ads.

— Elon Musk (@elonmusk) October 20, 2023
In October, Elon Musk announced two new tiers of subscription for the usage of the platform. One subscription is for free, nevertheless it has ads and users are not able to post. The other subscription is paid and users will have no ads and will be able to post.
Musk has announced a new test in which payments will now be required, in order to combat bots:
"Starting today, we're testing a new program in New Zealand and the Philippines, where new, unverified accounts will be required to sign up for a $1 annual subscription to be able to post, and interact with other posts. Within this test, existing users are not affected."
This has arisen many debates and its effectiveness has been highly questioned. As you read above, new users that want to actually engage on the app need to pay $1, on the other hand, for those who want to just read posts and not post anything, wouldn't need to pay.
Moreover, the company firmly maintains that this is just a powerful strategy for the success of their program "Not a bot" and not a profit generator. Nevertheless, many are sceptical.
"This new test was developed to bolster our already successful efforts to reduce spam, manipulation of our platform and bot activity, while balancing platform accessibility with the small fee amount. It is not a profit driver. And so far, subscription options have proven to be the main solution that works at scale."
One thing is clear
Musk continues to surprise and some are hoping that this new policy doesn't extend to their country or for the payment strategy to be broadened to include mandatory payments for all users.
How can we interpret this new change on X, following Musk's administration?
The company has gone through many changes in its brand core under Musk's administration. From the drastic change of company name and logo, to the changes of remarkable features like the very popular blue mark.
These changes have faced scrutiny and have scared many users, from which many of them formed part of the revenue stream of formerly known Twitter. Resulting in a 50% drop in advertising revenue, generating debt.
So, even though the company maintains this is part of their "Not a bot" campaign, many stand by their opinion that this is a new profit generator. After all, the company needs to make up for the losses somehow.
About Frizbit
1. Frizbit's New Product: AI-Powered Product Recommendations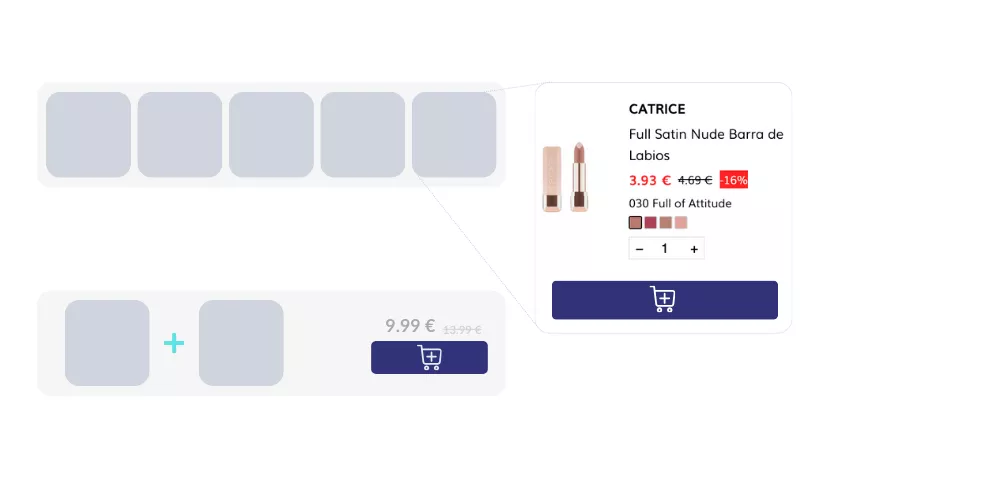 At Frizbit, we are thrilled to introduce our latest product: AI-Powered Product Recommendations. This innovative product empowers our customers to offer AI-driven product suggestions based on each user's behaviour, resulting in a significant boost in their average order value.
What are the benefits?
Our customers can expect several advantages from this new product:
Increase the average order value
Have an ROI higher than 2000%
Leverage authentic AI technologies
Enjoy adaptability with A/B testing and the ability to define different scenarios
This feature has been meticulously crafted to cater to the diverse needs of e-commerce, travel, classified, and B2B SaaS markets by our development team.
We believe its power resides in enabling businesses to deliver hyper-personalised recommendations and fostering loyalty through the creation of meaningful shopping experiences.
The recommendations can be used on-site to show the recommendations when the users are still on the website, as well as it seamlessly integrates with our cross-channel platform, giving our customers the opportunity to offer recommendations to their customers to precisely what they are searching for across multiple platforms.
We are confident that this advanced feature will make a meaningful and positive impact on businesses by enhancing user engagement, driving sales, and creating personalised customer experiences that truly stand out.
Ready to elevate your customer's online experience?
Reach out to our dedicated team or request a free demo to try Frizbit's Customer Engagement Platform, so you can specifically cater your business goals.
Missed the previous edition?