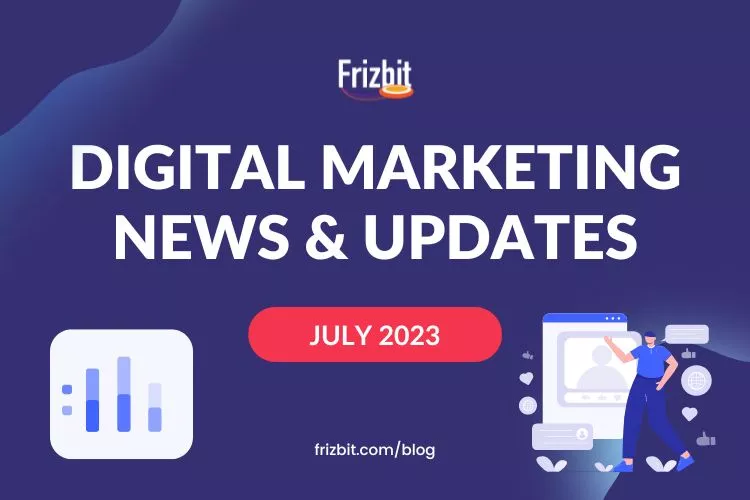 We're thrilled to welcome you to our monthly newsletter full of the latest digital marketing news, industry updates, and valuable insights.
July was indeed an exciting month for the Social Media Updates featuring the launch of Threads, the new Instagram's Twitter-too-inspired app, the rebranding of Twitter and new revolutionary vision of the X app, and lastly, but not less relevant; the roll-out of video messaging capabilities from WhatsApp –available for brands too 😉.
On the other hand, the Martech field had also some interesting updates, and here we must highlight the long-time awaited Summer Editions 23′ updates released by Shopify showcasing +100 features to elevate the software experience. It couldn't be another way, so we have hand-picked our top 5 favourites updates to elevate online retail businesses.
Keep up to date in the dynamic world of marketing, where staying informed is key to staying competitive.
Search Marketing Updates
1. Bing AI Chat and Copilot Extend Their Reach to Google Chrome Users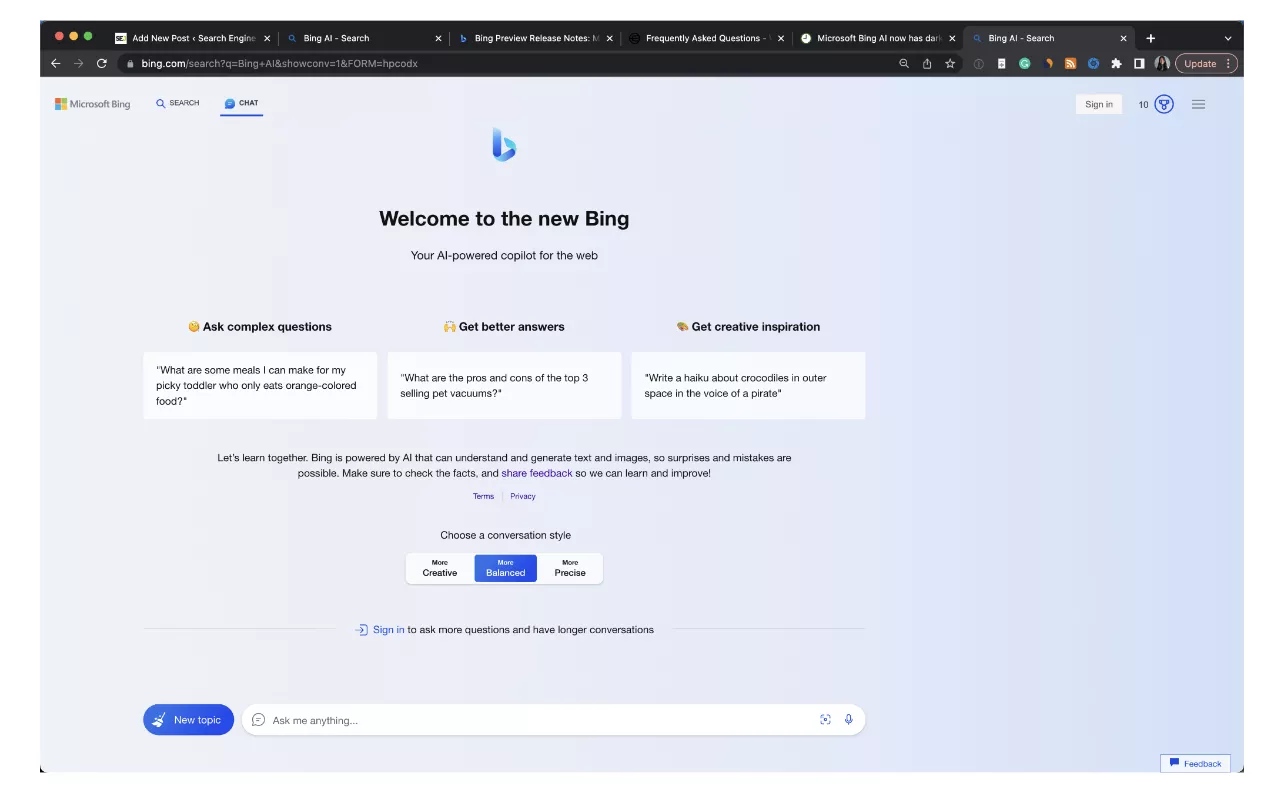 SOURCE: SCREENSHOT OF BING AI IN CHROME
In a move that has caught many by surprise, Microsoft's Bing AI chatbot and AI-powered search copilot are breaking free from their scopes in Microsoft Edge and the Bing app, and making their presence felt among select users of the Bing AI for Google Chrome browser.
Our main concern is how is this going to compete with the recent launch of Google's Bard AI?
Caitlin Roulston, Director of Communications at Microsoft, shared insights via email, stating, "We're currently piloting Bing Chat on Safari and Chrome, extending this privilege to a limited user base as part of our meticulous browser testing phase. Our plan is to make this innovative feature accessible to a wider audience once we've successfully navigated through our standard testing protocols."
Traditionally, only individuals logged into their Microsoft accounts were granted the keys to the AI chat interface, accessible via the Bing app or the Microsoft Edge browser.
New Horizons
Bing AI Chat Takes on Google Chrome en an intriguing twist, a chosen few can now interact fluidly with the Bing AI chat interface, even on browsers beyond Edge. Of course, there's a little handshake involved here – users need to accept the terms of service and give a nod to the AI chatbot's privacy statement before diving in.
However, there's a nuance to be aware of: while Edge users can revel in the AI chatbot's capacity to handle a generous character input, those engaging with it on Chrome are limited to a cap of 2,000 characters.
Elevated Search
Bing's Copilot AI Joins the Google Chrome Party, it's not just chat that's making waves.
A subset of logged-in users might find themselves pleasantly surprised by the presence of Bing's AI-powered copilot feature, subtly enhancing their search outcomes on the Chrome browser.
The Bing AI experience on other browsers may not match the prowess it exhibits on Edge, but it does promise to elevate the search journey.
The remaining question is, what can we expect in the future of Search with Microsoft Bing?
Microsoft's openness to extending its AI capabilities across diverse platforms hints at a future brimming with AI-driven possibilities, even though a few limitations linger on for the present.
As Bing AI features permeate Google Chrome, the impact on Google Bard and the Search Generative Experience remains an open question, waiting to be explored.
Meanwhile, SEO experts might want to factor in Bing AI as a supplementary tool in their digital arsenal, especially when navigating the intricacies of search optimization across a spectrum of platforms.
2. Google's Bard AI Chatbot Takes a Leap Forward: Speaking and Visual Responses Now Live (including the EU)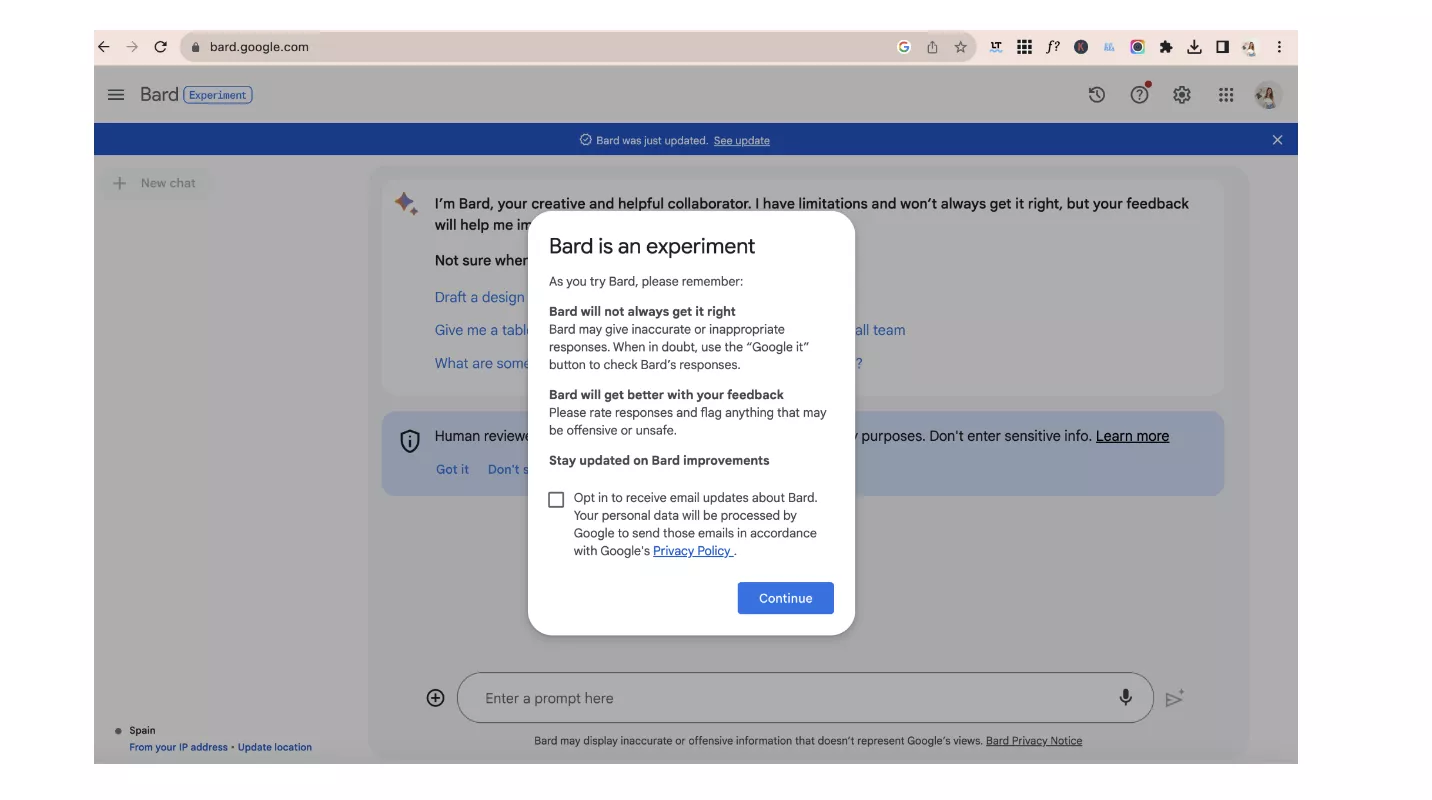 SOURCE: SCREENSHOT OF THE AUTHOR
Google's Bard AI chatbot is stepping up its game with a slew of new capabilities, marking a significant advancement in conversational AI technology.
The latest updates allow Bard to not only speak its responses but also intelligently react to prompts that involve visual content. And the excitement doesn't stop there – Bard is expanding its reach, now available in a wider array of regions, including the EU.
In the most recent Bard's July update, Google unveiled the enhanced features of Bard, positioning its spoken responses as a useful tool for correcting pronunciation, enjoying poems, or even engaging with scripted content. To experience Bard's spoken responses, all you need to do is enter a prompt and tap on the sound icon. Supporting over 40 languages, this feature is live and ready for use.
Another noteworthy addition is the integration of images into prompts.
This innovation was first showcased at Google's I/O conference in May, demonstrating the potential to request assistance in crafting humorous captions for images. While initially available in English, Google has plans to extend this feature to other languages in the near future.
Expanding Bard's Skill Set Google's enhancements go beyond spoken and visual responses. Users can now pin and rename conversations, share responses with friends, and even customize the tone and style of Bard's replies, tailoring the AI interaction to their preferences.
Bard's Global Outreach
Originally launched in March, Bard was initially restricted to the US and the UK. Since then, Google has embarked on a journey to expand Bard's footprint across the globe. The recent developments have resulted in Bard's availability across the European Economic Area (EEA) and Brazil, extending its influence to an even wider audience.
A Noteworthy European Milestone
The expansion of Bard's reach to the EU is particularly significant, considering the previous delay due to privacy concerns. With the necessary adjustments and safeguards in place, Bard's entrance into the European market signifies a step forward in aligning AI capabilities with the region's privacy regulations.
As Bard continues to evolve and adapt to users' needs, it sets the stage for the future of conversational AI. The integration of spoken responses, visual prompts, and customization options showcases Google's commitment to enhancing user experiences through innovative AI-driven interactions.
Whether it's refining language skills, adding a touch of creativity to images, or fostering seamless conversations, Bard's multifaceted abilities bring us closer to a world where AI-powered interactions are more engaging, informative, and entertaining than ever before.
3. Resolving the Google News Indexing Disruption: A Closer Look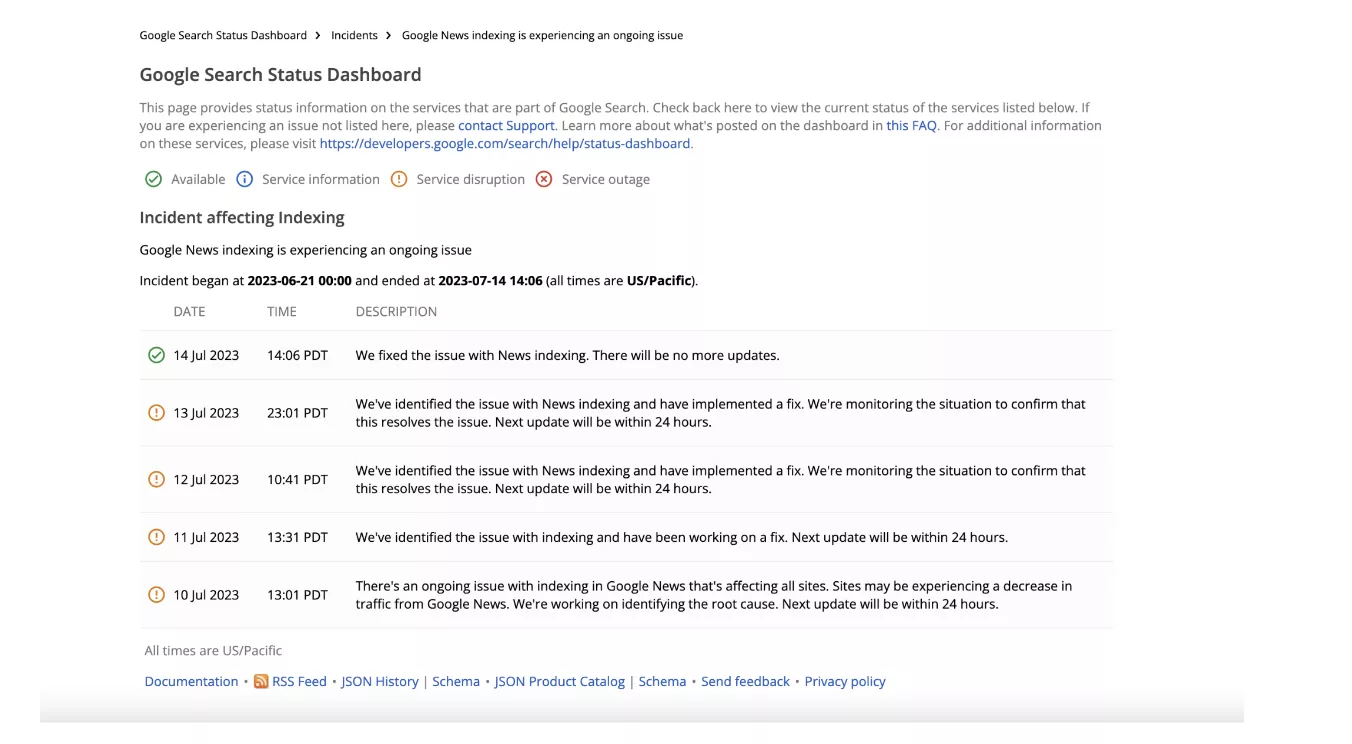 In a recent update that comes as a sigh of relief for content publishers, Google has officially declared the resolution of the Google News indexing disruption that had been causing fluctuations in traffic over the past few weeks.
The announcement was made through the Google Search Status Dashboard, a tool that keeps users informed about the status of Google Search systems and any ongoing issues affecting multiple sites or users, potentially impacting site performance.
Google's assurance of the fix also comes with the confirmation that no further updates regarding this particular disruption will be posted. This news should bring a sense of stability to those who have been experiencing the turbulence in their Google News traffic.
The Rollercoaster Ride
Unpacking Google News Traffic Fluctuations During the recent weeks, a wave of uncertainty had swept through the Google News ecosystem, leaving some content creators scratching their heads about the reasons behind the variations in their traffic. While syndicated content rankings were suspected to play a role, it wasn't the only factor causing this digital commotion.
Even data from Semrush Sensor picked up on what can be aptly described as a "Googlequake" within the News category in the last 30 days, further affirming that something was indeed afoot.
The Road Ahead
Root Cause Investigation and Mitigation Now that the disruptive chapter has concluded, the baton has been passed to the Search Engineering team to embark on a journey to discover the root cause behind the Google News indexing issue. This deep dive aims to uncover the underlying factors that led to the disruption in the first place.
During this investigative phase, measures might be put in place to mitigate the impact of similar disruptions. These measures could range from technical adjustments to strategic alterations to curtail the scope of any future issues.
Martech Updates
1. Unveiling Shopify Summer Editions 2023: Our Top Pick for eCommerce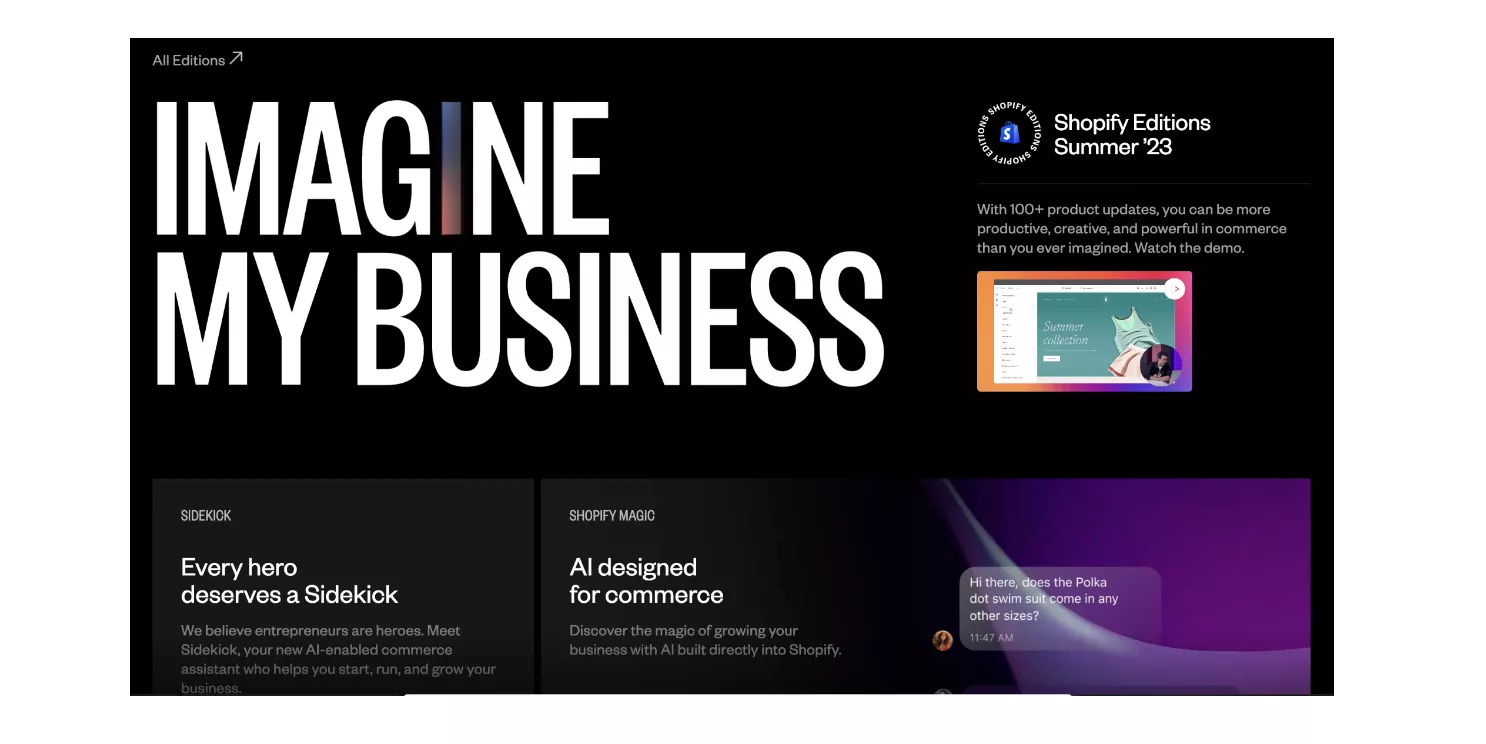 SOURCE: SHOPIFY
Brace yourselves, as Shopify makes an electrifying entrance into the mid-year season with the grand reveal of Shopify Summer Editions 2023.
This latest iteration packs a punch, featuring a whopping 100+ fresh products and updates that are poised to revolutionize the experience for merchants across the platform.
Overall, these are the areas of some of the most interesting Shopify updates for eCommerce:
Checkout improvements: Shopify has made significant improvements to its checkout experience, with a focus on making it more customizable and extensible. Merchants can now use new APIs and updates to create unique checkout experiences with apps, and manage them right from within the checkout editor.
B2B features: Shopify has also added a number of new features to its B2B platform, including native volume pricing, storing B2B customers' credit cards, and PayPal support for B2B. These features are designed to make it easier for businesses to sell to other businesses.
AI-powered tools: Shopify is also investing in AI-powered tools to help merchants with their businesses. For example, Shopify's new AI-powered product recommendations engine can help merchants to suggest products to customers that they are likely to be interested in.
New apps: Shopify has also added a number of new apps to its App Store, including Subscriptions, Bundles, and Marketplace Connect. These apps can help merchants to sell subscriptions, bundles, and products from other merchants on their own stores.
Here's our top-pick of the 5 updates tailored to Retail eCommerce:
1. Meet Sidekick: Your AI-Powered Commerce Assistant
A true trailblazer, Sidekick emerges as the first-of-its-kind AI-enabled commerce assistant, specially tailored to empower business owners navigating the complexities of Shopify. Think of Sidekick as your digital partner-in-crime, available to answer queries and provide guidance as you embark on your journey to establish and expand your business.
Merchants can enlist Sidekick's expertise for a variety of tasks:
Crafting discounts for seasonal sales
Revamping your store's ambiance for summer vibes
Identifying top-selling products
Guiding you through email campaign preparation
2. Shopify Credit: Rewriting the Business Credit Card Experience
Recognising the complexity of business credit cards, Shopify introduces a game-changing solution: Shopify Credit. Designed exclusively for Shopify merchants in collaboration with Stripe and accepted worldwide wherever Visa is honoured, this business credit card comes with benefits like up to 3% cashback on eligible purchases.
Shopify Credit prioritizes simplicity with a hassle-free application process and zero fees – no monthly, annual, setup, or late fees whatsoever. Moreover, the credit limit adjusts in tandem with your sales, bypassing the traditional credit history assessment.
3. The Wizardry of Shopify Magic: A Glimpse into New Features
Prepare to be amazed, as Shopify introduces nine new features within the realm of Shopify Magic. A few highlights include:
Personalized FAQ and response recommendations, taking the hassle out of crafting customer responses
Instant generation of blog posts tailored to holidays, milestones, or campaign ideas, with customizable tone and multilingual capabilities
Instantly generated commerce-focused emails complete with captivating subject lines, compelling content, and optimal send times for maximized impact
4. Shopify Collective: A Gateway to B2B Growth
Expanding product offerings often means taking on inventory risks. Shopify Collective, a new avenue for business-to-business (B2B) growth, resolves this challenge.
Merchants can effortlessly source new products from beloved Shopify brands, which are then directly shipped to their customers.
This streamlined cross-selling approach empowers merchants to diversify their offerings without the burden of inventory management.
5. Shopify Connect: Master Multi-Channel Selling
As businesses flourish, so do the platforms they engage with. Shopify Connect steps in to simplify multi-channel selling, allowing merchants to tap into major marketplaces like Amazon, Walmart, and eBay.
Seamlessly connecting, managing, and fulfilling orders from within Shopify, this all-in-one solution streamlines operations and opens doors to new customer bases.
While Shopify Marketplace Connect is free to install, additional costs may arise, with the first 50 marketplace-synced orders per month being complimentary, followed by a 1% fee per extra synced order capped at $99 per month.
2. Squarespace Unveils New Store Page Features, Challenging Shopify's Dominance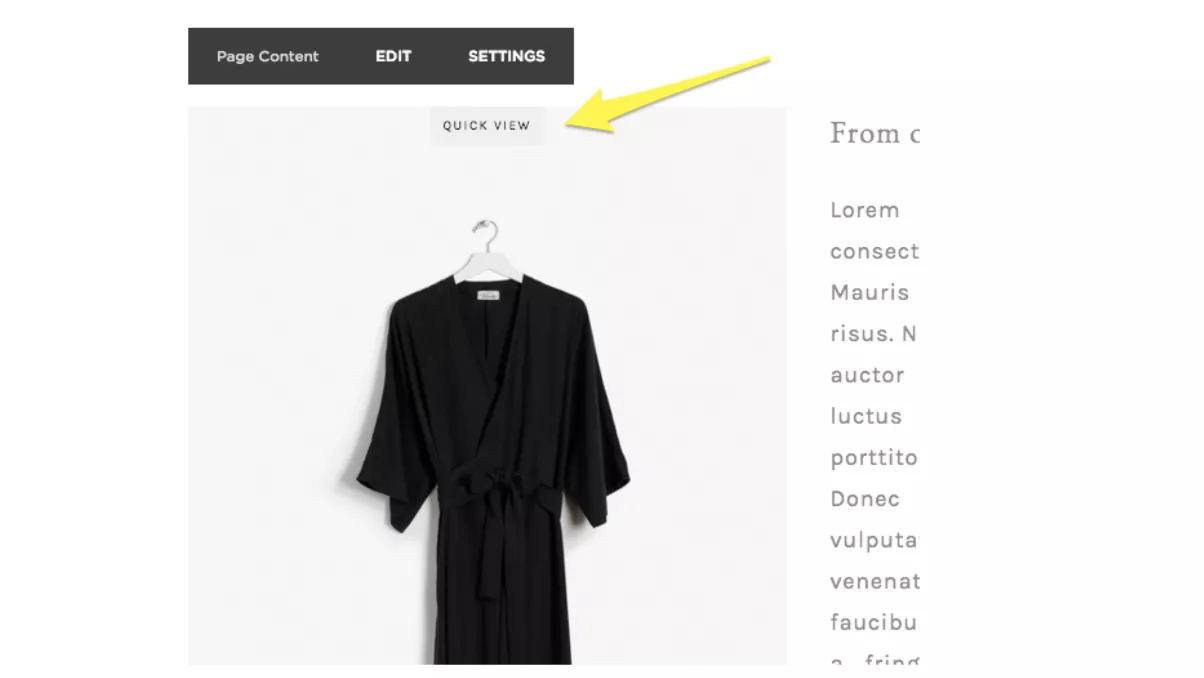 SOURCE: SQUARESPACE
Squarespace is making a bold move by introducing a host of new store page features that are set to give Shopify a run for its money.
With a focus on elevating the shopping experience, Squarespace now offers capabilities like product quick view, image zoom, hover effects, and waitlists, all designed to enhance customer engagement and satisfaction.
Zooming in on Details:
Image Zoom The introduction of image zoom allows customers to have a closer look at product images, delving into intricate details such as material and texture. This feature can be activated either by hovering over the image or by clicking on it. While it promises to provide a more immersive shopping experience, it's important to note that image zoom is currently unavailable on mobile devices.
Seamless Exploration:
Quick View Squarespace's quick view functionality enables customers to delve into item details without leaving the current page. With just a click of a button, a lightbox appears, displaying product specifics, images, and a convenient "View Full Item" link that leads to the product's dedicated page. This feature aims to keep customers engaged and encourage them to explore more products within your store. Quick view buttons are strategically placed on summary blocks, product blocks, and store pages, offering customers a frictionless browsing experience.
Interactive Delight: Hover effects add a touch of interactivity to your store, infusing movement and information when customers hover their cursor over a product image. This dynamic feature not only adds a layer of engagement but also animates the shopping journey, providing a unique and captivating experience.
As Squarespace ventures into this realm of enhanced e-commerce features, it presents a noteworthy challenge to the industry giant Shopify.
By empowering merchants with innovative tools to enrich their online stores, Squarespace aims to create a more enticing environment for both customers and businesses. As the competition heats up, it will be fascinating to witness how these platforms evolve and transform the world of online retail.
Social Media Updates
1. Instagram launches Threads App and after 20 days already sees decline in usage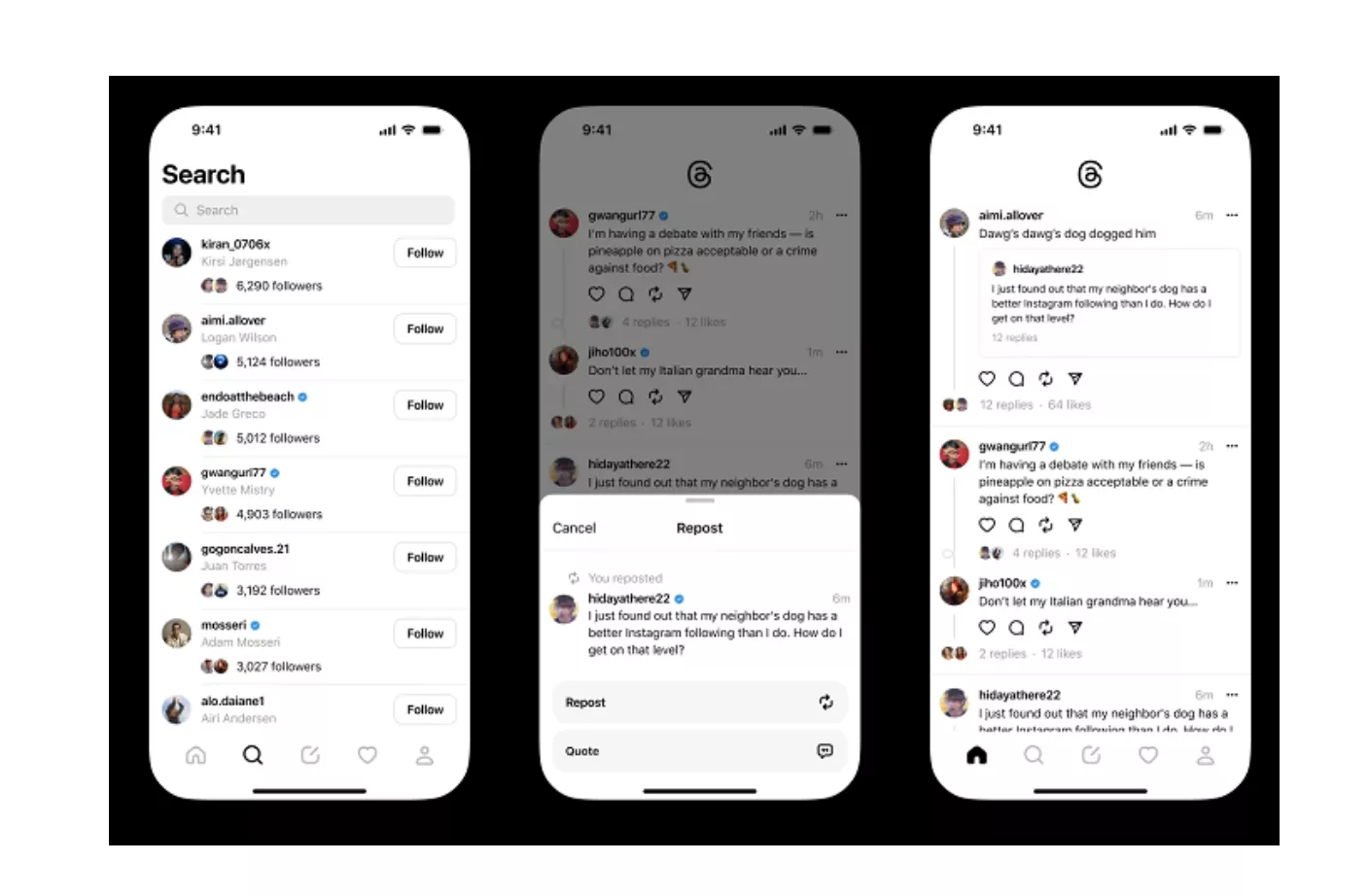 SOURCE: THREADS APP
Meta's freshly unveiled Threads app, positioned as a potential rival to Twitter, has recently gone live, unveiling its design and functionality in real-time. Simultaneously, the Instagram team has been shedding light on upcoming features that will grace the platform shortly. The initial impression is undoubtedly positive.
Threads' interface boasts a sleek and uncluttered layout, encompassing the fundamental features akin to a typical Twitter feed. In crafting Threads, Meta has intelligently mirrored the core Twitter experience. Notably, a subset of users had the privilege of early in-app access, allowing for an exploratory delve into the app's attributes.
Here are the key differences between Twitter and Threads so far:
| | | |
| --- | --- | --- |
| Feature | Threads App | Twitter |
| Layout | Clean and simple design | Classic Twitter interface |
| Thread Length | Up to 500 characters | 280 characters (tweets) |
| Media Support | Links, photos, videos (up to 5 mins) | Links, photos, videos (up to 2 mins 20 secs) |
| Feed Display | Main feed with recommended content | Chronological feed with ads and trends |
| Engagement | Liking, re-posting, replying to updates | Liking, retweeting, replying to tweets |
| Algorithm | Emerging AI-powered content recommendations | Algorithmic timeline and content suggestions |
| Monetization | Future monetization strategies in development | Advertising, promoted tweets, trends |
Issues and Challenges
Despite the promising features, Threads' journey has hit a bump. Early statistics reveal a substantial decline in daily active user count and slower download rates. The app's hype has been met with scepticism, and some critics predict its failure, drawing parallels with Musk's Twitter changes. The decline in usage raises questions about the app's potential and whether it's worth investing in.
Optimism for Threads' Potential
Despite the initial setbacks, Threads retains significant potential due to several factors:
Interest in an Alternative: Over 117 million users have already created Threads profiles, indicating a demand for an alternative to Twitter. This number accounts for almost half of Twitter's active user base.
Polarizing Figures on Twitter: Elon Musk's approach has alienated many Twitter users, making them open to alternative platforms. Many celebrities and journalists have expressed their discontent with Twitter's direction and might find a new home in Threads.
Global Market Traction: Threads is gaining traction in emerging mobile markets like India and Brazil, suggesting that its growth might not solely depend on the US market. If it resonates with users in these regions where Twitter has struggled, it could experience a resurgence.
Ongoing Development: Threads' early version is just a glimpse of its potential. The introduction of features like a 'Following' feed and continued enhancements could reignite interest and engagement.
What can we expect from the war on social media channels and innovation?
Threads' story is a reminder that the competition in the social media landscape is intense. While early declines in usage might raise concerns, the potential for resurgence remains real, especially if Threads addresses the limitations and builds on its unique features.
As Musk's Twitter changes unfold and user sentiments evolve, Threads has the opportunity to carve out its own niche and offer users a distinct and engaging experience relying on brand loyalty.
2. Twitter's Rebrand to X: More Than Just a Logo Change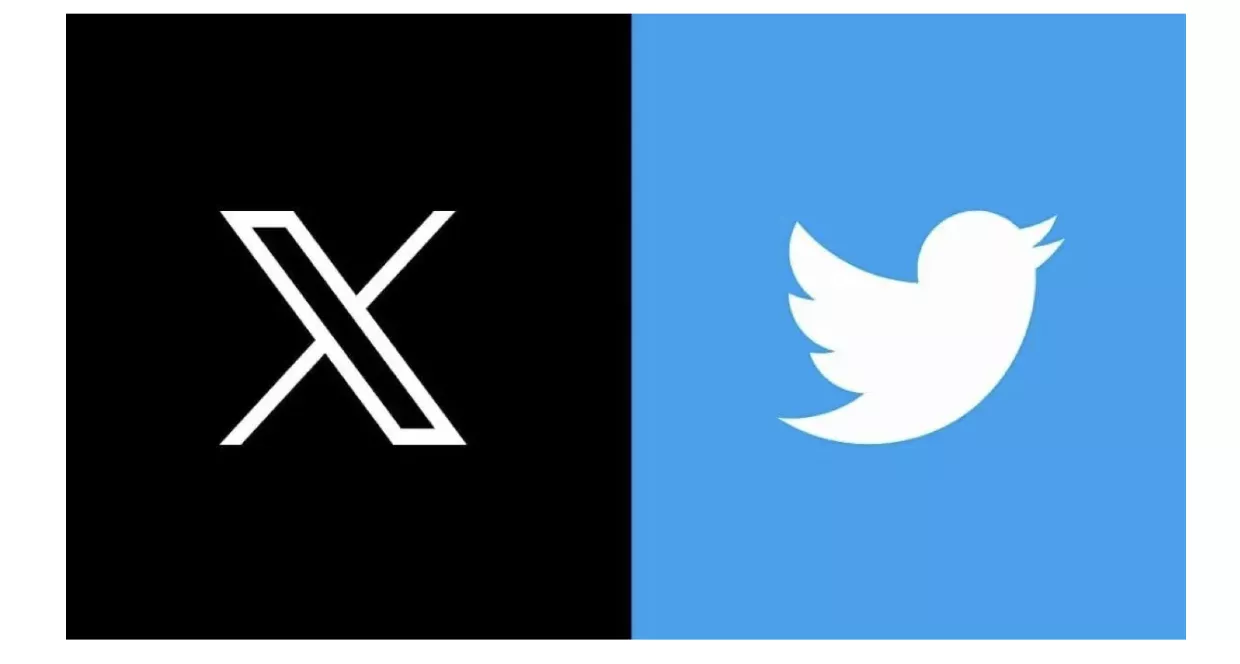 SOURCE: LOGOS OF TWITTER AND X
Twitter is undergoing a profound transformation, emerging as X, in a move that has sent ripples of excitement through the digital landscape.
This evolution signifies much more than a cosmetic shift in logo; it's a metamorphosis that holds the promise of reshaping the platform's essence and functionalities.
The implications of this transformation are far-reaching and speak to a strategic overhaul that goes beyond visual aesthetics.
https://t.co/bOUOek5Cvy now points to https://t.co/AYBszklpkE.

Interim X logo goes live later today.

— Elon Musk (@elonmusk) July 23, 2023
Elon Musk envisions X as a platform that bridges the divide between social interactions and financial services. It seeks to transform from a platform of public messaging into a one-stop shop for an array of financial services.
Musk's inspiration for X stems from China's WeChat—a platform that revolutionised everyday interactions. He aims to replicate this transformation in the Western context, creating a space where users conduct various activities seamlessly.
While platforms like WeChat have gained immense traction in China, the Western audience has shown varying levels of interest in embracing an all-encompassing utility app. Musk's X seeks to bridge this gap, offering a platform that merges social interactions with financial empowerment.
Out goes the familiar Twitter bird logo, and in comes an interim X logo. This visual rebranding echoes a departure from the familiar, marking the advent of something novel and transformative.
In this case, we must adjourn: if incorporating payments, which logo would you prefer: the native bird logo or the newer tech image?
As the rebranding journey unfolds, it becomes evident that the shift from Twitter to X is not just a logo swap; it's a strategic recalibration that aims to redefine how we interact, transact, and engage with the digital realm. The vision Musk has for X as an integrated financial hub and a holistic digital space is bound to spark curiosity, and to usher in a new era of connectivity and empowerment.
3. WhatsApp Elevates Chats with the Addition of Video Messages
sometimes you just have to see it to believe it 👀 now you can capture the moment right when it happens with a Video Message. pic.twitter.com/QiDTRhRRJ6

— WhatsApp (@WhatsApp) July 27, 2023
WhatsApp, the ubiquitous messaging platform, has taken another stride towards enhancing your communication experience by introducing video messages. This new feature, akin to voice messages, empowers you to embed video clips into your WhatsApp conversations.
In the realm of WhatsApp, these video messages make their appearance in circular frames, seamlessly integrating with the app's interface. This innovation offers a novel way to share real-time responses within the conversation stream.
WhatsApp provides insight into this addition:
"Video messages are a real-time way to respond to chats with whatever you want to say and show in 60 seconds. We think these will be a fun way to share moments with all the emotion that comes from video, whether it's wishing someone a happy birthday, laughing at a joke, or bringing good news."
This expansion aligns WhatsApp more closely with other social and messaging platforms, facilitating the power of video communication. Indeed, video interaction has quickly risen to prominence across various apps, becoming the preferred mode of interaction.
Recording a video message is seamless – simply tap on the screen to switch to video mode, then hold to initiate recording. For a hands-free recording, a simple swipe up locks the recording. Videos play automatically in mute mode when opened within a chat, and tapping on the video activates the sound. Moreover, WhatsApp ensures the security of these video messages through end-to-end encryption.
In addition to individual users, brand accounts could harness the potential of video messages. From sharing product demos and previews to providing customer service in an innovative way, short video clips present an array of possibilities.
The introduction of video messages on WhatsApp has already begun its rollout, with availability extending to all users in the weeks to come. This evolution promises to augment the way we communicate, bridging distances with visual emotion and dynamic engagement.
Updates from Frizbit
1. Frizbit will attend the World Aviation Festival in Portugal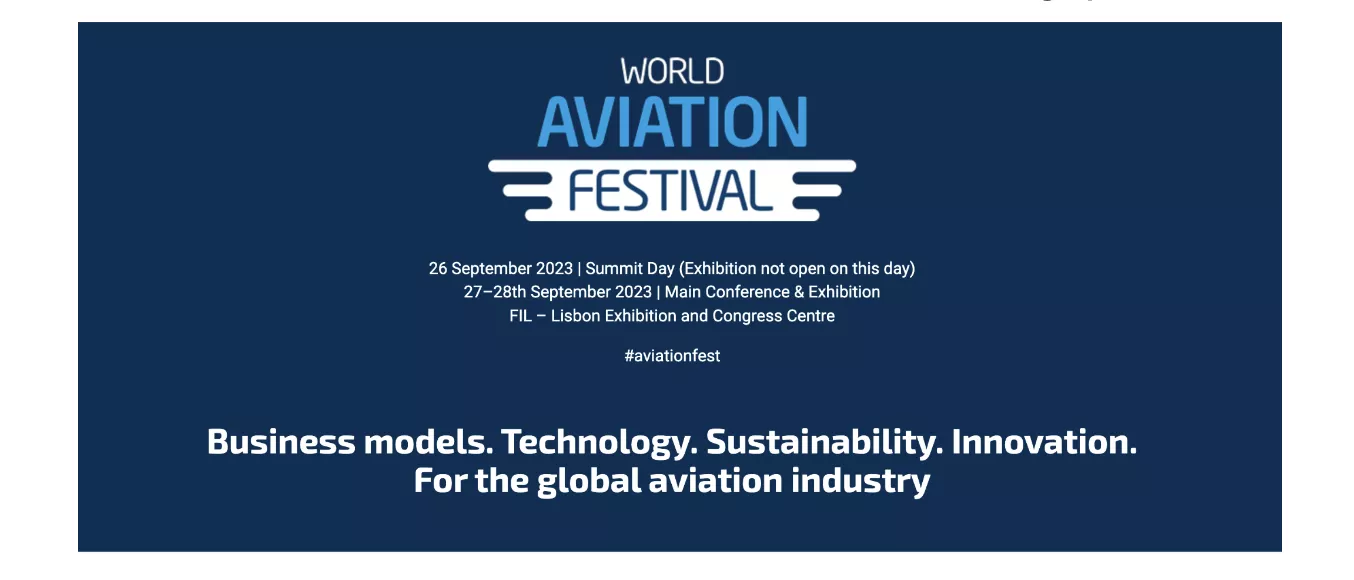 SOURCE: WORLD AVIATION FESTIVAL
Frizbit is gearing up to make its mark at the highly anticipated World Aviation Festival, scheduled to take place in Portugal from September 26th to 28th, after having successfully attended the Americas Aviation Festival last May.
With its finger on the pulse of marketing innovation, Frizbit is eager to contribute its insights to the aviation industry's ongoing conversations. The festival, renowned for bringing together aviation experts, industry leaders, and technology fans, offers an enriching platform for Frizbit to share its perspectives on hyper-personalised cross-channel customer engagement and the role of AI technology in reshaping the industry.
Keep an eye out for insights and takeaways from Frizbit's presence at the World Aviation Festival.
Missed the previous edition?