Keeping up with digital marketing trends is already a very time consuming process by itself without adding the uncertainty and changes brought as a consequence of Covid-19 pandemic. 2021 was still a year of challenges and adjustments and it's time to take it all in, review what we learned and prepare for the next chapter.
Marketing trends continue to move towards offering users personalised experiences through innovative technology that, at the same time, reduces load work for marketing teams. It's all about optimisation of processes that increase engagement and are cost effective.
With that in mind here are the top:
1. Conversational Marketing
Conversational marketing is AI powered forms of conversation to talk to consumers. Is the use of interfaces such as live chats, chatbots or voice assistants to engage in conversations with customers in a more human manner.
More and more, consumers are seeking connections and personalised treatment when evaluating shopping options. Brands need to respond to this need and apply strategies that give their customers what they want.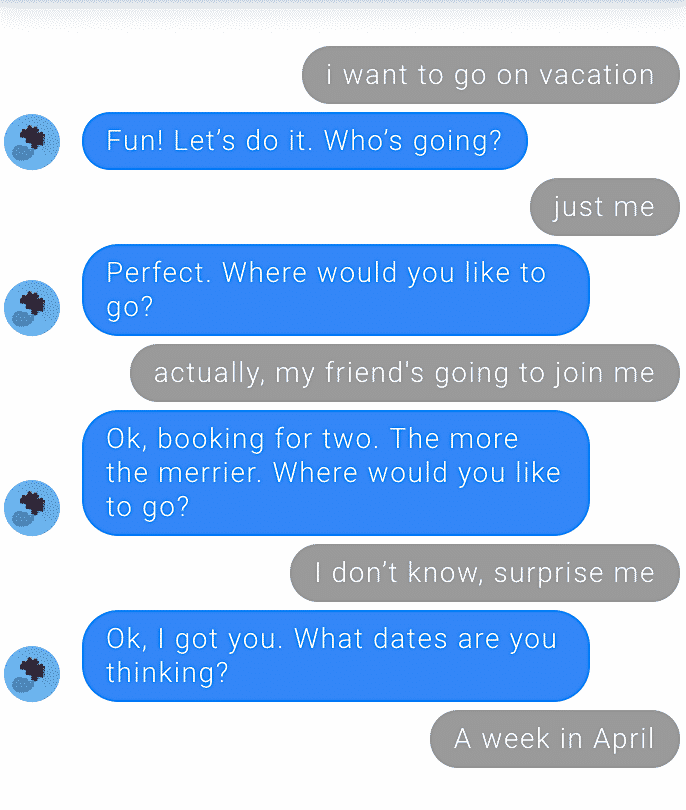 Adding a tool that allows engaging interactions it's a great method to connect with consumers and offer personalised experiences that provide value for both parties:
Brands will gain insights about their consumers
Users will get response to their questions with super personalised conversations
Another important fact to keep in mind is that users are looking for almost immediate responses from brands when they have doubts about a product or service. Conversational marketing can provide instant connections between customers and brands, facilitating communication that gains their trust.
Machine learning allows you, through conversational marketing tools, to create interactions tailor made for each user. Including it into your marketing strategy will help you assist them in selecting the right option for them and creating a relationship that ultimately leads to increasing your sales.
As a trend within the trend, we can talk about WhatsApp Marketing. WhatsApp is the leading messaging platform in the world, followed by Facebook Messenger. For some years now, Facebook has been promoting WhatsApp as a tool for businesses, either through WhatsApp Business (focused on small businesses) or through WhatsApp Business API. You have a complete guide about WhatsApp Marketing in this link.
2. Gamification
Think about the features that make games so much fun and engaging. Now try and apply them to a website: that's gamification put simply. Gamification marketing is the practice of including gaming elements in a non-gaming environment with the objective of increasing engagement and it's a major digital marketing trend for 2022.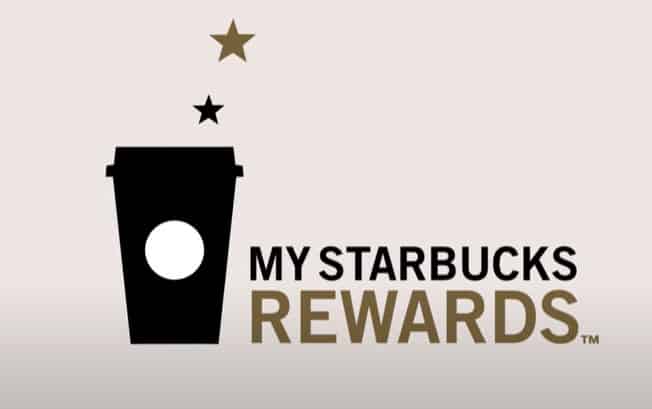 Gamification is a very creative way for any type of online business to get their message across and make it more memorable in an environment where it is very difficult to stand out and make an impact.
Here are some examples on how you can include gamification in your digital marketing strategy:
Countdowns: users are challenged to complete certain actions in a limited period of time
Achievements: points, badges, or some kind of reward is given to users for reaching an accomplishment.
An actual game: you can create a game on your site for users to play and offer them a reward depending on how far they make it!
There are many advantages from gamification: increases user engagement, CTRs and conversions. You just need to find the best option that suits your business and try it out!
3. Marketing Automation
Marketing automation refers to software that allows you to set up campaigns (emails, SMS or web push notifications) that are "triggered" and sent by a specific action taken by the user. With these types of tools you can schedule messages for a certain date like Black Friday, for example, or define scenarios based on user behaviour that activate a specific message.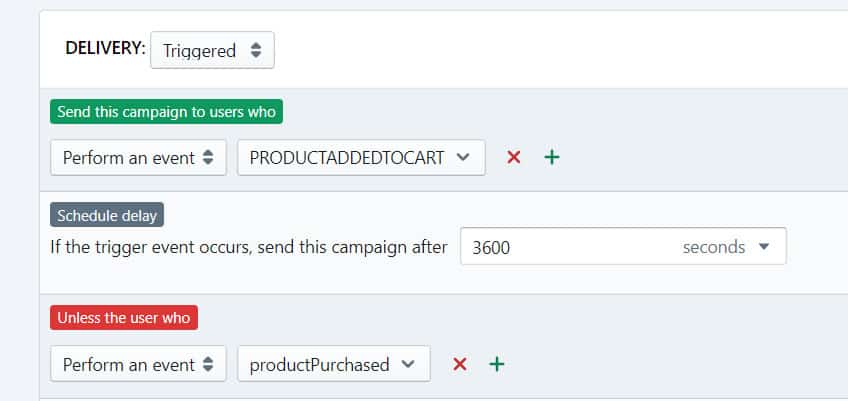 The great thing about marketing automation is all the time you can save. You only need to set up your campaigns one first time and then everything keeps working automatically. Plus, since the campaigns are usually behaviour-based, they offer users super personalised information that's relevant to them, thus increasing their engagement with your brand.
According to TheeDigital 77% of companies that have implemented some sort of marketing automation tool have seen an increase in conversions thanks to lead nurturing automated campaigns.
Besides, marketing automation is within everyone's reach. There are tons of tools that offer a free subscription option out there for companies of all sizes and budgets to benefit from this strategy.
4. Programmatic Advertising
Programmatic advertising is the automation of the media buying process. Normally, marketers would have to manually search for advertising space, create proposals and negotiate terms. With programmatic advertising they can automatically bid for an ad space, getting rid of all the manual, time-consuming process and focus on campaign optimization.
According to Projector, "brands are now assigning up to 50% of their ad budgets to programmatic advertising, and the trend is expected to exceed $100 billion in 2022."
One of the reasons programmatic advertising is so effective is that it uses data insights to place and show the most relevant ad, to the right user at the right time. This ultimately results in better CTRs and improves ROI.
5. Online Reviews
Reviews and customers' opinions have always been important, but 2022 is the year to focus on expanding the online reviews of your business. Keep in mind that now, more than ever, people are taking time to evaluate their options before making a purchase decision, and what better source of information than previous shoppers telling their experiences?
Good online reviews have the power to attract new customers to your business because they offer other potential customers a level of credibility like no other message that comes directly from you as a brand.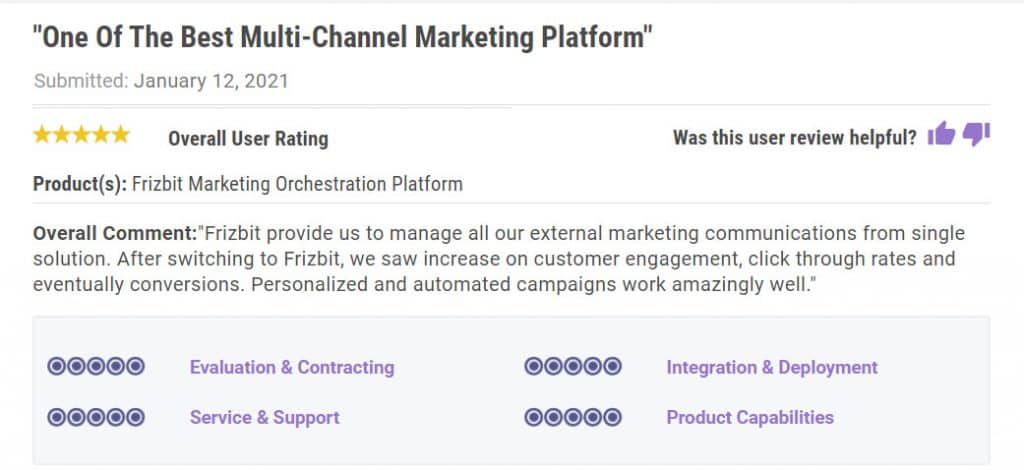 Depending on your type of business some review platforms will work better and suit you best. For example, for a retailer or local shop, Google Business will be the main review platform. But if you are a B2B software company, your customers will look you up on sites like Gartner or Capterra.
You can encourage your clients to write reviews of your business by offering some kind of incentive or reward. E-commerce sites like Shein, give points they later exchange for discount coupons to users that give stars, write a review and add photos of the product they purchase.
6. Automated Web Push Notifications
If you are a digital marketer and aren't aware by now of the definitive disappearance of third-party cookies next year, you have been living under a rock. But, yes, by the end of 2022 we are going to live in a 3rd party cookieless internet, so marketers need to find new, effective ways to do remarketing.
Luckily, web push notifications are here to save the day by offering a unique solution to do retargeting without ads, making them a must-have in your 2022 digital marketing strategy. 
Web push notifications are browser based messages that appear to users after accepting them and becoming subscribers. These messages are 100% customizable and respond to user behaviour and the actions they took when browsing your site.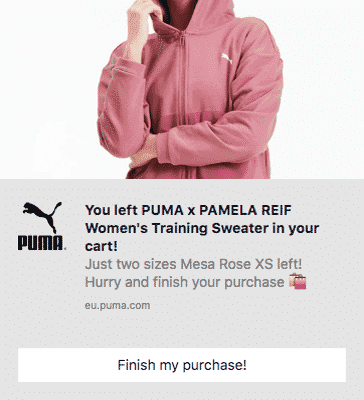 You can define as many scenarios you want and target users through every step of the funnel with engaging information that compels them to come back to your site and complete a transaction. Notifications can include product images, name, price, brand and pretty much any information you want.
The two main advantages of web push notifications are:
They reach users outside your site: even if users leave your website, they still receive a notification while they are browsing any other page, just like they would get an ad on another site if you put cookies on them.
They reach users on desktop and mobile devices: without needing to create an app, web push notifications reach subscribers on all devices.
Their reach and hyper-personalisation capabilities make web push notifications a very nice solution to tackle a cookieless internet.
7. Omnichannel Marketing
Omnichannel marketing is the strategy of using several channels such as social media, email, web push notifications and blogs to reach more users with a cohesive message to reach business goals. 
According to ClickZ omnichannel marketing strategies bring excellent results:
Engagement rate: 18.96% on omnichannel vs 5.4% on single-channel
Purchase frequency: 250% higher on omnichannel vs single-channel
Average order value: 13% more per order on omnichannel vs single-channel
Customer retention rates: 90% higher for omnichannel vs single-channel
In order to have a well-structured omnichannel marketing strategy, you can use marketing software that provides multi-platform automation services. If you center all of your communications in one place, you can offer a much more consistent image across platforms without overlapping one message with another at the risk of oversaturating users.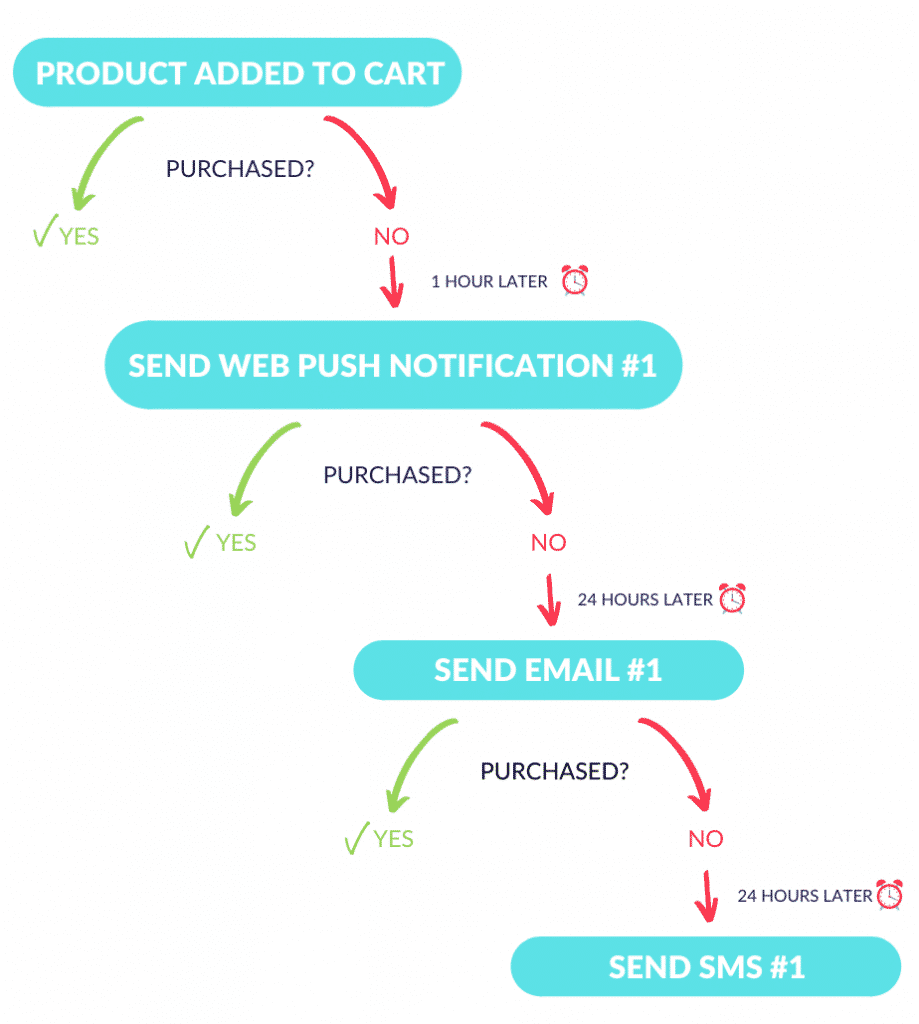 Via automation you can combine message sequences in different channels to reach users through the platform of their preference. For example, you can create a sequence to recover abandoned carts with a first message delivered through email, a second one via web push and a third one via SMS.
An omnichannel marketing strategy allows you to reach your customers where they are. Design messages that compliment one another and offer value during the entire customer journey and you'll see amazing results.
General Tips for you 2022 Digital Marketing Campaigns
Before we send off 2021, there are some marketing practices that will always be a cornerstone to make our strategies the best they can be:
Optimize with A/B tests: remember that no matter how much insight you have about your target audience, there's always room for improvement and A/B testing is your friend. When launching new campaigns, try different versions, analyze the results and optimize accordingly.
Content marketing is always a go: content marketing keeps gaining ground as a basis for any online business. A solid content marketing strategy that answers your target audience's pain points for every stage of the funnel is key to create brand awareness, generate leads and increase conversions.
Hyper-personalisation is extremely important: paradoxically in a world that has gone global, people are eager for personalised experiences. That's why (if you are not doing already) you give all of your communication a level of personalisation that makes users feel you are talking directly to them and that you cater to their needs specifically. This means including their names, the exact product they were interested in and any detail that makes the message as personal as possible.
Final Thoughts on Digital Marketing Trends 2022
It seems digital marketing keeps moving in the direction of offering super personalised experiences via AI and machine learning, whilst alleviating workload for makerteres to focus on optimization.
The imminent disappearance of third-party cookies will also require new solutions and strategies that allow brands to keep in touch and engage with their customers through time without diminishing their online experience.
Surely 2022 will bring along lots of surprises, new marketing tech and even revolutionize the social media world like the Clubhouse app did during early 2021. As always we will be here gathering the most important digital marketing trends for you every month.
In the meantime, we wish you a very merry Christmas and a Happy New Year!