Black Friday & Cyber Monday had just passed, and although it might seem that the peak season for sales had just passed, don't let your guard down as the holiday season continues through Christmas and New Year's Eve. 
If you are looking to make the most out of seasonal sales and want to give your customers a memorable shopping experience, then this blog is for you. We've compiled 10 of the best holiday marketing campaign ideas from some brands that are delighting their customers through their campaigns.
What to expect this holiday season?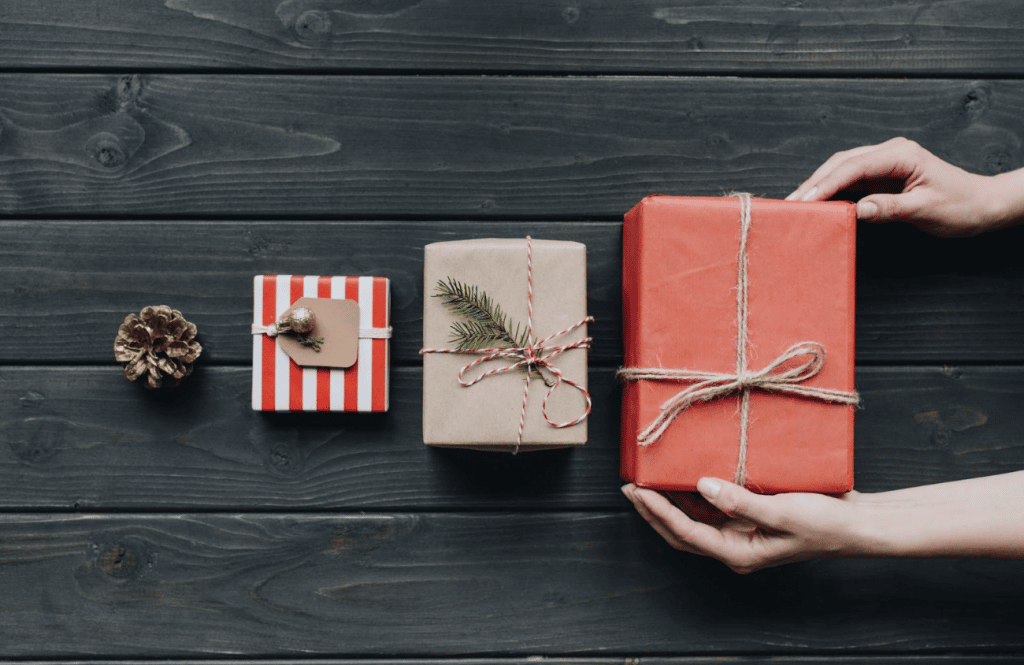 Source: Deposit Photos
Before we go any further with the examples, let's break down what this holiday season might look like for marketers. 
According to the 2022 Consumer Insights report from Google, customers are being more intentional about how they are spending their money. 80% of the customers had researched before making a purchase, while only about 20% had made the purchase on impulse. This might reflect in your campaigns by highlighting the emotional and physical benefits of your offer and showing reviews and comparisons to boost confidence.
The report has also shown that balancing pricing and quality has become a decisive factor when purchasing during the holiday season. In fact, 80% of them also stated that it is important that the products purchased are of the best quality too or that guarantees such as displaying high ratings or offering free delivery and returns also played a key role. 
Now, let's get to some examples of great holiday campaigns rolling out in 2022
10 Examples of great Holiday Marketing Campaigns
1. Apple: Share the joy
Every year, Apple's holiday ads are well-awaited, and this year was no different. For 2022 they decided to focus entirely on AirPods Pro using the slogan "Share the joy", after the roll-out of the Audio Sharing feature.
Historically, the company has been known for releasing ads that lean more towards the emotional side, however this year they've decided to stand out. The ad is upbeat, fast-paced, more dynamic and even less cold than the typical ads.

Why it works: Definitely, this ad goes against traditional and emotional marketing selling, and although it doesn't bring up tears to our eyes, it surely makes a difference from its competitors.
2. Coca-Cola: Christmas always finds its way 
Coca-Cola is well-known for its emotional holiday ads. During the ad for 2022, they decided to capture one of the most nostalgic yet beautiful feelings of missing a mother during the holiday season.
Why it works: Coca-Cola is keeping loyal to its marketing direction, which sets them as an industry leader in holiday ads. The ad also managed to convey such a range of emotions in just 30 seconds, and finally, the way nostalgia is brought up is done through careful actions that make it heart-warming. 
3. Amazon: Joy is made

'Joy is made' is the newest holiday ad from Amazon. It recounts the story of a father's love for his child and his desire to create a memorable experience for his daughter. He recognises the special attachment his daughter has developed to a snowball, and he then decides to recreate a life-size version of it in the backyard.
Why it works: Undoubtedly, the emotional factor plays a crucial role in this ad. Contrary to Coca-Cola, in this ad, Amazon showcases their platform directly as one of the means to create joy. It links their services with positive emotions.
4. Puma: Email Marketing Example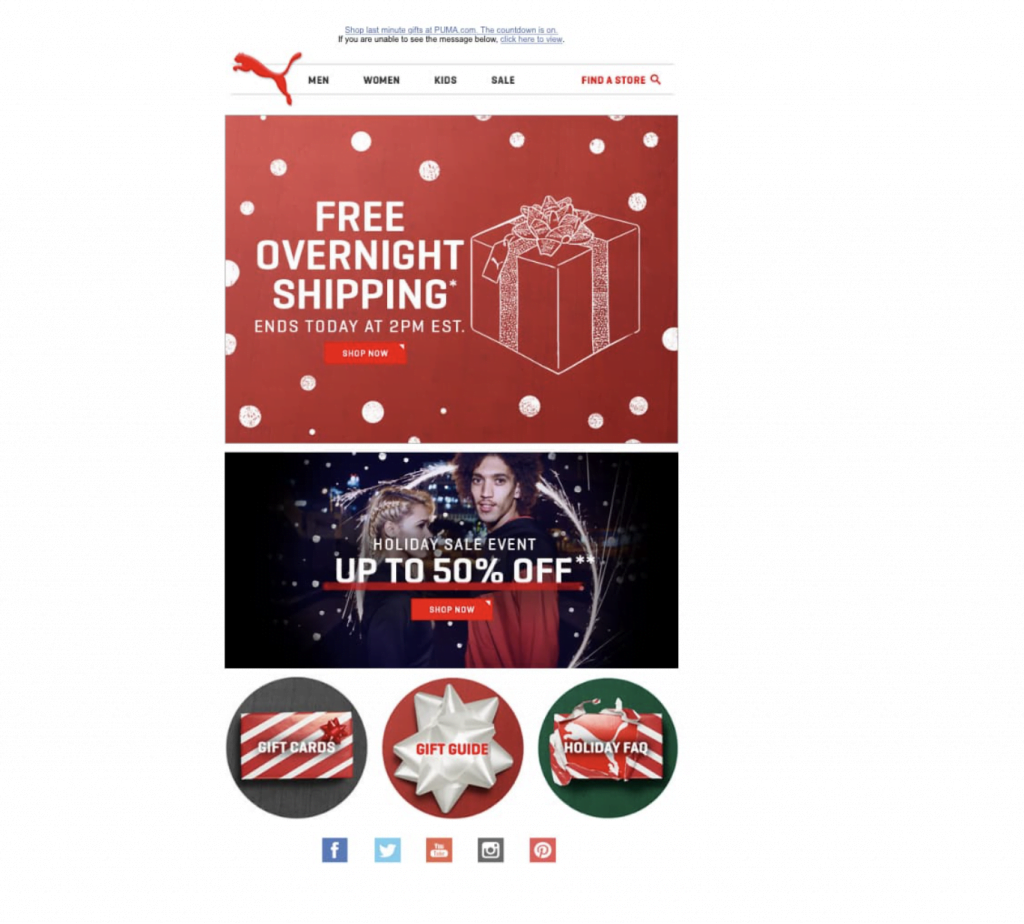 Just like any other email marketing mail campaign, this one is well-branded for the holidays. It is an incredible campaign as it has everything embedded in one layout showing the discounts available and offering gift cards, gift guides and even a holiday FAQ.
Why it works: Besides the great design and clear offering, it truly understands one of the biggest pains, and it is not having enough time for holiday shopping. The email was designed with a clear audience in mind, one that isn't hunting deals but simply was too busy during December.

5. Disney: The Gift


#FromOurFamilyToYours is the slogan Disney chose for its Ads series of The Gift. As every year, Disney remains loyal to its style and main audience. This company is the king of emotional marketing, highlighting the joy and magic of being surrounded by family during this season. 
Why it works: It has been using storytelling since 2020 and engaging the audience in a series that is expected year after year. Another relevant point is the powerful vocal support, which yet again, brings the classic Disney flare. On top of that, this ad doesn't remain digital and emotional, but also follows a social cause. Disney is encouraging fans all over the world to join and donate to 'Make-A-Wish' with the promise to match all donations up to $100,000.
6. Macy's Holiday 2022 – Speechless
The ad relates the classical story and scene for Christmas: a family gathered exchanging gifts next to Christmas gift. The story of just under 30 seconds starts with the husband giving the last gift to his wife. To her surprise, it was a diamond necklace, which left her speechless.
Why it works: The cast is inclusive, giving visibility and representation to minorities, and the company wants to present itself as the best option for choosing gifts. At a time when the economic recession is impacting consumption and discretionary spending, the ad is straightforward and precise.
7. Erste Group Bank  #BelieveInChristmas
This year's animated advert continues the success of Erste's previous ads, such as "Henry Hedgehog". In this spot, the message is clear: togetherness ensures that no one and nothing can steal our joy this Christmas! When it comes to creating such holiday offerings, Erste Group, based in Vienna, has become one of the world's most successful brands with 225 million views.
Why it works: It is appropriate and takes into mind the current global situation, conveying sympathy and emotion in the same ad. As a society, we are facing a lot of challenges in the present day, and the advert this year addresses how we are all dealing with these challenges.
8. Aldi Christmas Advert: #KevinTheCarrot

For the seventh consecutive year, Aldi has unveiled its Christmas advert featuring Kevin the Carrot from the hit 1990 film, Home Alone. 
As the company states:  it wouldn't be the festive season without Kevin the Carrot on our TV screens, and this year's Yuletide performance is sure to get the nation shouting 'KEVIN!'
Why it works: It brings consistency year after year. People are expecting to see the main character and await an entire year for him. In addition, it doesn't have a realistic approach but plays with a fantasy element, creating a truly warm and festive sensation. 
9. Lidl Christmas: 'The Story of Lidl Bear'

The ad tells the story of a Lidl Bear that, without looking for it, became famous through a Lidl jumper and lost its way home with his owner, an adorable little girl. The expressionless Lidl bear has caught the attention of the viewers as it completely breaks the stereotype seen before in other ads.
In the last clip, we see Lidl Bear realise that his fame makes him miss his family. He leaves everything behind, takes his parachute, and surprises his loved ones by making it back for Christmas Day lunch.
Why it works: During the ad, there are also lots of Lidl's favourite dishes to be seen in the clip. Among other things, the family eats British turkey, Christmas pudding, sausages in a blanket, parsnips, potatoes, cheese, and champagne. This ad remains culturally relevant while evoking emotions through a new way of displaying characters.
10. Spotify: Your year Wrapped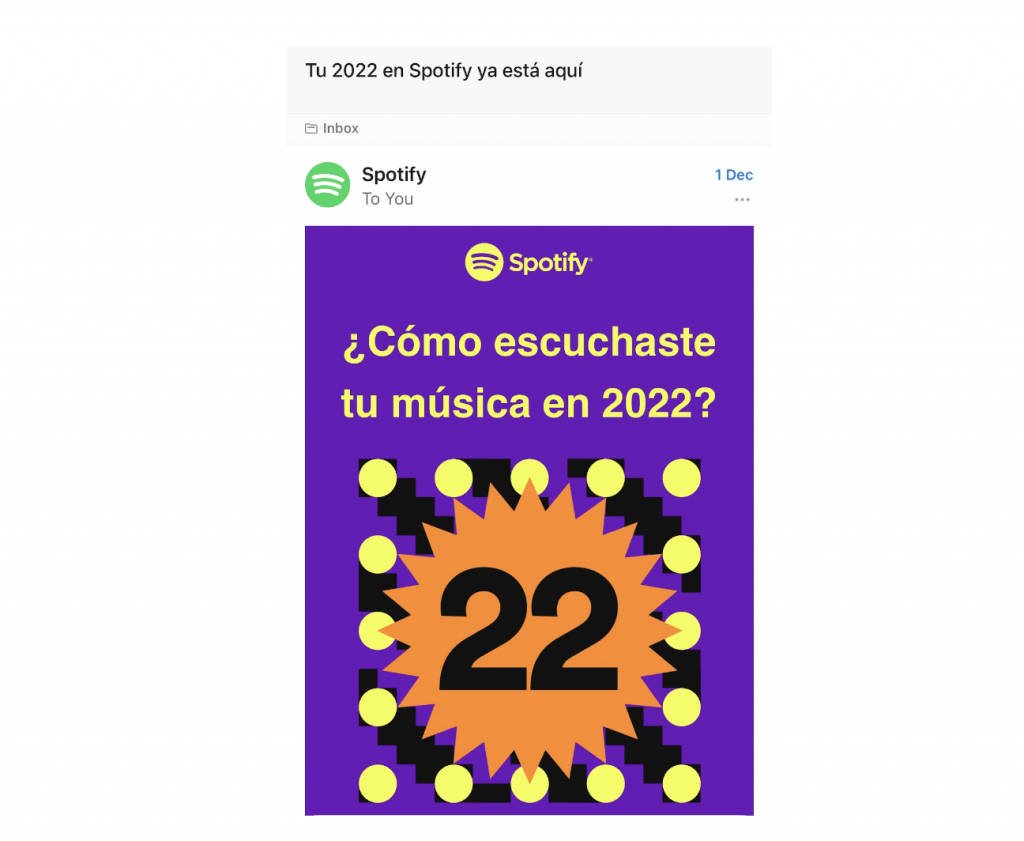 In regard to the new year's celebration, Spotify never goes unnoticed with its yearly wrapped personalised playlists. One of the most popular end-of-year items this year (and in many recent years) is Spotify Wrapped, where the music service compiles an overview of everything you have listened to this year in various statistical formats, wrapped (yes, that's what it's called, is not it?) in colourful, fun graphics. You can see which music categories you followed, get a playlist of your top 100 songs, see where you stand compared to others, and find out what your listening personality is.

Why it works: Year by year it is expected and has huge success in all the social media channels. The reason is simple, it engages users through personalisation reminiscing great memories throughout the year, as a way to celebrate the end of the year. A bespoke summary email evoking good memories is definitely a great strategy to engage with users during the holiday season.
Frizbit recommendations for crafting successful holiday campaigns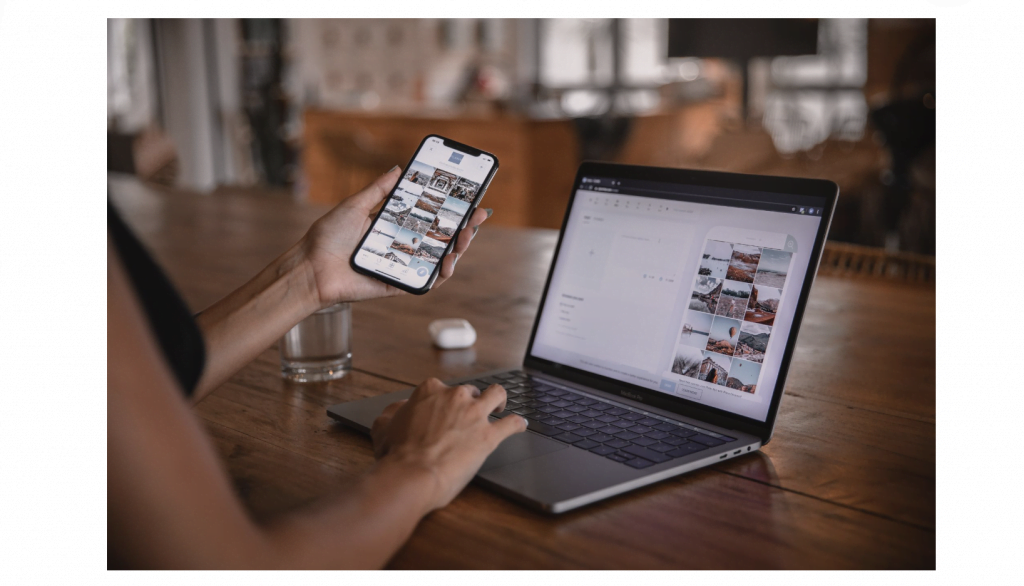 Source: Plann / Pexels
Creating goals and objectives for your holiday marketing campaign is essential in order to ensure success. Goals provide direction and motivation, while objectives give you measurable results that can be used to assess the success of your efforts. The real question is how to increase sales in the holiday season without losing the spark.
Next, creating a promotional calendar is an essential step to ensure your business's success during the holiday season. A promotional calendar outlines all the marketing activities you plan to undertake during specific holidays and helps you stay organized and on track with your goals.
During this stage also make sure to define and select which channels are you going to use. Analyse your audience and which channels typically perform best for your business industry.
Email marketing tends to be the number one chosen channel during this season, and crafting engaging holiday email marketing campaigns can be a challenge too. However, if you are looking to stand out from the crowd, considering alternative channels to (re)target your audience can make a difference in your sales. 
For this, we are talking about incorporating web push notifications in your marketing strategy during the holiday season. We have created a dedicated guide on web push notifications, and we have also created a quick reference guide featuring 7 Christmas campaigns and tips using this channel.
Conclusion:
When it comes to creating a successful holiday marketing campaign, make sure that it accurately reflects your business's brand and message. For this, defining a clear holiday marketing strategy is essential. If you wish to look further into it, we have a dedicated blog post on Christmas marketing ideas and strategies to build a solid marketing strategy.
Overall, be creative with your content and focus on what sets your business apart from others in the industry. Appealing to emotions, memories, and nostalgia certainly plays a crucial role in most of the best campaigns. Don't forget to track the success of each promotion so that you can adjust as needed throughout the season if something isn't working as expected.