The time of the year everyone who sells online has been waiting for is finally here.
Christmas offers a great opportunity to amaze your audience. While there are numerous ways how you can amaze your clients, nothing beats an impressive Christmas marketing campaign.
I will first give you some numbers to show why you shouldn't take the Christmas shopping lightly as a retailer.
Around 20% of holiday purchases are based on impulse
An average consumer will spend $1,048 on Christmas gifts and decorations in 2019.
56% of consumers plan to shop online.
73% of all consumers use their phones and tablets to search for the best presents, even if later they go to an offline store.
If you want to be a real winner this Christmas season, you should have your campaigns ready to go. Next to that you should not only be able to deal with the increase in sales but more importantly be able to catch the eye of your clients. This will happen with creative campaigns that will persuade them to buy at your store.
You can of course do this through the traditional marketing channels like email, but there is a clever marketing channel that is way more effective for bringing customers back. This channel is Web Push Notification.
Why choose Web Push Notifications for Christmas Campaigns?
Firstly, it is very easy to install web push notifications on your website and you can directly start collecting opt-ins after a 10-minute setup. Web Push Notifications also have x3 higher opt-in rate than emails according to Sumo, which means that you can build a new subscriber base more quickly than email and start re-engaging with your users.
Secondly, Web Push Notifications absolutely don't require any personal data from the end user unlike email or SMS. With that, web push notifications are GDPR compliant by nature.
Also, you can reach both mobile & desktop users without having an app. It is the most engaging channel with an average CTR of 8.5% vs 2.4% on the email channel according to Mailchimp.
To give you an idea what you can do with this channel for Christmas season, we've put together some tips for christmas branding in push notifications and 7 Christmas Web Push Notifications campaigns to help you get a higher CTR and ROI than ever before.
Tips for Christmas Branding in Push Notifications
Logo

You can update your logo during the Christmas period, to give it a festive look that your clients can't miss. This would definitely increase CTR's in both manual and automated push notification campaigns. You can use a Santa Claus, hat, sleigh, snow, reindeer or christmas decorations, tree, candy, etc.
Action Button

The call to action button can be adjusted in combination with the logo, with another item related with Christmas as listed above.
Image


You can design custom images to grab your customers attention and get them to visit your campaign pages. It is also recommended to use christmas branding matching with the rest of the elements in the notification.
Colours

To let the message pop-out it is recommended to use contrasting colours. You can use a red or green colour over a light background, or white color over a red or dark background.
7 Not-to-miss Examples of Christmas Campaigns with Web Push Notifications
1. Free Overnight Shipping
To start the list off, we chose the free overnight shipping method but with a holiday makeover.  We give a certain urge to buy in the message by saying they have to buy before 9PM to get the free overnight shipping.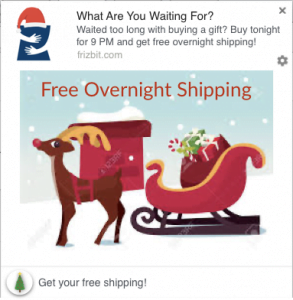 2. Christmas Discount
Christmas is for family, that is a given. Therefore, it is a great time to approach your visitors by wishing them a happy holiday season and offering them an incentive to start buying things at a discount on your website for their families.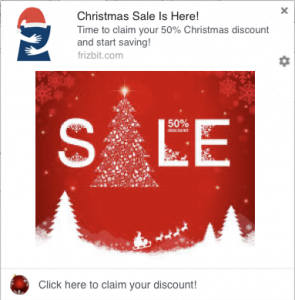 3. Christmas Coupon
Everyone loves coupons, right? Those coupons work especially good in the holiday season when visitors need to buy a lot for friends and family. For this notification we did a personalised version with image and call-to-action button where visitors can sign up and get a coupon.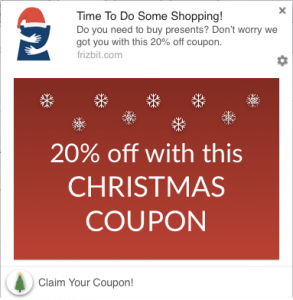 4. Christmas Welcome Campaign with Sequence

Christmas is a good time to get new customers and with this campaign you can let them know you think about them in an automated way. The first notification will be sent when a visitor signs up to the platform and they can get more information through clicking on the action button with 'Click here to get started'. Three days after the initial push notification the user gets the second push notification with some tips. Through this way you nurture your leads and you refer them back to your site.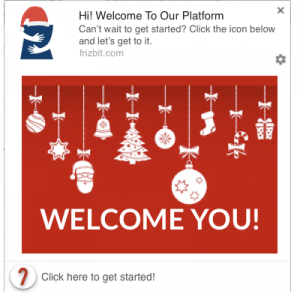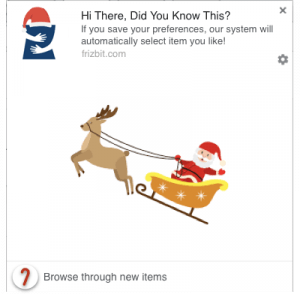 5. Countdown till Christmas
Let customers know there is not much time left for Christmas shopping and give them the urge to shop through adding a timer or countdown to Christmas clock to your notifications.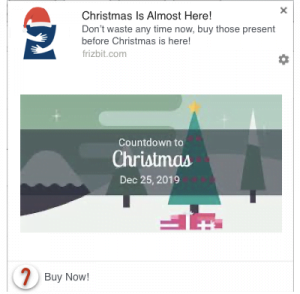 6. Welcome Gift Campaign
Who doesn't love free gifts? Everyone right. Give your customers a small gift when they sign up to let them know you are grateful that they signed up.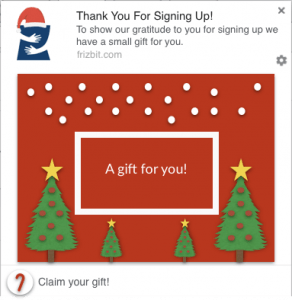 7. Xmas Gift Campaign
Why just leave it at giving your customers a small gift when they sign-up? Why not give them a gift as well just for Christmas to let them keep coming back to your site.