Digital marketing never sleeps and neither do marketing professionals when it comes to keeping up with trends, news and updates. Between coming up with new and innovative ways to catch people's attention and not missing any news from Google, finding time to shut an eye might seem impossible.
So here we are, gathering and sharing with you the most important:
Digital Marketing News, Updates and Insights from June 2021
1. Search Marketing Updates
Google delays third-party cookie phaseout one more year
In a recent blog post, Google updated us about their progress on their intention to eliminate third-party cookies. They announced that, even with the considerable progress they've had with Project Sandbox, more time is required to get things right.
The aim of this project is to protect people's privacy online, while still offering companies the tools they need to do digital business. Google believes that the online community needs "to come together to develop a set of open standards to fundamentally enhance privacy on the web, giving people more transparency and greater control over how their data is used."
To achieve this, they feel the need to move at a slower pace to be more responsible. Google wants that boths users and publishers are protected, by making sure that cookies are not replaced with any sort of individual tracking or fingerprinting, and that advertisers have enough time to migrate their service and preserve their business models.
We must take time to evaluate the new technologies, gather feedback and iterate to ensure they meet our goals for both privacy and performance, and give all developers time to follow the best path for privacy. – Google Blog
They stated that key technologies will be deployed for Chrome late 2022 and start phasing-out third party cookies by mid 2023 ending late 2023.
Google ads new feature that helps businesses display their information
Google is constantly updating and creating new tools to help businesses show more accurate and detailed information in Search and Maps so owners can easily connect with potential customers.
You can add details, such as contact information and opening hours, and create Posts to share updates, like special offers or new offerings, right from Google Search. Starting next week, you'll also be able to create Posts about upcoming events including when and where they're happening. Google Blog
New features allow businesses to change and share information directly from Search and Maps. They include:
Easily show your services:

businesses can now use the Edit Profile menu on Search to display their services. It's even possible to show specialties if you offer personal care services, for example. For restaurant owners that work with Reserve Google, they can enable online bookings through their Business Profile.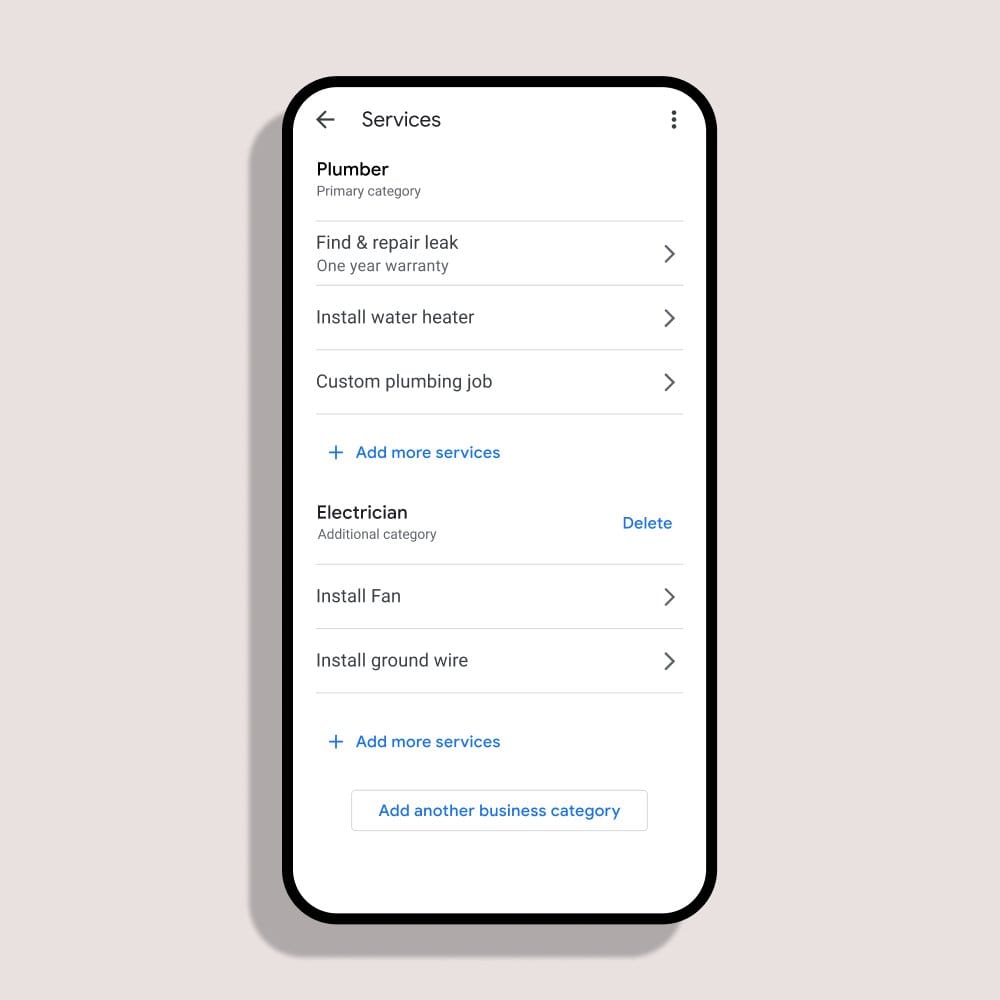 Accept takeout and delivery orders:

Google reported a 230% increase in food ordering since last year. To adapt to this demand, Order with Google allows businesses to accept takeout and delivery orders through their Business Profile. Restaurants can also update their menus directly on Search and Maps.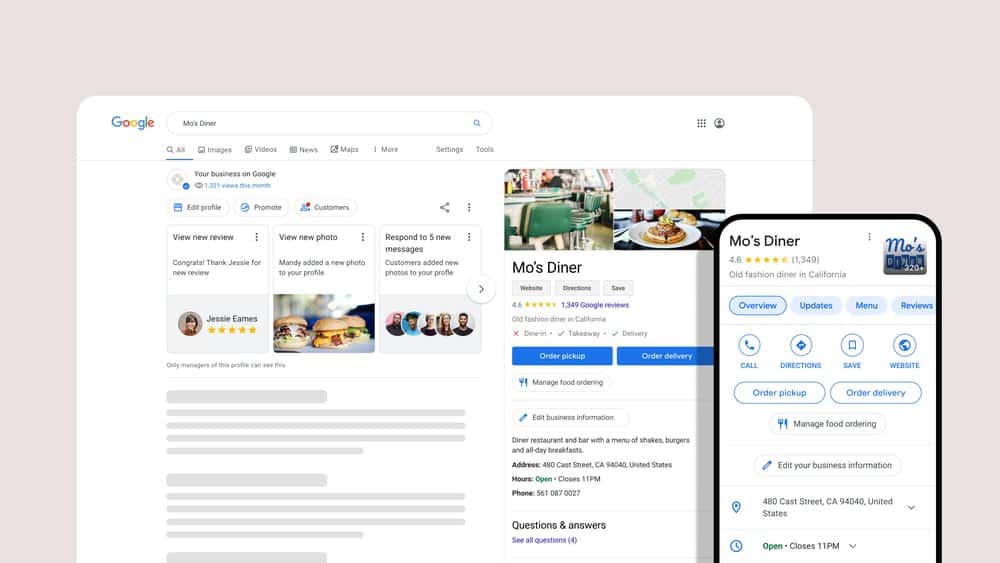 Automatically update your inventory:

Google Searches for "who has" + "in stock" have grown by more than 8,000% year over year, which shows that shoppers are searching for products online before they head to the stores. As a response to this, eligible retailers in the U.S will be able to "get all their in-store product inventory automatically added to their Business Profile by signing up for

Pointy

from Google right from Google Search". With this tool you can scan your products and they are automatically added to your Business Profile.
Brave search engine launches public beta
Creators of Brave, the browser that puts user's privacy first, have launched Brave Search Engine in a global public beta. They have announced it as a "real alternative to Google" that's private, transparent and doesn't surveille users.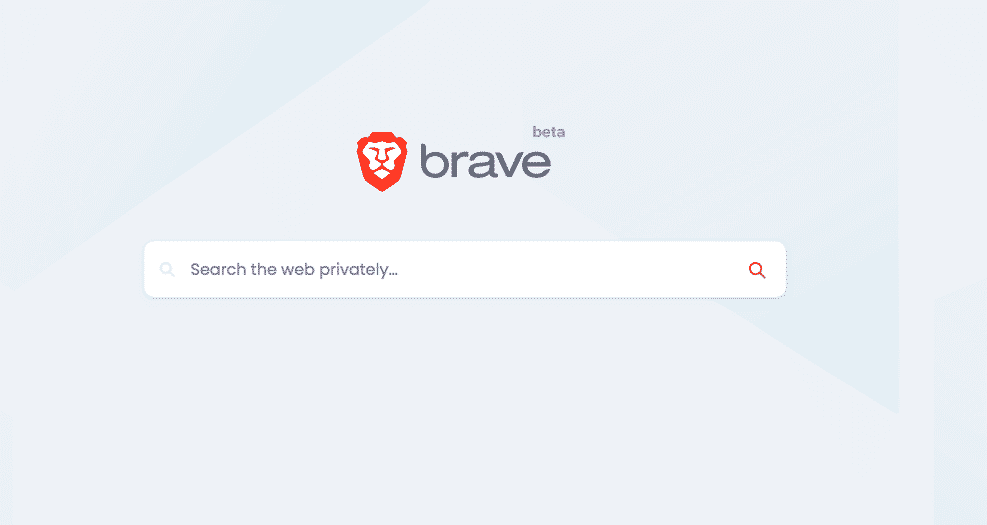 Brave's search engine works completely independently from Google, it uses its own independent index of the web. It's available for desktop and mobile devices in any browser at search.brave.com.
This search engine doesn't collect user data which makes it impossible to sell, share or lose. They also claim to offer real transparency by not using any type of "secret algorithms" to show search results: We rely on anonymous community contributions to refine results, and community-created alternative ranking models to ensure diversity.
The engine was developed by the former Cliqz Team as the company announced back in March of this year.
2. Marketing Tech Updates
Google Integrates with WooCommerce for easy Product Uploads
WooCommerce has launched an extension that allows sellers to upload their products to Google for free. This means that online retailers will have the opportunity to get discovered by more shoppers through Search, Shopping, Images, and YouTube.
By connecting a WooCommerce store with Google Merchant Center, all products and their information will be listed on search results on Google. All the product's details will be automatically updated when any changes are made on WooCommerce.
It's completely free to list products in the Google Shopping tab, and retailers also have the option to pay for ads if they wish to have more visibility.
Through the new Google extensions, sellers have total control of their products listing, performance and analytics without needing to leave the dashboard and the opportunity to reach more users without extra work. You can get the extension here!
Google Announces New Ads Creative Studio
With the intention of offering designers, agencies and brands better ways to work and create ads, Google has announced the launch of Ads Creative Studio. A platform to unify all of Google's creative advertising tools.
The objective is to help creative teams increase productivity and to simplify the process of designing compelling ads. Google says on their blog that "Ads Creative Studio will bring together a number of creative tools previously found across products like YouTube, Display & Video 360 and Campaign Manager 360. "
Ads Creative Studio features include:
Director Mix:

this feature allows to create different versions of a YouTube video for different audiences with swappable elements.
Dynamic display and HTML5 tools:

they allow you to generate customized and interactive creatives for Display & Video 360 and Campaign Manager 360.
Audio Mixer:

that allows you to create tailored audio ads for Display & Video 360.
Shopify rolls out Product Updates for Shopify Developers
This month Shopify announced a series of updates for developers:
Subscriptions support for PayPal Express:

the launch of this feature represents the first additional payment gateway support after Shopify Payments with the hopes of offering support to more sellers around the world.
Partner-initiated app refunds:

before this update, partners had to contact Shopify Support to issue refunds. Now, they can handle them directly through the Partner Dashboard.
VAT changes for ecommerce purchases made within the EU:

in order to help merchants comply with changes made to tax regulations for ecommerce purchases made within the EU, Shopify is adding new options to the tax settings.
3. Social Media Marketing Updates
Twitter is adding Subscribe Button to profiles for Newsletter Signups
In January 2021 we shared the news about Twitter acquiring newsletter platform Revue to help content creators share and monetize their work. As it was to be expected now Twitter is adding a new Subscribe button to profiles so people can sign up to newsletters.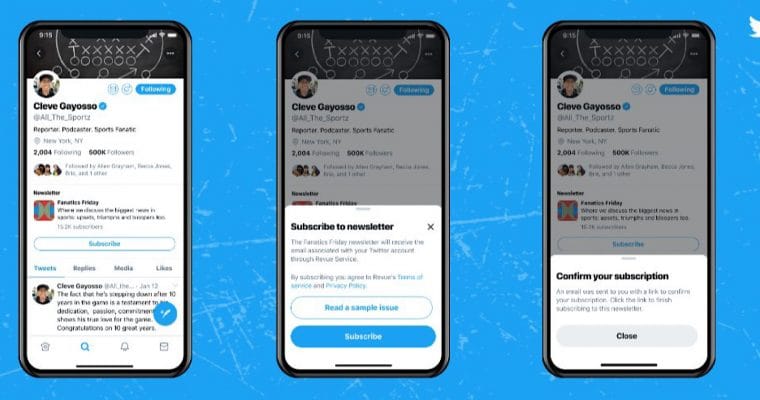 The button will appear on the user's profile next to the mutual followers section. When signing up, the subscriber will receive a message letting them know that their email address will be sent to the newsletter owner and have the chance to take a sneak peek at the content before finally agreeing to sign up.
This new feature will be available to all users that have a Revue account.
Instagram Announces New Features for Creators to Make Money
Instagram has become a business platform for a lot of people. With this in mind, they have announced the launch of three major new features to help content creators make money: Creator Shops, affiliate commerce, and a "branded content marketplace.
Creators Shop:

creators shop is designed for those who want to sell products using their personal profiles. It can be done in two ways:
Existing products can be linked to both personal and business accounts

New shops can be set up through the Instagram app linking their account to one of Instagram's merchandise partners: Bravado/UMG, Fanjoy, Represent, and Spring. This feature will be available for creators in the US at the end of the year.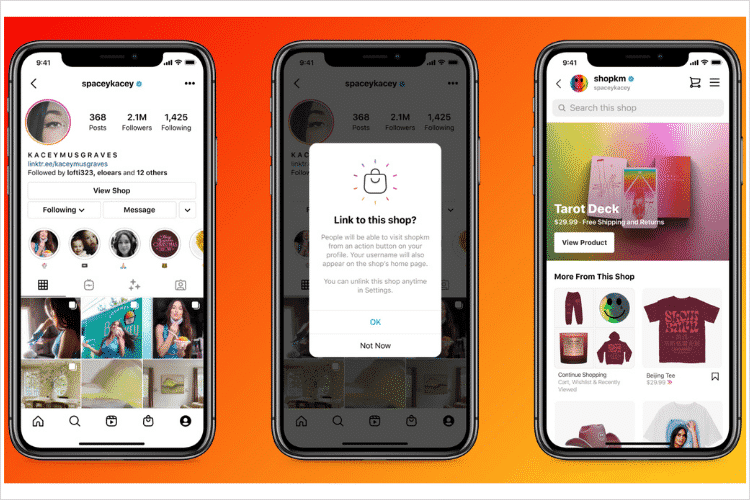 Affiliate Commerce:

this program aims to help creators gain a commission payment within the app when they generate a sale for a brand through a post in their accounts. It will feature a label indicating users that they will support the creator with their purchase.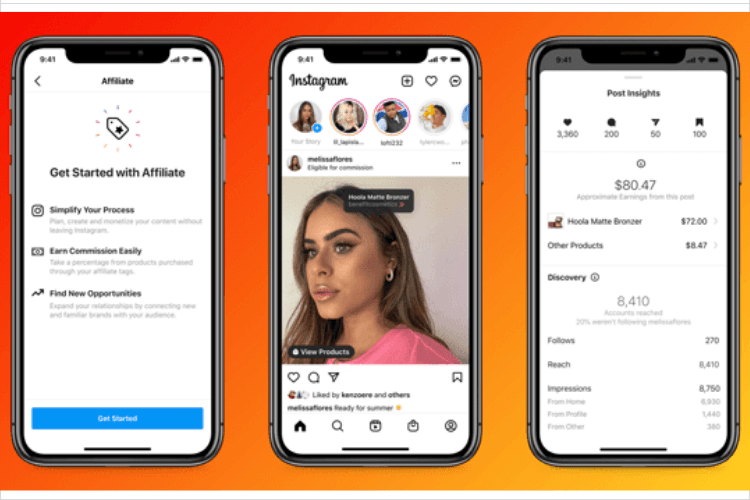 Branded Content Marketplace:

this feature is designed to help brands connect with content creators and influencers that match and align their work. Head of Instagram, Adam Mosseri said "We should be able to help brands find creators that are uniquely aligned with the work they're trying to do and vice versa. If we can help with matchmaking, we can help drive more dollars to the smaller creators who can do amazing work for brands."
Facebook Launches 4 New E-commerce Features
Facebook is introducing new features to help online shops reach more people, get their products discovered and increase sales:
Facebook Shops in More Places:

online shops can now choose Marketplace as an additional channel to Shop tabs on Instagram and Facebook to sell their products.
Customer reviews:

customer ratings will be expanded to products in Shops on Instagram with photos and videos from the community.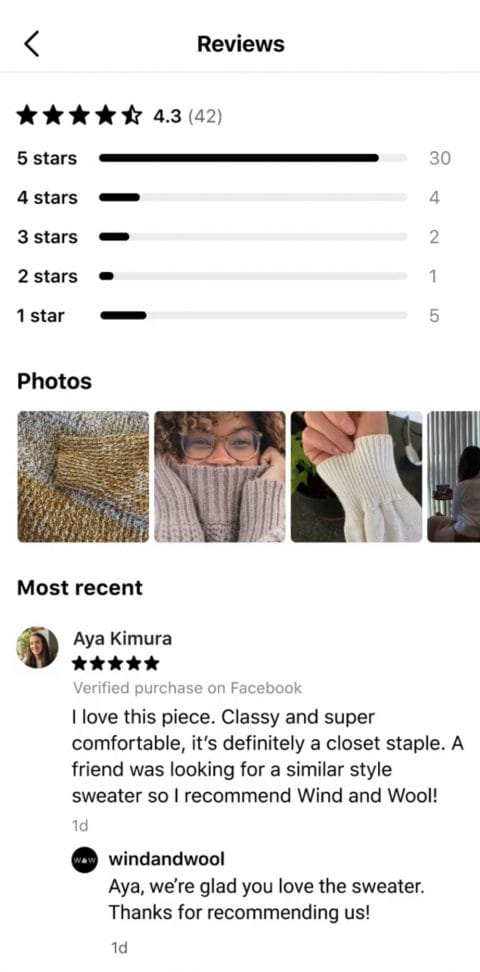 Personalized shop ads:

Facebook is launching new ads to personalize customer's shopping experience and send them to curated collections based on their shopping history where they are most likely to make a purchase.
Expanded Access to AR Try-On Feature:

Facebook is developing APIs to help more brands have access to augmented reality features that bring the "in-shop" experience to users online. They are also adding AR to some types of ads to encourage people to try on suggested products.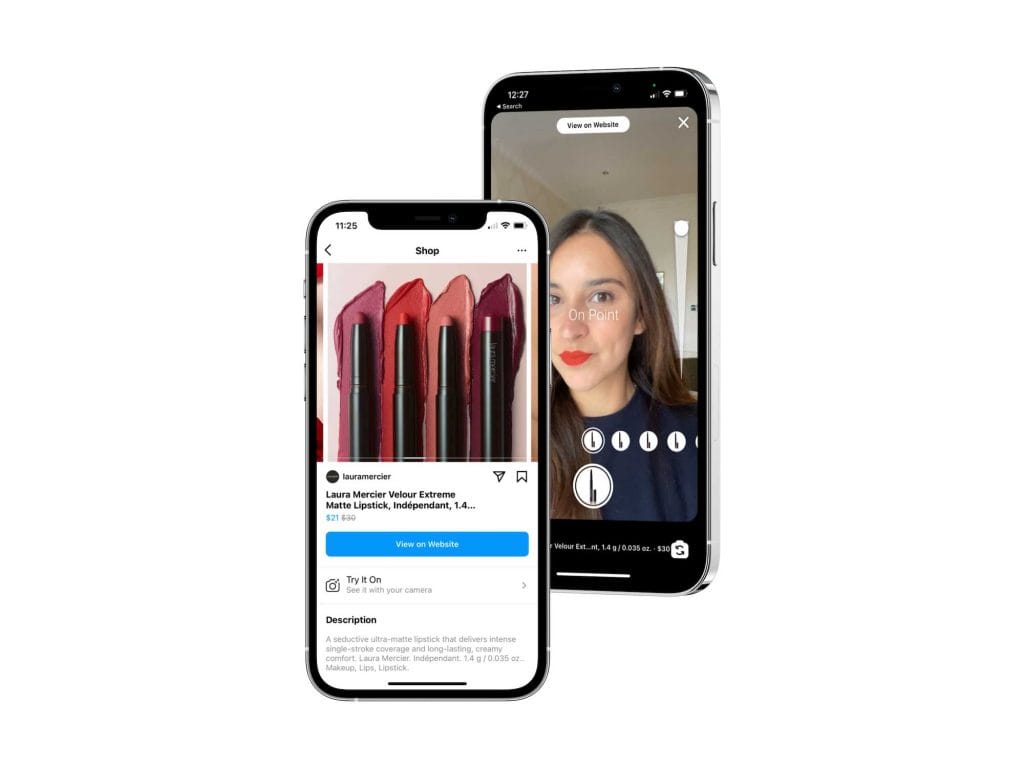 Which digital marketing news from June 2021 surprised or interested you the most?
Make sure to also read: