Hyper-personalization has the power to take any business to the next level. It might sound a bit clichè to say that we are currently living in a world with excess information and constant stimulation, but it is the truth. How many notifications, emails, messages and ads have you seen today? Think about it. 
How many of those do you remember the best? Probably the ones you felt were personally addressed to you. The ones that showed you or mentioned something you have been thinking and searching for. 
Customised experiences win the battle when it comes to catching people's attention in highly competitive environments, like the Internet. That's why businesses started using personalization techniques to increase the chances of their messages standing out with the hopes of making themselves relevant and memorable. 
However, times keep changing and it turns out that plain personalisation is not enough anymore. Adding the customer's name on the subject line of an email campaign has always been a nice practice but it doesn't cut it anymore. The time for hyper-personalization is here. 
What is the difference between Hyper-personalization and Personalization?
Personalization uses basic customer provided data such as user name, gender or location to tailor messages that speak directly to a user as an individual. Hyper-personalization goes much further and includes user's browsing behavioural information to address specific needs and desires to deliver highly relevant messages. 
This practice can be applied to almost every digital marketing channel:
Emails:

all types of emails can be highly customised  with very specific user information inviting them to come back to the site and complete an action based on their individual behaviour.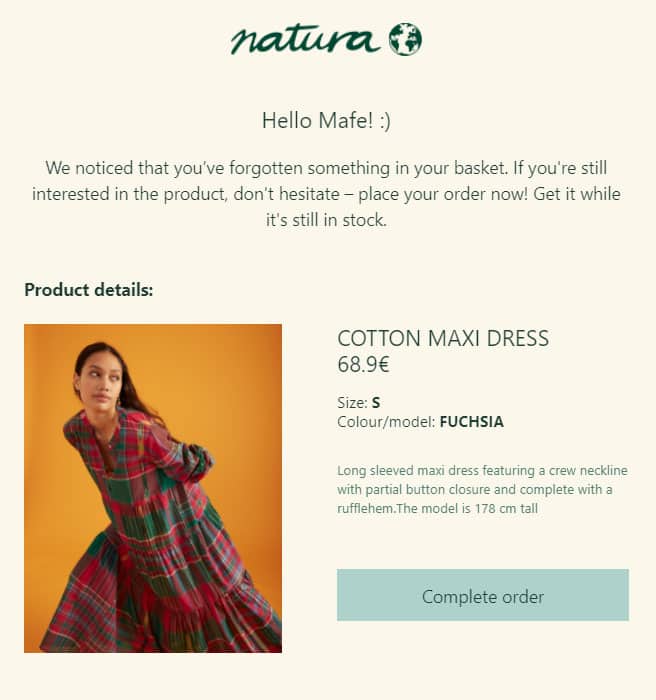 SMS:

the same goes for SMS marketing, with the added value of the immediacy of the channel.

Web push notifications:

web push notifications by Frizbit can retarget users through every step of the funnel with hyper-personalized messages that make the content extremely relevant.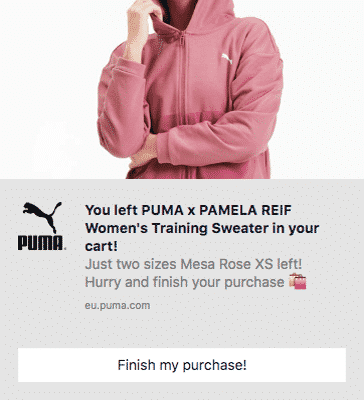 Websites:

hyper-personalization can even be used on websites. For example, imagine you go on an e-commerce clothing site and search for women's accessories. Through hyper-personalization, the next time you go to that same site, you will get women's accessories shown to you by default over the rest of the items. One of the most perfect examples out there is Amazon, the most customer centered shopping site.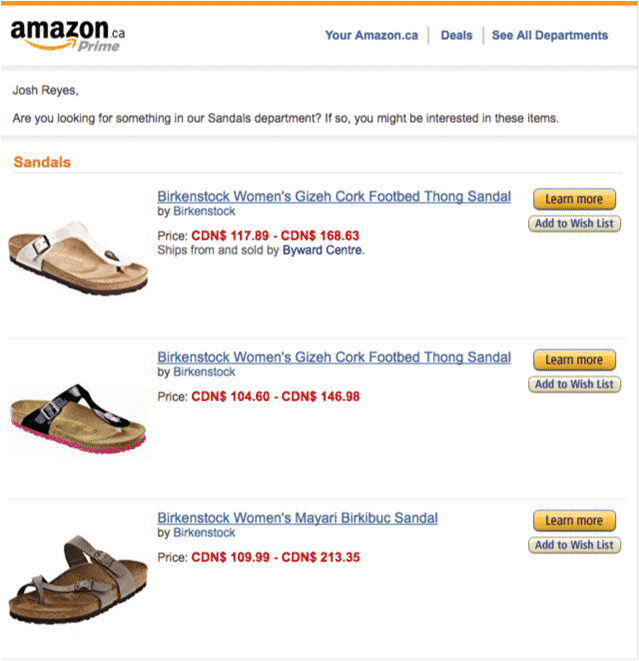 Retargeting ads:

thanks to this practice, when you visit a site you will then get ads that specifically show you the product you expressed interest in. 
Apps:

this might be the most relatable example of hyper-personalization. Apps like Netflix or Spotify user AI to

learn

from your behaviour and suggest similar choices that you might also like.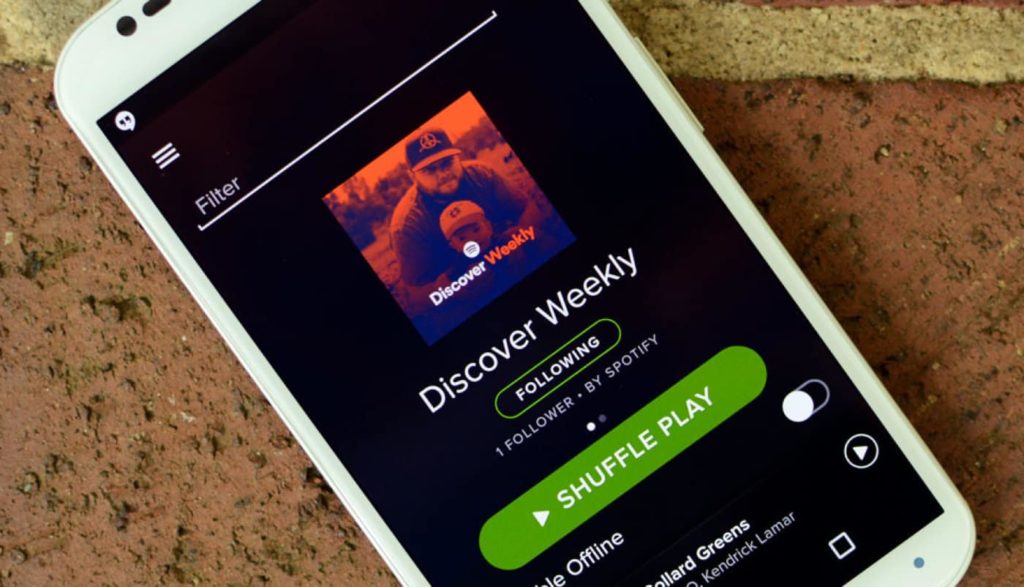 What is personalization?
Traditional personalization in digital marketing makes reference to the use of customers' personal information to increase the relevance of promotional communications suchs as ads or emails. 
The most common data used for personalization are the customer's name, purchasing history or general demographic details. This is the typical information you see on commercial emails that greet you by your name and recommend products based on your last purchase, for example. 
The objective of personalization is to create tailor made messages that increase the relevance of the content in order to connect with users on a deeper level.
All these years later experience has proven how important it is to offer users a personalized experience in order to engage and truly connect. That's why, as everything, personalization has evolved throughout the years and now we begin talking about hyper-personalization.
What is Hyper-Personalization?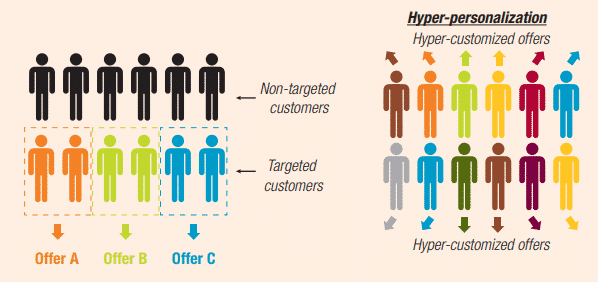 Hyper-personalization is the customisation of digital content based on individual behaviour. It is personalization taken to the next level by going further than collecting data provided by users, such as name and email address. Hyper-personalization may even use artificial intelligence to gather information about what consumers want and need to offer highly relevant content. 
In an interview back in 2000, Jess Bezos said: "Personalization is when you go into a bar and sit down, and the bartender puts a whiskey in front of you without having to ask what you want"
Data used for hyper-personalization goes from time of day, location, page views and specific details about products browsed, such as name, price, category and brand. By using this technology it is even possible to craft messages that adjust to the stage of the marketing funnel the user currently is. 
Beyond offering a better user experience, the objective of hyper-personalization is to enhance the relevance of the content to increase interaction and, ultimately, conversions. By gathering real-time behavioral data, brands can design custom-made marketing campaigns for each individual. 
How to achieve Hyper-Personalization
If you still haven't entered the world of hyper-personalization, it's time to take the step. We will share some insights on how to achieve it and start creating extremely customised digital marketing campaigns to connect, engage and efficiently convert.
Data is everything:

it is not enough to say that data is the center of everything when it comes to crafting hyper-personalized content. The information you gather from users is what is going to determine the quality of your campaigns. Basically, the more detailed data you collect, the more you can hyper-personalise the messages you send your users. 
Use automation:

collecting, organizing, interpreting and using behavioral data for each individual manually is just not possible. What you need to do is use an automation platform that automatically gathers data. Platforms like Frizbit collect all behavioural data points available so you only have to set up your multi channel marketing campaigns once. Combining this and the use of dynamic parameters you will be able to send hyper-personalized messages that deliver highly relevant content.  
Multi-channel communication:

by combining different channels with hyper-personalization, you will take your marketing strategy to a whole new level. Use a mix of web push notifications, emails and SMS to connect with customers with the most useful information through the channel of their choice. 
Benefits of Hyper-Personalization
By now you should be sold on the benefits of hyper-personalization and understand why it is so important for digital marketing strategies nowadays. However, we do have some key points we want to highlight:
Highly improve customer experience
People online are saturated with information. Social media ads, display ads, videos, posts, emails and hundreds of other messages every day. Users are eager for personalized treatment and content that speaks directly to them. By using hyper-personalization to design the messages you send, you're giving them what they want. It's a win-win situation in which, both you and your customers, benefit: they feel catered and are more likely to engage with your brand, leading to the ultimate goal of conversion.
Communicate at the right time
Hyper-personalization allows you to get useful insights about the times users are most active and most likely to engage with your content. Frizbit allows you to schedule campaigns to a specific time and day, configure recurring campaigns that are delivered periodically and triggered messages with custom timings, so that you can reach users at the time they are most likely to be online. 
Reduce the gap between you and your customers creating long-term relationships
When you make the effort of catering to individual specific wants and needs, it shows. Your customers will notice it and start feeling more interested and inclined to engage with your content even in the long-term. Remember that more and more each day, people are expecting and demanding customised content and tailored experiences. 
Hyper-Personalization is not the future, is the present
Any digital business should understand by now how extremely important it is to offer customers a highly personalized experience in order to tilt the balance to their favor and reach their business goals. 
Whether talking about email marketing, web push notifications, sms or retargeting ads, hyper-personalization is the single factor that can make a real difference in the performance of your digital marketing campaigns. 
"A total of 86% of marketing professionals consider the effectiveness of an AI-powered hyper-personalization strategy to be changing for the better." Source
So, if you haven't tried it yet, what are you waiting for? Get in touch with Frizbit and see the results for yourself. 
You might find interesting: